First of all, I feel very sorry to those who sold their XRP when the price hit 20 cents a few months back. There were lots of Drama around XRP and many people did panic selling. I was holding my XRP tight and I did not fall for the selling pressure. I'm very glad that my decision was good to hold them instead of selling them. Today the price of XRP is over 1 USD and it is also back to the Top 5 coins now in CoinGecko.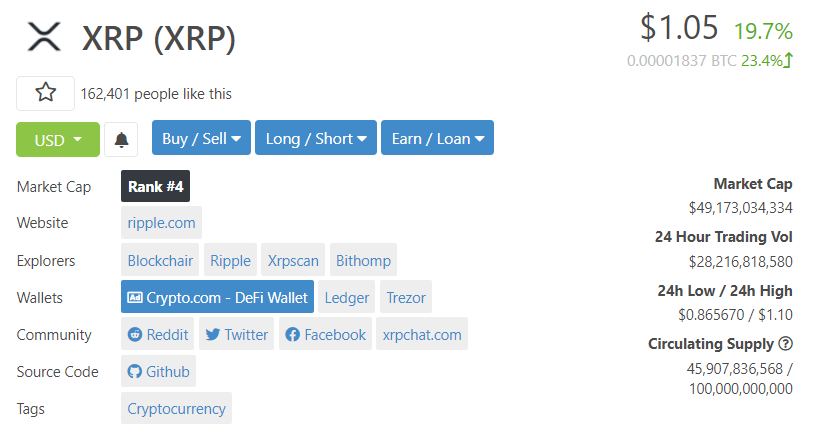 I'm going to hold it for some more time. I wouldn't consider this as a full pump and sell my holdings. Like I mentioned in one of my previous articles, I'm going to be holding them for another 5 years at least. But I might do a partial booking if the price hits 2$ to take my capital out.
I have been holding my XRP for 3 years already and I have seen many ups and downs. I'm not a good trader, otherwise, I would have done some trading to increase my stake. But I consider this as a risky thing than holding. Not everyone is lucky with trading and I know very well about my luck.
I also made a few of my friends buy XRP about 3 years back. They are all non-Crypto friends and they have been holding it intact for over 3 years now and they don't even know about the SEC issue that Ripple had. If the price goes above 2$, I'm going to ask them to sell it and book profits because when they bought it, the price was already over 2 dollars I guess.
Getting a small staking reward from Crypto.com
I currently have my XRP in crypto.com app and I have staked them to receive a 2% APR for staking. I know it is not that great but something is better than nothing. When I staked it for the first time about 6 months back, I got around 4% APR and that was one of the reasons why I got myself into Crypto.com. Until I find a better deal, I will continue to hold them on Crypto.com.
I also understand that it is not very safe to keep my holdings on exchanges but keeping them in the wallet is not going to earn us anything. So it is better to keep it in exchanges diversified so that even if something goes wrong, we don't lose everything. I'm glad that most of my crypto holdings are now in Hive wallet and that's a great place to keep the funds safe and at the same time make use of it to earn a passive income.
---
Posted Using LeoFinance Beta