I have been observing the price of some of the tokens for the past few weeks. Especially the price of BAT tokens and Hive is on my list. I have been comparing the price only in Satoshi so that it is easier to trade and also to identify the outcome. Last time when I was trading, I bought some BAT tokens for cheap rates and then sold them for a better price.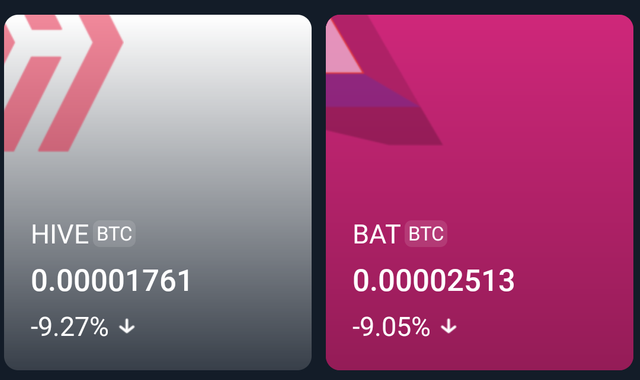 Looking at the market, it appears to be a great opportunity again to purchase some cheap tokens and wait for a good price again to sell them. The price of many tokens has been in the downtrend for the past few weeks. Considering this fact, I bought little BAT tokens for 2400 Satoshi yesterday. When the price was 3500 last week, I was having a small hard feeling that I did not buy enough for a cheap price. Now that the price is below 2500, I personally feel that it is a great opportunity to purchase the tokens and wait for the price to pump above 3500 again and sell them to get a good profit.
In addition to BAT tokens, I observed that the price of Hive is also very low right now providing a good opportunity for investment. I'm not sure if this dip is because of the Bitcoin price but it looks like Hive is at an attractive price right now for purchase. Last week itself I bought some Hive tokens for trading. Today I'm thinking that I should have bought some more at the current price. My purchase value was 2100 Satoshi but today it is trading below 1750 Satoshi which is a big difference.
Right now I'm not going to purchase any more Hive tokens and deplete all my BTC holdings but the current price of Hive is so tempting for me. Even recently just a few weeks back the price of Hive reached over 2700 Satoshi so I personally feel that if we purchase some tokens at the current price, it would definitely recover back when there is next FOMO about both Hive as well as BAT tokens.
What are your thoughts about the current price charts? Do you also think that it is a good opportunity right now to purchase some of the tokens? Please share your thoughts in the comments section.
---
---
Posted Using LeoFinance