The price of Steem and Hive that we see right now is a rare opportunity. It's been several months since price of Hive was lower than Steem. Today while observing the market, I noticed that the value of Hive is dropping giving us a good opportunity to purchase lots of Hive for cheap price.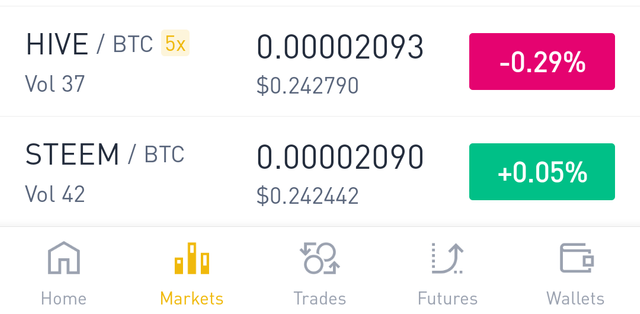 The reason why I'm comparing the price with Steem is because if anyone is still having any Steem left to be sold out exchanged for Hive, it is now a great opportunity because I'm not sure when we will be able to witness the same price again. If I remember it right I first saw a similar price during the launch of Hive. I missed exchanging my Steem for a good price at that point. After that price of Hive pumped like anything and it even went 2 times and 3 times the price of Steem.
I used to regret for not purchasing Hive for cheap price by then. Now that we have the opportunity again I did make a small purchase for 2100 Satoshi. Like last week's pump, even if the price of Hive hits 2600 or 3000 Satoshi, it would end up like a great trade for me. Even if that doesn't happen, I would still be happy because I always wanted to purchase some more Hive. Right now I hold all the purchased Hive on exchange wallet only. If things go backwards, I would move it to Hive wallet and powerup. Or else I would end up enjoying a neat trade. Let's see.
In my personal opinion, I think there can be short pump happening on Steem in the coming days. The reason is because Steemit has moved a big load of Steem to Binance. If they plan to dump the tokens, they might first pump it a bit and then dump them for a good price. This is just my prediction. I may be wrong as well but good to pay attention to what's happening.
---
---
Posted Using LeoFinance