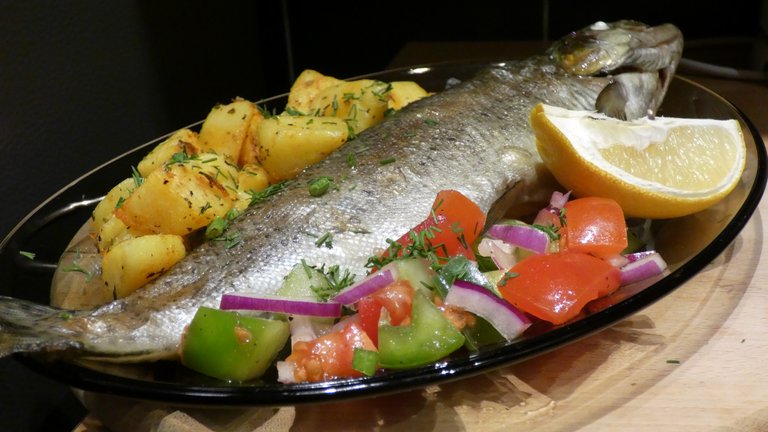 Perhaps for many, fried trout is a banal dish. But even the best dish can be argued if you don't have the proper knowledge. Trout is a freshwater fish but is not found worldwide. The streams in which the fish live must be very clean, cold and rushing. But I caught this specimen in a completely different, completely different place, where it's dirty, warm and pissing off - that is, in a supermarket.
Może dla wielu smażony pstrąg jest potrawą z gatunku banalnych. Ale nawet najlepsze danie można spierniczyć, jak nie ma się odpowiedniej wiedzy. Pstrąg to ryba słodkowodna, ale nie występuje na całym świecie. Potoki w których ryba żyje, muszą być bardzo czyste, zimne i rwące. Ale ten okaz złowiłem w zupełnie innym, zgoła, odmiennym miejscu, gdzie jest brudno, ciepło i wkurwiająco - czyli w supermarkecie.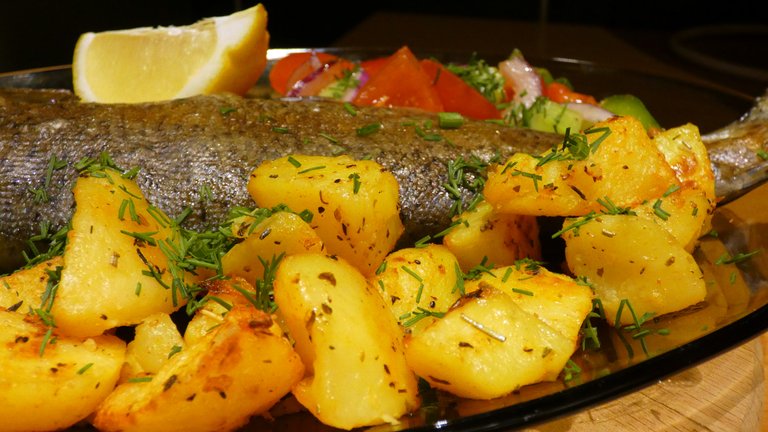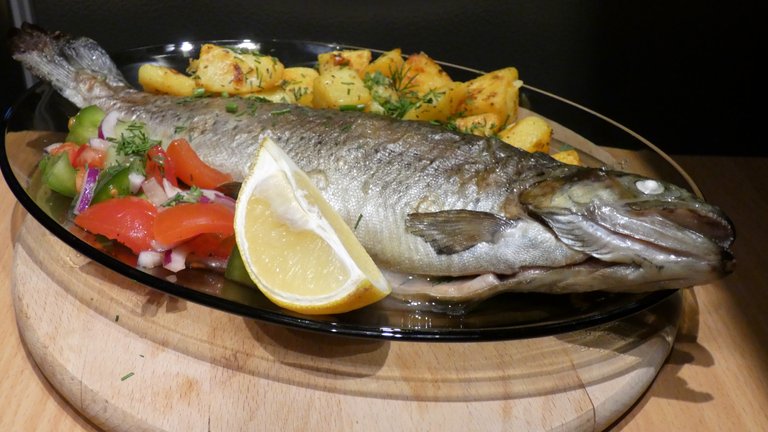 Ingredients
Składniki
2 large fresh trout, parsley, green dill, lemon, spices, pepper, salt, vegetable oil, potatoes
2 duże świeże pstrągi, natka pietruszki, zielony koperek, cytryna, przyprawy, pieprz, sól, olej roślinny, ziemniaki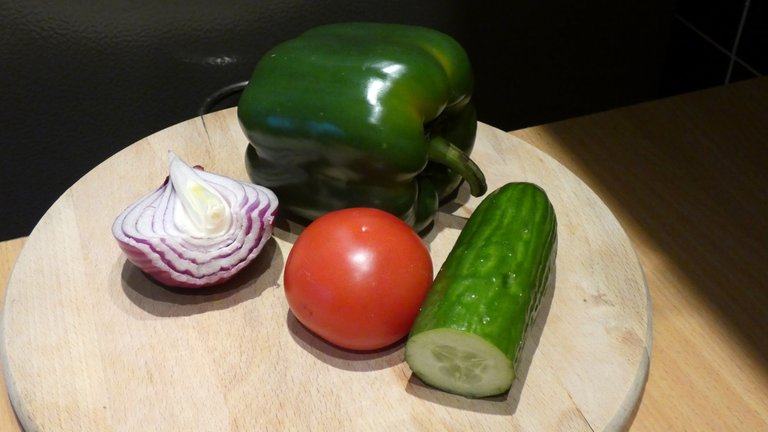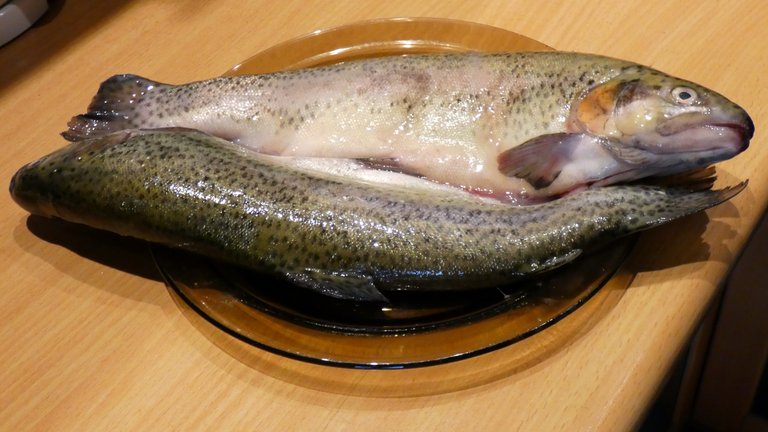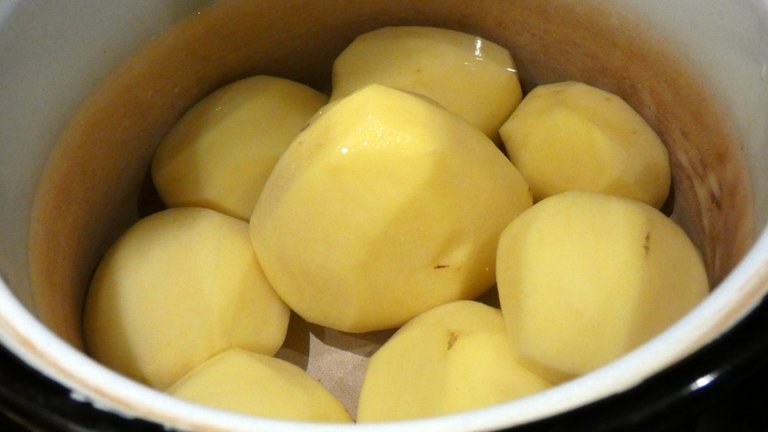 Preparation of the fish
Przygotowanie ryby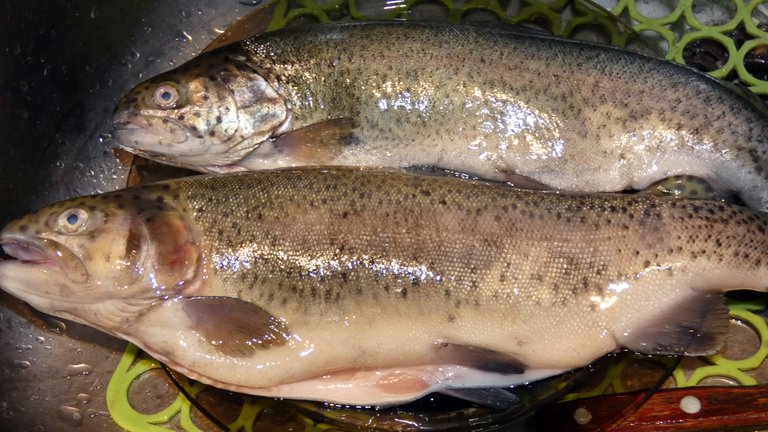 Gutting trout, if it has scales, then get rid of them. We wash thoroughly.
Pstrąga patroszymy, jeśli posiada łuski to się ich pozbywamy. Dokładnie myjemy.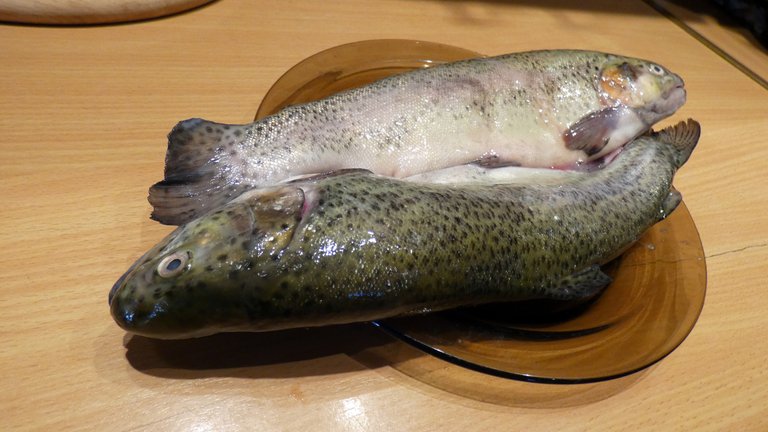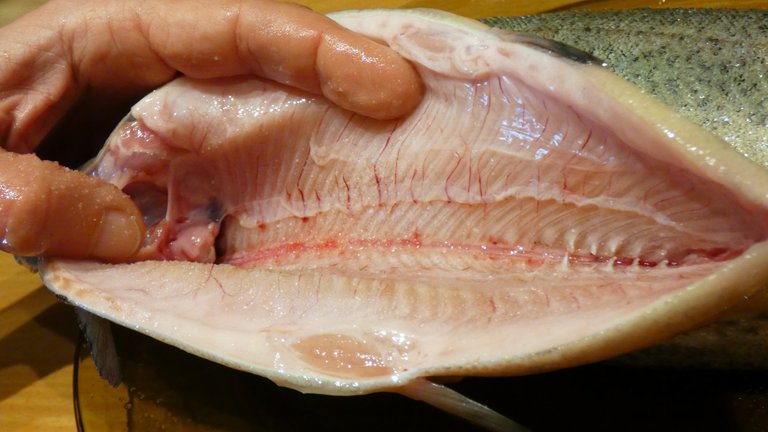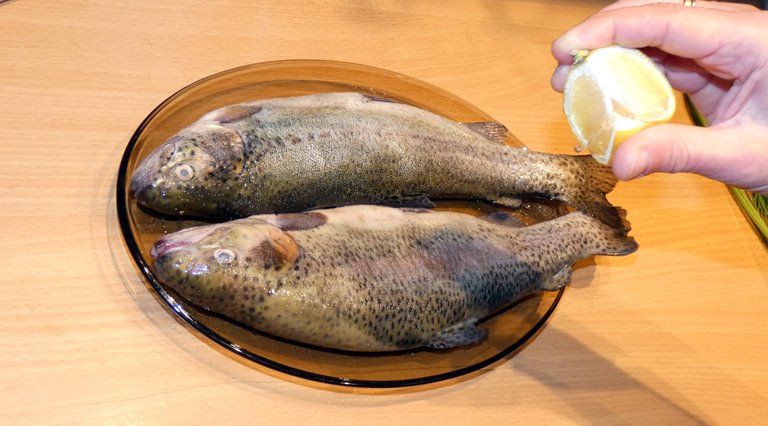 Then brush with olive oil and put parsley or dill inside and a few slices of lemon. Of course, the version of the filling depends on your preferences. In my case, I prefer dill, but my spouse prefers parsley.
Następnie smarujemy oliwą, a do środka wkładamy natkę pietruszki lub koperek oraz kilka plasterków cytryny. Oczywiście wersja nadzienia zależy od upodobań. W moim przypadku preferuję koperek, ale moja małżonka woli natkę pietruszki.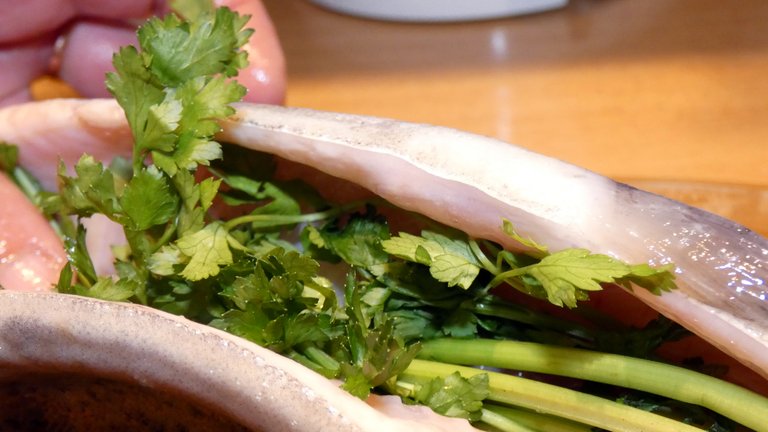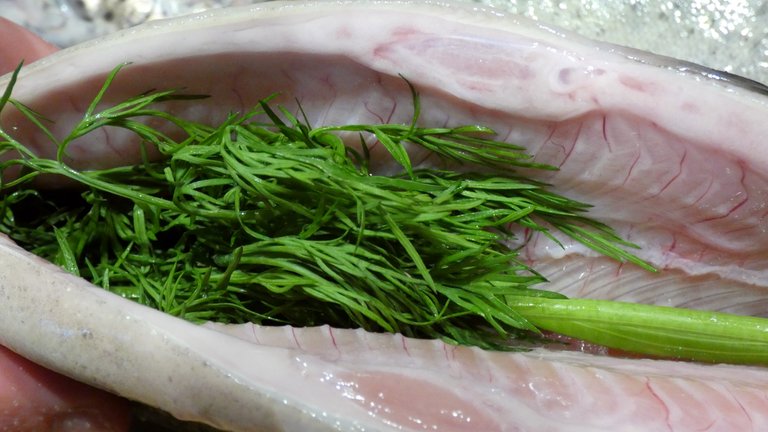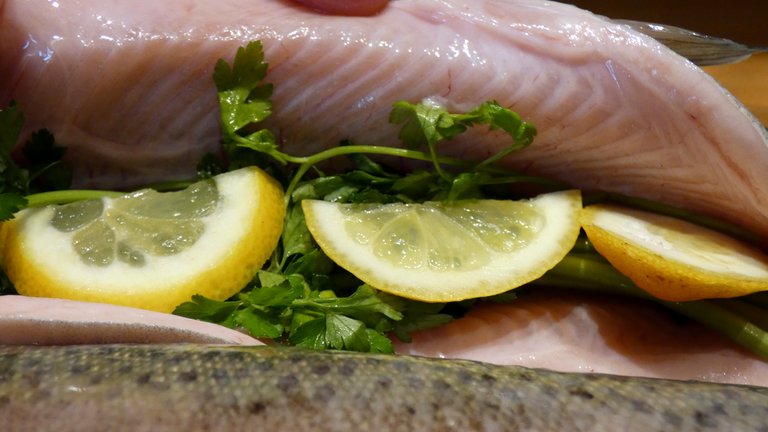 In the meantime, peel the potatoes and cut them into large pieces.
W międzyczasie obieramy ziemniaki ze skórki, kroimy na duże kawałki.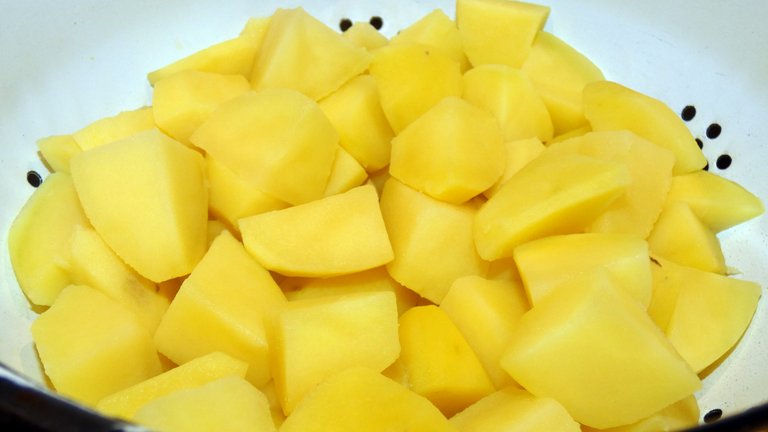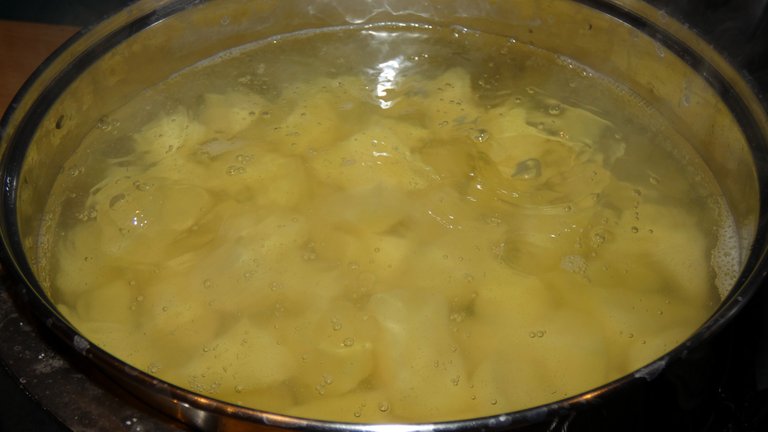 Cook until semi-hard. Then drain the boiled potatoes, add olive oil mixed with herbs and put them on a baking tray. Put them in the oven and bake them until they turn golden brown.
Gotujemy na półtwardo. Następnie ugotowane ziemniaki odcedzamy, dodajemy oliwę wymieszaną z ziołami i układamy na blasze. Wkładamy do piekarnika i pieczemy do momentu aż się zarumienią.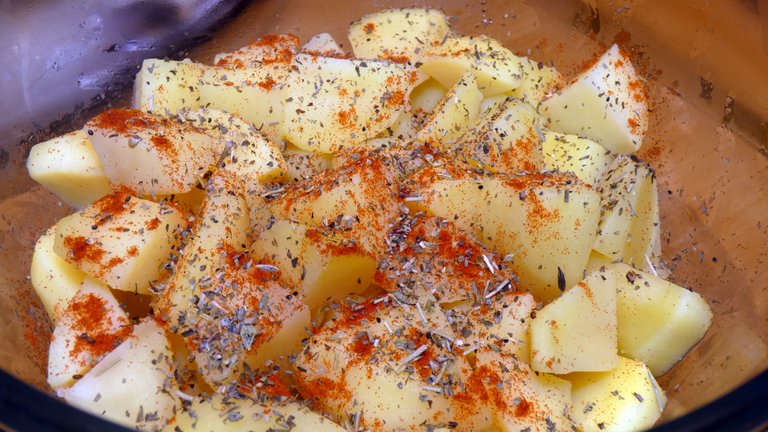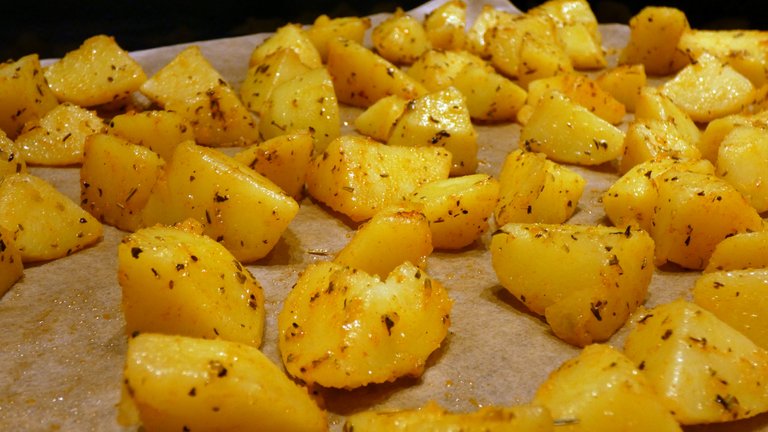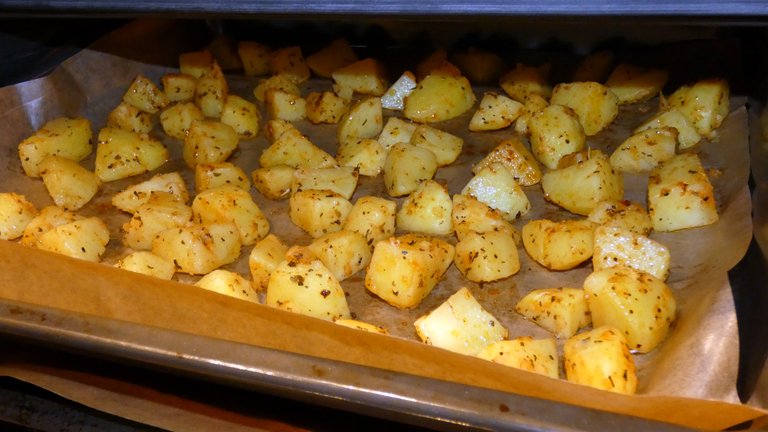 Place the prepared fish on a baking sheet lined with baking paper. We put in the oven.
Przygotowaną rybę układamy na blasze wyłożonej papierem do pieczenia. Wkładamy do piekarnika.
We also prepare a vegetable salad which includes pepper, onion and tomato.
Przygotowujemy również sałatkę warzywną w skład której wchodzą papryka, cebula, pomidor.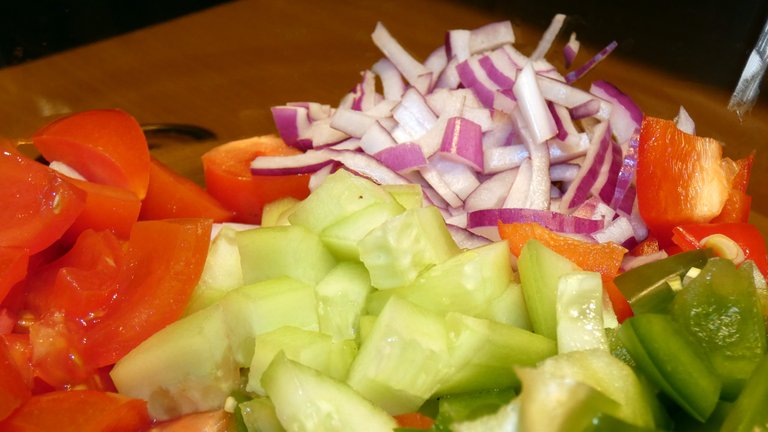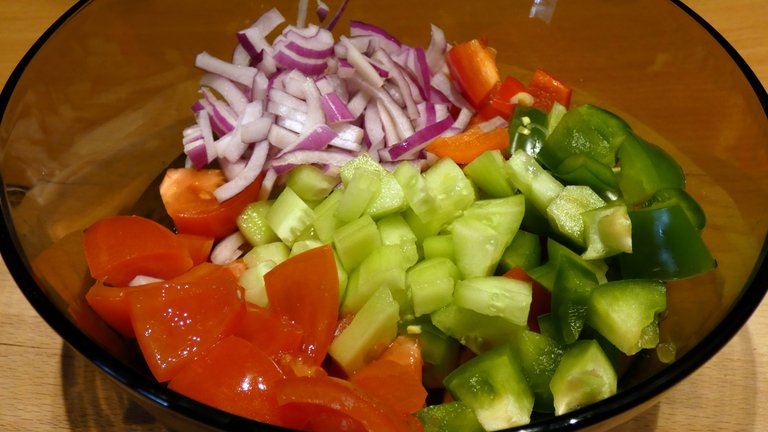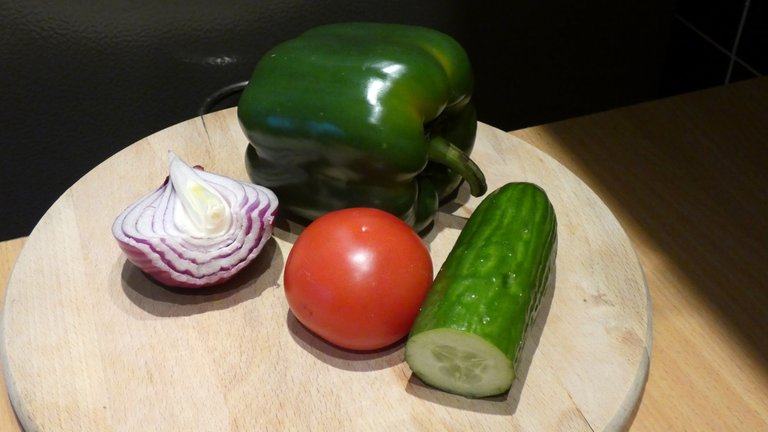 Smacznego
Enjoy 😋