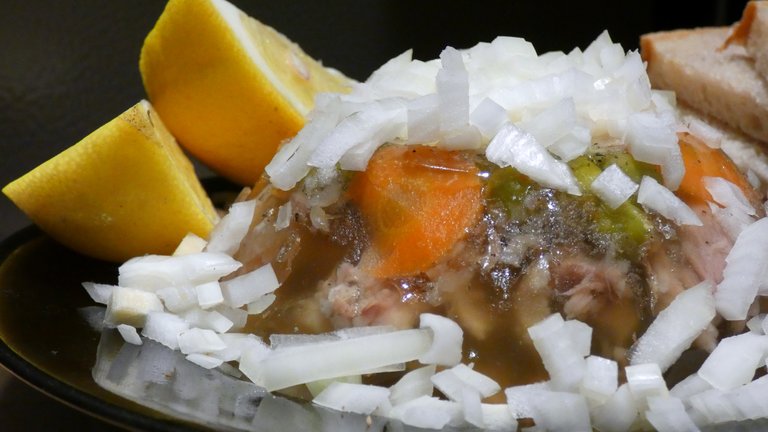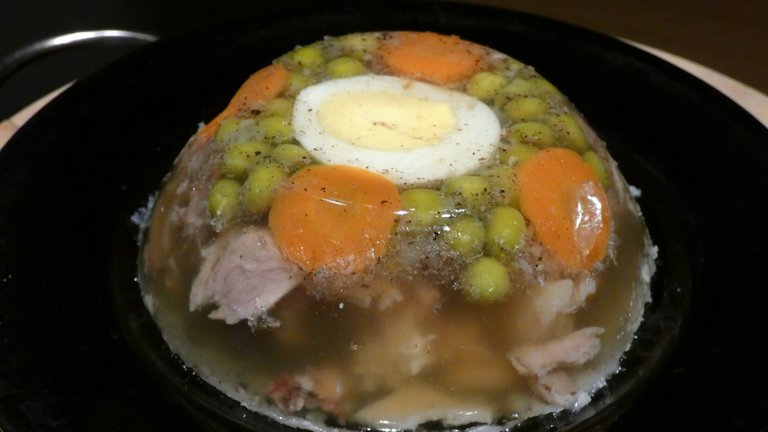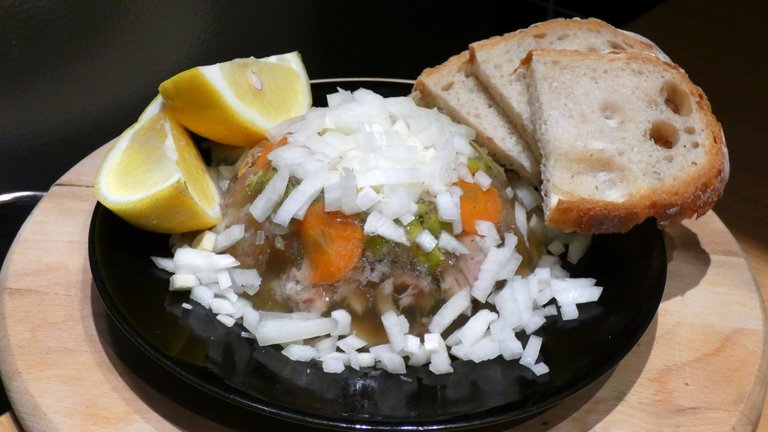 Pork leg jelly is one of the favorite dishes served very often at parties with the use of strong alcohol. It is very full and fatty, which is good if you consume vodka. It is by no means a very healthy dish, but it is incredibly tasty.
Galareta z nóżek wieprzowych to jedna z ulubionych potraw podawanych bardzo często przy imprezach z użyciem mocnego alkoholu. Jest bardzo syta i tłusta, co w przypadku spożywania wódki jest wskazane. Nie jest to bynajmniej potrawa zbyt zdrowa, ale niesamowicie smaczna.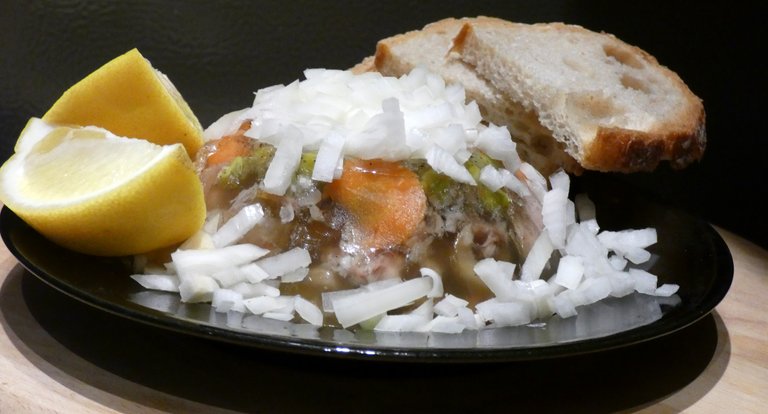 Ingredients
Składniki
A few pork legs, two large knuckles, carrots, parsley root, celery root, bay leaf, allspice, black pepper, green peas, garlic, onion, vinegar or lemon juice, fresh bread.
Kilka nóżek wieprzowych, dwa duże golonka, marchewka, pietruszka korzeń, seler korzeń, liść laurowy, ziele angielskie, pieprz czarny, zielony groszek, czosnek, cebula, ocet lub sok z cytryny, świeże pieczywo.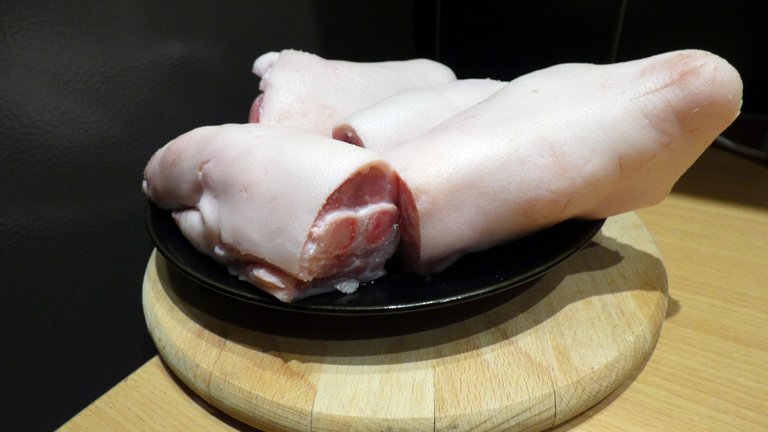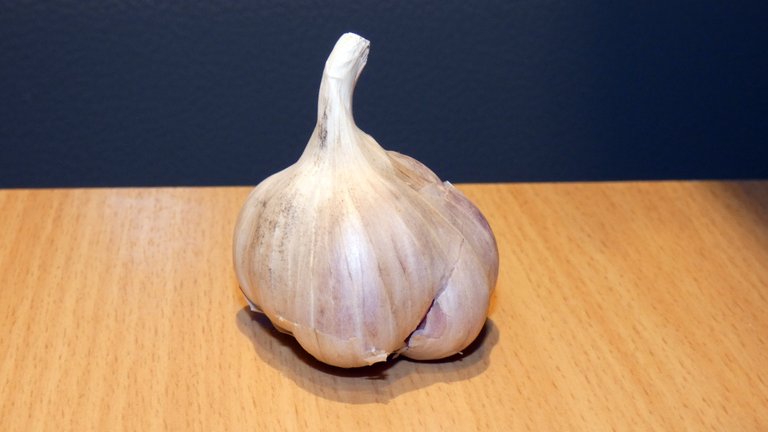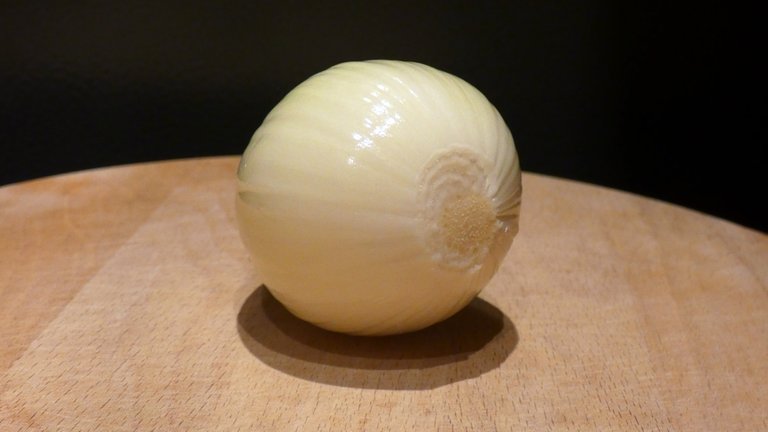 Preparation of meat
Przygotowanie mięsa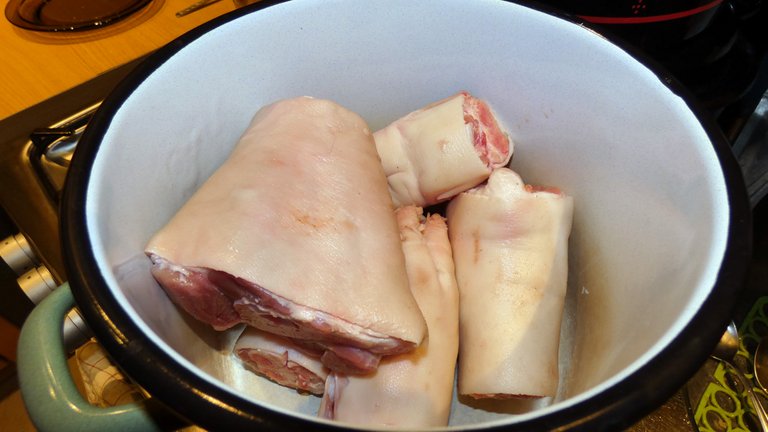 Thoroughly wash the pork knuckles and legs and put them in a pot with cold water. After boiling, collect the scum from the cut protein, add allspice, bay leaf, pepper, salt and magic (or soy sauce) and cook until the meat is tender. The meat should literally fall apart in the hands. This may take several hours.
Golonki i nóżki wieprzowe dokładnie myjemy i wkładamy do garnka z zimną wodą. Po zagotowaniu zbieramy szumowiny ze ściętego białka, dodajemy ziele angielskie, liść laurowy, pieprz, sól oraz magii (lub sos sojowy) i gotujemy aż do miękkości mięsa. Mięso powinno się dosłownie rozpadać w rękach. Może to potrwać kilka godzin.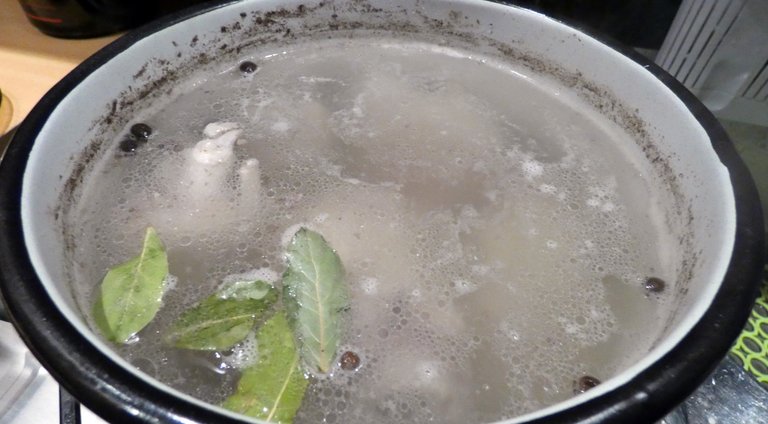 At the end of cooking, add vegetables to the meat, i.e. parsley, carrots and celery.
Pod koniec gotowania, do mięsa dodajemy warzywa, czyli pietruszkę, marchewkę i seler.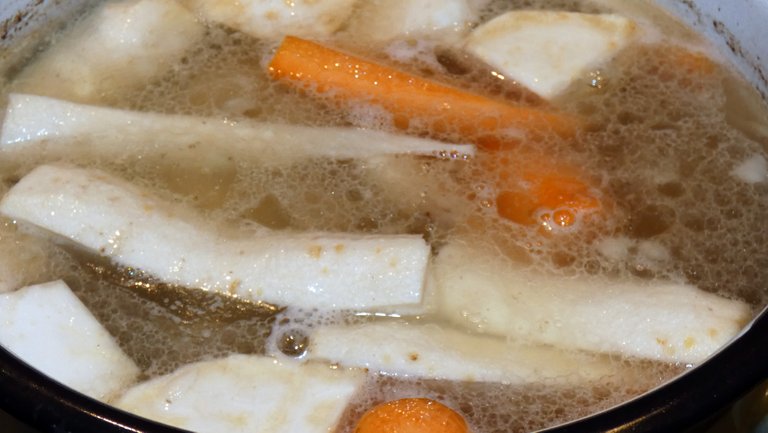 When the vegetables are soft, take them out of the stock together with the meat, straining the whole thing in a colander.
Gdy warzywa będą już miękkie wyciągamy je z wywaru razem z mięsem przecedzając całość w durszlaku.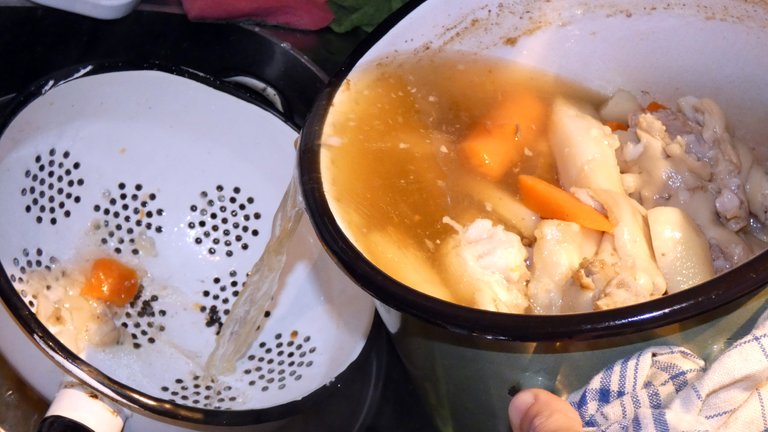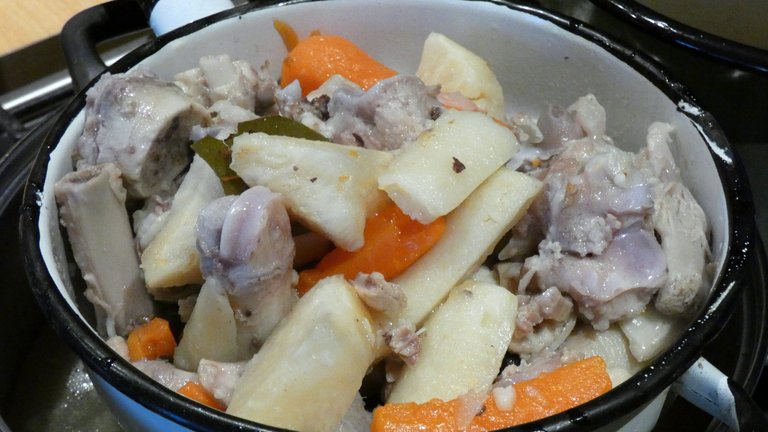 Peeling the pork knuckles and legs
Obieranie golonki i nóżek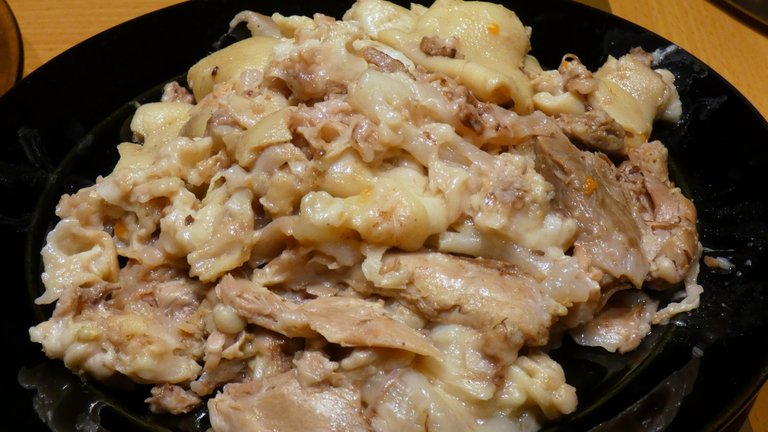 Peel the cooked legs and pork knuckle carefully, without throwing away the skin, which is a delicacy in jelly. Cut the meat into small pieces.
Ugotowane nóżki i golonkę obieramy dokładnie, nie wyrzucając nawet skórki, która w galarecie jest przysmakiem. Mięso kroimy na drobne kawałki.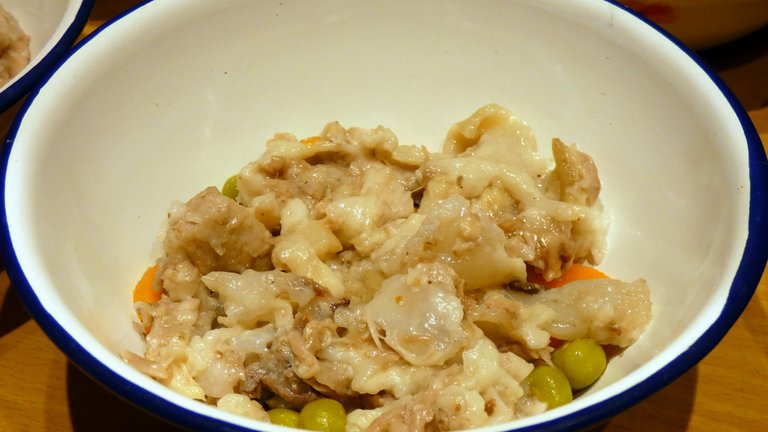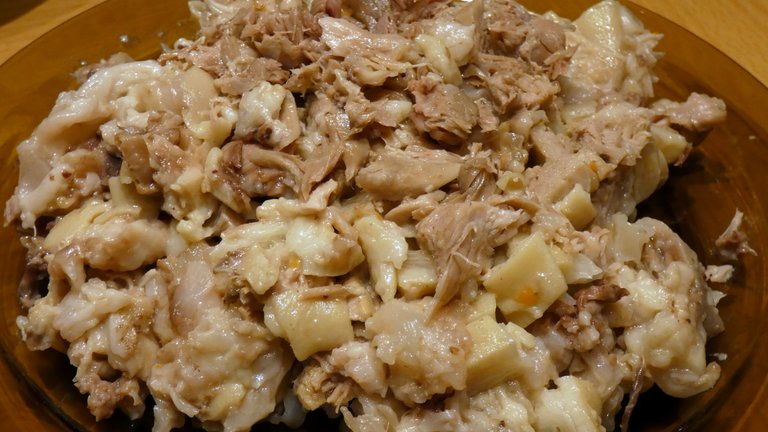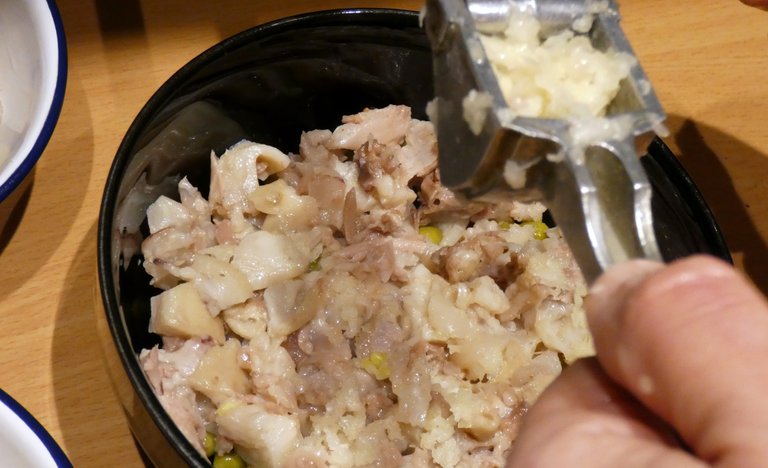 Place a hard-boiled egg at the bottom of the bowl. Then add a little green peas and chopped, cooked carrots.
Na dnie miseczki układamy ugotowane na twardo jajko. Następnie dodajemy odrobinę zielonego groszku i pokrojoną ugotowaną marchewkę.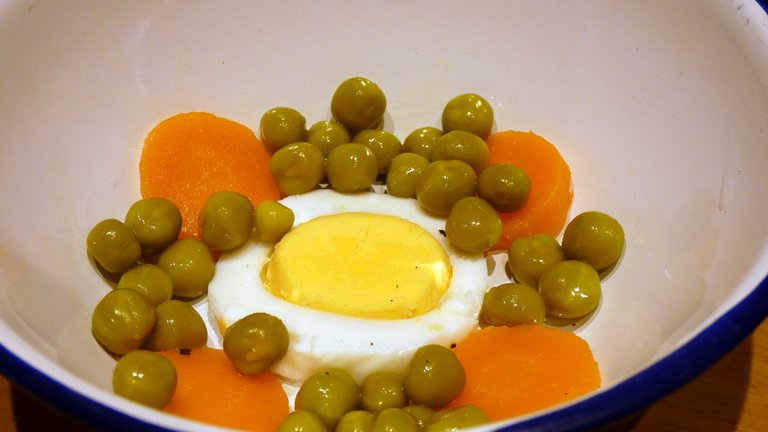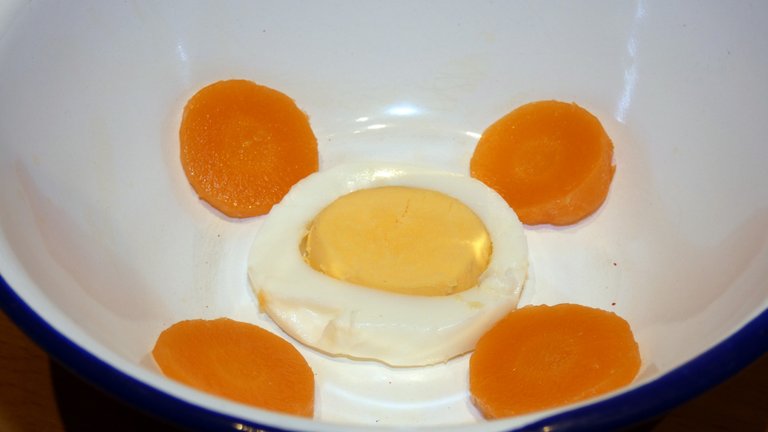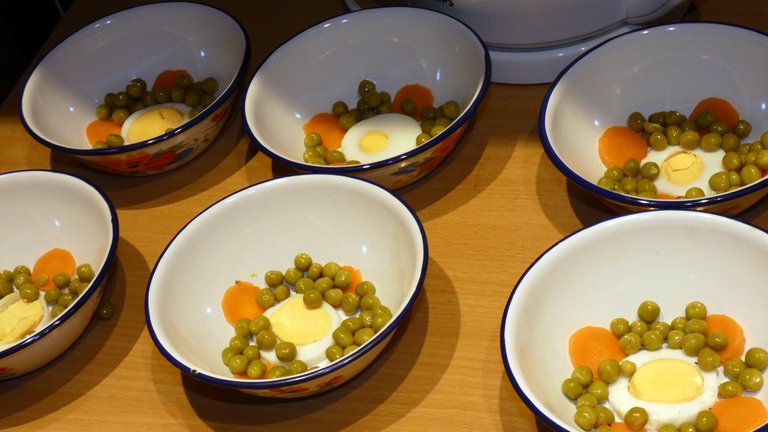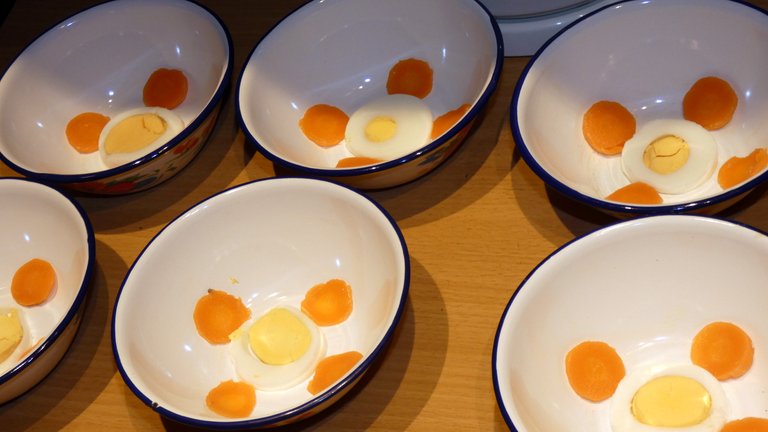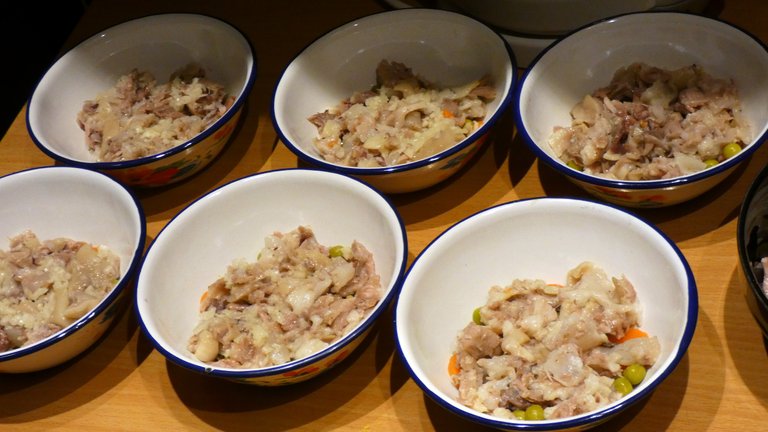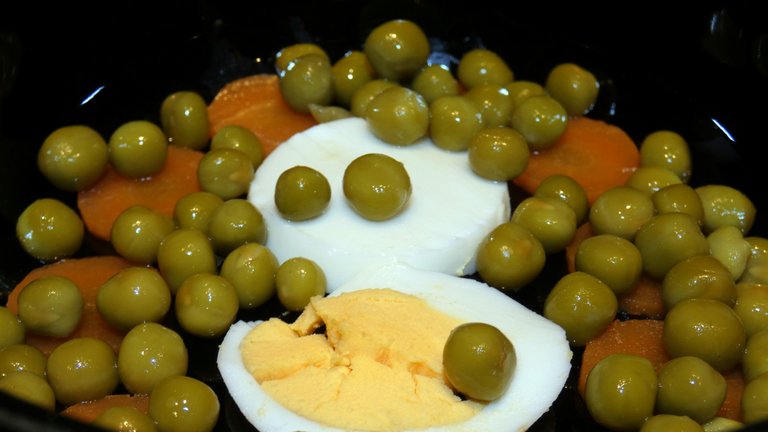 In the next stage, add the chopped meat, chopped fresh garlic and pour the hot stock over it. Let it cool and then put it in the fridge.
W kolejnym etapie dodajemy pokrojone mięso, pokrojony świeży czosnek i całość zalewamy gorącym wywarem. Pozostawiamy do ostygnięcia po czym wkładamy do lodówki.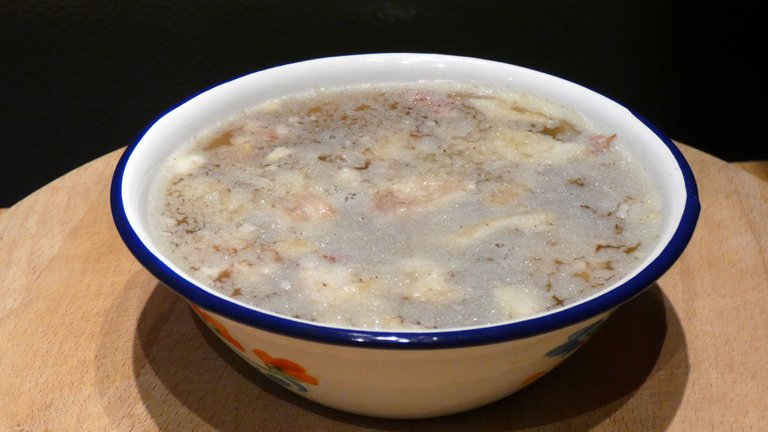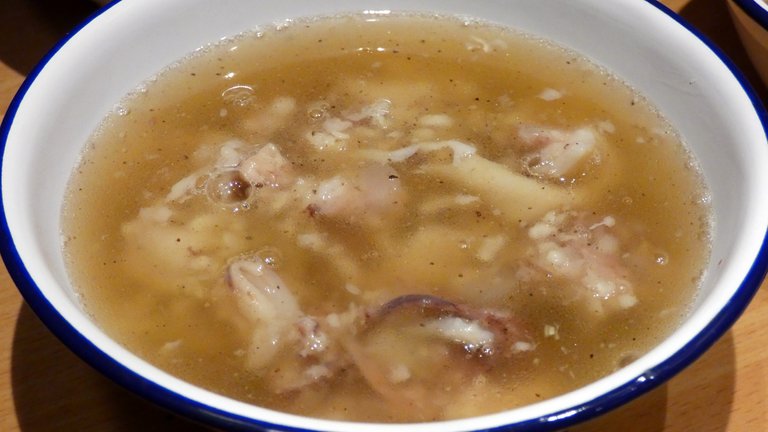 Way of giving
Sposób podania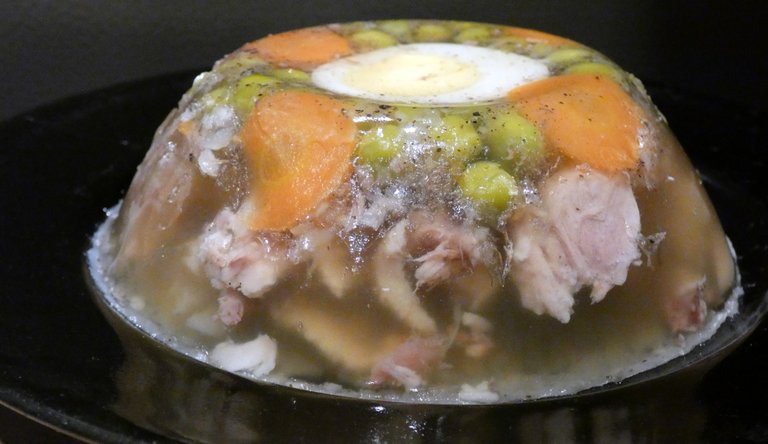 Take the jelly from the bowl onto the plate, sprinkle with diced onion and pour a little vinegar or lemon juice, depending on your preferences.
Galaretę wyjmujemy z miseczki na talerzyk, posypujemy pokrojoną w kostkę cebulką oraz polewamy odrobiną octu lub soku z cytryny, w zależności od upodobań.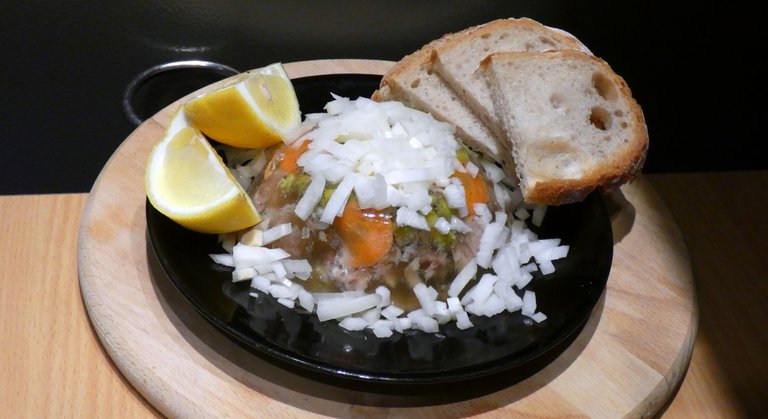 We serve it with fresh bread
Podajemy ze świeżym pieczywem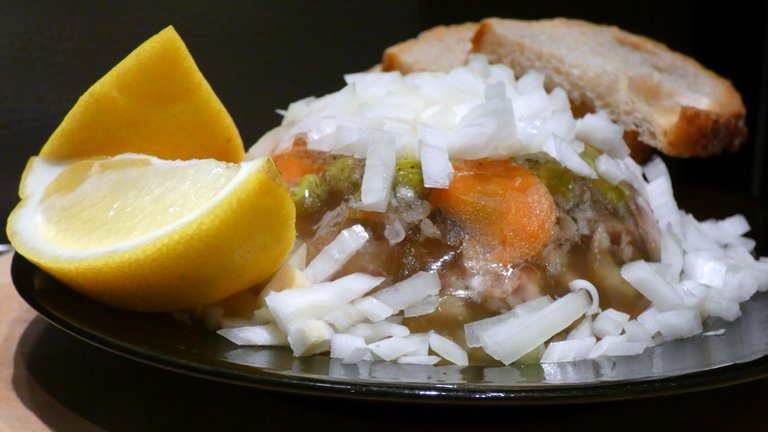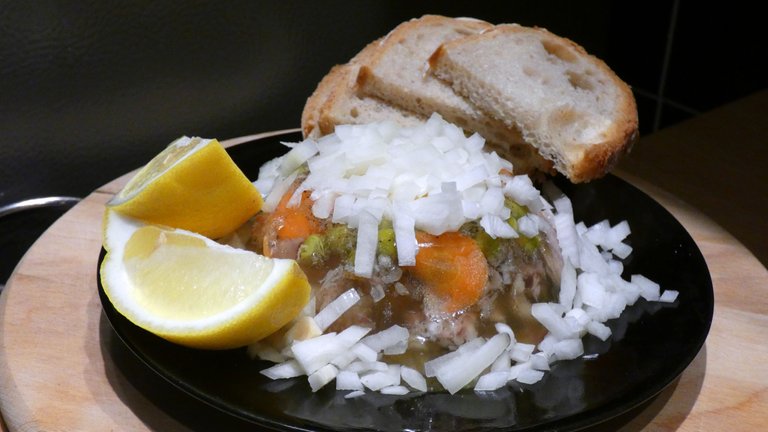 Smacznego
Enjoy 😋