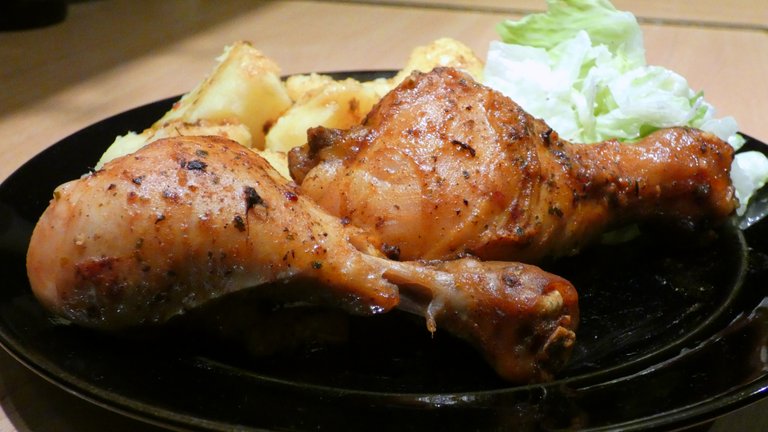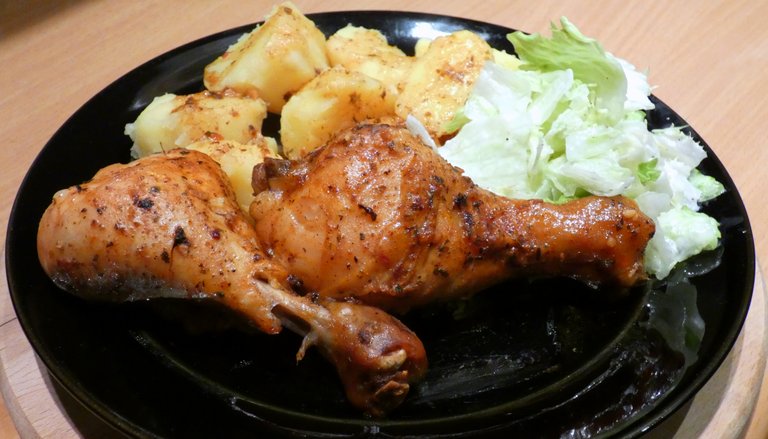 Ingredients
Składniki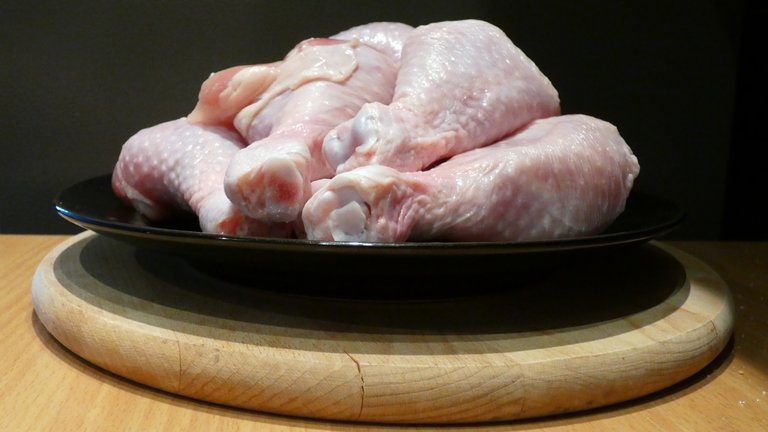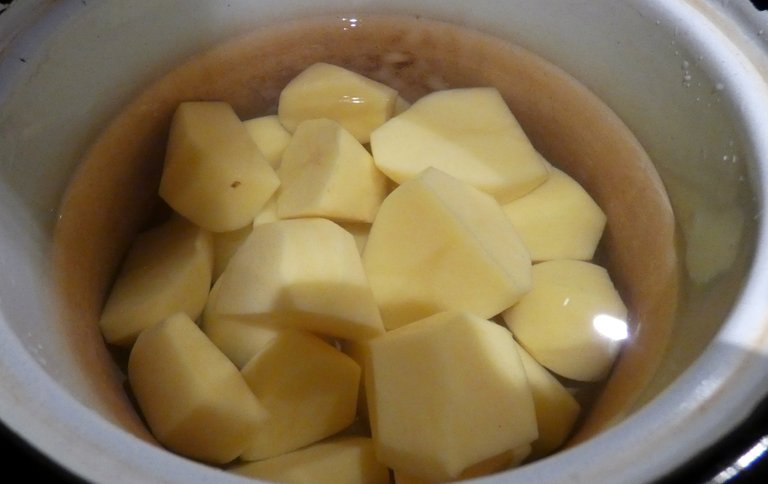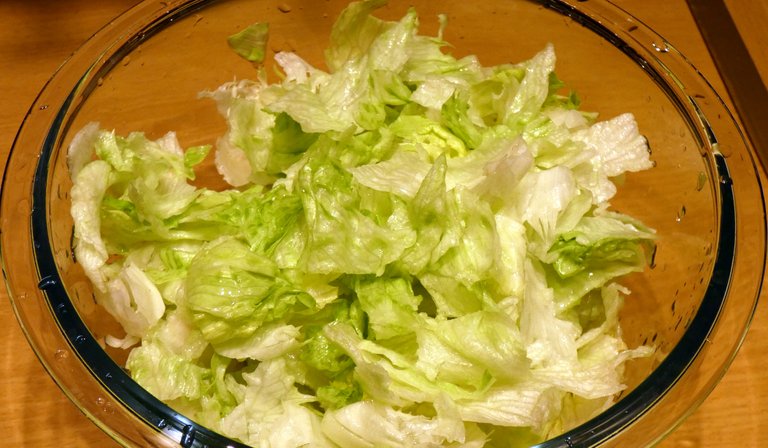 6 pieces of chicken thighs, garlic, potatoes, iceberg lettuce, cream, spices, salt, pepper, hot ground pepper.
6 sztuk udek z kurczaka (około 1 kg), czosnek, ziemniaki, sałata lodowa, śmietana, przyprawy, sól, pieprz, ostra mielona papryka.
Herbal and paprika seasoning
Przyprawa ziołowo-paprykowa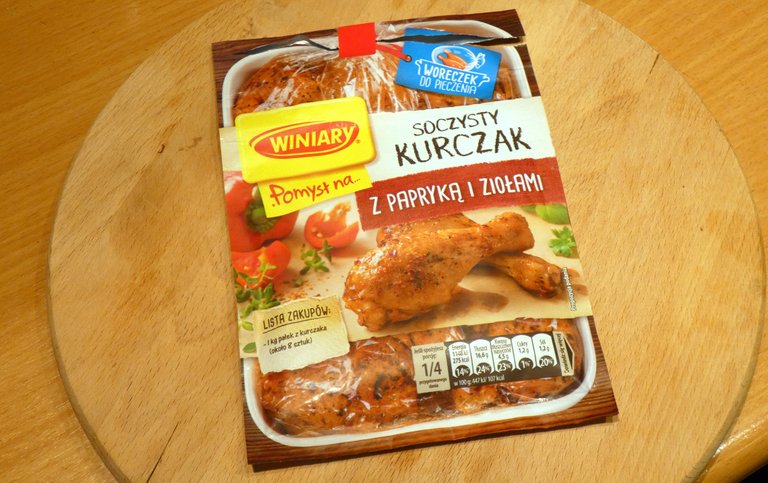 Dried vegetables 54.7%, red pepper 25.2%, potato, tomato, onion, garlic, salt, herbs 6.8%, parsley leaf, marjoram, basil, thyme, corn starch, sugar, spices - coriander seeds, pepper black, ginger, and chili pepper.
Suszona warzywa 54,7%, czerwona papryka 25,2%, ziemniak, pomidor, cebula, czosnek, sól, zioła 6,8%, liść pietruszki, majeranek, bazylia, tymianek, skrobia kukurydziana, cukier, przyprawy - nasiona kolendry, pieprz czarny, imbir, papryka chili.
Preparation of the chicken
Przygotowanie kurczaka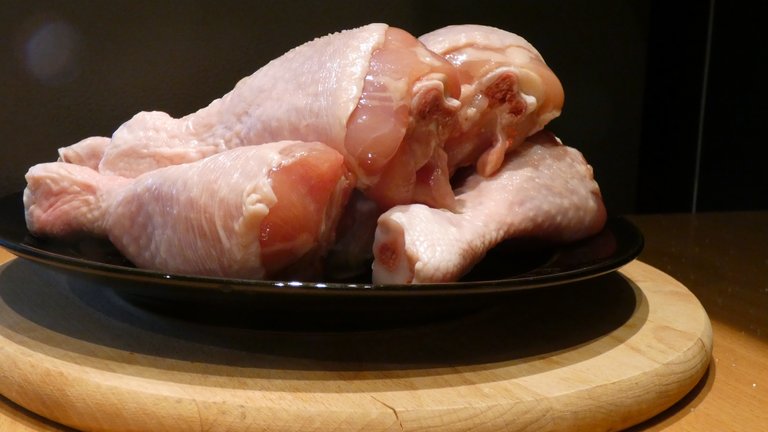 Thoroughly wash the chicken thighs, remove any remnants of feathers and skin.
Udka z kurczaka dokładnie myjemy, pozbawiamy ewentualnych resztek piór i naskórka.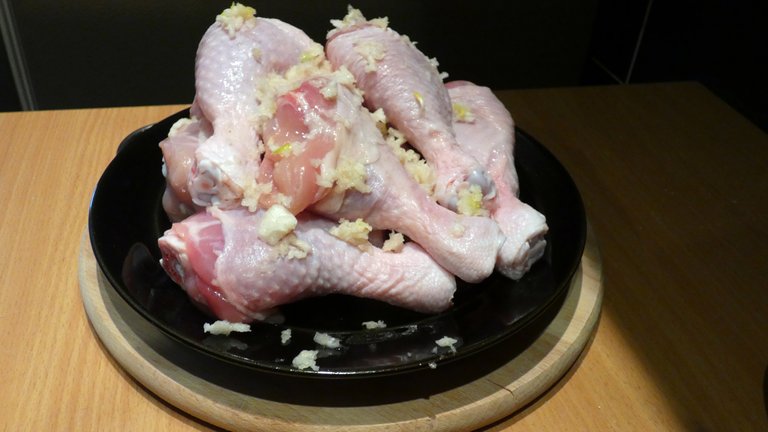 Then rub the chicken thighs with garlic grinded with salt and leave in a cool place for about 2 hours.
Następnie nacieramy udka z kurczaka czosnkiem roztartym z solą i pozostawiamy w chłodnym miejscu na około 2 godziny.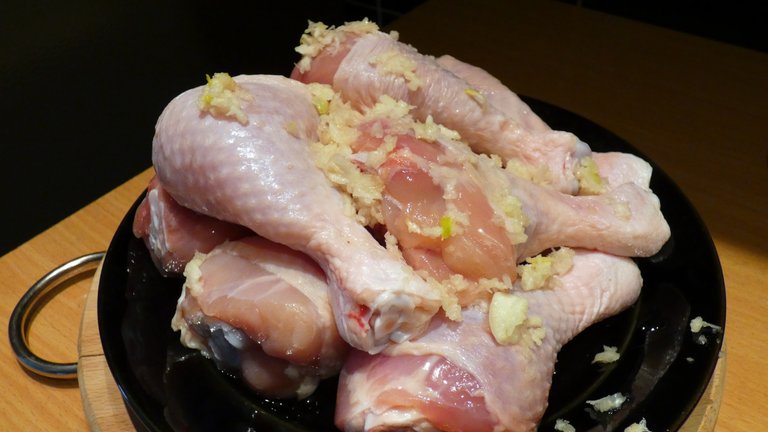 In the next step, place the sticks in the baking bag with the bone inwards so that it does not damage the bag and pour the herb mixture over it.
W kolejnym kroku układamy pałeczki w woreczku do pieczenia kością do wewnątrz, aby nie uszkodziła woreczka i przesypujemy mieszanką ziołową.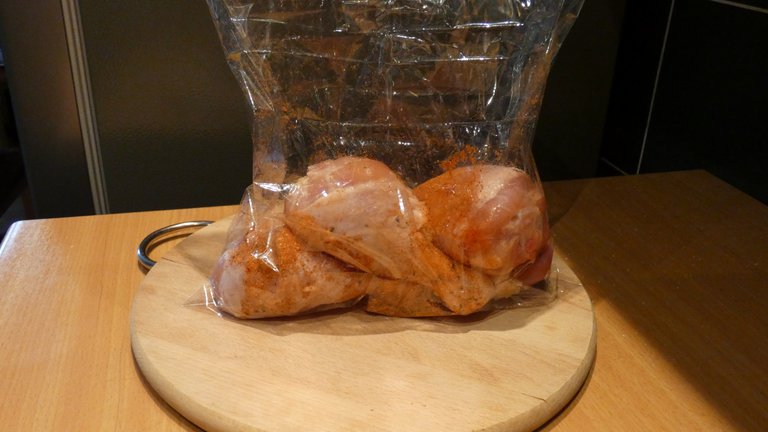 Once all the thighs have been arranged, thoroughly but carefully mix the contents together to spread the herbal mixture.
Gdy już ułożymy wszystkie udka, dokładnie, ale ostrożnie mieszamy całą zawartość, tak aby rozprowadzić mieszankę ziołową.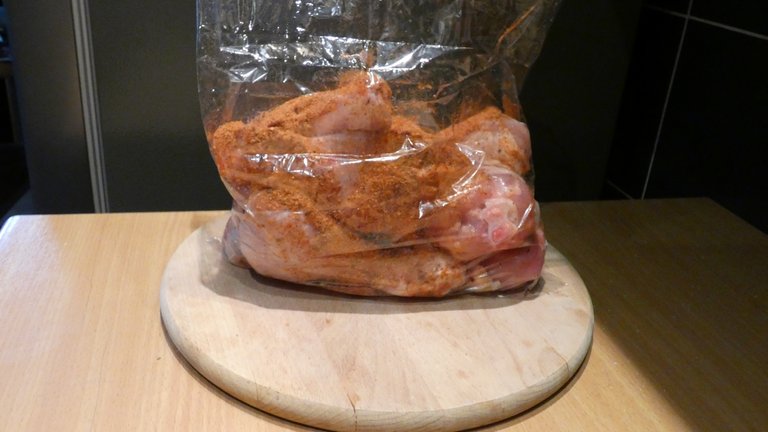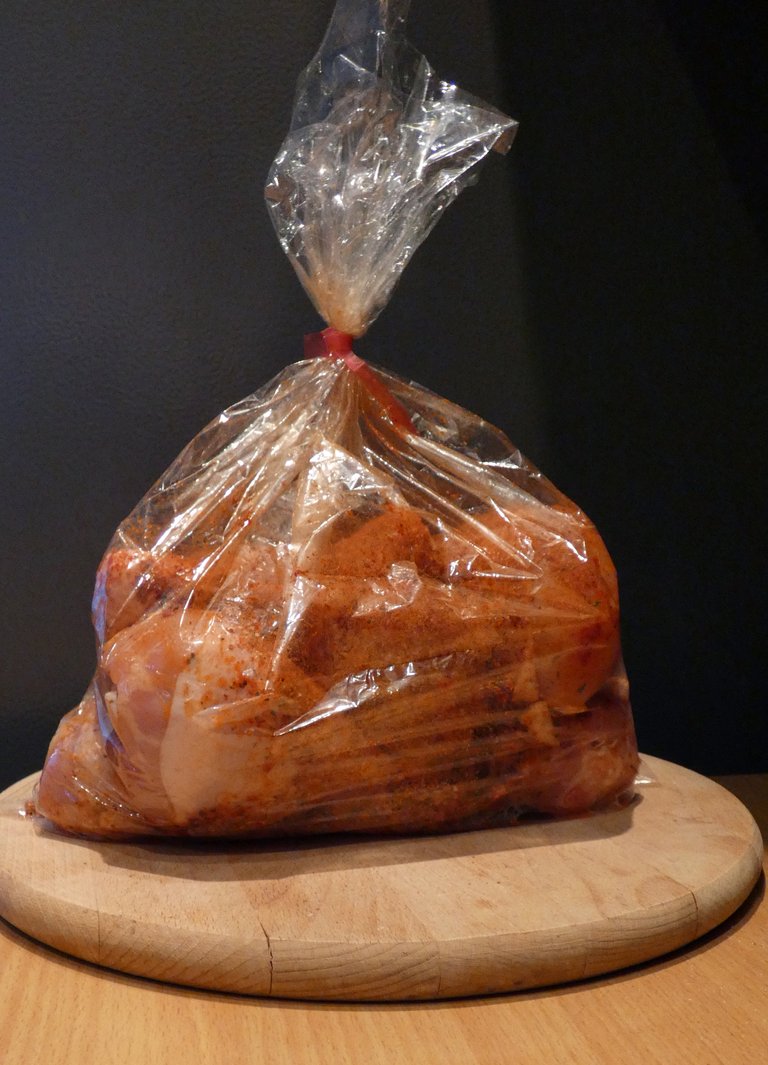 Put the drumsticks in a roasting pan and put them in the oven. Bake for about 45 minutes, until the meat is tender.
Wkładamy udka do brytfanny i umieszczamy w piekarniku. Pieczemy około 45 minut, do miękkości mięsa.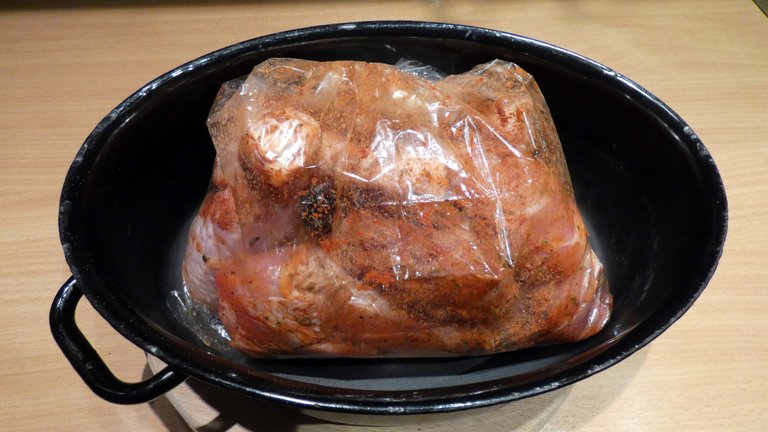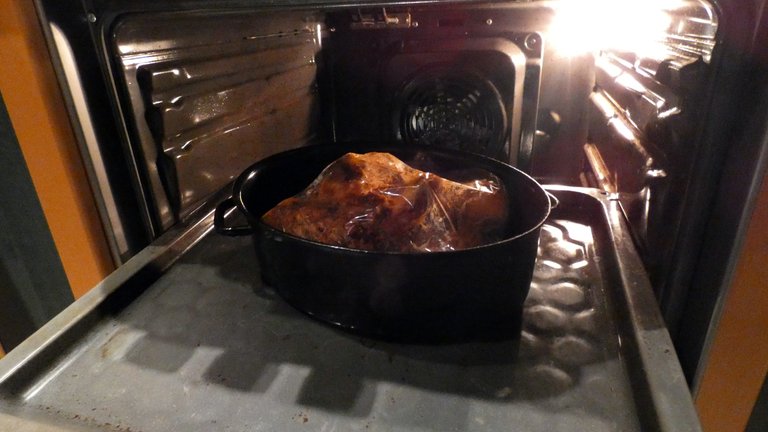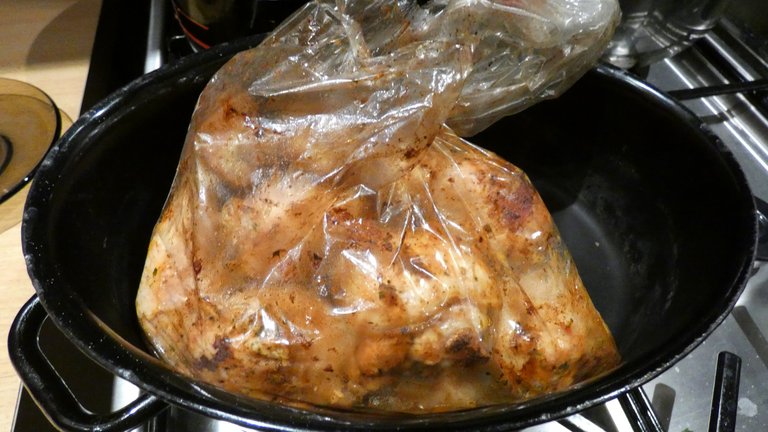 After baking the chicken legs, I take them out of the bag and bake them in a roasting pan to make the skin brown. This is a matter of liking, and this step is not necessary.
Po upieczeniu udek z kurczaka wyciągam je z woreczka i podpiekam w brytfance, aby skórka się zarumieniła. To kwestia upodobań i ta czynność nie jest konieczna.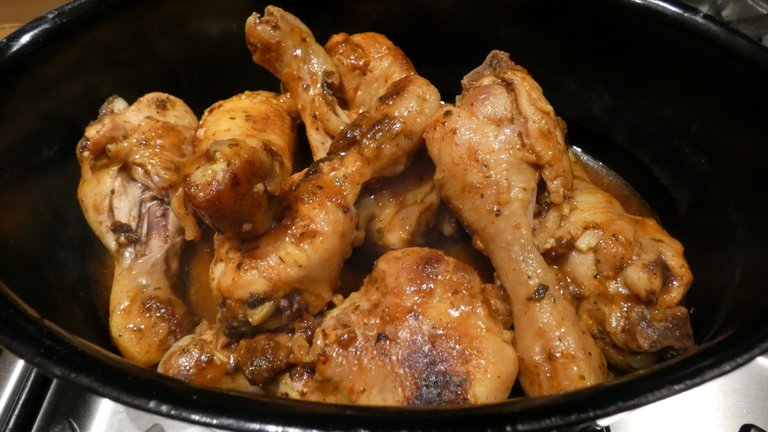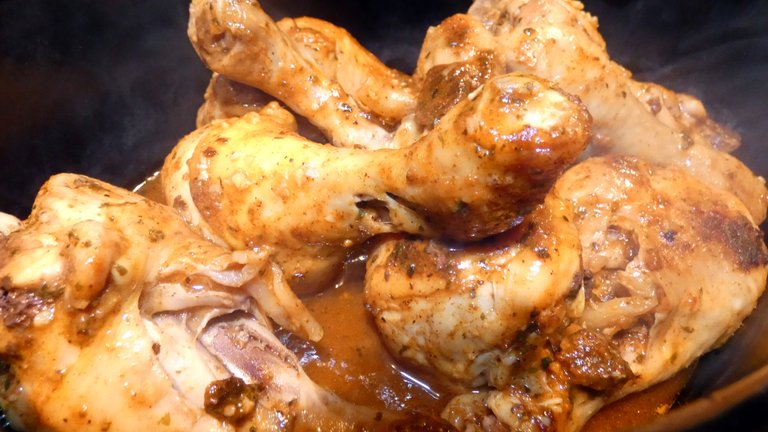 In the meantime, boil the potatoes
W międzyczasie gotujemy ziemniaki na sypko
Preparation of iceberg lettuce
Przegotowanie sałaty lodowej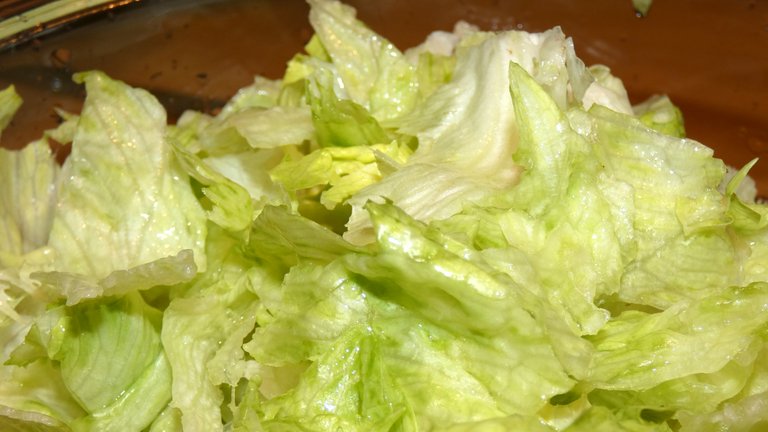 Wash the lettuce thoroughly and shred it into smaller pieces.
Sałatę dokładnie myjemy i rozdrabniamy na mniejsze kawałki.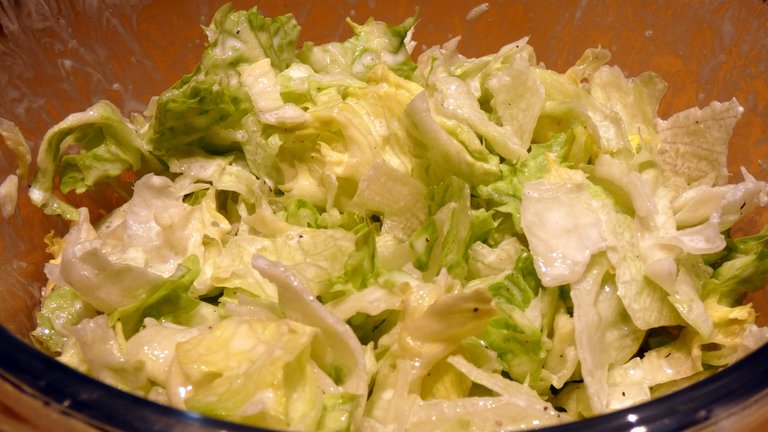 Add salt, pepper and cream with 12 percent fat and mix thoroughly.
Dodajemy sól, pieprz i śmietanę z zawartością tłuszczu 12 procent i dokładnie mieszamy.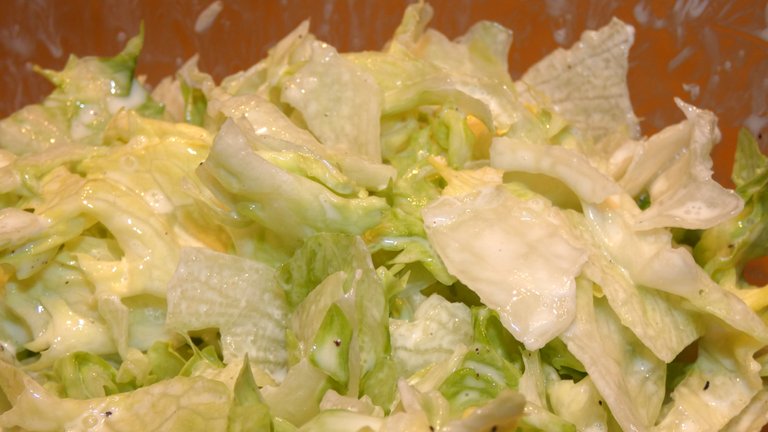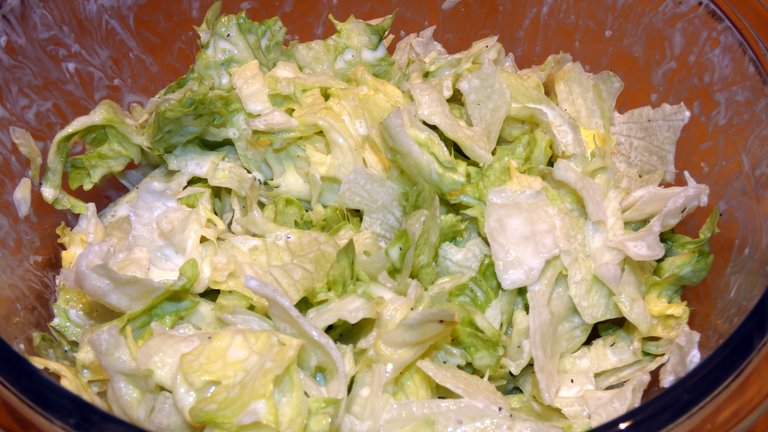 Way of giving
Sposób podania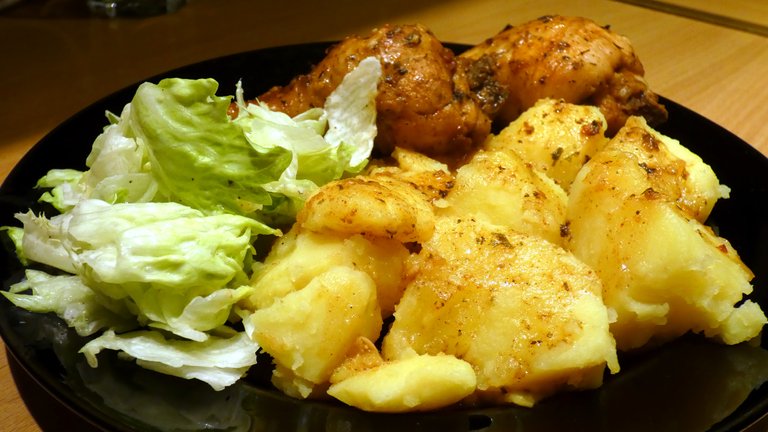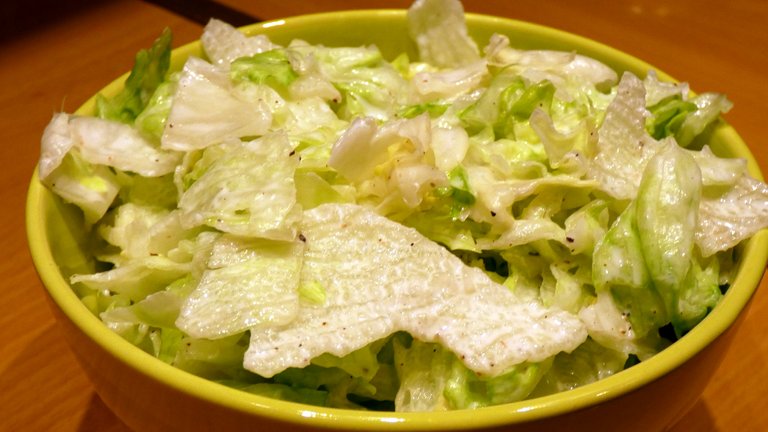 Serve with loose boiled potatoes, served with roasted chicken sauce and crispy iceberg lettuce with cream.
Podajemy z ziemniaczkami ugotowanymi na sypko, polanymi sosem z pieczonego kurczaka oraz z kruchą sałatą lodową ze śmietaną.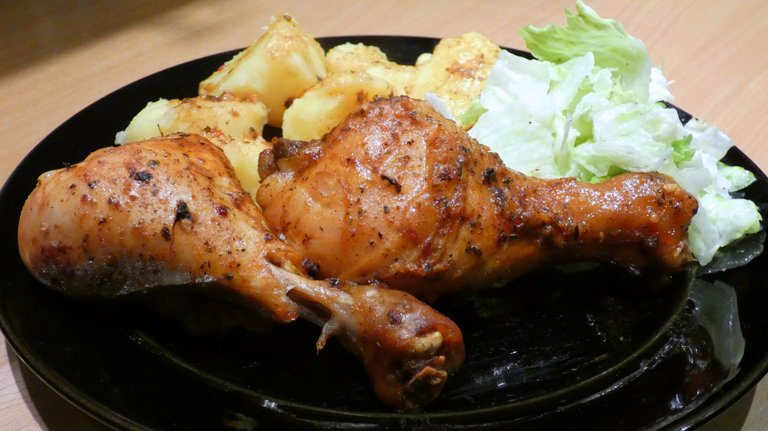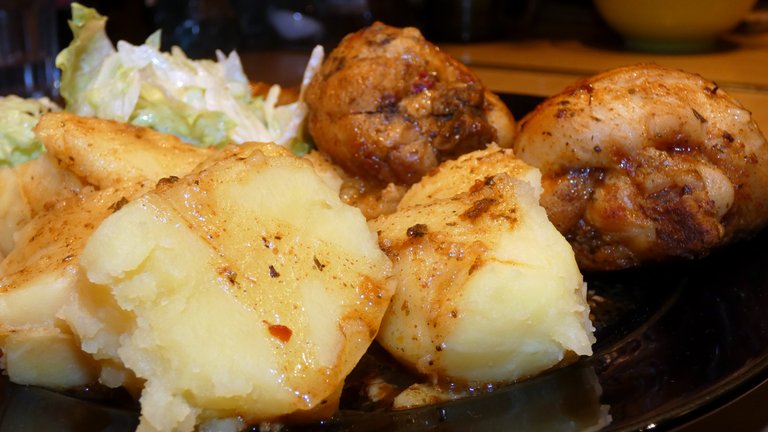 Bon Appetit
Smacznego 😋
Enjoy 😉