Why in Legazpi City, Albay PHILIPPINES?
Upon research and trying the game called Upland, I got the chance to discover many countries and places that I've never been before. Upland is a great game that gives new players a lot of bonus and tokens as a starter. It's user friendly and the game allows you to explore, buy, sell, and trade properties in each of those cities that represent real-life locations. I am grateful and honored to introduce my city and especially my country to be opened in the Upland metaverse. So why in Legazpi City Albay? That's because the city is shining as a hidden tourism gem offering innumerable activities for leisure, fun, relaxation, and travel.
Legazpi City
Legazpi City is known for the majestic Mount Mayon a perfectly symmetrical volcano and also the most active one in the Philippines. Not just that because you can also discover Iconic historical places, comfortable inns, culture and foods that is out of this world! The city also used to be a small farming and fishing village but is now a thriving city and one of the Philippines top adventure tourism destinations. Located in the province of Albay in the Bicol region. Travelers from all world over come to Legazpi to see the perfect cone shape of one of the most active volcanoes in the world. In recent years, Legazpi City is more than just the home of the 200 million-year-old Mayon Volcano. They don't call Legazpi City as "The City of Fun and Adventure" for NOTHING!
Let's Explore the sights and heritage of Legazpi City!
Below is the Mayon Rest House, which is also known as Mayon Skyline View Deck. The nature park is located on the eastern slope of the Mayon Volcano, you can enjoy the scenery all the way here! Next to that is the Tiwi Pottery, featuring a huge collection of vases and jars, as well as the National Museum, which showcases Bicol's heritage and geological history.
Cagsawa Ruins is one of the most iconic tourist landmarks in Legazpi. The church was built in 1587 then destroyed by Dutch pirates in 1636. A priest had it rebuilt in 1724 by Franciscan friars under Father Francisco Blanco but in 1814 a historic eruption of Mayon Volcano happened that once again destroyed the church and the town of Cagsawa where thousand of residents evacuated on the church and the residents around the area were buried alive.
Get an up-close experience of this iconic volcano and the structures that surround it when you visit Mayon Volcano Natural Park. The park has a total land area of 5,775.70 hectares. The protected area includes 6 towns and 3 cities in the province of Albay. The Mayon Volcano Natural Park is home to over 150 floral species and 83 tree species. There are rivers, creeks, and rice fields that travelers can trek on foot or explore by riding an all-terrain vehicle (ATV).
Daraga Church was built by Franciscan missionaries in 1772 . In the 18th-century Baroque church sits atop a small hill, with the walls, facade, and belfry made out of volcanic stone. Also, certain sections of the church have been declared as a National Cultural Treasure by the National Museum of the Philippines. Its complete and original name is actually Nuestra Señora de la Porteria Church.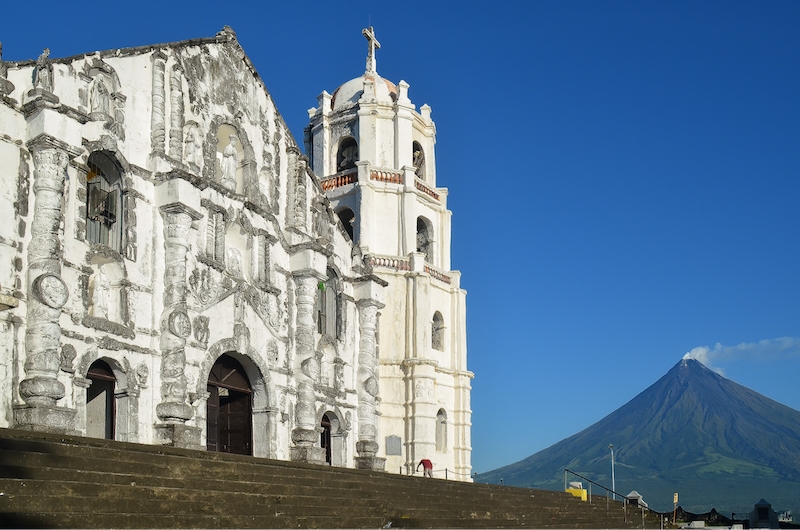 Image credit: Dexbaldon
Ligñon Hill Nature Park -This place has a panoramic view of the Mayon Volcano and it has fun activities like trekking, ziplining, rappelling, and crossing a hanging bridge. There's also a historic tunnel that you can see, which was used by Japanese forces during World War II.
IImage credit: Tyfron Topalidis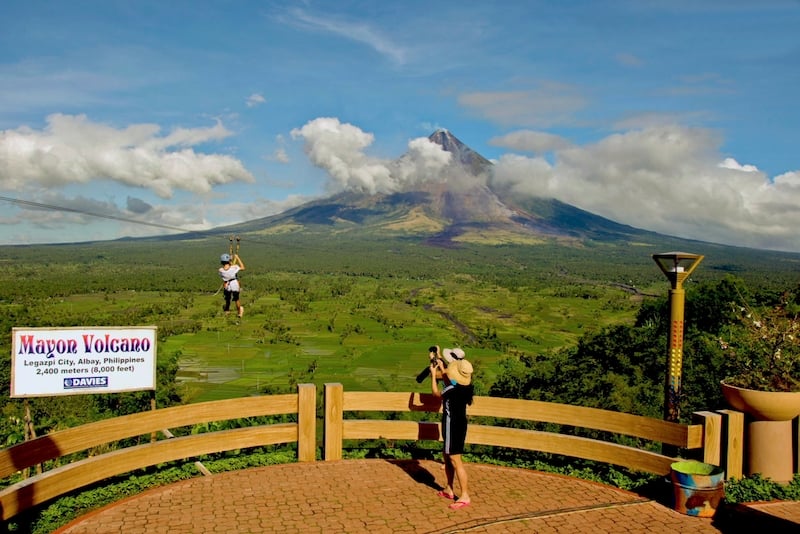 Quitinday Hills covers about 400 hectares and no mound is exactly alike. This Albay tourist spot is also referred to as the 'Pili Nut Hills' — since pili nuts are one of the top produce in the Bicol Region.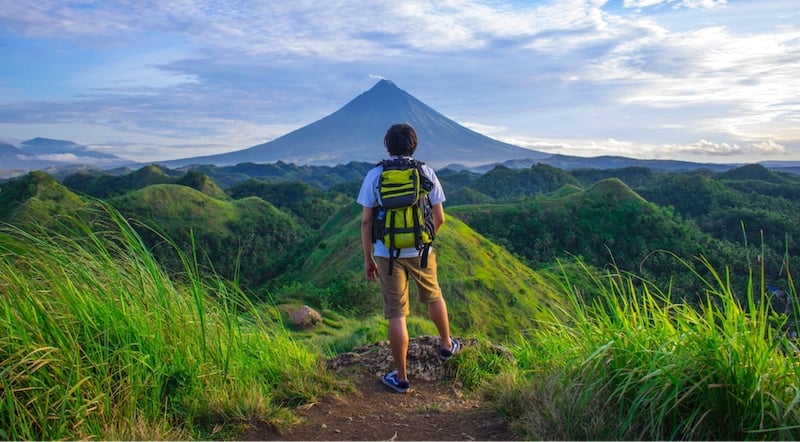 Cagraray Eco Park is dazzling with an overview of the beach and neighboring islands, Cagraray Eco Park is a fun and scenic playground.  It is best experienced when on an ATV or golfcart as it gives one the feeling of discovery and adventure.
Calabidongan Cave - It literally means "cave of the bats." Explorers have to trek, cross over brooks and river before reaching the cave mouth and swim across a seven-foot lagoon called lizard's gate; then, out into an overwhelming cathedral with a streak of light pouring in from its ceiling. Requires heavy spelunking.
Hoyop-Hoyopan Cave is a multi-level cavern of natural limestone situated at the village of Cotmon in Camalig, Albay. The gentle and breezy wind that blows through the numerous openings of the cave gave birth to its name Hoyop-Hoyopan which was derived from the vernacular word "hoyop" which means to blow.
Jovellar Cave and Underground River
Quitinday Underground River has a cold and clear water where you can swim and relax. It can be navigated by riding a bamboo raft that ends on a two-tier smaller cascades.
Sumlang Lake is a 14 hectares body of water that later on discovered and renovated. Visitors and guests can have a relaxing ride in this 9-hectare swamp in an on a bamboo raft jazzed up with exquisite abaca furniture. It is best done towards sunset where the rafts can be framed in a snapshot with the picturesque Mayon in the background.
Trinity Island
A group of low-lying hills surrounding the gentle valleys along the coast  in rural Albay; a pebbly, sandy shore; a boscage of lush trees, a blue lagoon, fishing boats scattered here and there that seem to have become part of the landscape. Then there is Trinity Islands tucked into those sceneries that takes a challenging two and a half hour drive from the town of Oas center to get to Brgy. Cagmanaba, and another seven to ten minute boat ride to finally reach the place. The name of the place was derived from the number of the islands. What makes them unique are their close proximity to each other like Siamese twins, only there are three of them; the lagoon that they form, which is visible at the peak of the tallest, biggest island; and the emerging diving spots on two of the islands—strongly recommended only to the brave and bold.
Vanishing Island is locally known as the Wara-Wara Island. The island is only visible and available during daytime at 7 in the morning up to 5 in the afternoon. Don't forget to bring your swimming outfit and snorkelling gear for maximum enjoyment of its clear sapphire blue waters and to interact with the starfishes!. 
Pinamuntugan Island
Dig out your sun block, pack your shades because it's time to seek out the sun and escape to a paradisiacal beach in Pinamuntugan Island, Langaton Bacacay Albay. Pinamuntungan Island is a place to discover and escape back to nature. Don't forget to bring your swimming outfit and snorkelling gear for maximum enjoyment of its clear sapphire blue waters. Besides swimming this beautiful isle also offers other activities including spear fishing, bird-watching and beachcombing!
Let's now jump into our favorite food and delicacies in my city!!!! 
First we have our well known and most favorite Pinangat is a popular Filipino stew that is prepared in two main versions. The sour version is prepared with fish, bilimbi, tamarind, and vinegar, while the Bicol region version is prepared with coconut milk, taro leaves, hot chili peppers, and meat (pork, sardines, catfish, or tuna).Our region is abundant with taro leaves, so it is unsurprising that taro is a key ingredient in many Bicolano delicacies. Pinangat is served with a variety of toppings, and is usually ladled over rice. Cooking the dish is an easy process that only requires combining all of the ingredients and cooking them together, which is one of the main reasons for its popularity.
Sili Ice cream is one of my favorite desert where the main ingredient is hot Chili! A combination of cold and spice tastes really good.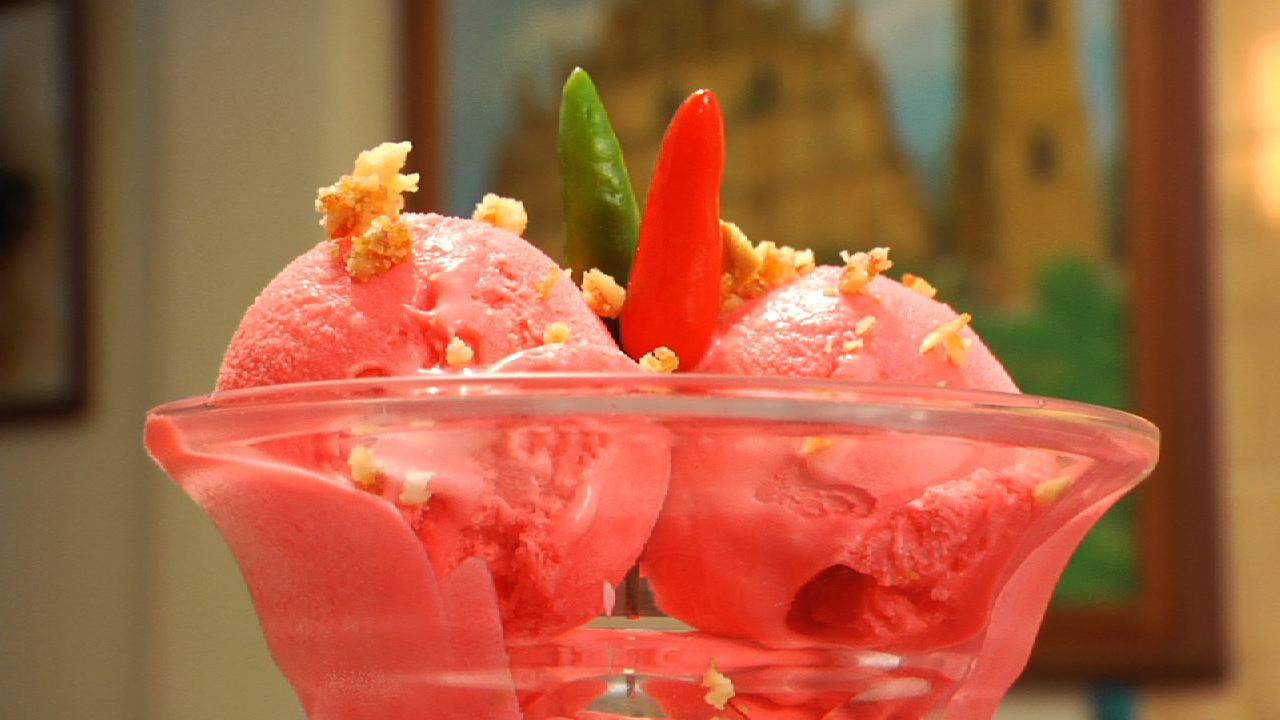 Pili Nuts
If you're a Filipino and you've never tried pili nuts, then you must have been living under a rock! It's available in most souvenir shops all over the country, most pervasively in airport stalls but the true origin of this amazing nut is the Bicol region. In fact, the pili tree is indigenous to the province.
The kernel is high in calcium and potassium, as well as rich in fats and amino acids. A soft but crunchy nut that melts in your mouth, the pili nut is cooked in various ways. The most famous variant is the honey-glazed pili which you can find at most airport stalls and souvenir shops. Other variants include crispy pili with sugar, pili with sea salt, and plai-roasted pili. It is also turned into cakes and tarts. For an authentic pili experience, head to the Bicol region and eat it while it's fresh!
Let's enjoy a short video presentation of our recent event where I also participated, the 50th Anniversary of my school Bicol University. It shows how we enjoy our culture by performing  street dances that represents the different festivals in our city. 
Thank you for reading until the end! I am looking forward for Upland to open in our Country and city!!!