The UK may get a "Two for One" clean Brexit from the EU and cause a brief "CryptoGeddon" with Boris Johnson, if Gerard Lyons succeeds Carney as the Governor of the Bank of England, an appointment Bloomberg has suggested in their July 25th, 2019 as likely,  clipped and post below. (go to link, that is if you have any free views left)
I am sure all the NYC & UK quant and hedge fund algorithms are primed and ready for this likely outcome...
What "might that accompanying UK "Cryptogeddon"  look like (a term coined by Zerohedge, see article below describing the 2018 crash( https://www.zerohedge.com/news/2018-12-07/cryptogeddon-continues-bitcoin-plunges-2018-lows-amid-cash-chaos) for the UK? 
Below a few UK B of E post Carney scenarios to think about and plan for, regardless of where you are in the world, to help you protect and grow your hard stores of value:
A- a Crypto Market Hiccup... Lyons has very little experience with Monetary policy and is an avowed Keynesian "Print more money type of guy" which means steal from the poor give to the rich style of thinking, Lyons will be "luke warm" at best toward  enabling the growth of the crypto market, if he understands it all, more likely Lyons will ignore crypto in the first 180 days-  a 60% likely outcome..,
B- Status Quo  on Crypto- Steady as it goes - Lyons is angling for the country level job he had with Boris at the city level, as Lyons sides with Carney as a Keynesian on more than a few issues including financial planning/engineering for climate change to protect assets and keep the country attractive for business, without the Climate Terrorist/Alarmist rhetoric of Carney. a 30% likely outcome..,
C- "And now for something completely different?"  Lyon could actually run with Carney's SHC Central Bank Crypto musings (see my earlier post https://www.linkedin.com/posts/activity-6573300384129970176-bm2k).
Lyons like most "Globalist" Economists, has an enormous ego, so this scenario might be less likely on the surface as a scenario playing itself out, on the other hand, Lyons behaviour over the years has been insightful to some extent given the accuracy of a few of his key forecasts so he could conjure up his own version of the Carney heist to be foisted on the Brits and their Biz as a big part of "Make Britain Great Again" Spin pumped by Boris (in order to appease his real masters). 10% likely outcome and feeling like the Hiccup described above, with a larger impact...
IMNSHO, The B of E will erode to be a "sideshow game" in the overall World Economy of Payments and Settlements, as the Pound and Sterling get bypassed "once and for all" as a viable settlement currency of hard value, to be rapidly replaced by the euro, yuan, and gold settlement and, an ever growing plethora of much more stable crypto currency "hard stores of value" like BTC, Litecoin, Dash, Zcash and even Ethereum included in the pseudo-anonymous sense. As for the use and rise of anonymous crypto? It's going to grow and start to make up a significant part of the "global" heterogeneous money supply used for micro and large transaction payments and settlements, and there is not a lot Boris and the B of E can do about it. 
Yes the UK will get a deal with the US post Brexit, denominated in and, paid for in US $, so that means the UK buying a lot of US $ which will prop the US buck up for a few more years as NYC & London "kick that can down the road" for one more round of thieving the tax payers's hard earned, rapidly de-valuing fiat stores of value while throwing more QE our way in the process. (To keep your housing and consumer prices high.. ;) 
End of an Era..., Is Lyons an "Unintended Bank Extinction Event" ? 
Yes Bank of England could get largely "flash frozen" out of most of the International Financial Markets for Settlement in Sterling, and the global impact will be brief, negative and forgotten within 1 year.., a little local mammoth in what is now a rapidly approaching bigger global mammoth extinction event of Central Banks and private banks as we know them, no longer looming on the horizon, but happening before their very eyes
think- https://transferwise.com/ in the small business and consumer sense,  or  think even bigger, Moneygram using XRP (Ripple) for same day settlement worldwide,  what is stopping either of them or similarly, others like them from using crypto in the middle to facilitate fast "same day" settlement and payment "Sans banks" ?
B of E "Post Carney": A 1 year speed bump coming for the UK and the world, so take note and,  hedge a bit.., timing is everything..
What ever the monetary policies of Lyons or one of the other possible replacements for the Bank of England as the policy applies to crypto,  you should all think about hedging your position in crypto, with gold and especially silver.
I am no gold bug, nor silver stacker myself, although now a days I do like the latter upside a lot more and, as the institutional money continues to creep into crypto in larger volumes, it will be important to shift your risk around into the crytpo coins which stand to benefit from such a shift out of the fiat world and into crypto which will become a significant part of the world money supply "sans borders". 
Also given JP Morgan the biggest holder of Silver has just been caught (JP Morgan caught in "Naked Short Game")  yet again fixing the metals markets (they blame it all on Bear Sterns hires after the crash of 2008) Silver is likely to get a pass card for awhile by their traders, meaning the price is likely to float upward for a few months...
On the  crypto front BTC seems likely (80%) to have found its long term bottom around  US $ 9-10K given the last 4 to 6 week short term trend line, given the sheer increase in daily volume over the spike end of 2017..., onward and upward, together with metals, (as most fiat  rapidly descends to near zero value... Rhodesian style, thanks to lots of government money printing, lying about inflation, and rapid erosion of your buying power in the face of ever higher prices. The sooner banks get out of the business of money fabrication to finance real estate deals in biz and consumer markets Assignat style https://en.wikipedia.org/wiki/Assignat , the better.  
Time to accept BTC and solid crypto for the sale/purchase of your home or biz property, to help accelerate  Bank and Central Bank extinction? ;) 
TK over and out    
**************************   Bloomberg Article  Snippet below...
Lyons as Carney Successor Could Mean Different BOE
By  Jill Ward  and  Olivia Konotey-Ahulu 25 July 2019, 17:01 GMT-6 Corrected 29 July 2019, 10:25 GMT-6
  Johnson's former economic adviser is vying for governorship
  Lyons has different views from Carney on Brexit, regulation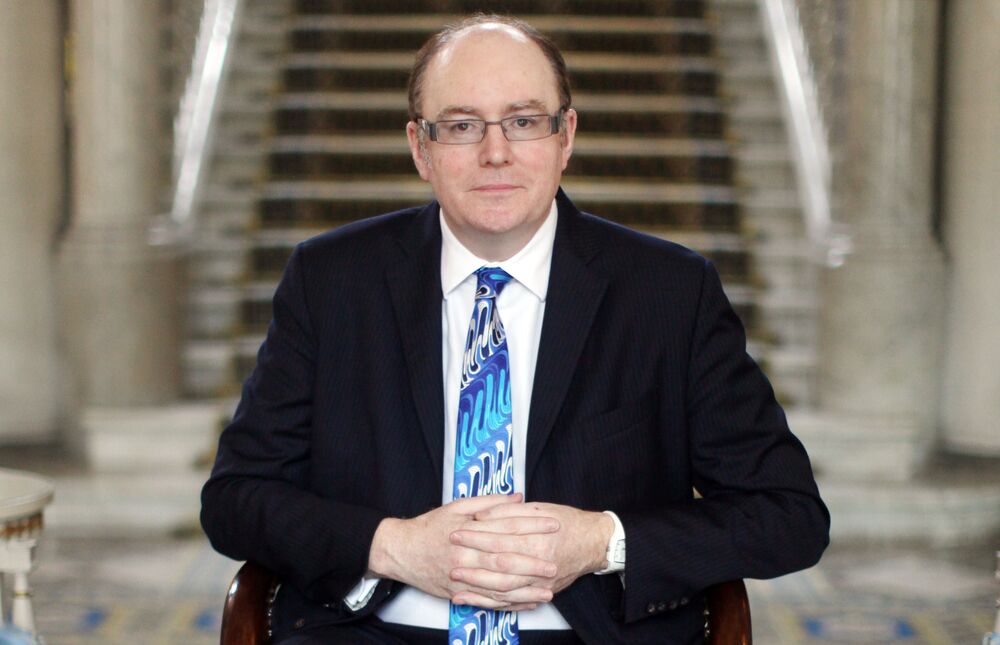 Gerard Lyons Photographer: Simon Dawson/Bloomberg
SHARE THIS ARTICLE
In this article
STAN STANDARD CHARTER 685.00 GBp -3.20-0.47% 6647708Z BBC RADIO Private Company
One contender to be Bank of England governor recently tipped by bookmakers could augur a rather different way of thinking at the institution.
Pro-Brexit economist Gerard Lyons became the frontrunner this week, according to Betway, in tandem with the appointment as prime minister of his former boss, Boris Johnson. The new premier has just populated his cabinet with allies, and punters may now be betting he could repeat that with the leadership of the central bank.
Lyons, 58, was previously chief economic adviser to Johnson when he was mayor of London, and has views on Brexit, regulation and even the BOE's mandate that all differ significantly from the bank's current stance. Naming a replacement to Mark Carney is one of the most important economic decisions the new premier and incoming Chancellor of the Exchequer Sajid Javid will take before the U.K. leaves the European Union on Oct. 31.
"He would have a more upbeat view on the prospects of Brexit, be it no deal or otherwise," said Azad Zangana, an economist at Schroder Investment Management in London and a former U.K. Treasury official. "It would be quite controversial given he's got little experience of monetary policy."
For former BOE policy maker Martin Weale, the job of governor has become a "poisoned chalice" because of the politics surrounding it. If the government wants to appoint someone who supports Brexit, they'll have a "fairly short shortlist," Weale told BBC Radio 4 on Friday.
Now an economic strategist at Netwealth Investments, Lyons began his career in the City of London just as Margaret Thatcher was deregulating Britain's finance industry, and worked as an economist at banks including Standard Chartered Plc.
While there in early 2008, he predicted the Federal Reserve would slash interest rates from 3.5%, possibly to 1%. Two years later, he and his team spoke of a "super-cycle" to describe how the world economy may be entering a period of long-term growth, highlighted by the shift of power to China and emerging markets. It predicted bond yields would fall to new lows before eventually rising over coming decades. In 2010-2011, Standard Chartered was ranked as the no. 1 firm for global economic forecasting by Bloomberg News.
Lyons co-founded the Economists for Brexit during the 2016 referendum campaign to make the economic case for leaving the EU. He later co-wrote a book called "Clean Brexit."
Lyons was interviewed for the governor role, according to the London-based Times, while former Chancellor Philip Hammond was preparing a shortlist of candidates for his own successor to choose from.
Lyons wasn't directly contacted before publication of this story.
"I'm flattered to be associated with such an important role," Lyons said on Monday. "But I'm very happy doing my current portfolio of roles and I've not commented on any of these rumors since they began."
Lyons often shares views on economic matters in research and newspapers. Here are some of them:
Brexit
Lyons has struck an upbeat tone on the U.K.'s prospects outside the EU, in contrast to Carney. He advocates reaching a trade deal with the bloc as "desirable" and says leaving without one could produce an economic shock, according to an article this month in the Daily Telegraph. Still, he argues the U.K. should prepare in case that happens and in order to strengthen its bargaining position.
Monetary Policy
Lyons's view at the current juncture chimes with that of the BOE. He wrote for Netwealth this month that the economy either stagnated or shrank in the second quarter, but that talk of a recession is premature and that there may even be a pickup due to inventory building. The BOE should exercise "vigilance" on inflation, though it should also be ready to stimulate the economy in the event of a no-deal Brexit, he said.
Bank Lending
Britain should act to boost lending to smaller businesses, Lyons wrote in the same article. The BOE's economic safety net for banks, known as the counter-cyclical capital buffer, may need to be loosened to encourage that, he said.
BOE Mandate
The bank's 2% inflation target should be reconsidered, Lyons wrote in the Financial Times this week. He suggested the BOE should look at other countries when reevaluating its mandate. Central banks around the world, including the European Central Bank, have been debating whether to alter what they're aiming for.
Regulation
Financial regulation "has swung, like a pendulum, from one extreme of being too light-touch before the crisis, to the other extreme now," Lyons said in a Netwealth report. He also wrote in The Times that "a key message for the U.K. after Brexit will be that financial centers thrive based on the regulatory environment and on ensuring an attractive location where clients want to do business."
His comments seem to go further than those of officials Sam Woods and Andrew Bailey, and contrast with much work done by the BOE since the financial crisis.
Climate Change
One thing Lyons and Carney have in common is a focus on climate change. The central bank's involvement in preparing the financial system for related risks has been a hallmark of the current governor's tenure. In The Times this week, Lyons wrote that sustainability "may soon become of critical significance" when it comes to ranking global financial centers.
— With assistance by Silla Brush