It was in October 2018, 3 years ago, when I finally joined Splinterlands. At the time I had been on the old blockchain for some time already and I saw all these posts about the game. It took me quite a lot of time to join the game. However, I finally took the step to join the game and paid the 10$ for the Summoner Spellbook. In hindsight these were probably among the best 10$ invested in my life :-).
In the old times there was no DEC, no potions, no SPS
When I started the game, it was kind of a transitional period between alpha and beta packs. The great thing at the time was that all rewards were given out in the form of NFT's. There were no DEC, no potions and of course no SPS. But you could receive a lot of cards for daily quests and season rewards. That is how I manged to build my deck. I swaped some of the cards and bought summoners and packs and slowly but surely increased the size of my deck.
It took me some time but I finally managed to upgrade my summoners to level 6 and I thought that the investment to go to the next level was simply too high. So instead of trying to upgrade my cards more, I started to build a second deck and then I also created a third deck with all my gold cards. Over time, one more account was added, and I play now Splinterlands daily with 4 accounts.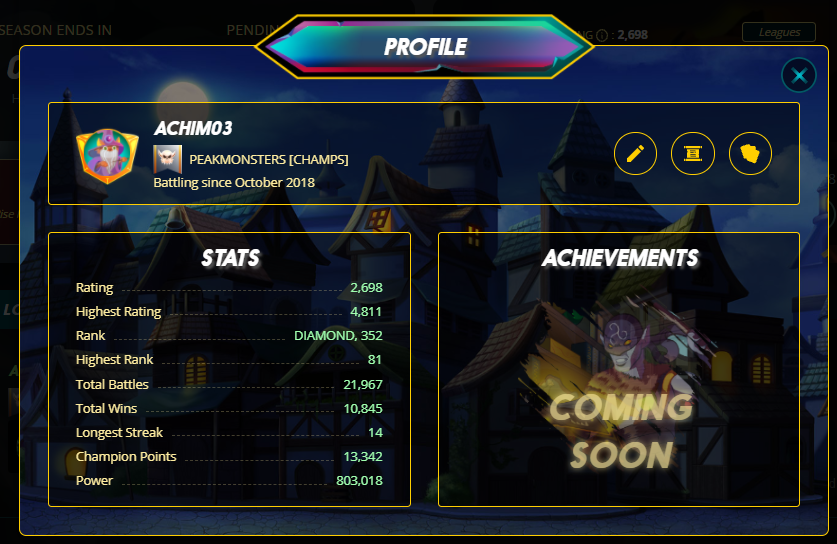 With my main account, I have played a total of almost 22'000 games!!!
I made some investments over time
There were some periods when Hive/steem was dropping in price and at this time I bought cards because they were keeping the value much better. I also invested some btc to buy some expensive legendary cards. I would say during this 3 years, I probably invested around 1000 $ into the game.
The value of my cards was multiplied
When I look at my cards today, the value went up considerably and I could probably buy a nice car if I sold all my cards now. This is without counting the value of the cards in my other accounts.
Some of the cards I have, I rent them out which brings another daily income. Then there is the SPS airdrop, the income from victories, the quest rewards, season rewards... However it's not only the financial aspect that I love about the game. I love the community, the brawls, the posts and of course the game. Let's not forget that there is a lot things that we can be excited about like chaos legion or the land expansion....
Well let's say I'm really happy that I started to play Splinterlands 3 years ago...
---
Want to start to play? Join my referral program!
Join Splinterlands using this link, buy the Summoner Spellbook and I will send you 200 DEC tokens

Join Rising Star using this link, make 100 missions and I will send you 1000 Starbits
This action is only valid for people who actually are my referrals.
---
Let's connect ! You can find me on these platforms: