Celsius Network, have you heard of it?
If not, let me explain you their application.
Founded in 2017, Celsius Network is a decentralized finance project via a mobile application like there are others (Crypto.com, Nexo ...) which offers you the staking of certain cryptos at certain rather really interesting rates.
This is not "real staking" like with a PoS scheme, they lend your crypto and you earn interets, this allows you not to let your coins sleep.
The concept is simple: you install the application (iOs / Android), you transfer cryptos to your wallet and you collect interest each week (payment made every Monday).
The rates offered vary depending on whether you want to collect interest in the same crypto that you have staking or using their token: the CEL, which uses Ethereum.
Obviously the rates are more attractive if you opt for their token, but staking is also offered on the CEL obtained.
CoinMarketCap has a market capitalization of 27 million euros and a CEL token currently valued at 0.114998 €, ranked 123rd.
Some stats on the evolution of CEL: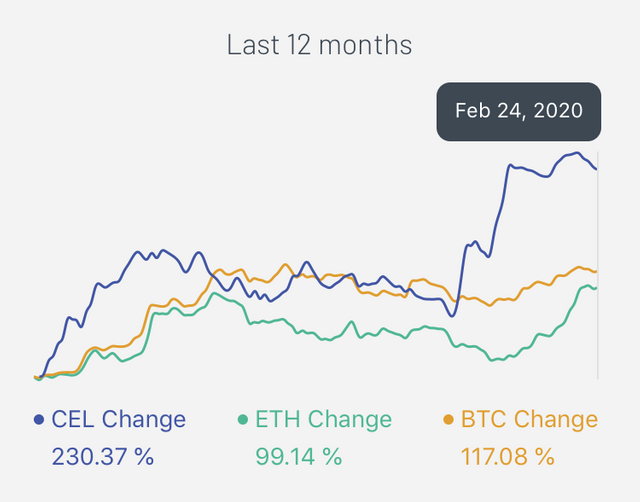 The big advantages that I find at Celsius Network:
accessibility, a neophyte in crypto like me can easily take use application
rates at 11.54% on several Stablecoins like Tether USD (USDT)
no need to stack large amounts of crypto like on most other similar concepts, I have 9 cryptos in staking on their app for my test for 6 months, some of which have very small volume (~ 10 €)
weekly interest payments with accurate earnings history
no time limit imposed before a withdrawal
Here are the rates offered on 02/28/2020 :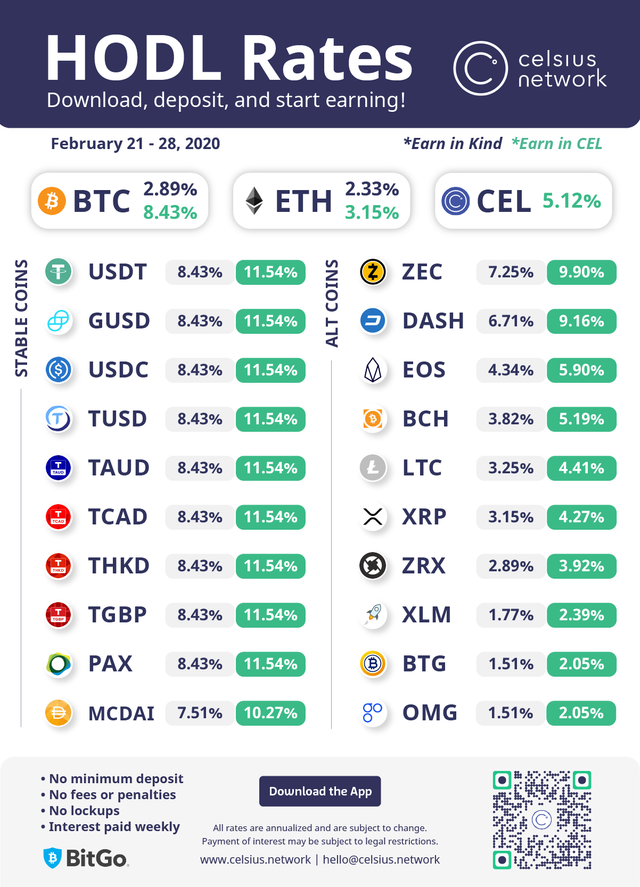 My conclusion
After several months of testing, I find that the interest generated is interesting and makes me want to push the tests further by transferring a little more assets, or even switching to their CEL token on all of my wallet with them.
If you know, use or have tested the services offered by the Celsius network, do not hesitate to give your own feedback in comment to this post, I am curious to have other opinions.
$10 in BTC BONUS
If you want to test their application, my referral code 1078110e96 can allow you to get a bonus of $10 in BTC for any deposit of $200 or more after registration.