Hello Lions,
When I opened Leothreads today, I stumbled upon 1 thread mentioning the upcoming proposal by the official Leofinance team in DHF (decentralized Hive Funding) to grow the hive ecosystem with their Everything App and bring a one-click solution for onboarding new non-hive or web2 platform users. The proposal duration as mentioned by them is from September 1, 2023 to December 31, 2024 and will be a long ongoing event for 487 days that will be finished by the end of next year. The main focus of this proposal is to make an everything app that will include all types of web3 platforms, solutions and utilities under the same roof and also to construct and maintain a one-click solution for non-hive or web2 users to get onboard in hive blockchain is leofinance. This upcoming proposal is going live around 1 month later in September this year, but we can start supporting this great cause now by voting for the proposal.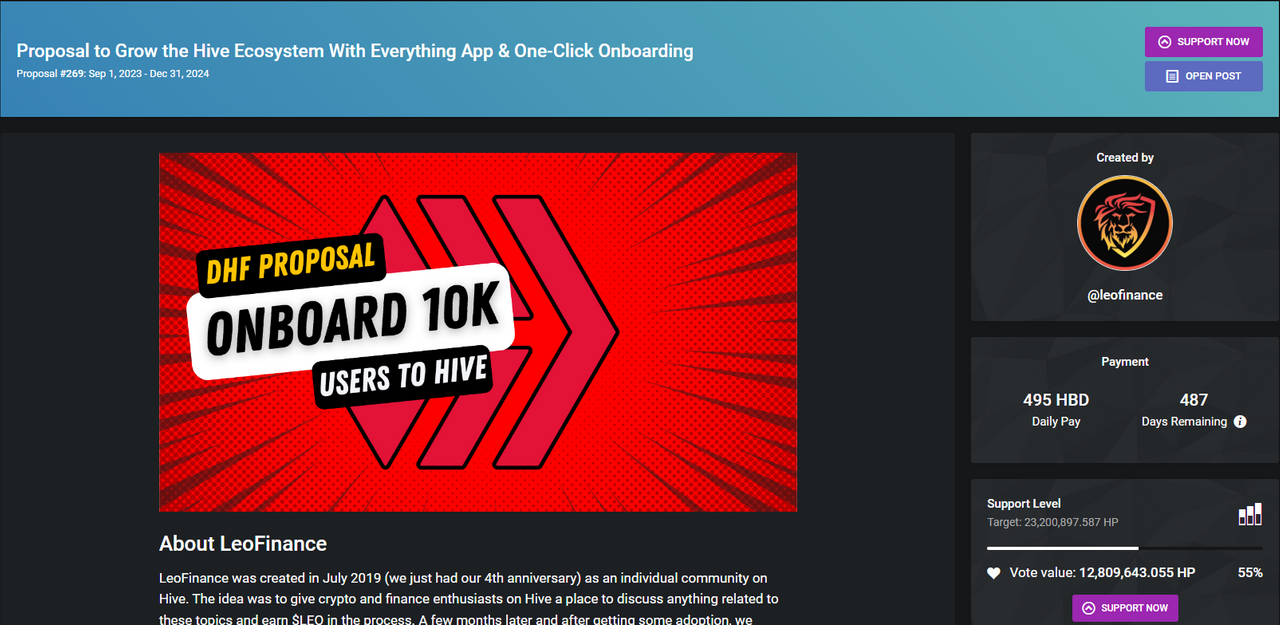 Leofinance started as a community on hive related to finance back in July 2019 and the idea was to create and run a niche strictly related to finance, crypto and anything related to money. The main aim here was to give crypto and finance enthusiasts on the hive blockchain to discuss and engage with finance-related topics and ideas and earn their native token $LEO as rewards, alongside hive power and HBD. But as time passed, the community also started growing larger and while distributing financial knowledge and awareness to the vast Hive users, Leofinance also developed other things, from their own condenser-forked frontend to cross-chain Defi platforms and decentralised exchange etc. Now, as an old and daily user of Leofinance, I do know firsthand about the hard-working team behind this community-driven project and also believe in their potential. Just recently back in May this year, they launched 2 back to back major updates and surprised us with a brand new UI and their new product named Leothreads. With Leothreads, they literally revolutionized the whole Hive platform by introducing short-form content into the realm of long-form blogs. No doubt Leothreads is a massive hit and loved by the community and thousands of users are using it to share their daily social activities, thoughts, ideas and life events and also engage with other users freely and easily like never before.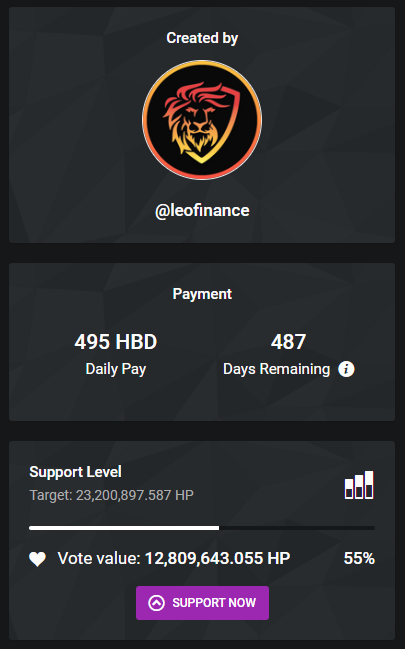 From my personal experience, I can definitely say that the UI is so simple and fast that a new user will hardly take 15 minutes to understand the whole platform without getting into any hassle and on the other side, it feels faster to use Leothreads and you won't get a slow feeling, though it is running on the same hive blockchain and every transaction requires around 2-3 seconds to gets executed. On top of that, the team is upgrading the front end frequently with useful updates and utilities to make it even more useful to its users. It's hard to believe that both of these projects just launched around 3 months ago because everything here looks so polished and professional level. No doubt, Leofinance possesses all the qualities to become the next mainstream social media like Twitter or X, and right now, supporting the project is the best we can do for its growth and the growth of hive in a broader aspect. In order for our beloved Hive and Leo platforms to grow, they need a larger user base to compete with the mainstream social media platforms that are ruling the internet right now.

Decentralized Hive Fund (DHF)
decentralised Hive Fund aka DHF is an on-chain decentralized autonomous system built on hive blockchain that allows Hive users to submit their proposals for funding and vote on which proposals should be funded or not. The daily budget of DHF is 215,535.303 HBD and the total budget of DHF is 21,553,530.324 HBD. The minimum fee to submit a proposal only costs 10 HBD + 1 HBD for each day it 'lasts' over a span of 60 days. Any user can submit a proposal by going to https://peakd.com/proposals and then just add the proposal and define the parameters like start/end date, daily funding amount request (in HBD) and maybe a post containing what the proposal is about for the voters to decide whether to vote it or not. There are no limits on how many proposals one can vote and the amount of HP in any voter's account is responsible for how much weight the vote will carry. Now, talking about Leofinance, though it is an upcoming project proposal, the proposal already got voted with a massive total of 12,869,691+ Hive power which definitely projects how many users actually believe in what they are doing.

I already voted on the proposal just before writing this post and if you are a Leo or hive user, I will also encourage you to support the project and bring more value to our blockchain. Right now, Hive and Leofinance have thousands of daily users but we certainly need a lot more to ho fill the mainstream and shake the world with our existence. So, don't be late and cast your vote right now!
I hope you liked reading my post and if you didn't know about this proposal or what DHF actually is, I hope this post added at least some value to you. Let me know your opinions and thoughts regarding this topic in the comments below and I will be seeing you all in my next post.
---