The entire crypto industry revived when Bitcoin overcame the psychological level of $ 9,000. In particular, this led to the fact that the ETH rate rose again above $ 230, and this step marked the defense of the most important level of support in the main altcoin market.
This positive rebound also correlates with news that whales are starting to accumulate ETH. In other words, large investors are very optimistic about Ether.
One of the leading traders even dared to declare that Ethereum is on the verge of a parabolic rally, and the nature of its chart is the "most bullish" among all the leading cryptocurrencies.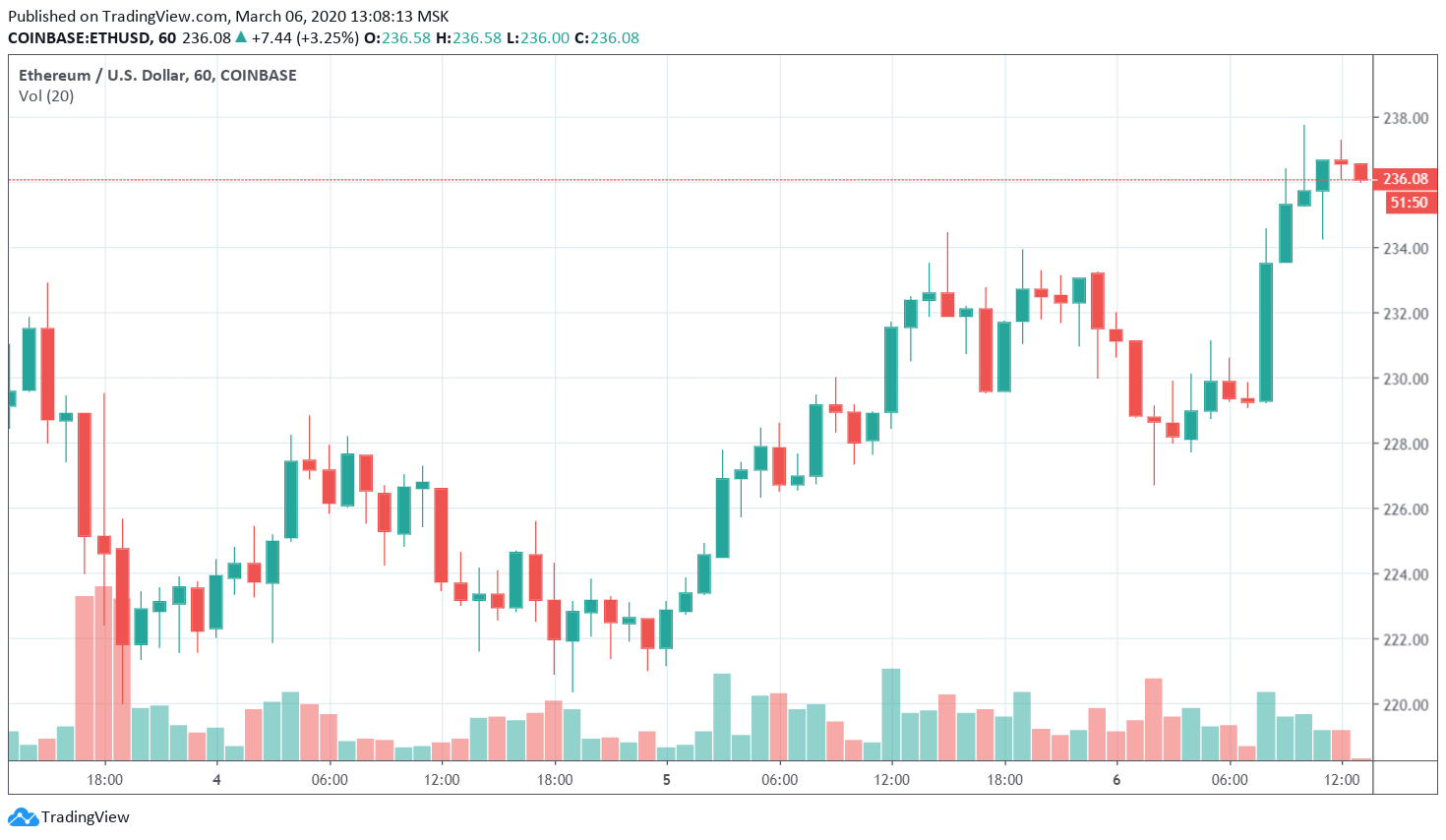 Ethereum breaks $ 230 amid overall industry recovery


At the moment, Ethereum is trading at 2.5% above yesterday's levels, the ETH rate is already fluctuating above $ 235. On March 4-5, sellers repeatedly tested support levels just above $ 220, but all attempts were unsuccessful.
Today, bulls confidently surpassed the level of $ 230 amid the fact that Bitcoin overcame short-term resistance.
Whales accumulate Ethereum

Large asset holders appear to be increasingly confident in the prospects for ETH. According to the latest data from the analytical company Santiment, the top 100 Ether holders begin to accumulate coins again:
The top 100 Ethereum holders are again starting to accumulate a higher percentage of the total token supply, despite the ongoing consolidation that has taken place over the past couple of weeks.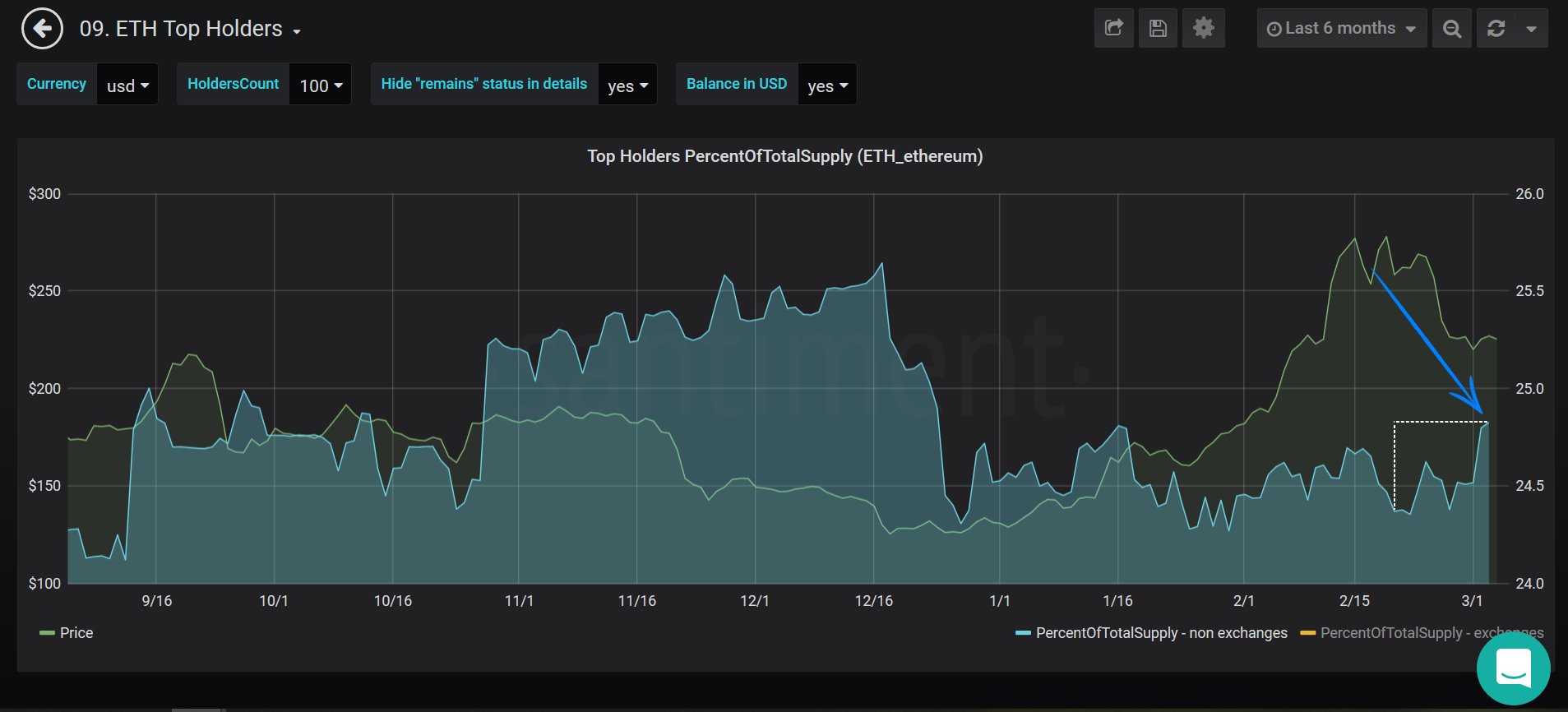 Santiment analysts also explained that, although this trend of accumulation is unlikely to be followed by an immediate increase in the price of an asset, this fact is a good signal for the bulls:
- As a rule, this kind of accumulation is a signal that the largest ETH holders come to the common opinion that the token is underestimated.
Representatives of the analytical company also concluded that this trend reflects the fact that buyers see cryptocurrency as a reliable medium-term and long-term investment, and historically, an uptrend follows historically after such periods:
- Sometimes after such stages of accumulation, some time passes before the price increase, but, as a rule, this is a good sign for the bulls in the Ethereum market.
ETH growth could soon become parabolic
Perhaps the well-known Galaxy crypto trader took into account the latest Santiment data, saying yesterday that Ethereum has "the most bullish chart among all the leading cryptocurrencies." Confirmation of an upward breakthrough of a long-term downtrend on the ETH / BTC chart can be a catalyst for the parabolic take-off of the ETH rate: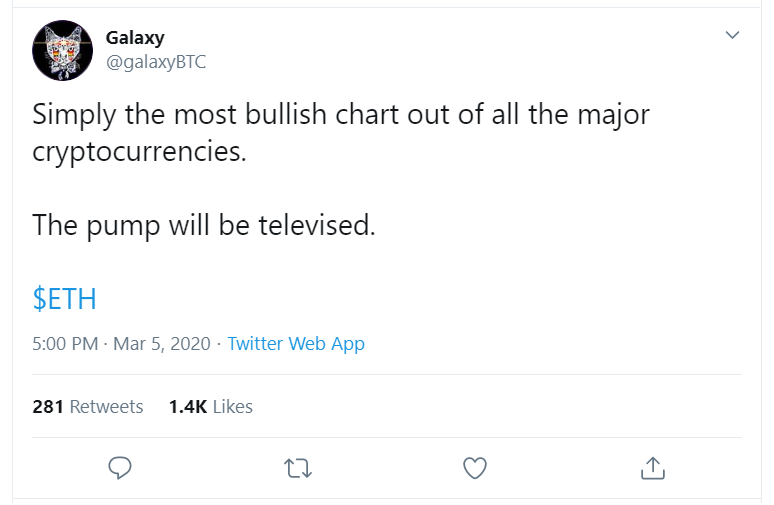 Just the most bullish chart among all the leading cryptocurrencies. This pump will be shown on television.
The weekly chart published by the analyst noted a similar breakthrough of the trend line in early 2017, followed by a 15-fold increase. Whether such a scenario will repeat this year - time will tell...