While the legal fight around Fortnite is still in development, Apple is attracting attention again due to another App Store policy controversy, and this time the opponent is Facebook.
In early August, the social network announced their plan to roll out a new tool that would let influencers and businesses host paid events, and allow users to buy tickets directly through the app; according to Facebook, the main purpose of this feature was to facilitate offsetting revenue lost through the Covid-19 pandemic.
As it is widely known (and already discussed in the Fortnite controversy), per App Store rules, all purchases of digital content must use the embedded payment system and give Apple 30% of the total. Given the purpose of the new feature is to support influencers, Facebook asked Apple to waive this fee so that all of the revenue could go to event organizers, but Apple refused.
Facebook also published a preview of the online events payment screen for iOS and Android: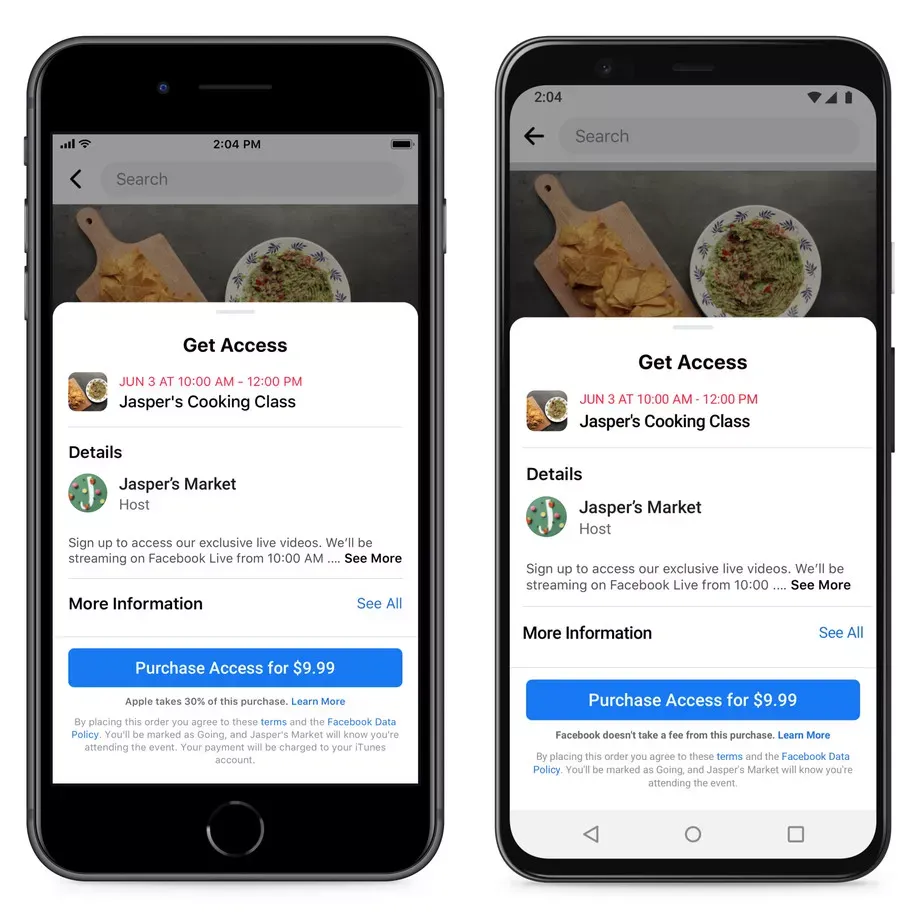 The screen contained a notice to tell users that Apple would take a 30% cut of their payments; however, Apple rejected it because the App Store rules do not allow apps to disclose or explain App Store policies. For instance, apps are not allowed to mention that users could pay on the web without Apple taking a cut, nor provide a link to the payment web page.
In other words, developers are not allowed to explicitly tell users that 30% of their in-app payments will go to Apple.
In a statement released to Reuters, Facebook said:
"Now more than ever, we should have the option to help people understand where money they intend for small businesses actually goes. Unfortunately, Apple rejected our transparency notice around their 30% tax but we are still working to make that information available inside the app experience."
The app which has been eventually released does not contain the notice which was seen in the preview, and according to Reuters that doesn't show up in the version of the app downloaded through Google Play, either.
While Apple is obviously in its own right to decide what can and cannot be shown inside applications that are published through the App Store, and Facebook clearly and knowingly took action to expose this controversy, the rationale behind the policy seems to be driven more than anything by Apple's explicit intention to hide their fees from public knowledge.
Business is business, but the lack of transparency is not fair to customers.