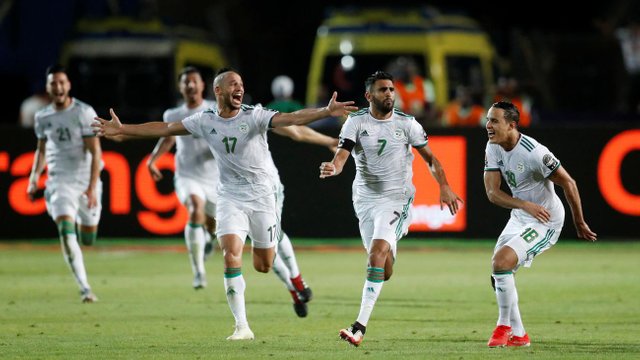 src
From what seemed like a fair match turned out to be full of compromises especially to the team that we thought was superior. Algeria has been playing an interesting game but has failed to win the most recent games in the standard 90 minutes.
The game was interesting as Algeria dominated with the most dangerous attacks. William Ekong caused an own goal making Nigeria trail by one goal in the 40th minute. Still, Algeria players were playing an impressive game with their 4-1-4-1 attack which made Baghdad Bounedjah a very dangerous attacker.
The VAR magic reveals a handball that was initially missed by the referee.
72 mins through the game Peter Etebo went for the net with a very sensational shot which was obviously blocked by Aissa Mandi, and later it was realized that he intentionally blocked it with his hand.
Nigeria was awarded a penalty which was beautifully netted by Odion Ighalo.
This put the game at level. Algeria 1-1 Nigeria.
Through the standard 90 minutes and there were 5 mins of added time. The match looked so balanced with both teams kind of settling for extra time or even penalties.
There was more pace in the game but more teams were pressing with Algeria missing the most opportunities to hit the back of the net.
A foul led to free-kick at a very dangerous position for Nigeria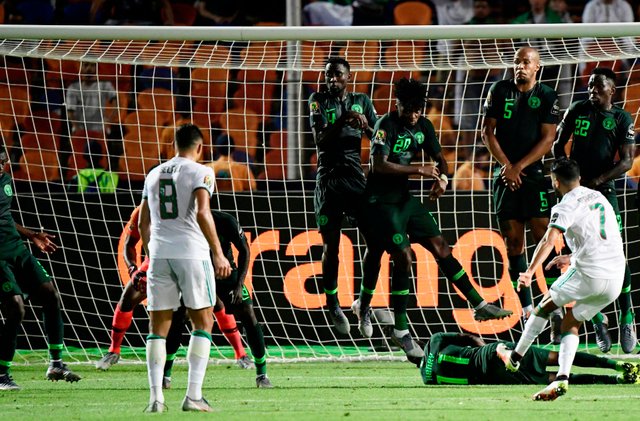 src
The late goal was a shock to the Nigerians who were very certain of the extra time.
At 90+5 minutes Rayid Mahrez scored a beautifully situated free-kick putting Algeria ahead with only about a minute left to end the game.
A score of Algeria 2-1 Nigeria paved a way for the Algerians to meet Senegal at the AFCON finals.
Originally appeared on steemit blog.