2021 has been a blast crypto wise. My main goal was to decrease my fiat investment as much as possible without hurting my portfolio too much. I didn't expect to be able to recover all my fiat investments, but hey I did. So happy camper here.
Portfolio
I recently switched my portfolio into Apple Numbers in stead of Excel. Still haven't redesigned everything; so it will only cover the basics.
As you can see my portfolio is worth close to €25000. Not bad in my opinion. I did enter the crypto market late in 2017 and we all know what happened after that.
(After pasting the table in here, I do notice that I will have to add some colors to it)
As you can see on the bottom line, I can also say that it is worth almost €32K, but for some reason I am cautious with the value of my Splinterland collection. I still do see it as something strange.

Actually my collection is worth a lot more according to peakmonsters. But I decided to add only 20% of this to my portfolio. The real value is what someone is willing to pay for it.
What does interest me more and something I will focus more on in these reports, is the potential value of the portfolio. This is the combination of my holdings in relation with the all time high value of the coins. For some coins we already know that the all tile high probably never will be broken. Other still have a chance to double their all time value.
The reason I will be using this is to have a more neutral comparison between reports. The value of coins is volatile; so it is hard to compare the progress. Bu using the ATH of a coin; I hope to get a better insight how my portfolio is growing. At the moment the potential value is €52752. So regardless of a crypto crash, it will be the same tomorrow.
This value can only go up when a coins is breaking their all time high or when the holdings in that coin are going up, it can only go down when I do sell some coins.
Portfolio Share
I have always been reporting this, I will keep doing this in the future.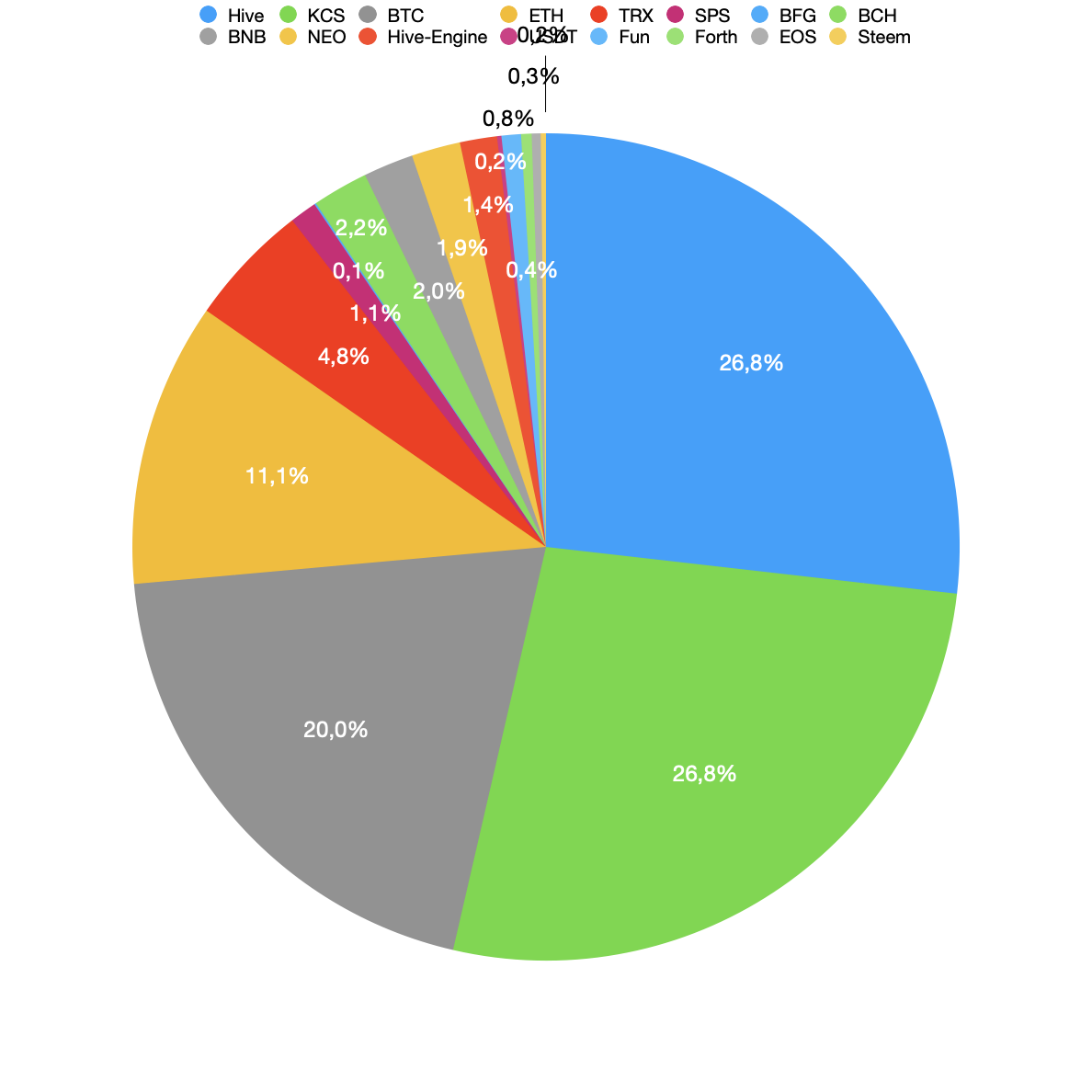 As you can see, Hive and KCS are battling out who is the ruler of my empire. One year ago, there was only one King, which was BTC. But it has been dethroned. Not that I did sell BTC or so, in contrast I almost doubled my holdings. The increase of holdings in other coins just went faster combined with an increase in value.
2022 plans
I always did make plans but for next year it will be different. The pressure is off due to the fact that I am rolling free. In 2022 in will focus on fun and trying to build up my portfolio a little but higher.
There will be some sacrifices but not a lot, I hope. I do see it as a hidden saving account and time will tell how much it ever will be worth!
So you can expect more posts on Read.cash, noise.cash and Hive. And we will see from there.
Have a great 2022 health; personal and crypto wise!
Cheers,
Peter