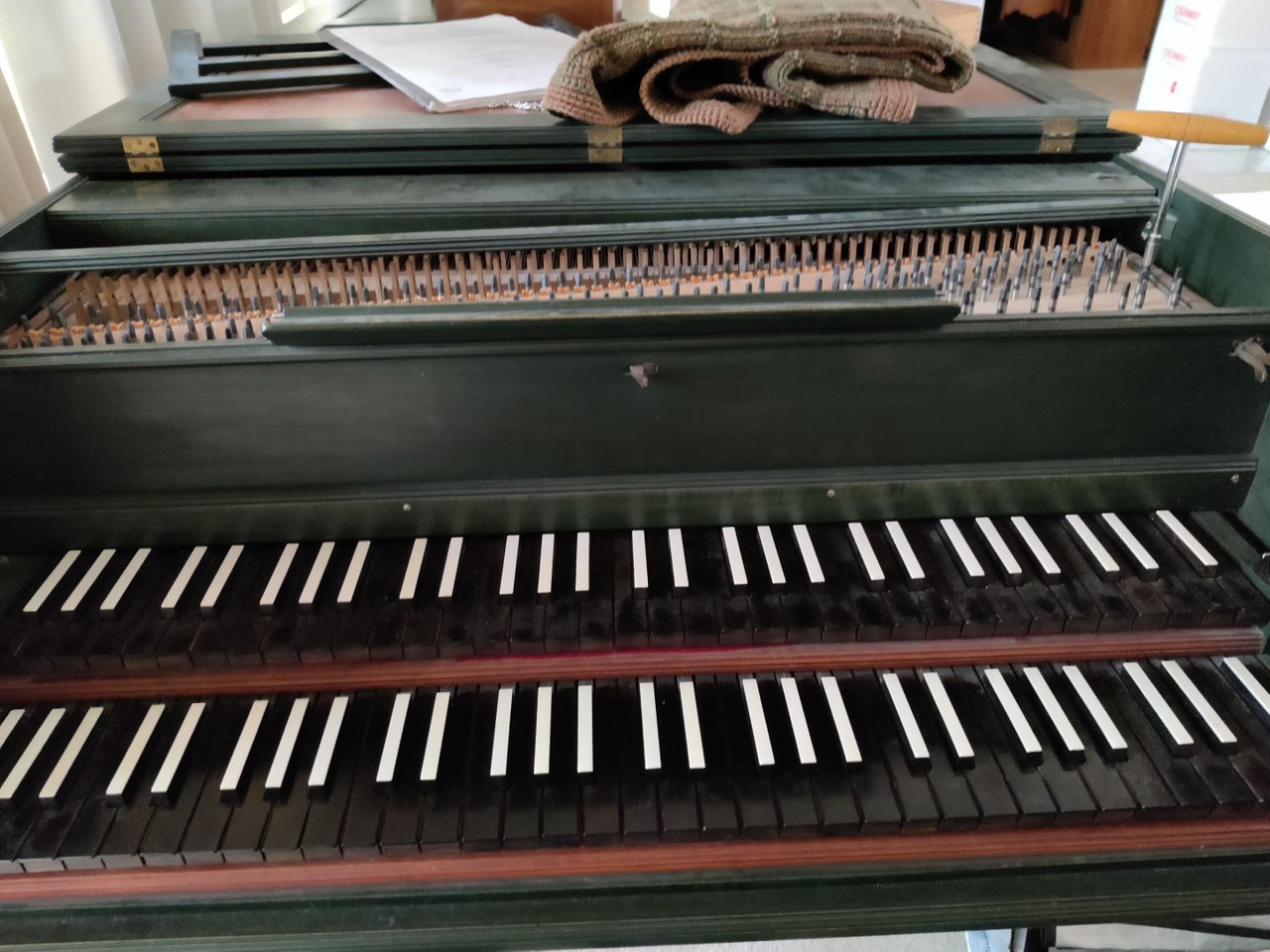 In some ways, I was a little bit dubious as to whether or not the harpsichord would survive the long sea journey in a container. There is something a bit unnerving about sending a delicate instrument for several months across to the other side of the planet... you don't really know how hot or humid these containers can get, but on the other hand... these things are done every day. It is a bit of a gamble, as many people told us to send our instruments by air... it is less risky, whilst others would tell us that they would not trust air shipments and would only do it by sea.
So, in the end, we sent the harpsichord by sea... and the two pianos by air. Due to the war and Omicron... the sea shipment actually ended up getting to us first! Meanwhile, the pianos have only just landed in Sydney and are awaiting clearance from customs and quarantine.
The idea was that the pianos were more important... whilst the harpsichord was seen as an acceptable loss if that came to be. Of course, we didn't want to lose it... but we started to see that the sea journey might be the more hazardous of the two methods... if only because the agents weren't able to tell us anything about the container conditions! At least the air shipment would be quick... but as I said, in the end, the two pianos ended up spending a couple of months in storage on the Netherlands side before getting a flight out a few weeks back.... and now they are stuck in storage here in Australia whilst they are getting cleared!
So... what can possibly go wrong in transit... well, the biggest problems would be the cracking of soundboards due to fluctuating or extreme temperature and/or humidity. Or warping... or having the mechanics go out of alignment... needless to say, I'm thankful that I carry my own instruments with me... even if it is a bit of a pain in the arse to lose one travelling luggage item due to carrying an instrument!
Anyway, the harpsichord arrived with the rest of the sea shipment a few weeks back, and we had it unpacked out in the garden. The movers thought that they should unpack it in the house... as they thought that it was an actual piano (there wasn't a description for harpsichord...). But I told them that they should unpack it outside, as the bulk of the weight of the container wasn't the instrument, but the timber packaging that they had built around it!
Thankfully, they believed me... and they were quite grateful that the "naked" instrument wasn't at all heavy! Compared to the piano that they were expecting, it would have been at least a quarter of the weight!
So, after I finally located the tuning hammer (seen on the right of the photo)... I set to work tuning the instrument and checking to see if there was any lasting damage or anything like that. Some of the keys were sticking... but no more than you would expect from a normal summer-winter change of temperature and humidity. Harpsichords are finnicky like that, and it is no problem to adjust the action... when I have time...
Tuning was a quick breeze as well... I only tuned the two main sets (8 foot), and left off tuning the little 4 foot setting. I'll get around to that in time... surprisingly enough, there were also no weak strings that were snapping or needing to be replaced! So, lots of very happy sounds coming from the instrument after such an arduous journey!
That makes for the bulk (in number...) of our instruments (counting my violins/violas and viola d'amore) that have arrived safely... now we are just awaiting the piano and fortepiano... fingers crossed that they are in good condition as well. We are a little bit worried about the storage conditions... and they are my wife's babies, so needless to say, she is also a little nervous!
They will be hard to replace if they are damaged... sure, there is insurance, but these instruments have a unique relationship with the player... and it would be like replacing a child. Technically, sort of possible, but not really ever the same...
I can also be found cross-posting at:
Hive
Steem
Publish0x
Handy Crypto Tools
Ledger Nano S/X: Keep your crypto safe and offline with the leading hardware wallet provider. Not your keys, not your crypto!
Binance: My first choice of centralised exchange, featuring a wide variety of crypto and savings products.
Kucoin: My second choice in exchanges, many tokens listed here that you can't get on Binance!
FTX: Regulated US-based exchange with some pretty interesting and useful discounts on trading and withdrawal fees for FTT holders. Decent fiat on-ramp as well!
MXC: Listings of lots of interesting tokens that are usually only available on DEXs. Avoid high gas prices!
Huobi: One of the largest exchanges in the world, some very interesting listings and early access sales through Primelist.
Gate.io: If you are after some of the weirdest and strangest tokens, this is one of the easiest off-chain places to get them!
Coinbase: If you need a regulated and safe environment to trade, this is the first exchange for most newcomers!
Crypto.com: Mixed feelings, but they have the BEST looking VISA debit card in existence! Seriously, it is beautiful!
CoinList: Access to early investor and crowdsale of vetted and reserached projects.
Cointracking: Automated or manual tracking of crypto for accounting and taxation reports.
Stoic: A USD maximisation bot trading on Binance using long-term long strategies, powered by the AI/human system of Cindicator.
StakeDAO: Decentralised pooled staking of PoS assets.
Poloniex: One of the older regulated exchanges that has come into new ownership. I used to use it quite a lot, but have since stopped.
Bitfinex: Ahhh... another oldie, but a goodie exchange. Most noted for the close affiliation with USDT and the Basic "no-KYC" tier!