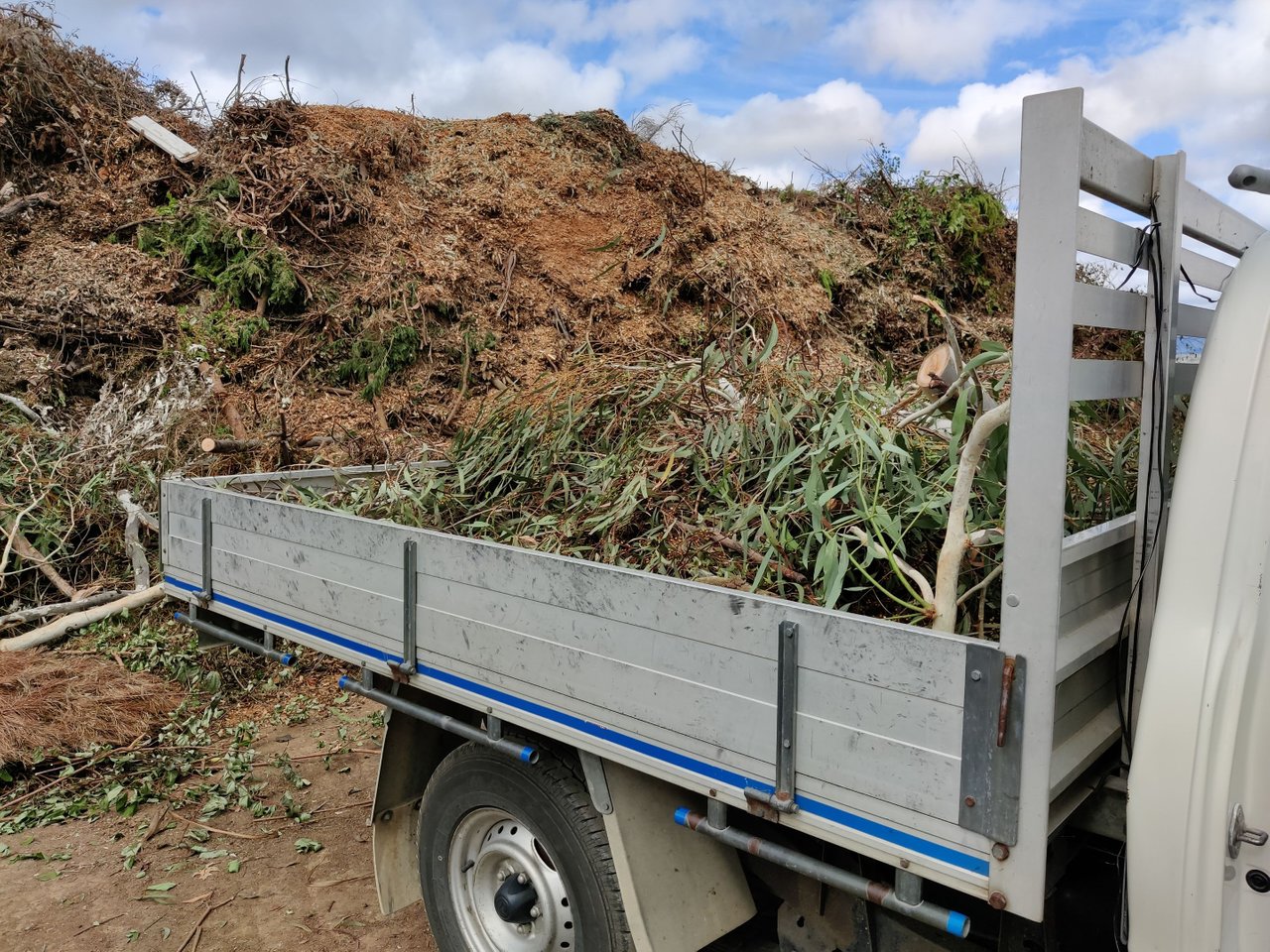 As I've mentioned before, we've moved into a block where there are a crazy amount of trees and shrubs... and it is really nice, in that we are shielded by a wall of green. However, it does mean that there are equally cray amounts of green litter, leaves and branches, all around the block that needs to be tidied up and carted off to the green waste disposal before we can start to get a handle on how we want to plan the block... plus, there are the remains of fallen trees as well.
That means that I've been a constant user of my father-in-law's old ute whilst he has been away on holiday. Driving the roaring truck is something that I'm getting pretty used to, and if I have to admit it... I'm sort of liking it much better than driving our quiet new little sedan!
Anyway, picking up and sawing through so many branches is quite a bit of exercise for a normally sedentary person like me! ...but I've come to enjoy it quite a bit... I think that when we are actually living in the house in the coming week, it will be much easier to just wake up... walk out the door and start gathering branches and dead wood, and sawing up things to prepare for the waste trip. (Of course, that is in between unpacking boxes and moving furniture around the place...).
One of the skills that I've had to learn is the ability to tie down the load properly... my brother in law has tried to teach me a few nifty knots that should work to keep the tarp down tied on the branches and leaves. One of them is interestingly very similar to the knot that I use to tie down a violin string to the tailpiece... using the string to knot and tighten upon itself. However, the one that he showed me that acts as a ratchet to keep the rope taught still eludes me.
So, a good chunk of my green waste trips have been with pretty dodgy tied ropes... where I'm hoping that they hold out on the 15 minute drive. If I don't drive too fast, it doesn't put too much air pressure on the tarp, and so it generally has been okay... I've had no disasters yet, but I'm pretty sure that if I'm not careful, the tarp will come flying off... the last trip was a little bit hairy, the tarp was a touch looser than I would have liked. No danger of flying off by itself, but I was worried that it would catch enough air to rip itself.
Anyway, now that our sea shipment has arrived in the house... I knew that somewhere in those boxes were a a bunch of ratcheting bands that I had bought in the Netherlands in case we needed to keep the lids of the pianos closed for the transit to Australia. In the end, we didn't need to do that... but I knew that the ratcheting bands were there somewhere... in those roughly 150 boxes.
... and what do you know, yesterday... I hit the jackpot... somewhere around 90-100 boxes in... I found the bands! Now, I can tie down the loads much more securely... and also a hell of a lot quicker as well! Bonus for lack of skill!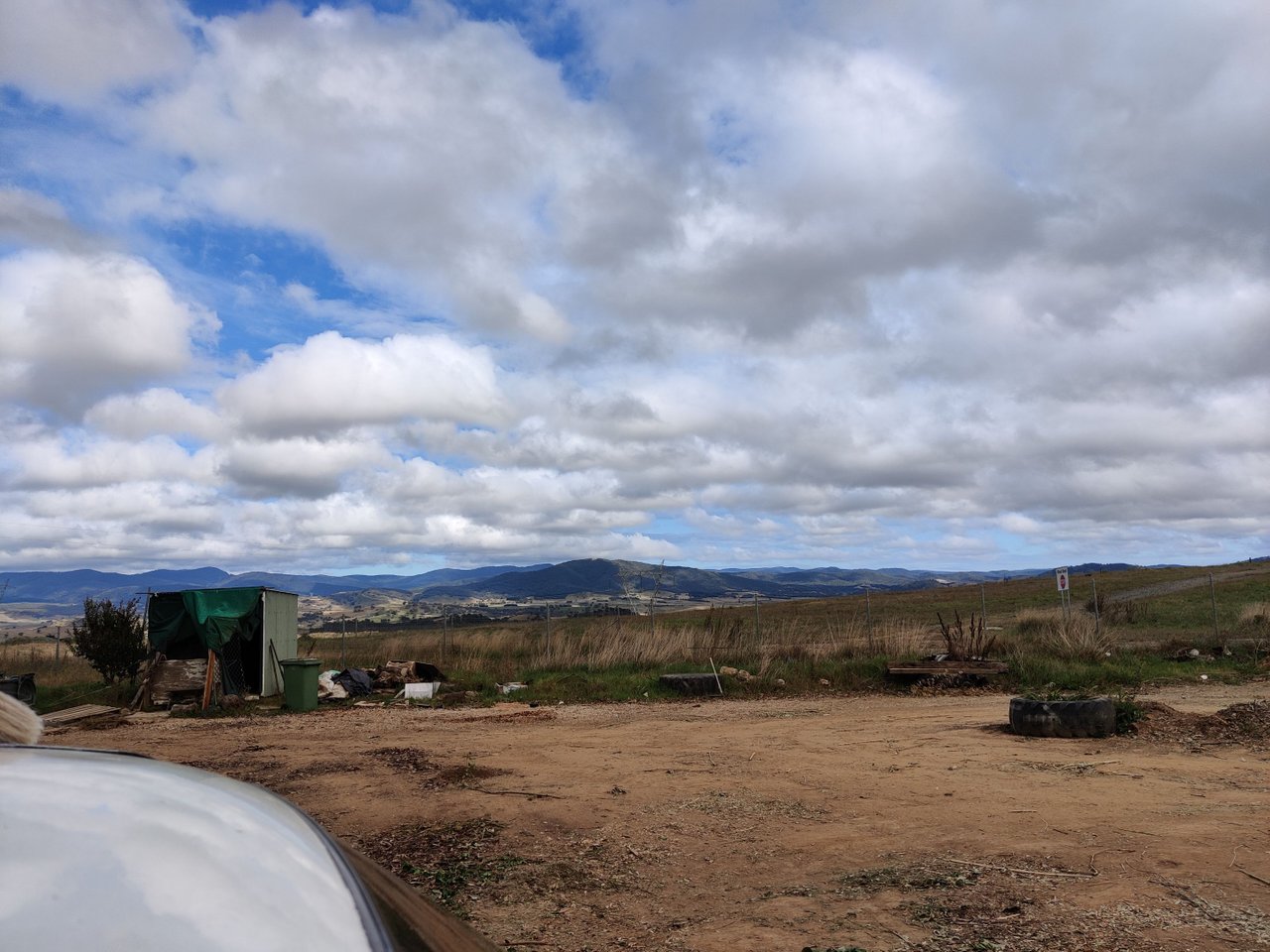 I don't know why I've found the clearing so calming and relaxing... despite being a bit more of a physical workout than I'm used to. Maybe it is the idea that I'm working on my own property... and preparing a new life here... or maybe it is just the idea of clearing out all the clutter to see what potential lies ahead...
... or perhaps, I just really like the view of the green waste disposal area! It isn't that bad... and when you stand on the back of the ute, you can see for ages!
I can also be found cross-posting at:
Hive
Steem
Publish0x
Handy Crypto Tools
Ledger Nano S/X: Keep your crypto safe and offline with the leading hardware wallet provider. Not your keys, not your crypto!
Binance: My first choice of centralised exchange, featuring a wide variety of crypto and savings products.
Kucoin: My second choice in exchanges, many tokens listed here that you can't get on Binance!
FTX: Regulated US-based exchange with some pretty interesting and useful discounts on trading and withdrawal fees for FTT holders. Decent fiat on-ramp as well!
MXC: Listings of lots of interesting tokens that are usually only available on DEXs. Avoid high gas prices!
Huobi: One of the largest exchanges in the world, some very interesting listings and early access sales through Primelist.
Gate.io: If you are after some of the weirdest and strangest tokens, this is one of the easiest off-chain places to get them!
Coinbase: If you need a regulated and safe environment to trade, this is the first exchange for most newcomers!
Crypto.com: Mixed feelings, but they have the BEST looking VISA debit card in existence! Seriously, it is beautiful!
CoinList: Access to early investor and crowdsale of vetted and reserached projects.
Cointracking: Automated or manual tracking of crypto for accounting and taxation reports.
Stoic: A USD maximisation bot trading on Binance using long-term long strategies, powered by the AI/human system of Cindicator.
StakeDAO: Decentralised pooled staking of PoS assets.
Poloniex: One of the older regulated exchanges that has come into new ownership. I used to use it quite a lot, but have since stopped.
Bitfinex: Ahhh... another oldie, but a goodie exchange. Most noted for the close affiliation with USDT and the Basic "no-KYC" tier!