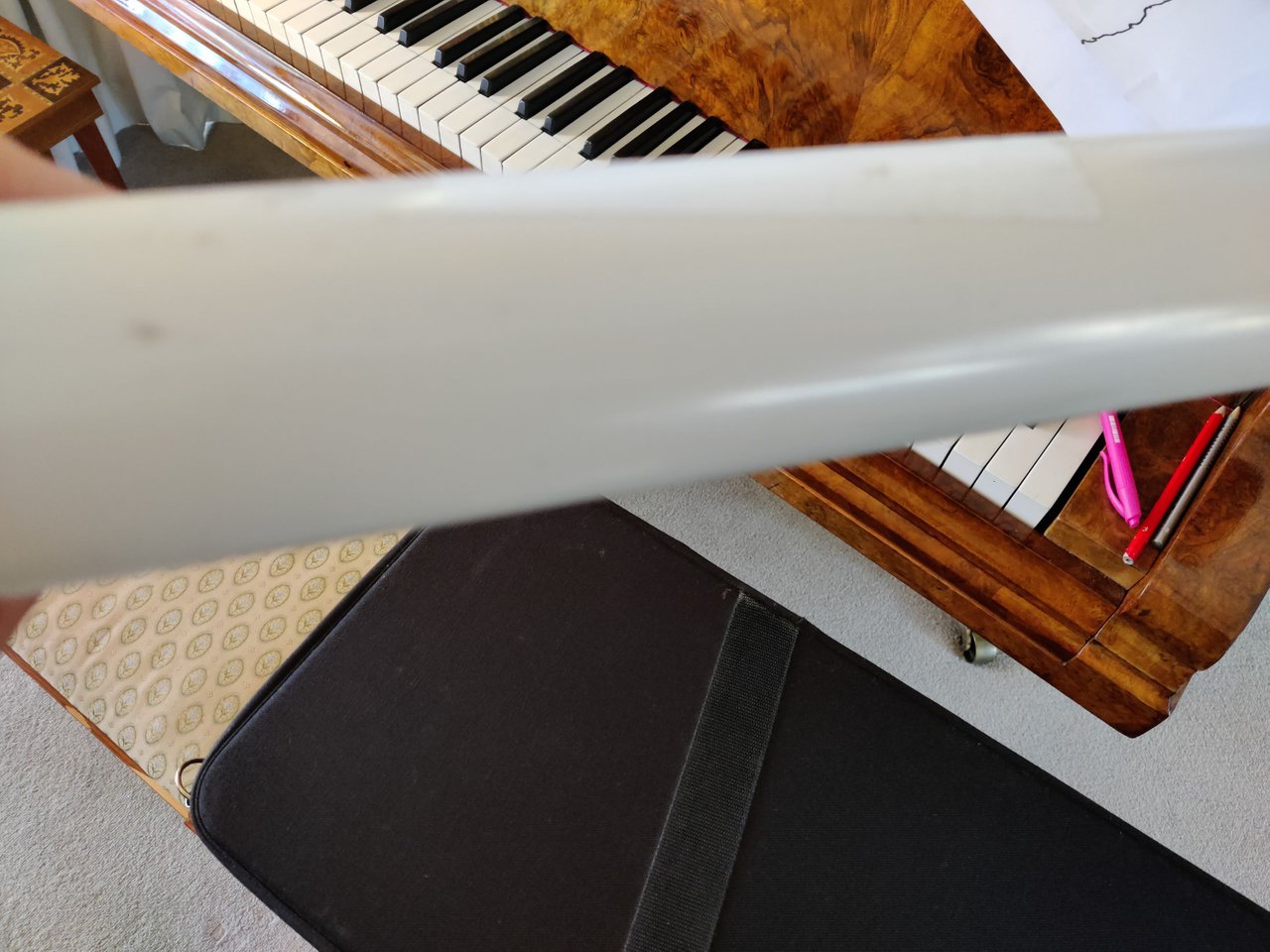 Pretty much all the tools of my particular trade are either old instruments or newer individually crafted pieces that have been selected after months of searching and trialing. It does seem quite picky, but when you are looking for new additions to your kit that will be on stage with you... you want things that you know and love, and that you can depend on to do whatever it is you are asking it to do. Ultimately, every player will have a different preference based on their taste and playing style... so, my particular choices are not going to be the same as the next persons... you are looking for that individual dance partner that complements you in your music making.
Anyway, quite a while ago... I had broken a bow... and I needed a replacement at short notice. I ended up going to a luthier who had about 20 factory-made bows... and well, they were cheap and I needed something within a few hours! So, I tried them all... and 19 of them were complete crap! But that last one... wow... roll the dice enough times, and you land on something that works (of course, with the crafters, you are rigging the dice with experience a bit!). This bow is one that is still in my main lineup after a couple of decades! And other people that have used it have loved it as well... but of course, I don't tell them that it is a cheap-arse factory bow until afterwards!
Recently, one of my students bought a violin from a factory in China... and they have gotten quite skilled with the factory line, with masters adding in their experience at critical stages... so it isn't completely blind shots in the dark anymore! I was pretty impressed with the violin... for the price, it was actually quite good... and would match old violins in a similar price range (student price...)... of course, once you start to go into the higher-quality violins, you do start to leave those factory line ones behind.
I have been trying to recreate the luck of my first lucky factory bow... but to no success... everything has been both overpriced and not good. I haven't hit that sweet spot of cheap and lucky again.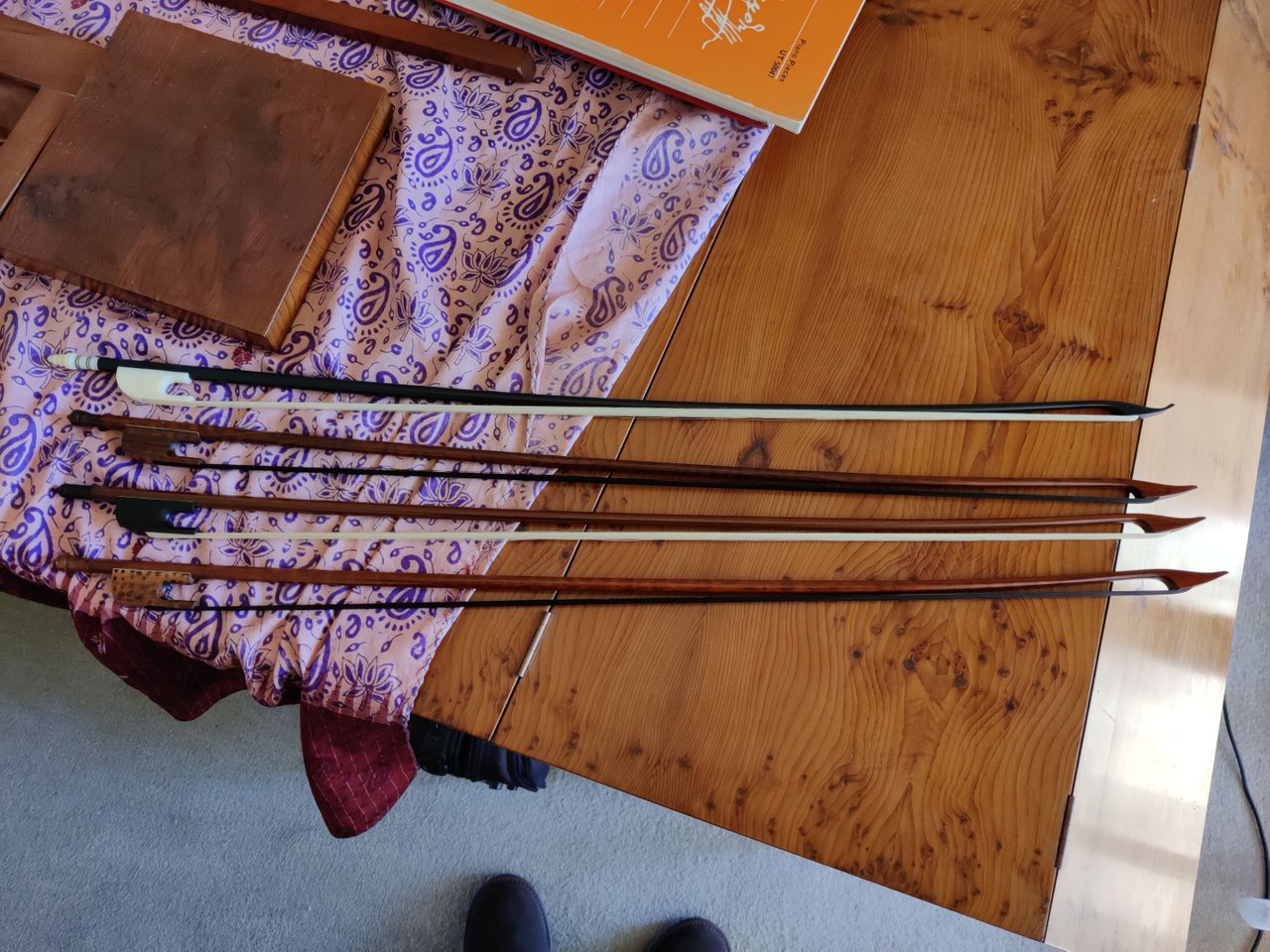 ...but I figured that I would try my luck with a quartet of Chinese factory-made bows. I had seen the same photos listed on Australian websites as the Chinese page... but the difference was that in Australia it was listed at 500 AUD per bow... and on the Chinese page, it was about 40! So... a shot in the dark as I normally prefer to play the bows and not buy without trying... but not so expensive for a dice roll... actually, 4 dice rolls!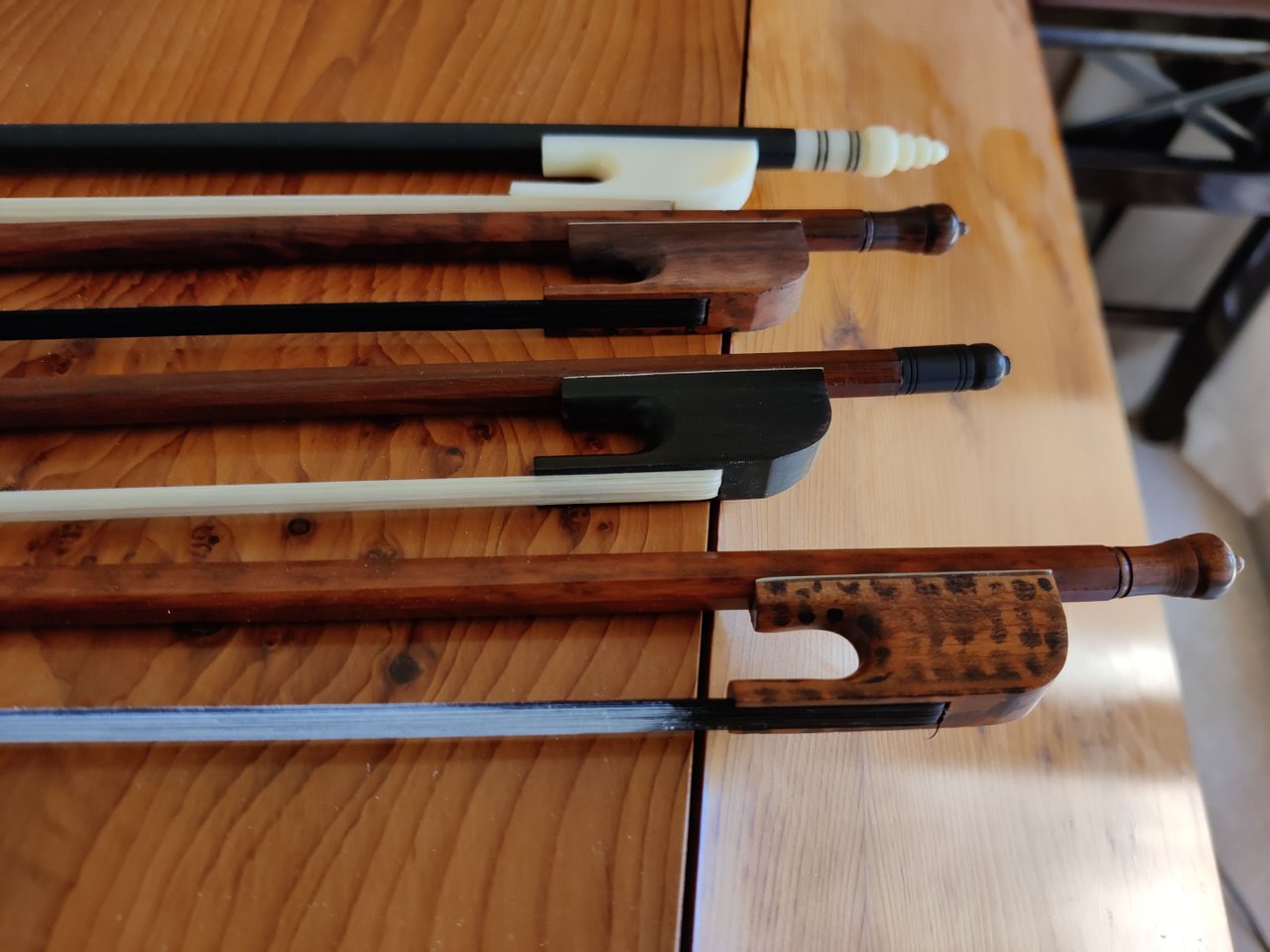 So, here are the frog ends... three snakewood bows (the lower three) and one carbon fiber (the top)... with different weights and balances. Surprisingly enough, all of them are serviceable bows... straight and with a decent tension and balance. There is one that is better than the other three, but not as good as my main baroque violin bow (the difference is still night and day for me... and to my wife listening), but they still work nicely with my instruments!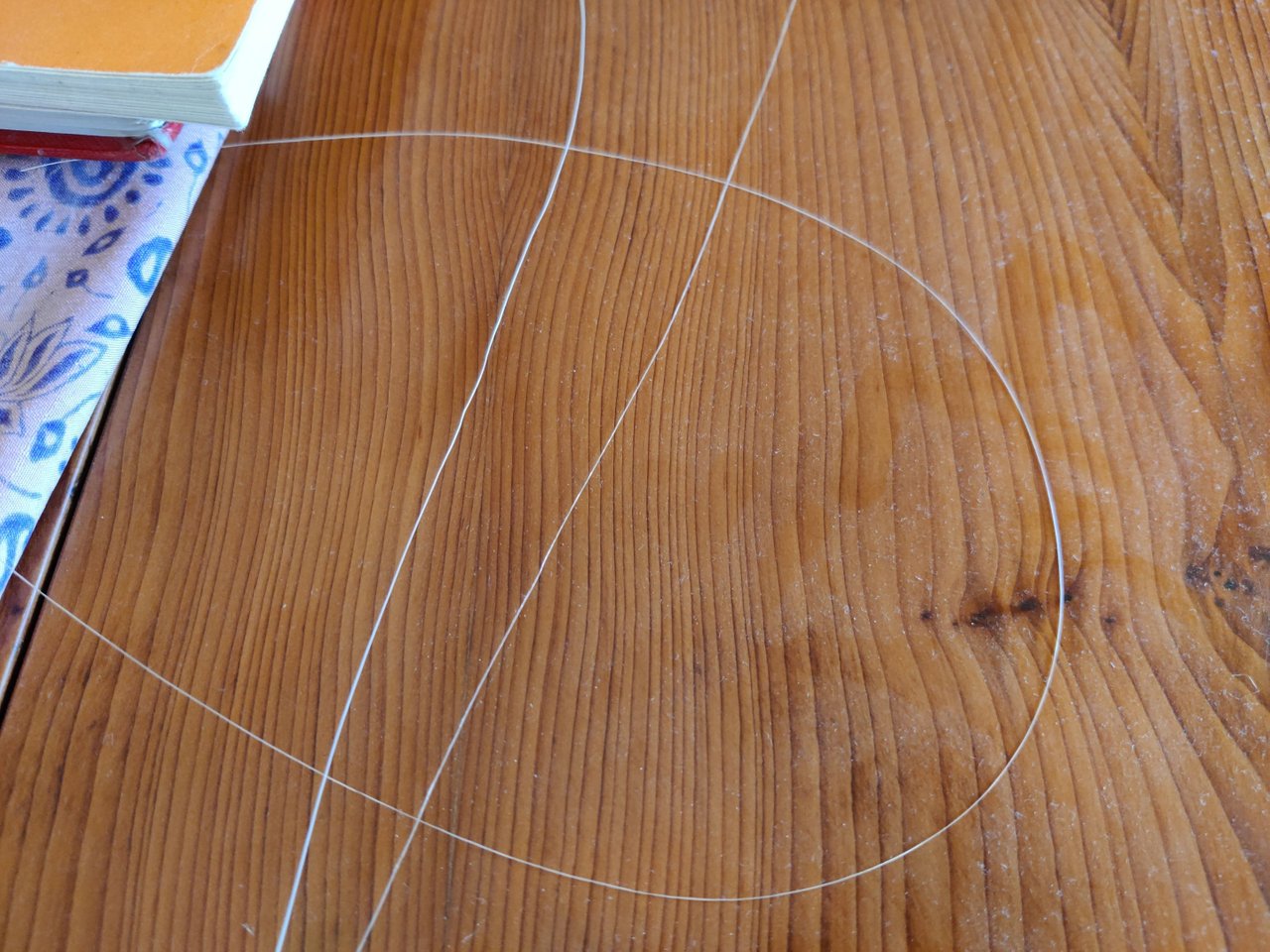 The hairing could be a bit better... several broken hairs straight off, which isn't great. But I suspect that they are a bit over-haired which makes them a little bit dull in response. Removing some of the hairs should make them a bit faster in response, crisper and resonant... I will try that in the coming weeks.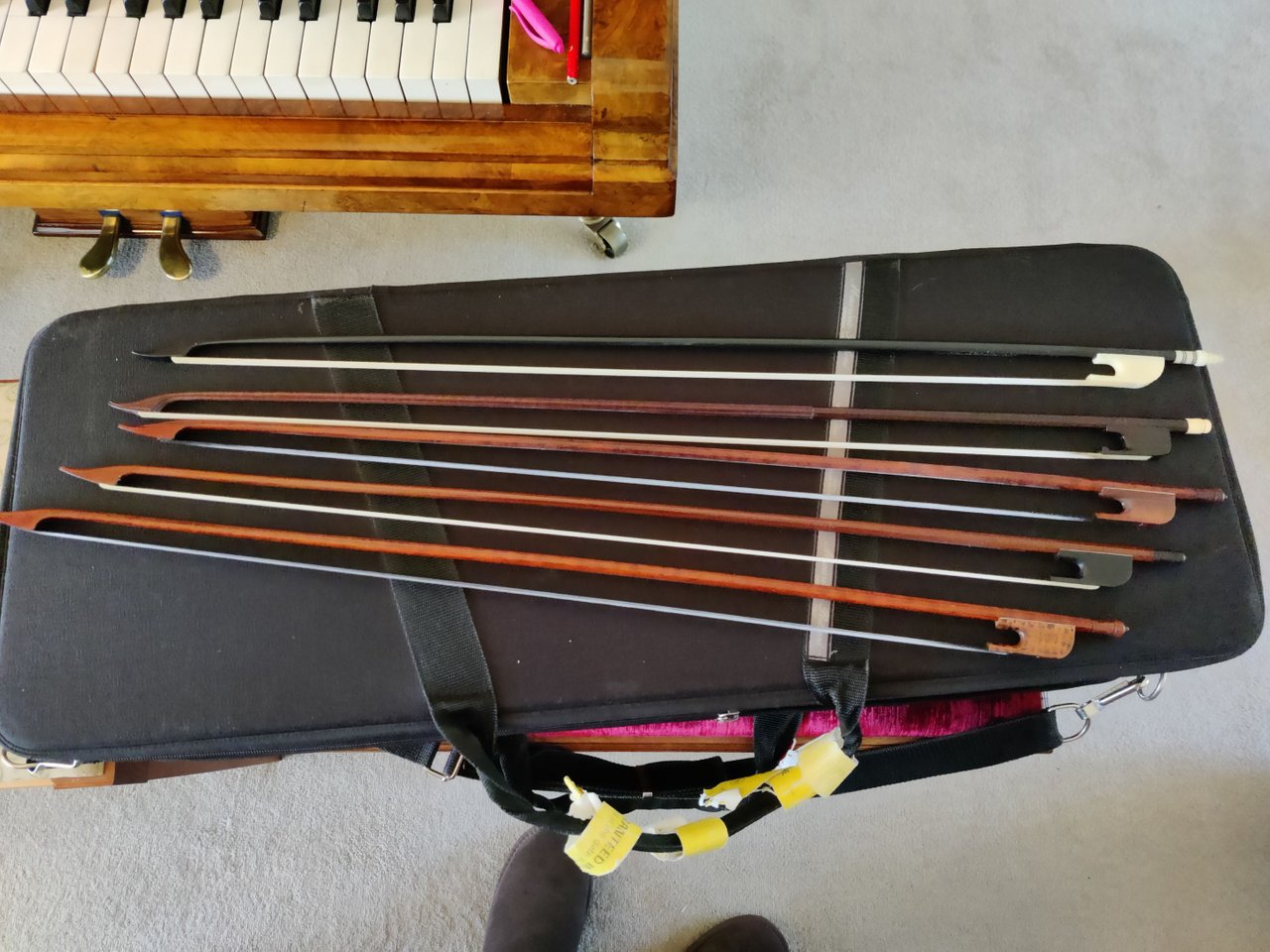 So, pretty happy with this purchase... they aren't as good as my main bows, but they all work nicely enough. So, I have some extra bows to lend out to university students when they play with us, and range of bows to try and match up against the various instruments.
Already, I have matched one bow to a different violin that have... so that is promising... a heavier bow, it works better with the other violin which is a little slower in response. I will start snipping some hairs to see if that makes a difference in responses... but happy with the gamble so far!
I can also be found cross-posting at:
Hive
Steem
Publish0x
Handy Crypto Tools
Ledger Nano S/X: Keep your crypto safe and offline with the leading hardware wallet provider. Not your keys, not your crypto!
Binance: My first choice of centralised exchange, featuring a wide variety of crypto and savings products.
WooX: The centralised version of WooFi. Stake WOO for fee-free trades and free withdrawals!
GMX.io: Decentralised perpetual futures trading on Arbitrum!
Coinbase: If you need a regulated and safe environment to trade, this is the first exchange for most newcomers!
Crypto.com: Mixed feelings, but they have the BEST looking VISA debit card in existence! Seriously, it is beautiful!
CoinList: Access to early investor and crowdsale of vetted and reserached projects.
Cointracking: Automated or manual tracking of crypto for accounting and taxation reports.
KuCoin: I still use this exchange to take part in the Spotlight and Burning Drop launches.