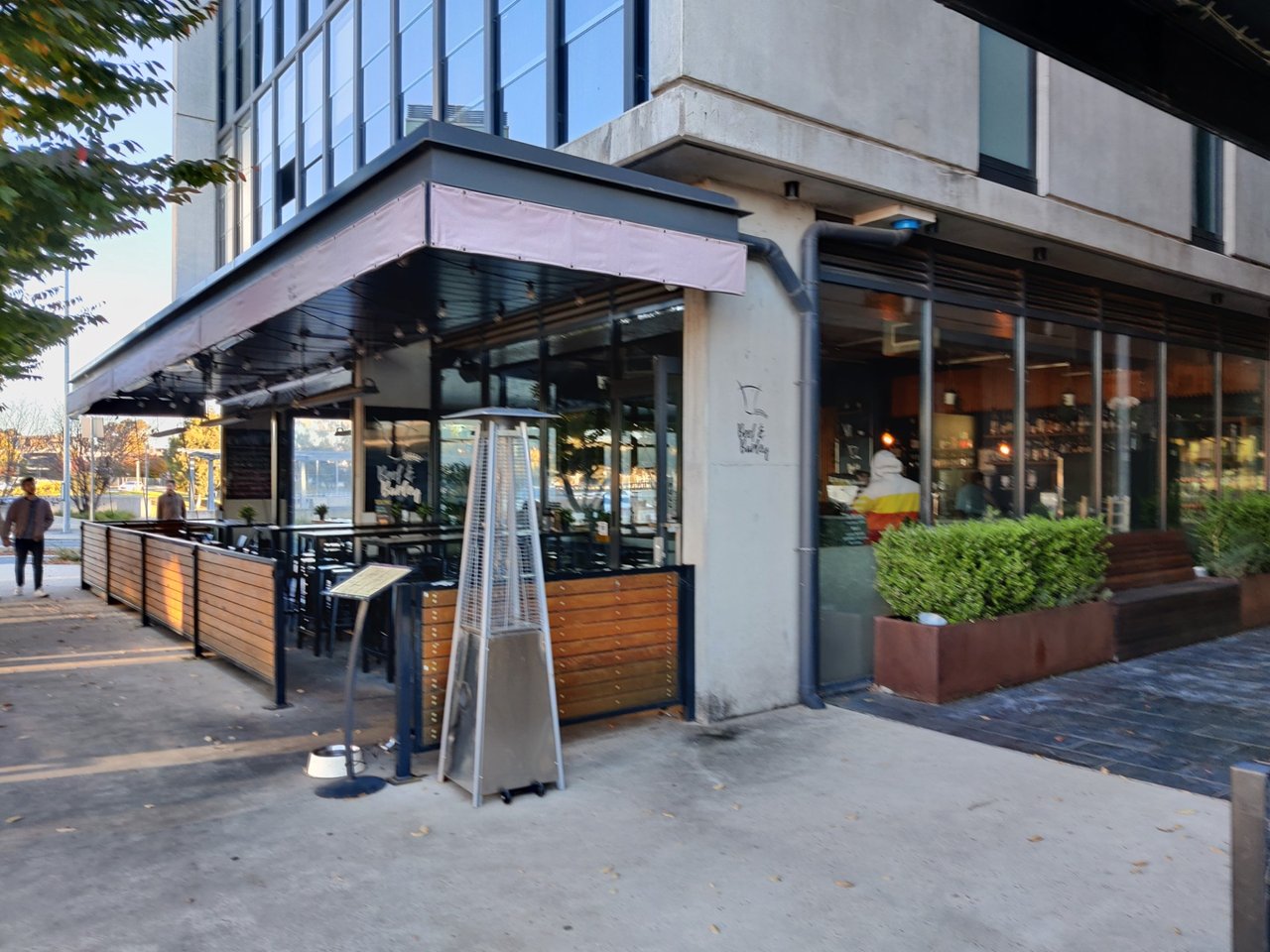 Now that I'm in Australia... it is time to start exploring the various places around this continent that I can eat out in (hmmm, that sounds more weird than it should have!). So, my mother was recently visiting us in Canberra, and she loves her high-teas... and when looking around for a place to have high tea, we stumbled across this Beef and Barley restaurant that served a BURGER high tea.
Burger high tea? Sure, why not... colour me very much interested and curious!
Bonus was that it was quite near the place where I had to give a concert later that evening... so, after a quick suggestion to my mother and the kids, we were locked in the unusual variant of high tea!
The Space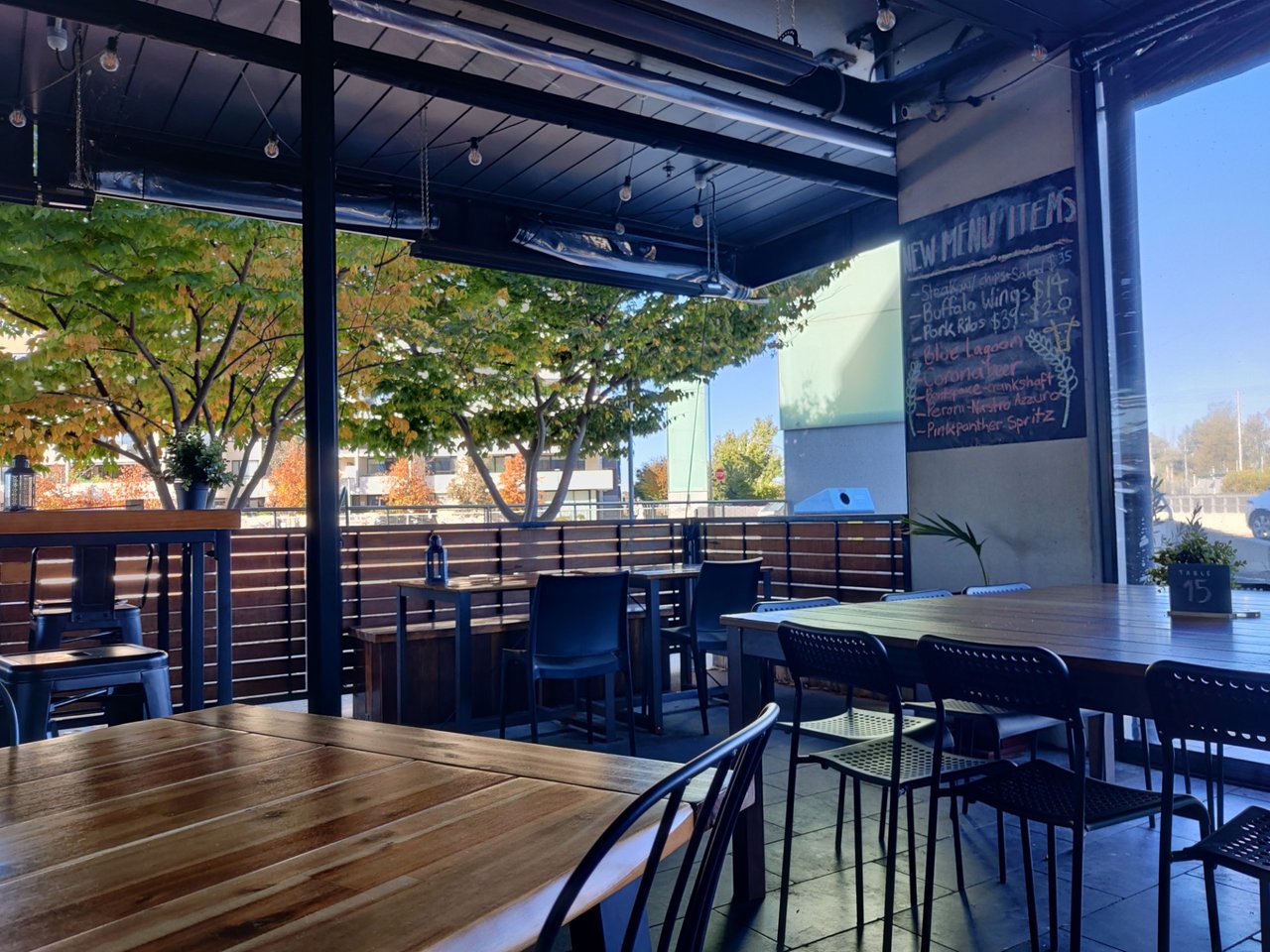 Beef and Barley is the last of a row of waterfront restaurants that look out onto the Kingston foreshore. I've never really had much cause to come into this area... but it does look like it has all sprung up rather recently! The area does seem pretty upmarket as well...
There is ample outdoor seating that is under cover, and a smaller indoor section as well. The outdoors was a little bit chilly, but with the space heaters in action later it was quite pleasant. Nice wooden touches everywhere, and a large variety of boardgames to play with your dinner/lunch companions makes it a nice place to while away the time.
The Menu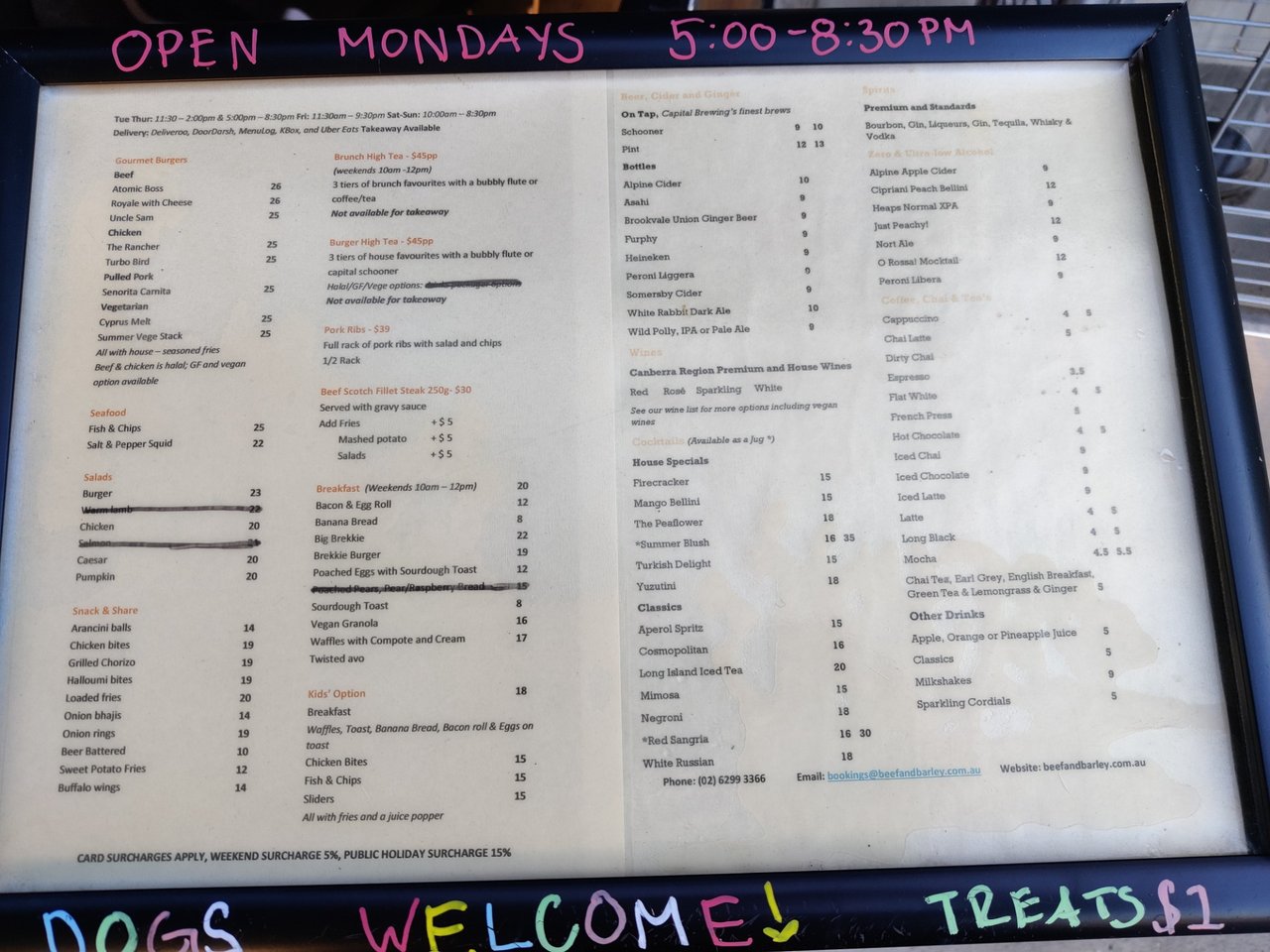 Burgers... drinks and all of that. Hence the name, Beef and Barley! I suspect that this place would be quite a popular place for after-work drinks and that sort of thing... I guess I would know if I actually worked a normal job! I tend to avoid those hours... too many suits!
The Food
The star attraction... the BURGER high tea!
On the bottom layer, fried chicken pieces, fried haloumi and chips (also fried). In the middle layer, pulled pork burgers and regular beef sliders. And on the top, dessert in the form of a solid chocolate mudcake, a chocolate cake and macarons.
Seriously... eat slow! All of it was pretty good, but I think that for little eaters like my family, one serve per two people would be more than enough!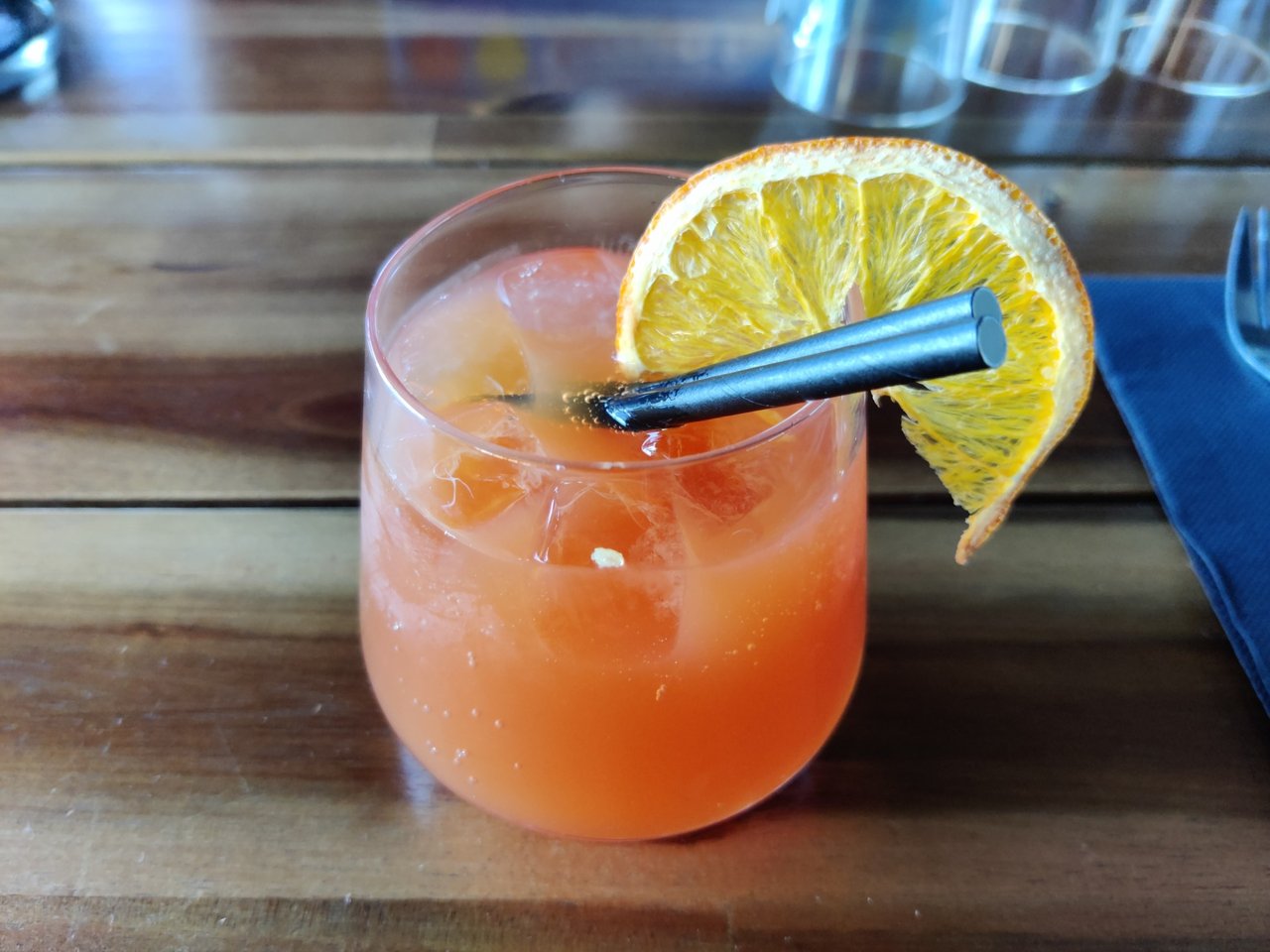 A orange and citrus mocktail for me... so deliciously refreshing, but I just wish that there was more! It was citrusy, but with a little bit of something that I couldn't put my finger on.... if it was alcoholic I might have thought vodka or something similar... but given that it wasn't alcoholic, I had no idea what it was that made it have a little bite.
PS: I had a mocktail because I had to give a concert in a couple of hours... and I'm not a fan of drinking alcohol before going on stage!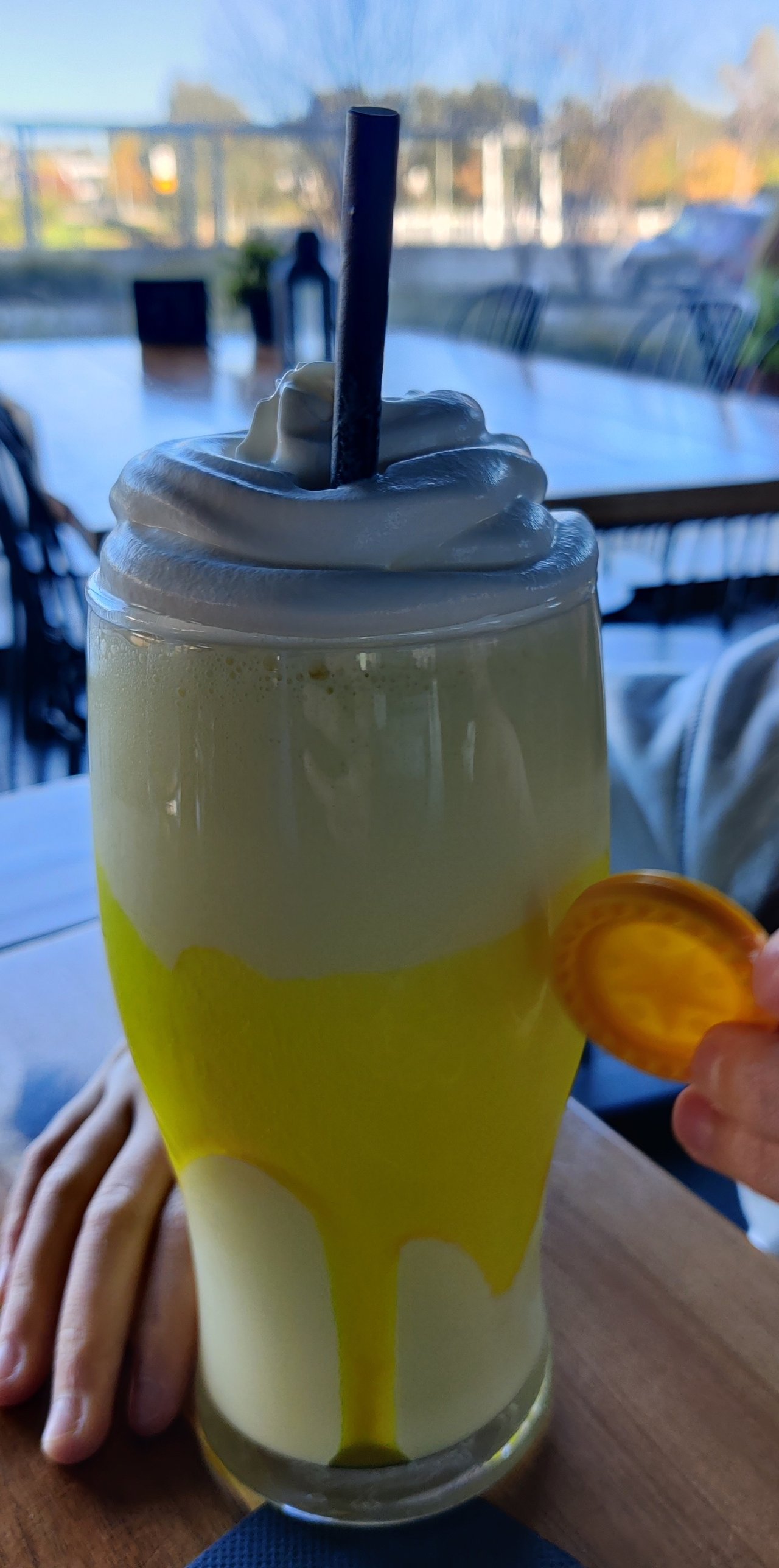 My kids had milkshakes... and this banana milkshake was also deliciously thick and creamy... and crazily sweet!
... likewise for this chocolate one!
The Experience
Wow, who would have thought that a burger high tea would have been quite such a pleasant experience. I loved the setting, and the staff was nice a friendly. The prices were a touch high... but the serves were more than filling, and quite rich in the desserts!
Still, if I had one gripe, it would be that the "hot" parts (the lower two levels) were a bit inconsistently warm/hot... it must be a pain in the arse to get everything finished and ready to serve at the right times (which is less of problem for regular high teas), but the burgers weren't as warm as I would have liked them to be. Thankfully, the bottom layer wasn't scalding hot though... so, there was a silver lining to that particular cloud!
Opening Times
Monday 5–9pm
Tuesday 11am–2pm, 5:30–9pm
Wednesday 11am–2pm, 5:30–9pm
Thursday 11am–2pm, 5:30–9pm
Friday 11am–9pm
Saturday 10am–9pm
Sunday 10am–9pm
Contact Details
Address: Kingston Foreshore &, Eyre St, Kingston ACT 2604
Website: https://beefandbarley.com.au/
Phone: (02) 6199 3366
View this post on TravelFeed for the best experience.