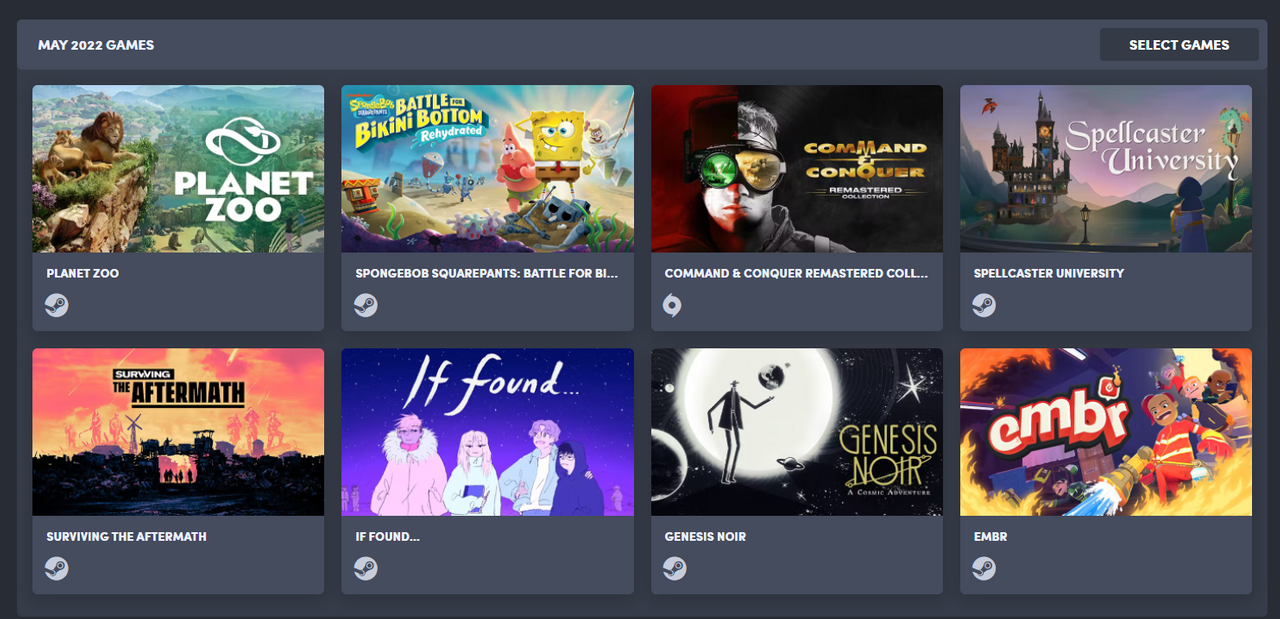 Planet Zoo
Spongebob Squarepants: Battle for Bikini Bottom
Command and Conquer Remastered Collection
Spellcaster University
Surviving the Aftermath
If Found...
Genesis Noir
Embr
It has been a little while since I've been so happy to see an Humble Bundle with some games that have been sitting on my wishlist for ages. In fact, in some of the recent Steam sales... I have been sorely tempted to pick up a few of these! But I'm glad that I resisted... it is another lesson that I really shouldn't be buying games given my Steam backlog... as the good stuff will end up dropping in a future Humble Bundle anyway! Usually, the month after I buy it on the storefront!
Leading the bundle is Planet Zoo... the cousin of Planet Rollercoaster, but with animals! I love my management/construction sim games... and these are supposed to be among the best of them... I've had this on my wishlist for ages, and I think it would be the sort of game that my kids would also love! I'm starting to wonder if I need to upgrade their computers to be able to start running decently powered games or not... or maybe, we should just have a central family computer for the really cool gaming... or maybe, I will just set up a Steam link to cast to the TV... so many options!
Oddly enough, I was intrigued by Battle for Bikini Bottom a while back when it went on sale. It seems to be like Mario, but with Spongebob... a 3D platformer. I'm sure that my youngest will love the fact that there are Spongebob characters, but she's not really that into it... but it might just have the right appeal?
Oh... Command and Conquer... I loved it when I was in my uni days... and I totally fell for the completely kitsch FMV cutscenes. Having a look at the remastered edition... well, it just doesn't look that good, I'm not sure what exactly they have remastered but it looks terrible by modern standards! I'm afraid that I will try to preserve my rose-tinted memories and give this one a miss... speaking of which, I still haven't finished the last one of the series. I probably should do that.
I'm pretty intrigued by Spellcaster University... it seems to be a card based game, where you run a University for magic users. I'm not sure if it is supposed to be a rogue-like as well.. but the concept is quite interesting, but I'm not really sure if it is supposed to play out like a card-battler/rogue... or if it is actually like a sim of some sort. Confusing, but interesting! I'm pretty sure that I will end up giving this a try at least!
Surviving the Aftermath is the "sequel" to Surviving Mars... I've been to play the earlier city builder, but haven't managed to get around to it. I've had the Aftermath version on my wish list for ages as well... since it was in Early Access... so, I'm pretty happy to see it in the bundle, but the player reviews have been a bit disappointing. So, I'm wondering if my expectations will be a bit unmet... or if it will the game that I'm hoping it will be. Probably the former, but with the bundle games... I'm happy to just be moderately entertained for such a low price!
Ooooh... If Found looks like one of these brilliant narrative games that have such a lovely and beautiful presentation. Definitely, the art style is quite appealing... and it has won some awards... but for mobile. So, I'm hoping that the transition to the superior PC platform is successful.... because I'm always on the lookout for well crafted story based games.
Genesis Noir... oh WOW! I'm not sure that I can do this game justice by explaining... just follow the link and read it. It sounds like a real masterwork!
Embr... hmmm, this could either be really fun, or just chore-work. Fighting fires as a team... well, if it has local play, we could definitely stream it to the TV and have a bit of fun as a family I guess?!
---