It seems that the BITCOIN whales have decided to stop accumulating this week.
Apparently, they have been "quiet" for a while, maintaining a fairly similar volume of BTC purchases and sales, in fact, we should think that the uncertainty in the markets is so high that not even these powerful entities are capable of risking a $ in betting today that BTC leaves the BEAR Market soon.
Obviously, this is just my personal "reading" when seeing the activity of these wallets that represent the top100 Richest ones on BTC, but the truth is that, if a few weeks ago we saw a high volume of transactions, lately what we see it's the opposite.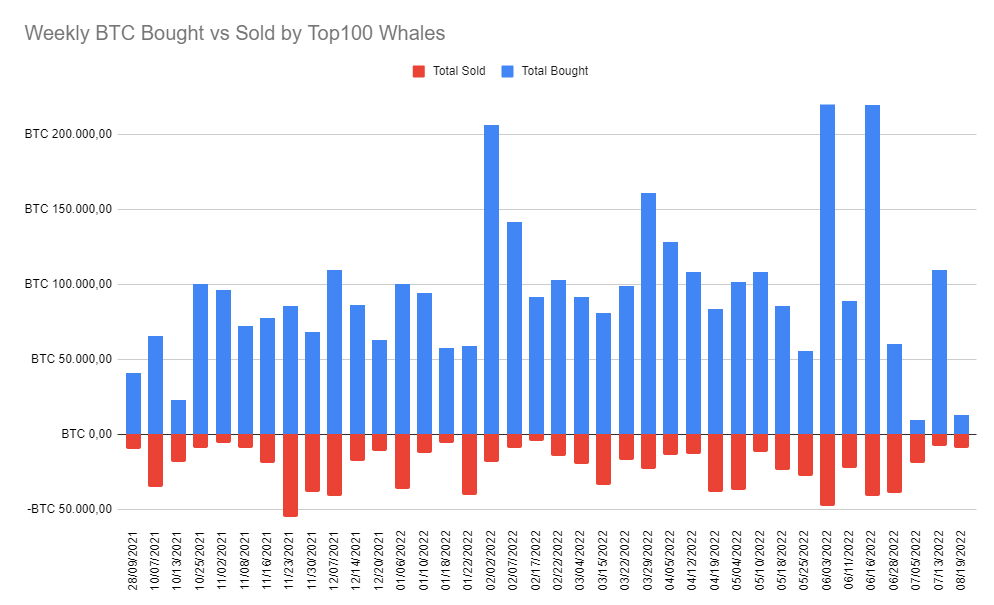 However, there are still more BTC that these entities accumulate than the BTC that these entities distribute, but the amounts are small:
Weekly BTC Inflow: 12990 BTC
Weekly BTC Outflow: 8891 BTC
To have a reference, at the beginning of June of this same year, the values ​​were the following:
Weekly BTC Inflow (Jun 2022): 220776 BTC
Weekly BTC Outflow (Jun 2022): 47615 BTC
I have no explanation for today's dump started at the opening of the Asian market, there is nothing related to the stocks, which is quite rare, but it does not seem that any of these big wallets have activated their "sell trigger"... which, at first glance, is not bad at all IMO, this would mean that at least they are not panic selling huge amounts of BTC that would lead us to disaster...(I have always had a positive attitude in front of this). Rather it seems that they have reached the limit of their patience for a week or maybe, they also needed a deserved vacation from the markets (LoL)...
Will see, in the meantime, I'm doing what I think is the best, DCAing...