I don't want to become ponderous on this aspect... I just limit myself to describing what the top 100 Richest addresses on BTC do these days.
And guess what?
They are "shopping" like there is no tomorrow...
This is called the "Accumulation" process of a market, IMO, and, at the moment, it does not seem to guarantee a rise in the price of BTC in the short term, but I think I can say that we are in this phase of the market according to the following scheme: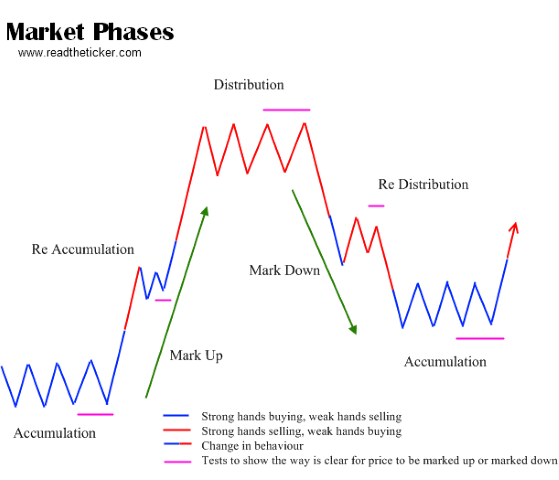 (Note: The source is evident in the pic)
As you can see, and if you don't have problems distinguishing colors (my brother is very "colorblind" and I know he wouldn't be able to, LoL):
Blue Line: Strong-Hands Buying, weak hands Selling
Red Line: the opposite, weak-hands buying, Strong-hand selling
Obviously, the strong-hands are buying (aka the TOP100), who is selling? the retailers (aka, the majority of us), and many of these are selling at a loss... do you see in the diagram where these "little insects" bought?
yes, almost at the top, aka at the FOMO fever!!!
Why do I think it is accumulation and not redistribution?
Basically because of the BTC-Bought/BTC-Sold ratio that these whales offer today:
For every 10 BTC they buy, they only sell 1 BTC...

The disproportion is evident this week. It is worth saying that this does not at all ensure the continuation of the bullish cycle.
There are still a lot of "insects" to loot and we're probably going to have a few more "scares" as the weak-hands disappear from the horizon, however I find it fascinating how they fleece us all.
This post is only informative, don't use any of the data presented here as the main basis for your financial decision but... take it into account for the future.
---
*Disclaimer: This is just my personal point of view, please, do your own assessment and act consequently. Neither this post nor myself is responsible of any of your profit/losses obtained as a result of this information.
Posted Using LeoFinance Beta