I read and watch the video written in a post from @vlemon lately about the use of the DeFiBox application platform which provides a nice Liquidity service for your non-staked EOS. I recommend all of you to watch the video, I think it is very interesting and can give you some good advices about what to do with those Liquid EOS you have while waiting for the Moon again (LoL).
DeFiBox is an interesting application launched on July and which is committed to becoming the DeFi application platform widely used by EOS users. Currently, Defibox has launched two protocols, namely Swap and USN stable coin (formerly Danchor project). The project will launch more protocols in the future such as decentralized lending, synthetic assets, etc.
So, I think that is important to remark that, with all the recent Boom of the DeFi services that have grown mainly on the ETH Blockchain and the super-expensive fees generated (GAS) just for swapping, transferring or using any of those services, people are going to look for alternatives in order to put their money/crypto to work on. For the moment, ETHEREUM platform has demonstrated very poor performance on that regards (high GAS and possible saturation of the Blockchain) and for sure alternatives are really welcome. EOS blockchain, despite its centralization, seems to be more efficient on this aspect so I think we are going to see in short time a major transfer of the DeFi apps to be build on this chain.
Following the example of @vlemon , I just "swap" some of non-staked EOS for USDT and also a few for the BOX token, which is the "governance token" of the application and which provides dividends to its holders.
As I said in the title, I am just testing the app so I don't want to put all my "eggs" inside for the moment but quantify the revenues with a small investment.
At the moment I think "playing" with providing liquidity as market maker on the pair EOS/USDT is a good deal:

It provides you 46.07% as revenues from Fees plus 162.99% of Mining Rewards (in the form of BOX tokens which can be swapped to EOS or USDT as well). The current Price of the BOX token is around 14$ (FYI).
Also, I think it could be interesting the liquidity pair EOS/BOX:

131% as fee revenue plus 160% as Mining rewards.
So, starting from this morning, my two Liquidity positions looks as follows:

By the way, all the process has been performed fluently but, as usual on EOS blockchain, provided that you have installed and set up your EOS account properly on one of the following desktop wallets: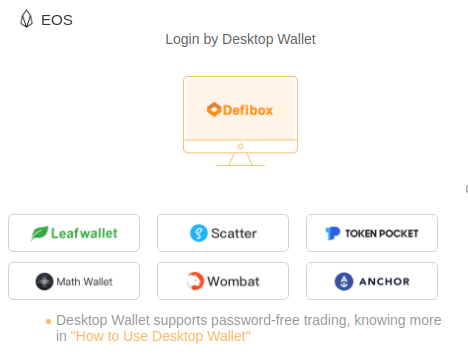 Enjoy!
*Disclaimer: This is just my personal point of view, please, do your own assessment and act consequently. Neither this post nor myself is responsible of any of your profit/losses obtained as a result of this information.