Nodle Cash - Android Smartphone Mining  

There are people who have dedicated their lives to milking faucets or chasing airdrops in the hopes of getting rich someday. Anyone would tell you that is a whole lot of hard work for very little earnings.Let's face it, most of the cryptocurrencies that have popped up in the past few years have failed to live up to their hype and many have been outright abandoned. Only a rare few have achieved success and respectability but none have yet reached Bitcoin's vaunted heights.No, this is not a post about the next big thing or the get rich quick scheme. It's just an introductory post about Nodle's latest app which allows users to earn a passive income through their mobile phones.For those not familiar with the company, Nodle is an eco-friendly connectivity network provider for the Internet of Things (IoT) and was founded in 2017 by Micha Benoliel and Garrett Kinsman.The Nodle Network provides internet connectivity to IoT devices through a crowdsourced network of smartphones powered by Bluetooth Low Energy (BLE) acting as hotspots for anonymous data transfer. According to Nodle's website, BLE is 33x more efficient than WIFI since it consumes approximately 3% of the power required to transfer the same amount of data.Businesses will be able to utilise the Nodle Network to accurately track as well as obtain location and usage data of IoT devices. Nodle currently names Constellation Brands, the City of Paris, Cisco Meraki and Chipolo in their list of clients.So where does cryptocurrency come in?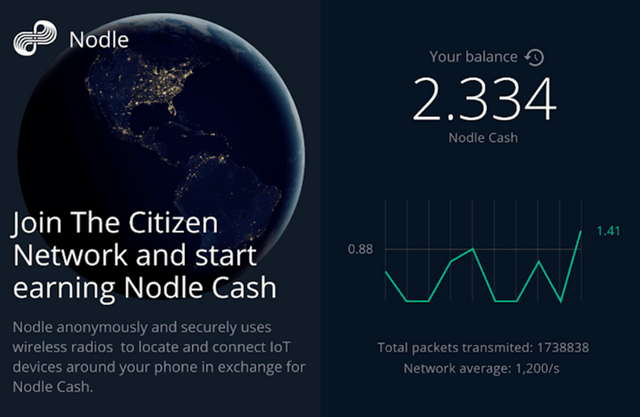 In 2018, Nodle raised USD1.5 million seed funding to launch a new cryptocurrency for monetising IoT connections, applications and data on their network. Originally termed NODL coins, this was subsequently rebranded as NODL Cash to match their mobile app, Nodle Cash.NODL Cash is an asset on the Stellar blockchain with a total supply of 2.1 billion and can be used to buy and sell IoT connectivity and services on the Nodle Network. The asset utilises a Proof-of-Connection (POC) protocol and can be 'mined' by downloading the Nodle Cash app and keeping your smartphone connected to the network. The app was previously only available on the HTC Exodus 1 but was released in the Google Play store for all Android phones last month.

Running the app allows smartphones to pick up signals containing information from IoT devices. The amount of NODL Cash earned for each signal depends on how valuable the information is. As mentioned earlier in this post, this is not a get rich quick scheme. NODL Cash comes in 7 decimals and the amount earned per signal falls firmly in the satoshi range. This is at best a free flowing faucet.