A new chapter was written in the Cryptoverse, as Outcome Protocol was launched. The Outcome Gang will help DAOs to generate positive outcomes. This will be achieved with the help of a top suit of tools.
The future outcome of DAO tooling was covered in a series of Twitter Spaces, and all details regarding the vision and roadmap were shared. It was very educational and interactive, as big names from Risk Labs and the Outcome family answered to questions. 
Because we all chase up positive outcomes throughout our life. The team behind UMA and AcrossProtocol launched Outcome Finance to help DAOs that are looking for positive outcomes. The main goal is to help smart contracts take more of the work out of human hands.
Help smart contracts take more of the work out of human hands? Yes! The tools will make many processes more efficient, using less human interaction. Is a new chapter for decentralized finance and governance.
Outcome will help DAOs generate positive outcomes with innovative DAO tooling that leverages an optimistic oracle. Basically, Outcome is a suite of DAO governance and treasury tools secured by UMA's optimistic oracle and includes success tokens and KPI options. 
Smart Contracts have become a coordination layer for trustless cooperation because are enforced as if by a natural law in the digital world. The Outcome tools will make smart contract work much better, without any social dependencies, leading to a lower cost to coordinate. 
Assurance is created by mechanisms that can be trusted. Socialware are mechanisms that create assurances through human relationships, incurring a high social coordination cost. Trustware are mechanisms that create assurances through technology, incurring a low social coordination cost. The Outcome's products will provide the tools to shift from Socialware to Trustware.
These tools are all possible because the UMA Optimistic Oracle can serve to smart contracts the kind of data associated with human actions and achievements.
Outcome's tools will let DAO users behave in more complex ways than would previously have been possible, all this while maintaining pure trustlessness in governance and asset management. 
To conclude, the Outcome mission is to turn the Socialware into Trustware, helping DAOs the coordination outcomes they seek. The Outcome partners will design and integrate tools, will implement and enforce the digital law of smart contracts
Outcome.Finance has a robust suite of tools available today, with several being currently created.
Available today:
Available soon:
Check out Outcome, follow on Twitter and join the official Telegram group.
A bit off-topic, but still talking about positive outcomes, my Metaverse birthday was a total success. The party lasted over 24 hours, time well spent with my crypto-family, and receiving gifts on the blockchain. P.S. Poopster is a legend!
Bitcoin Pizza Day deserved a #KPIpizza competition, where I challenged my colleagues to bake UMA/ SuperUMAns inspired pizzas. This are the amazing results that were shared on Twitter. Enjoy a slice of KPI and make sure you are chasing positive outcomes.
The next event brought to you by PVM Entertainment and Leisure was Children's Day Drawing Competition. The theme was childhood, happiness and positivity. It was a flexible competition, where only creativity was the limit.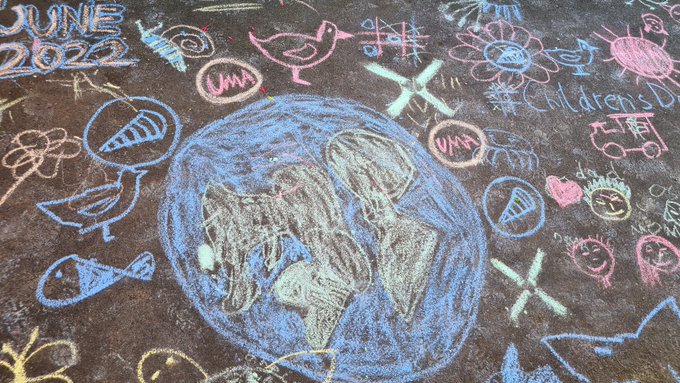 Some used chalk on the street, some crayons on paper, others paint on the walls! However, this is my favorite piece of art created for #ChildrensDay2022 . Congratulations Jane! 
Spoiler alert! It's time for a summer competition, a fun activity that will engage the superUMAns in a fair competition. It's about holiday, good vibes and offcourse ... positive outcomes. Ladies and gentleman ... I present you ... #UMAholiday
The event is open all Q3, from July to the end of September. Superumans will share pictures from holiday destinations, with the UMA/superUMA logo in the shot, using the #UMAholiday tag. Have a blessed summer and may the KPI options power your dreams! Every participant will receive the UMAholday POAP and UMA/KPI splits! 
How to join the superUMAns?
The SuperUMAns are the community's ninja troops and the people who bring the community to life. All you have to do to become a superUMAn join our brand new Discord channel and put your talents to good use! There is always room for another superUMAn! 
Residual Income:
Torum essence - Be part of the future!
DeFi bounty at CakeDeFi with $30 DFI for new users
The fountains: PipeFlare ZCash, GlobalHive ZCash & Get.ZEN
Publishing bundle: Publish0x,  readcash, noisecash, LBRY & Presearch