Hey guys,
let's take a closer look at Amazon:


1. As you may already heard amazon broke out last week already and is heading to the upside. To give you a clear overview of the big picture I prepared a weekly chart with historical trendlines (the youngest one is 12 years old):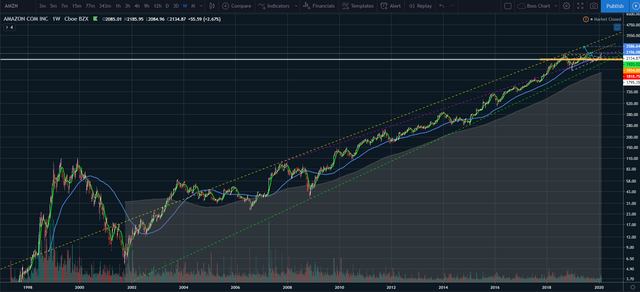 These are significant Trend-lines. Any interaction with them has an effect on price fluctuations for following weeks or even months. Breaking such Trend-lines happens often with momentum, like cutting through butter with a knife.


2. Let's zoom in now and take a look at the daily chart: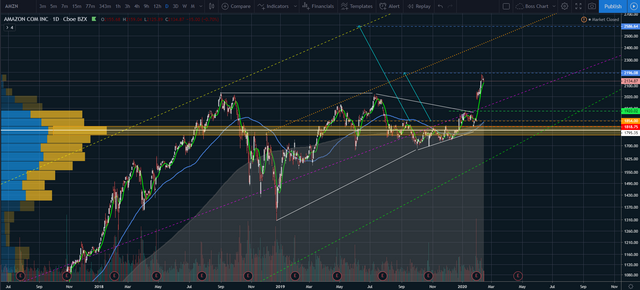 as you can see the big gap of around $127 (6,75%) occurred exactly by breaking the violet Trend-line. Sure it has been broken before during the sideways movement, but these breaks were not such important as the sideways movement was not completed yet.

the strongest volume by price level (yellow) was held and the price left it behind as support.

based on the amount of the gap and the breakout out of the pattern it is unlikely that this gap will be closed. It's more likely that amazon will continue to rise.


3. Targets (measured based on the sideways movement)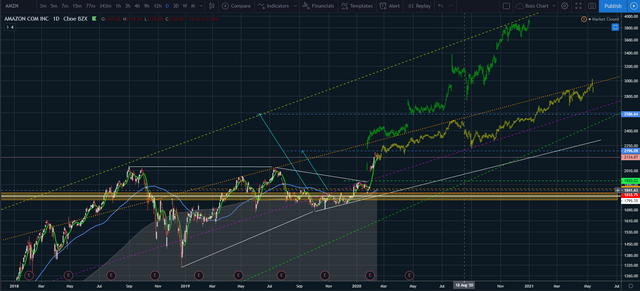 Now you can see the yellow (slow) and the green (impulsive) price movements. If we see big gaps in the following weeks it's more likely that we follow the path of the green, otherwise the yellow one.
the first target at §2196,08 was almost hit
the second target is at $2586,64
This does not mean that the price can not go even higher. The most significant resistance is the yellow trend-line, so if we pass the second target and continue to rise it is not unlikely that we hit the yellow one at a price between $3.500 - $4.000 by the end of 2020. But it is pretty hard to predict such movements now as there is not enough data yet. So stick to the 1. and 2. target for now and we'll see how the chart will evolve as soon as we reach the $2.500.



Hope you are long already building your infrastructure :)


Have a nice one!