Let's check out what happened to the crypto market this week: the most important news from the cryptocurrency world.
Silicon Valley Bank Collapsed: The Largest Bankruptcy in More Than a Decade!
On March 10, the Federal Deposit Insurance Corporation officially announced that US financial regulators had closed Silicon Valley Bank (SVB). The bankruptcy of this institution is the largest in 15 years. SVB held a key position in technology (including blockchain) and venture capital entities. As a result, top companies are still determining what will happen to their assets.
As written in an official announcement issued by regulators, the California Department of Financial Protection and Innovation has shut down the SVB. Moreover, the Federal Deposit Insurance Corporation (FDIC) has been appointed receiver. The FDIC, in turn, launched the National Deposit Insurance Bank of Santa Clara – where the insured deposits of the failed bank are located.
USDC Loses Peg to Dollar After SVB Collapse and Gets It Back Days Later
Last Wednesday, SVB announced that it planned to raise $2 billion in funding. The reason was to offset the loss it suffered from the sale of its assets. As a result, investors panicked and rushed to withdraw their deposits. One company that decided to pull its funds out of the bank was Circle.
On Friday, however, it was reported that the withdrawal order initiated on Thursday had yet to be fully processed. Ultimately, $3.3 billion worth of assets were stuck in the bank – part of USDC's stablecoin reserves. Concerns also began to grow this week. This follows the release of a recent audit report, according to which – as of January 31 – as much as $8.6 billion, or about 20% of the stablecoin's reserves, were deposited in several financial institutions. Two of these are the failed Silvergate and Silicon Valley Bank.
To make matters worse, the USDC stablecoin lost its peg to the US dollar. In a matter of hours, the price of this stablecoin lost 11% and, at one point, fell below 90%.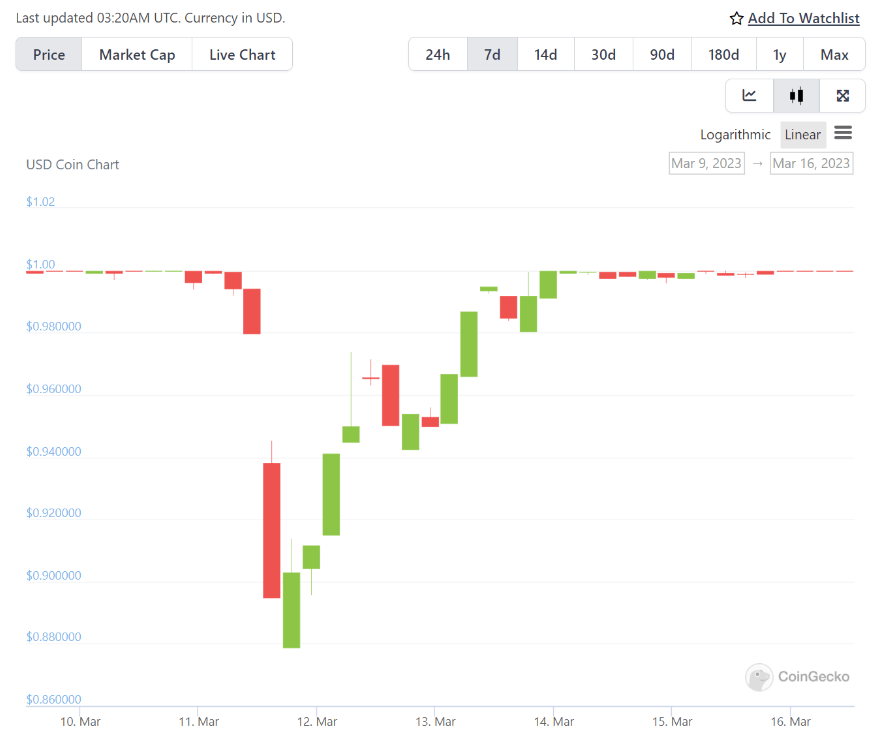 A day later, Circle released a special statement. To cover the deficit of their reserves, which were stuck in SVB accounts, the company decided to use its own "corporate resources." 
The Federal Reserve Board also announced a $25 billion fund to safeguard the reserves of banks and other companies in the sector. The additional funds would ensure financial institutions have sufficient liquidity in the face of potential problems.
These relief measures from Circle and the Fed rescued the USDC, which regained parity with the dollar after a few days.
---
Follow us on Medium, Twitter, Telegram, YouTube, and Publish0x to stay updated about the latest news on StealthEX.io and the rest of the crypto world.
Don't forget to do your own research before buying any crypto. The views and opinions expressed in this article are solely those of the author.