Greetings, Battlemages!
This week, we talk about one of my favorite Water card, a staple in my "Classical high mana Water team": the mighty Nerissa Tridawn!
The card
No ability for this Lady, only pure magical power and health!

She's an Epic Water monster from the Chaos Legion, costing 9 mana. Quite costly indeed, hence I usually use her at +40 mana, but she packs quite a punch for this cost! 3 points of magical attack at level 1, not less! She gains a fourth and fifth respectively at level 4 and 6.
Relatively slow, 2 Speed, she's still able to tank decently with her 9 Health at level 1.
All in one, she does nothing fancy. No super hability, no game changing trick. She just throw a massive magical attack, round after round, on any monster unlucky enough to be in first position. And that, that's game defining for sure!
The battle
https://splinterlands.com?p=battle&id=sl_37964b3ef91cef49cc83d5083cd96ff1&ref=engilhramn
The battle is played in Modern Silver. It is opened to Fire, Water, Death and Dragon and has a mana cap fo 56. The rulesets are Broken Arrows and Taking Side: no ranged or neutral units are allowed.

The line up
With that high mana, I would go Water or Dragon, both are good with high mana. In the end, I chose:
Summoner: Quix the Devious, obviously not optimal with the Broken Arrows rule, but it gives me access to the big Dragon monsters, which are literally monsters!
First position: Djinn Chwala, most of all for the Thorns, I like it on tanks
Second position: Carnage Titan, Reach and Double Strike, what would you want more on second position?
Third Position: Djinn Oshannus, another monster of health and speed
Fourth Position: Deeplurker, one of my favorite, the Opportunity is sometimes annoying but usually most useful!
Last position: Nerissa Tridawn, like a "back tank" but with massive magic damage!
For my last monster, I wasn't decided, checked what I could use and went with Water Caller because the Stun can be stunning and win battles!
On the opposite, my opponent went with Kelya Frendul.
Torhillo the Frozen and Flying Squid as the front melee.
Nerissa Tridawn and Captain's Ghost as magic attackers.
Deeplurker and Pelacor Bandit as back Opportunity/Sneak units.
Round 1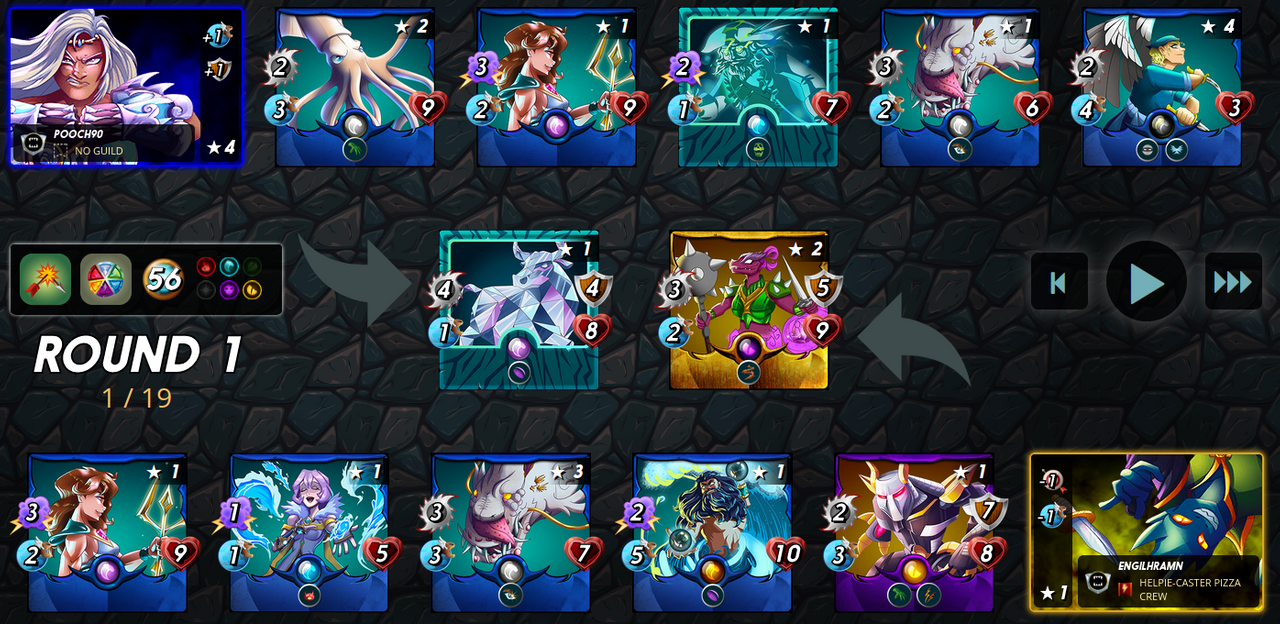 Big boys won't die on a first round, but the damage accumulates already. The main difference is the armor bonus of Kelya, which saved the Pelacor Bandit from my Deeplurker. Talking of Deeplurker, my Water Caller won't survive long...
Round 2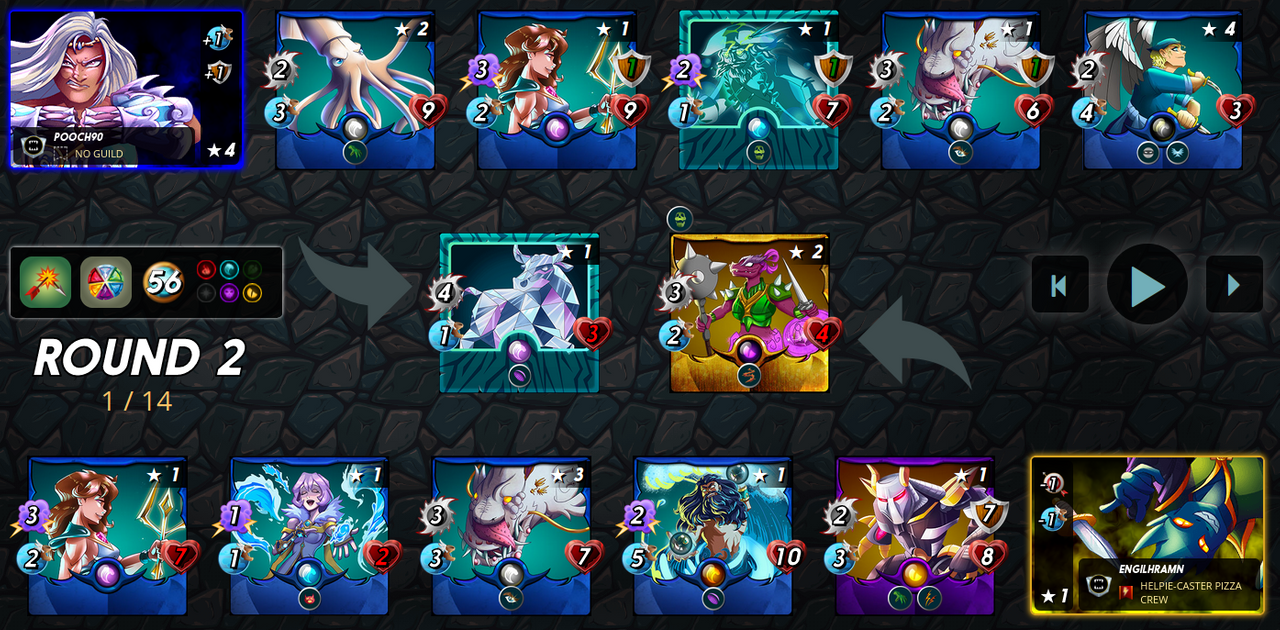 As you can see, the two tanks won't survive this round, and the Water Caller either. Torhillo dies first thanks to the speed of Oshannus and Carnage Titan. My Deeplurker misses and Chwala dies of a magical ball from the other Nerissa. And as planned, the Water Caller dies while having being useless.
Round 3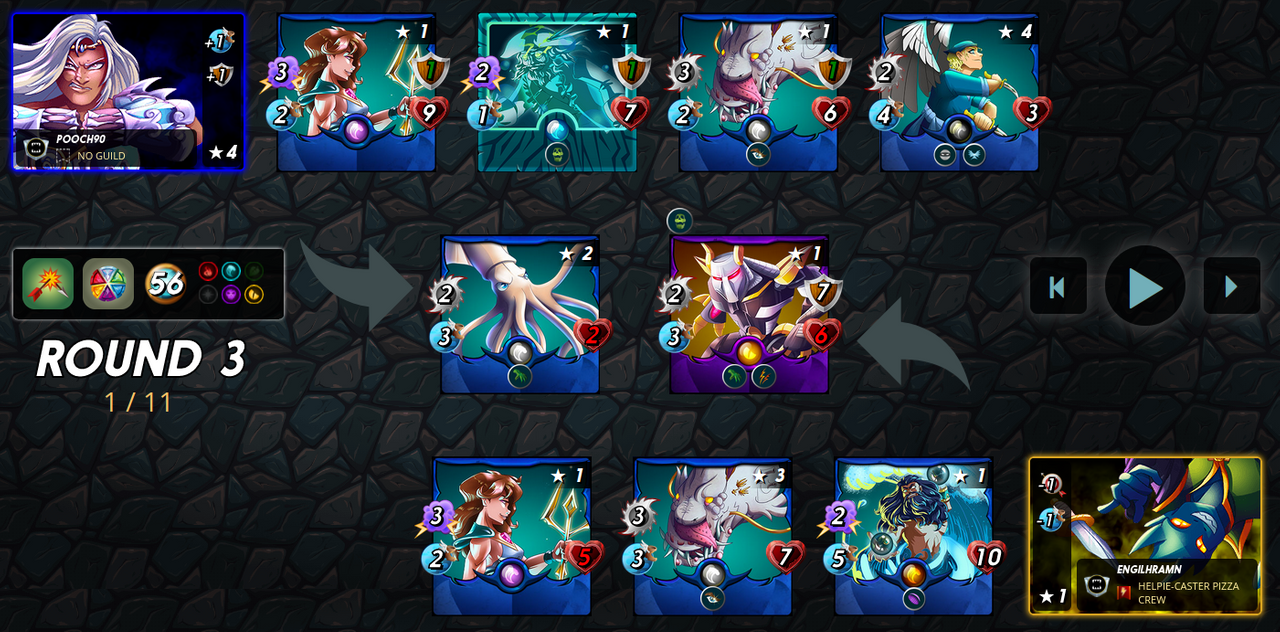 So far it doesn't look bad for me. The Titan still has his armor, and if he dies Djinn Oshannus will take the relay, mitigating the magic attacks of the opponent.
But first, killing the Flying Squid! Speed is often the last stat taken into consideration (me too, I usually look at Damage or Health), but it does make a difference on the battlefield.
Then Deeplurker eliminated the Pelacor Bandit, timely so as my Nerissa couldn't tank much more!
Round 4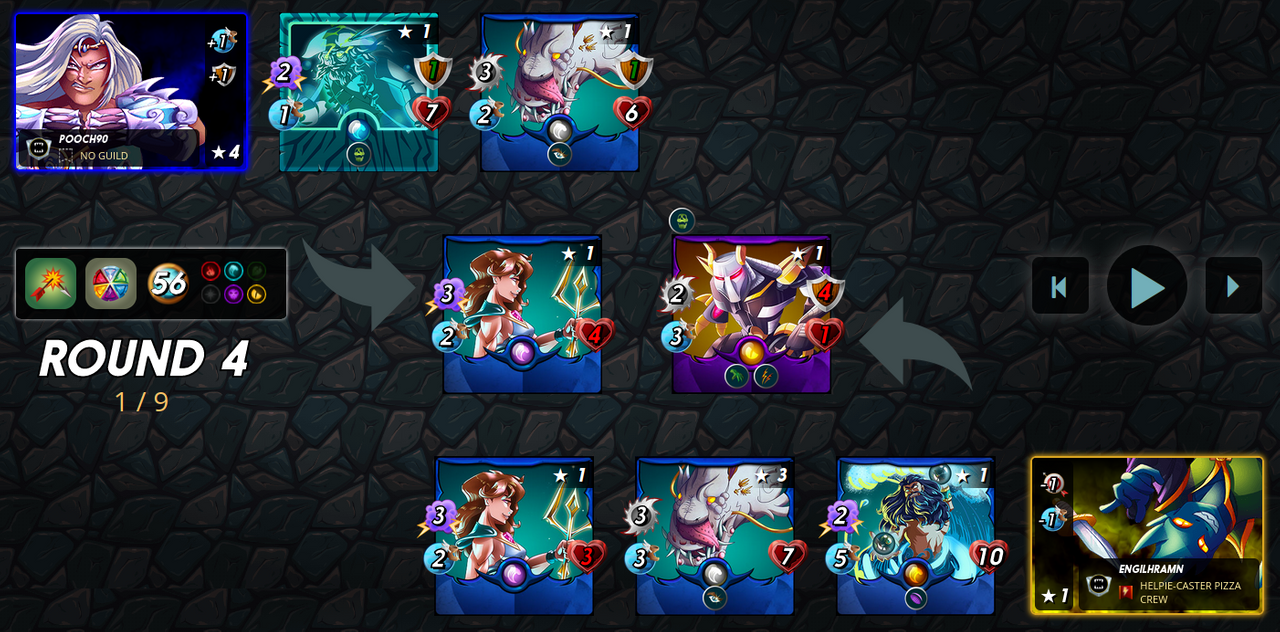 Importance of speed again! Better kill that Nerissa before taking a massive 3 points of magic damage! Then the opponent Deeplurker targetting the armor of Carnage Titan while he could have killed my Nerissa... That's what I was referring to saying that Opportunity is sometimes annoying. But this time I'm on the right side, it doesn't annoy me!
Round 5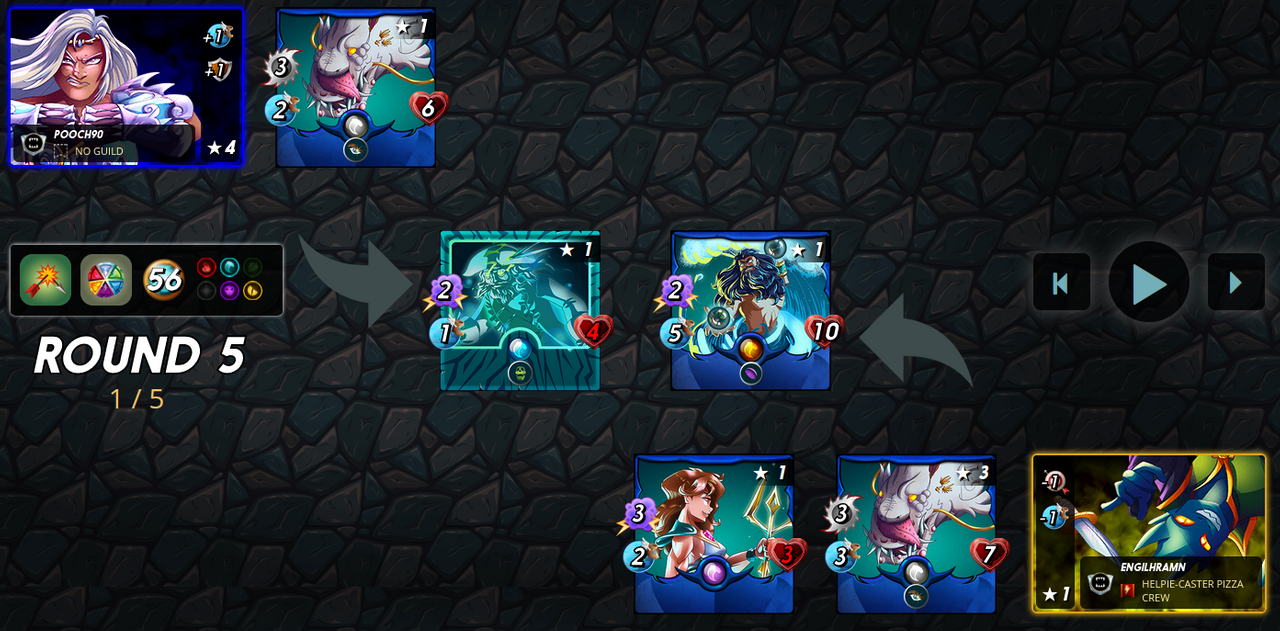 Now the mass is said. Or the carrots are cooked. Haha! No idea what is the correct English expression!
But we can all see how it ends!
Takeaway
We can discuss for long of the importance of speed, yeah the big boys got the kills, but why? Because Nerissa did her job: throwing big magical balls, round after round, while holding the back line! Finishers can finish, Nerissa starts and chews!
For me it's a mandatory card when using Water at high-ish mana, she's definitely part of my Classic team!