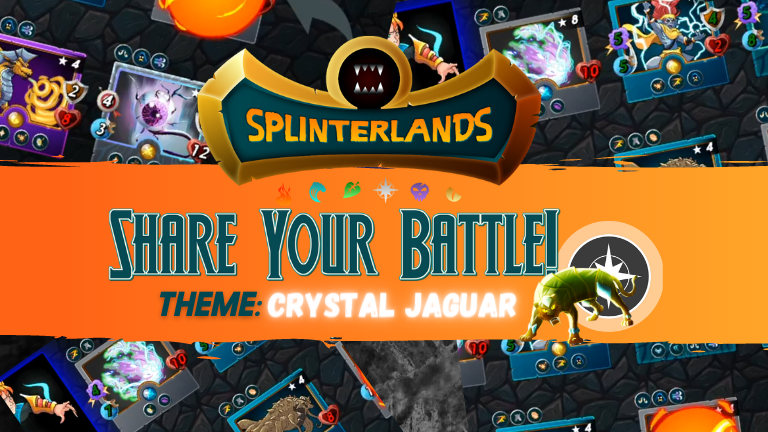 Good day guys!
I decided to join the Share your Battle weekly challenge using the Crystal Jaguar. To be honest I was having a difficult time thinking when I should use him because I only have a level 1 and it couldn't do as much.


Battle information
The battle mana cap was 30 with the "Super sneak" rule. I was up against a Death Splinter.
Lineup
My Lineup
Summoner: Tyrus Paladium
Monsters: Shieldbearer, Crystal Jaguar, Divine Healer, Armorsmith, Venari Crystalsmith, and Evangelist
Opponents Lineup
Summoner: Zintar Mortalis
Monsters: Bone Golem, Undead Rexx, Twisted Jester, Undead Priest, and Haunted Spirit.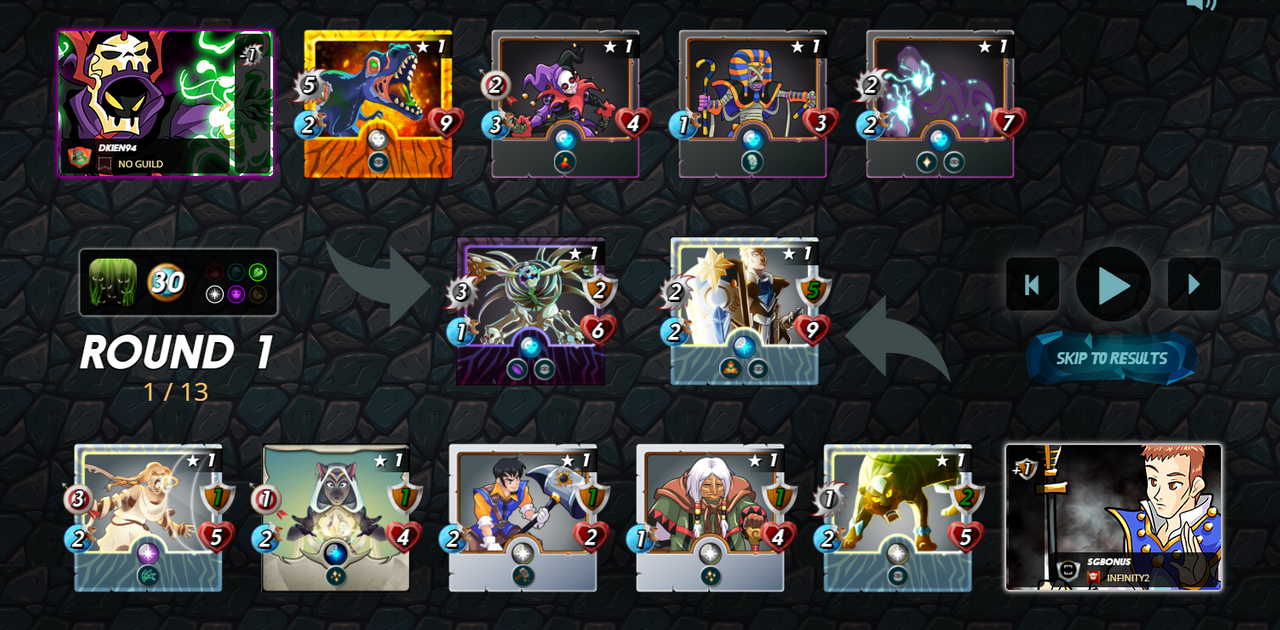 The Battle
Here's the link of the whole battle
Round 1
I actually thought of using Crystal Jaguar during this battle because there was the super sneak rule wherein I will be able to use him but when I saw my opponent's cards, I saw that he won't be useful until the match would end. It started with the twisted joker attacking my Shieldbearer. Then a barrage of attacks happened. I'm just glad that my armorsmith turn came before the undead rexx because if it wouldn't I would be taking so much damage. At the end of the round, I was able to remove the armor and damage the bone golem leaving 4 hp.
Round 2
During this round, the evangelist and ventari were able to take out the bone golem, making my opponents tank the undead rexx. I was really happy regarding the armorsmith because without him replenishing the armor my shielbearer would have died. That's what you call a clutch shield. I'm also happy with all the healing that my shieldbearer has been getting because without them I would also have lost this match.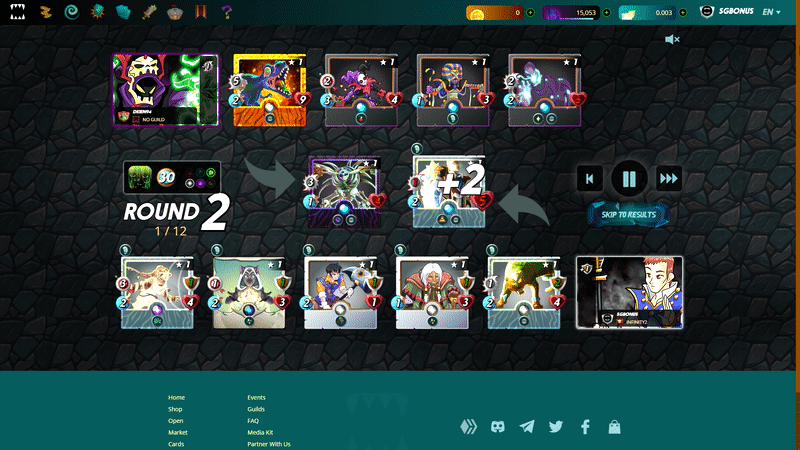 Round 3
Moving on to round 3, everything was just stale at this point wherein, we were just damaging each others tanks.

Round 4
This is where the fun begins, because his undead rexx finally died to the evangelist, bringing his twisted jester down. And the twister jester couldn't do anything but receive all the damage. At this point, I was already thinking that I was going to win this match.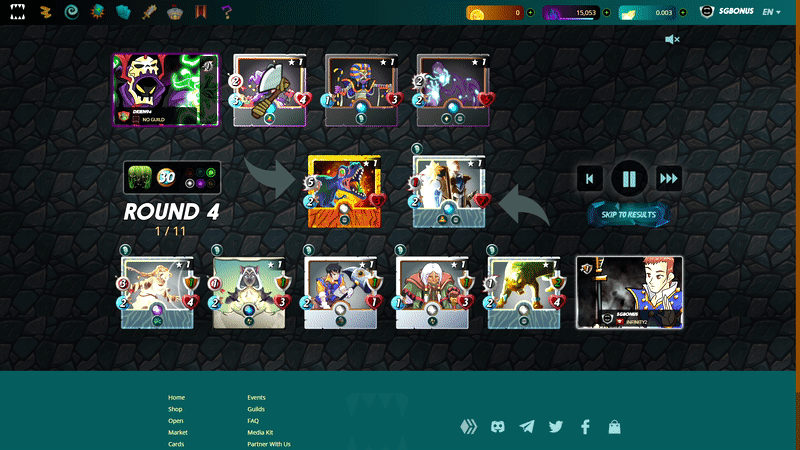 Round 5 and 6
During round 5 the opponents twisted jester finally died and because of my lack of damage to my team, his undead priest was finally picked off on round 6. Living his Haunted Spirit as his tank.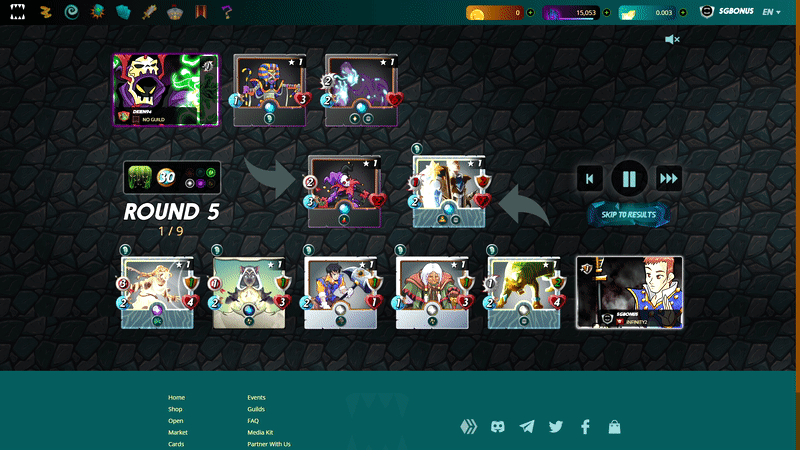 Round 7 and 8
Now, that his haunted spirit was all alone, he was just taking a beating but I wasn't able to get him in round 7 because of his heal and my lack of damage. In round 8 I finally took the WIN!

Spoils of War
I got 3.695 DEC and my rating increased by 20.
---
Did your strategy work?
My strategy using Crytal Jaguar didn't work against my opponent until the end, because he was smart enough to put the Haunted Spirit at the back. And because of this, the 1 damage of my crystal jaguar that had sneak couldn't do anything. But Overall, my strategy worked because of all the healing and armor from my support monsters, without them I would have lost much from the damage that my opponent's monsters have.
Do you like the Crystal Jaguar?
Honestly, I don't use him at all because I only have level 1 summoners. That's what made this challenge really interesting because it made me think of the situation on where to use it. Maybe I'll be able to know its true strength once I begin ranking up in the future.
Join us and have fun playing while earning, click this LINK

Thanks for reading and stay safe always!
Some images were taken from here1 2 3 4
EARN BITCOIN CASH BY CREATING AN ACCOUNT HERE AND POSTING
Posted at 
https://peakd.com/spt/@sgbonus/splinterlands-weekly-challenge-crystal-jaguar