The 2017 buzz still lingers in your minds, same here, I still remember it like it was yesterday. The sudden massive and unbelievable drop that followed? I am still struggling to forget about it. Amazing year it was, biggest take from it is the fact that bitcoin once sold for a bit over $19,000, breathtaking!
The story of 2017 and the years that followed as well as the years before it has been has always been a source of optimism and pessimism as well amongst cryptocurrency enthusiasts. Despite the fact that bitcoin made more news and caught more attention, many other altcoin projects also made massive uptrends. We keep waiting for a repeat of this event.
Sequel to the massive price drop that plunged every cryptocurrency into tangible double digit value drops, cryptocurrency traders have continued to predict a replay of the 2017 milestone…they are turn out to be mere predictions anyways. We take each prediction with a pinch of salt. Attempts at these predictions are ben made using available data, some of which have turned out to give in to many other forces.
We hoped on 2019 to bring in the bulls, now even 2020 have so far been unable to do so, but we are still half way into the year…not half way yet, actually. In a year that has turned out to be one of the most interesting of out generation, 2020 have been accompanied with many fate-changing events with notable influences on the economy, as well as other aspects of our lives. It all bounce back to the economy, being the shock-bearer.
Cryptocurrencies have become a good part of the global economy and are also subject to global market forces, most times. 'Buy the dips' they say, but the dip seems to be unending, each point in time bringing its dips in what have turned into a cycle. Dip followed by growth; the cycle continues.
We are days behind another bitcoin block reward halving, if you're a bitcoin miner, in pretty sure you must have gotten that 6.25btc pay check. I can imagine how that feels! But, all for good.



Pompliano on twitter
The 2020 block halving was by far the most anticipated event for the year in the cryptosphere and arguably the most anticipated economic event worldwide; but, two (2) trillion dollars were printed somewhere, so btc halving should be in the contest for a second place. However that still doesn't make it less important.
To be or not to be, the build-up to the halving was accompanied by several events, with a couple of other prominent blockchain projects; pascal coin, bitcoin gold, bitcoin cash and bitcoin SV also reducing rewards per block mined to half the initial amount.
Scarcity breeds value, block reward halving is meant to create/increase scarcity and drive the value up. Build-up to the halving and the aftermath of the halving forming judgement criteria for price punters, breaking All Time price Highs and reaching new ones were expected events of the year 2020.
The year is still a bit young, cryptocurrencies are breaking records of internet presence, unarguably there are more people talking about cryptocurrency as there ever was, the charts still looks set for greens and the hopes still hangs high; reaching expectations for the year is still a possibility.
BUT, you might have to look away this time. Maybe it's just the opinion of a pessimist or just another price punter, but you might have to forget about bitcoin as well as other cryptocurrencies reaching new highs this year. Yeah…you heard that right. Read on and find out…
We are also living in a period of uncertainty, however, current global situation have plunged us into a real unpredictable period. What happens next, what the government says next, the next wave of breaking news and what it means for the economy, no one can tell. Our social lives is already in jeopardy and uncertain of making returns to the normal, there are new normal which can get worse or better. These times places everyone in doubt, hence, the move to get prepared for even harder times.
Only few countries are free from the pandemic, notable countries with leading economy have been hit hard by the pandemic, a glimpse of the economic effect this have been seen in the global nightmare of the first quarter of the year. With cryptocurrencies and some stocks recovering slowly after this, we tend to overlook the effects of the global situation on the economy especially on cryptocurrency. The urge to get prepared to harder times may shake weak and even some strong hands and cryptocurrency holders may be forced to fortify their fiat holdings and be in a good position for survival. Whether the fiat money system will fail or survive, it still remains the most used medium of exchange, hence the demand still stays higher.
Cryptocurrencies may have made the news more than any other financial subject, still it still lurks in obscurity for the very larger percentage of the active global population. Even amongst those who have an idea of cryptocurrencies, the concept is yet to be fully understood and some misconceptions still exists even amongst the 'pros'. Bitcoin may be more popular, but its reputation is yet to hit the peak which caused the bull run of 2017, only good news is that it is on the right track for this, just not there yet, at least not in the next couple of month, so you might have to wait longer, a bit longer. Drawing back cryptocurrencies from reaching its peak reputation once again includes several irregularities surrounds bitcoin as well as altcoin, FUD statements and information as well as adverse regulatory moves.
The 'get rich quick' orientation and the fact that many are in the cryptocurrency 'game' just to build their fiat stores in a short period time have had some effects on the concept and have led to popular cryptocurrency scams, unfortunately this includes exit scams by cryptocurrency projects which were one thought to be reputable. Mainstream investment is hampered by these irregularities and moves to regulate these irregularities have once again had an advance effect of cryptocurrencies reaching its peak reputation.
The 2017 bull run was caused by heavy mainstream interest and investments in cryptocurrencies, unfortunately, these unfortunate events have been on the growth since then, only few will shun the FUDs and ill-fated news to make moves into cryptocurrencies. Another Organic bull run might be a bit far if these shortcomings are not first tackled.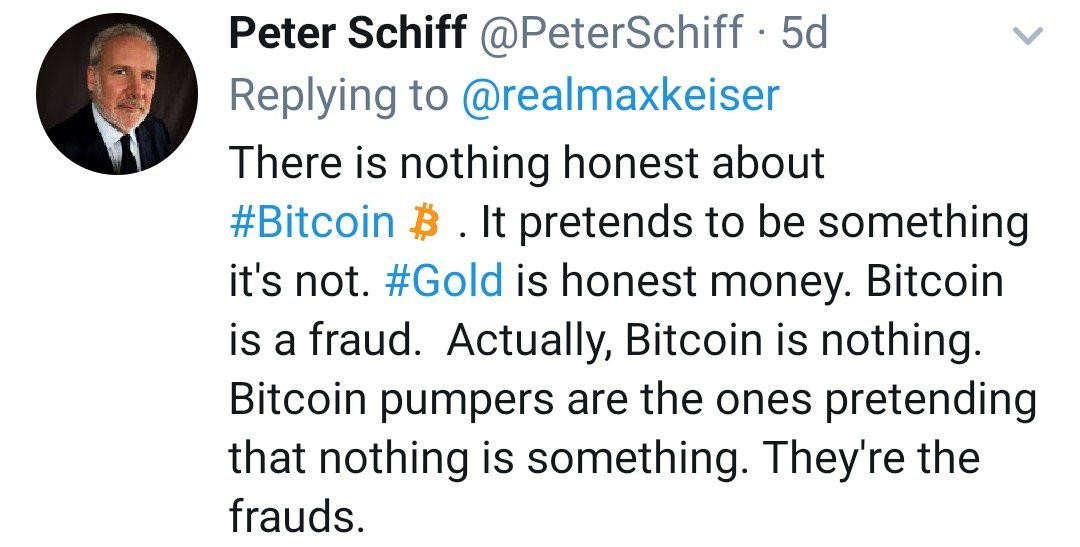 Peter Schiff on twitter
Bitcoin seems to be in a spar with gold, the struggle between Peter Schiff (and his gold crew) and bitcoinists (the Winklevoss, Pomp, McAfee and a host of others) seems to get fiercer with every day that passes. Since its inception, bitcoin have grown much more in value than any other asset, digital or physical…oil once sold for $0 in the 21st century, so you can't prove me wrong!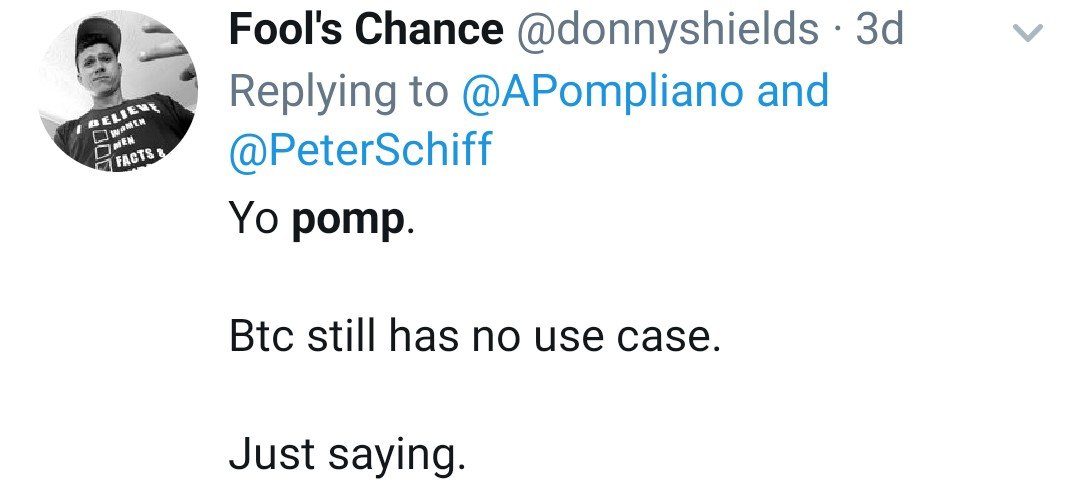 The gold boys aren't taking it easy!
This have caught the attention of the gold boys, and while gold just finds utility in its luxury appearance, bitcoin and blockchain presents more utility, it looks like a war the gold boys might not win, hence some information filled with fear, uncertainty and doubt have surfaced, Peter Schiff once blamed the blockchain for mismanaging his wallet private keys, so I am still trying to find out how this could be possible. Nevertheless, it is a perfect FUD and scares away investors. Things like this further keeps the reputation from growing. Cryptocurrencies keeps breaking through the FUD and repairing its reputation, an explosion is imminent, just not so close, at least not as you'd think.
Real blockchain and cryptocurrency enthusiasts as well as the 'get rich quick' investors keep waiting on the high profit day, as hard as getting the predictions right may be, volatility is an important factor as it contributes to this difficulty and is all a tool for price explosion…and otherwise.
If tether doesn't go real hard on their machines; we might finish up the year way below the current all-time high and possibly below the peak price of the first quarter of the year. We might have to wait further to reap the returns of the block halvings; time will tell, we keep our fingers crossed…as always.