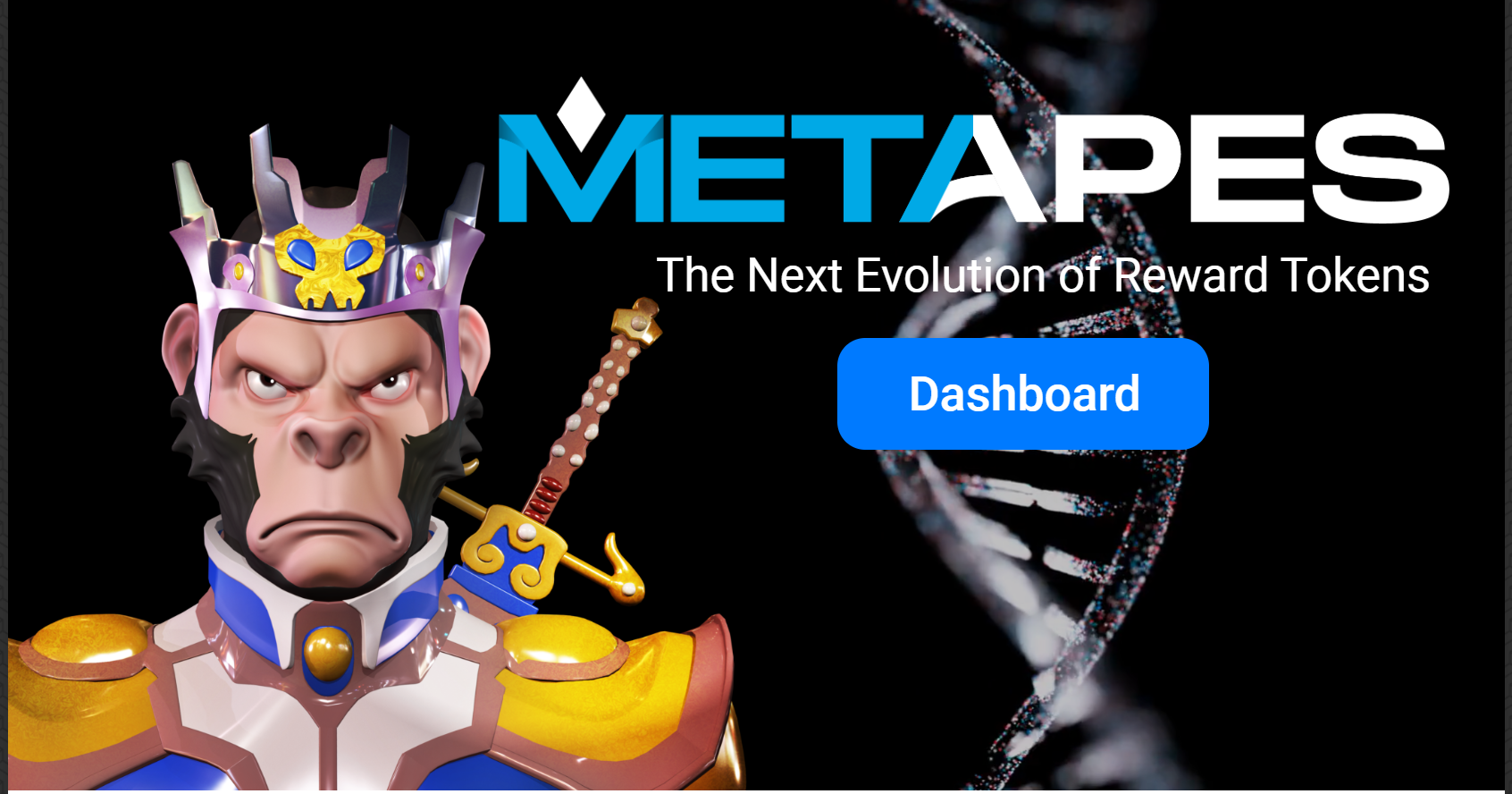 Blockchain technology is taking a new dimension; it's penetrating sectors no one ever imagined it would. You can only imagine what the future holds for a concept with the most ambitious developers and builders. Well, the future is now!
Sitting right in our palms are two blockchain use cases that will form a greater part of lifestyles in the very near future – NFTs and the Metaverse.
Like the pieces of a tough puzzle, NFTs and Virtual Reality technologies will form a vital part of the Metaverse.
Despite Facebook's attempt to champion this idea, proper blockchain projects are coming out on top. But with tons of NFT and metaverse projects being churned out every day, spotting projects with the best potentials could be a hard nut to crack.
It was for me too; but, here… I've found a rather interesting one.
META APES
Reward based, well planned, Built on Binance's smart chain and managed by a team you can trust. Meta Apes is rooted in the core values of blockchain technology and NFT. Each contributing a quota, it offers numerous utilities and attractions enough to steal the eye of every investor.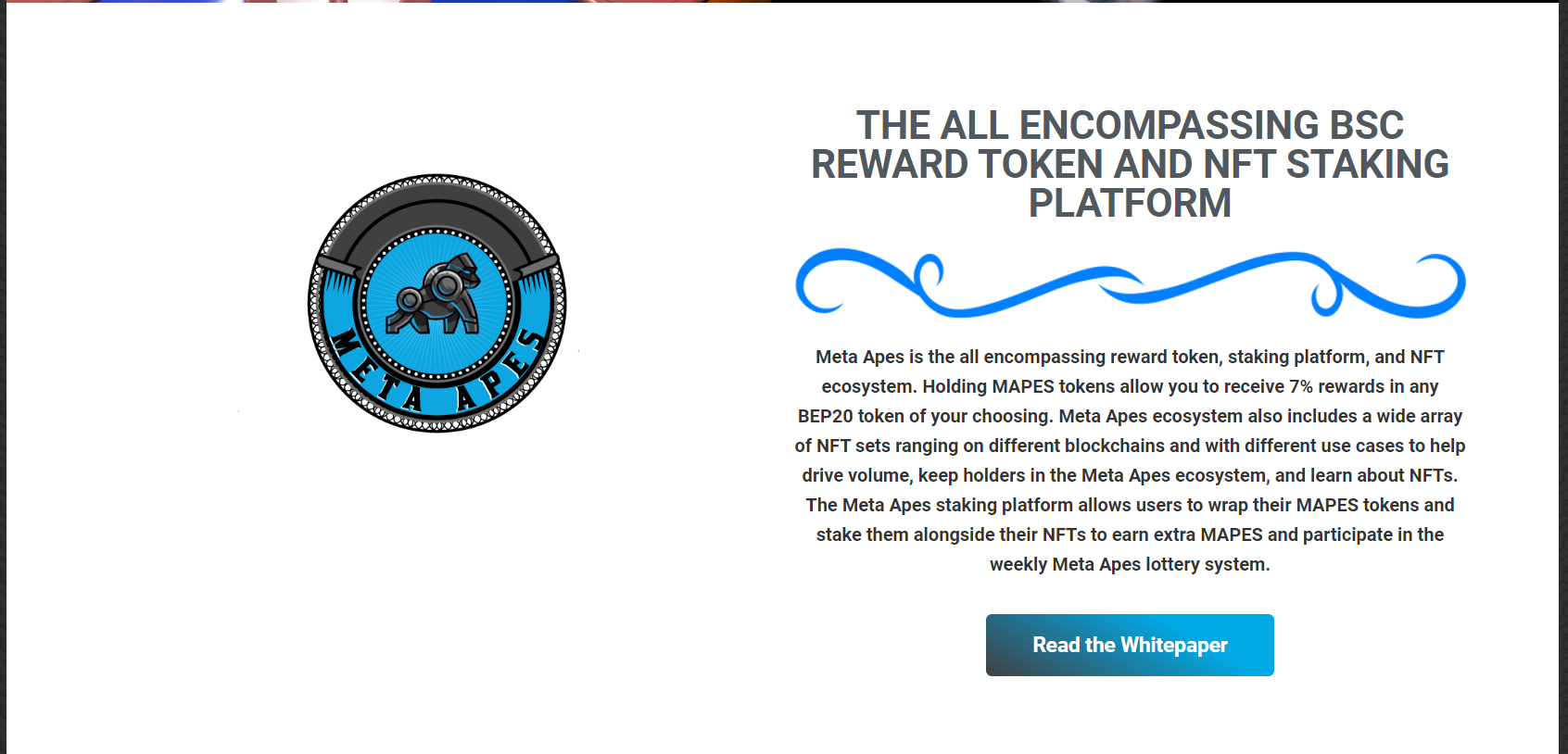 Meta Apes offer investors an opportunity to own rare combat-themed Ape NFTs and as well earn rewards by staking these NFTs on the staking platform. Meta Apes put in a whole lot into just one project and with a little hype around it at the moment, it is certainly one you should check out.
But; What makes Meta Apes special? Let's get to it already!
Super cool NFTs
If you like Punks and Bored Apes, then you'll surely love Meta Apes. At different stages, Meta Apes give investors an opportunity to mint some rare and unique NFT arts. The pixel apes club is the first stage. The pixel apes are uniquely crafted NFTs created by combining the artistic features of crypto punks and apes. About 1000 Pixel Ape NFTs were made and plan to be released in 10 seasons with 1 limited
edition season drop to Meta Apes top holders. The revenue generated through the Pixel Apes sales will be channeled towards the token buy back and burn program.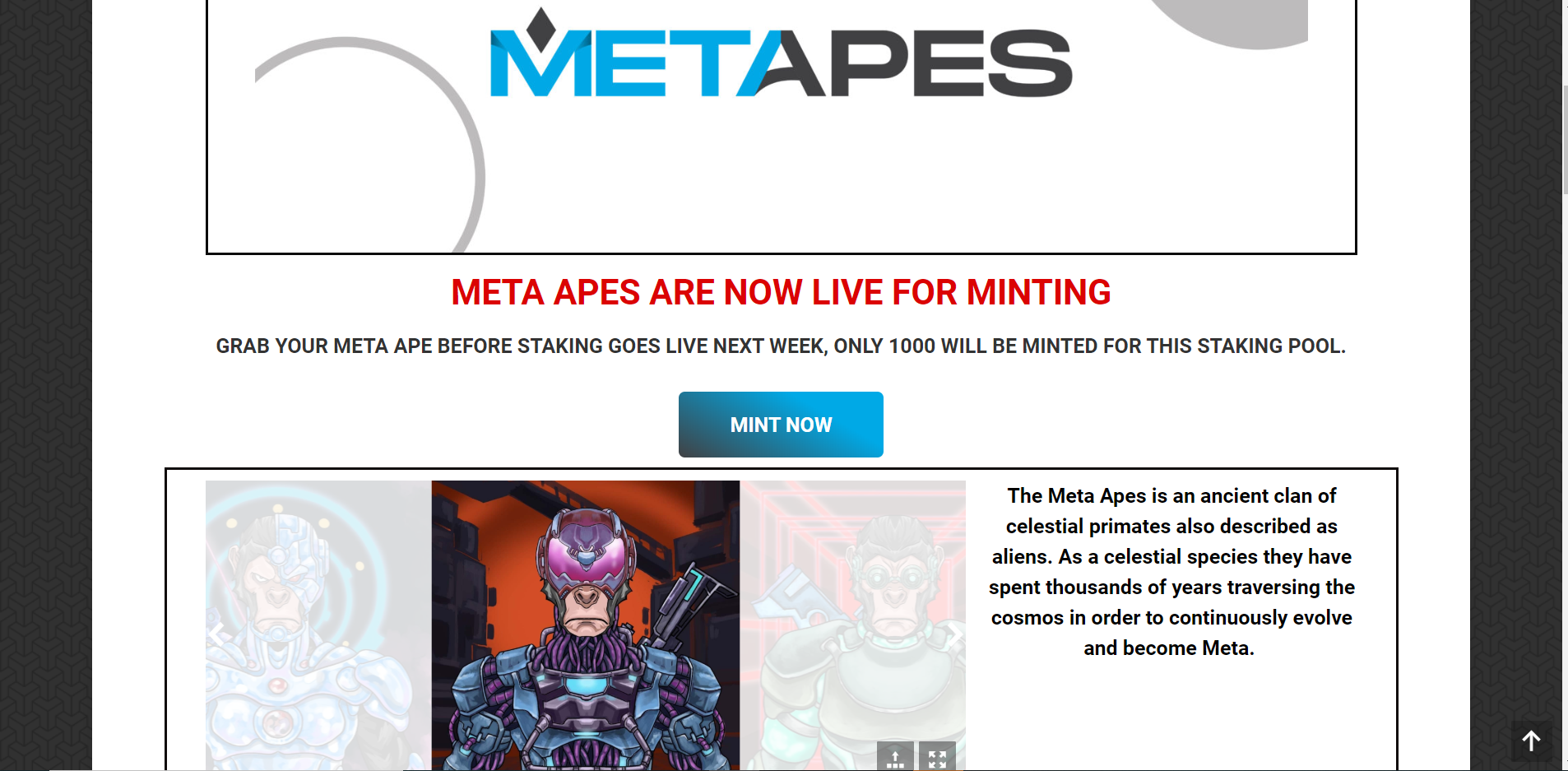 The Meta Apes is the current stage and consist of only 1000 mintable NFTs, they are unique combat-themed NFT arts with a slight resemblance to the much popular bored apes. Meta Apes NFTs are evolving and each stage consists of new NFTs with numerous exciting features including 3D transformation.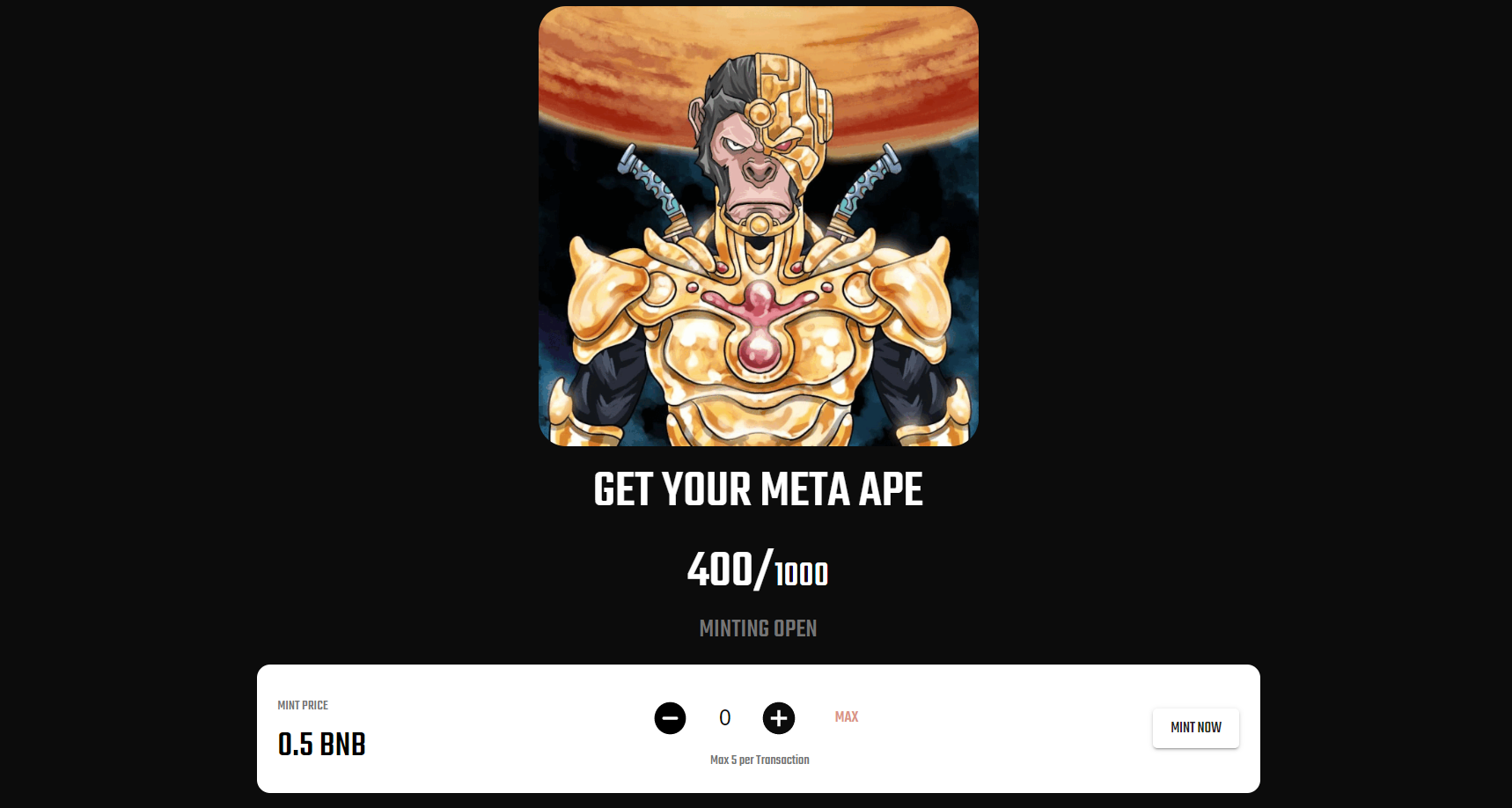 NFT holders can stake their NFTs in the staking pool to earn incentives. Meta Apes minting on Binance smart chain saves art collectors a lot of money in transaction fees.
An enticing Tokenomics
Meta Apes economy is powered by the Mapes token. A total of 100 million Mapes was supplied initially, half of the initial supply was burned after launch leaving only 50 million Mapes as the total supply. In contrast to most NFT projects, Mate Apes flaunts a very conservative token supply scheme.

Mapes token powers Meta Apes economy and supports its ecosystem to promote product use and incentivize user involvements. The Meta Apes team has developed an impressive plan to grow the Mapes token and also fast-track the project's growth through its token. Via a symbiotic growth scheme, Meta Apes and its token will grow in value.
Despite a relatively small amount of token in circulation; the team has introduced a long-term Buyback and burn program to further reduce the token supply and ensure a constant demand for the project's token.
Reward based economy
Meta Apes is 'all round' rewarding for devoted investors and holders. It presents enticing incentivization plans for investors who leave their tokens dormant in their wallets and also for those who stake their Mapes token and NFTs on the platform.
Reward for Holding
Trading Mapes token attracts a 15% tax system; the taxed percentage is split across different purposes centered towards further development of the project. 7% is distributed to token holders. Investors who hold over 500Mapes will receive automatic reflections every twelve (12) hours. Holders reflection is automatic but Meta Apes brings something different to the reflection strategy; token holders can choose from a wide option, the token/coin they wish to receive their reflections in.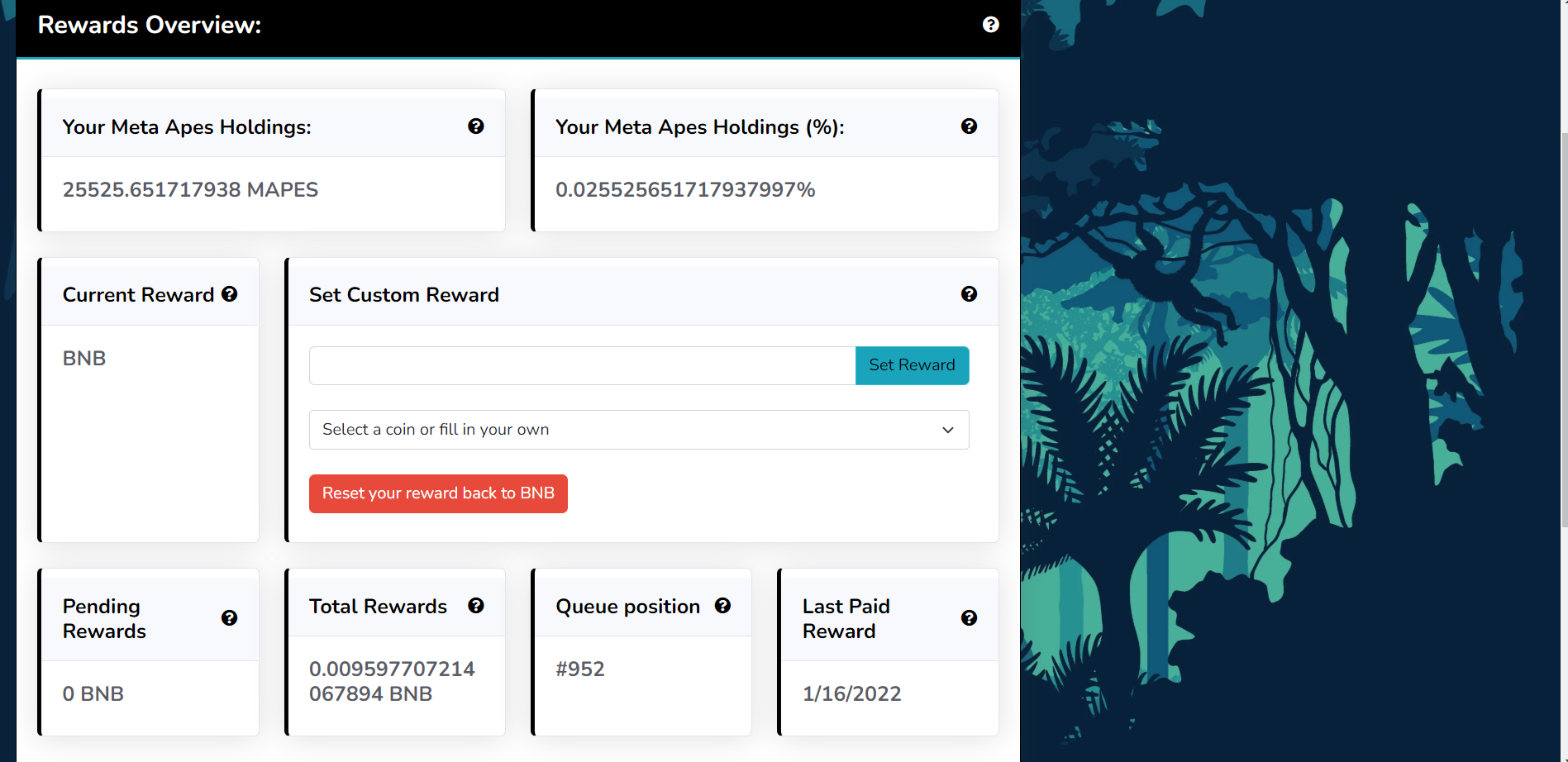 The reflection dashboard presents a simplified platform to allow token holders to choose how they receive their rewards. Native coins like Tron and Bitcoin will be reflected on BEP20 chain.
Reward for staking
A more rewarding way to hold your Mapes tokens is to stake them together with your Meta Ape NFT(s). Investors who wish to stake their Mapes can simply wrap their tokens using the wrapping platform and stake them together with their NFT.

Currently, you must own a Meta Ape NFT to be able to stake your token. Depending on the number of Meta Apes NFT you own, you can earn up to 200% of your stake per year. Stakers will still receive their reflections from the trading taxes. This is expected to change soon to exclude compulsory NFT ownership.
A team you can trust
When I stumbled on Meta Apes, I reached out to the team behind it. Familiarizing with the support team was as simplified and effective as the project's technologies. It was a welcoming atmosphere and within a short period of time I learnt a lot about the project and got all my questions answered.
Despite having gained some popularity, most blockchain protocols are still a bit complicated, a responsive support team is an essential factor to consider while investing in any cryptocurrency project. Meta Apes support and development team is dedicated to hearken unto its users, answering their questions about the progress of the project and guiding them through using the numerous protocols that make up the project. Knowing fully well that I have a team I can reach out and get a rapid feedback once again strengthened my conviction about Meta Apes.
Looking good; the future
Meta Apes is a pretty young project. Still in its earliest days and despite doing a lot already, the project's road map is packed with lots of events to look up to.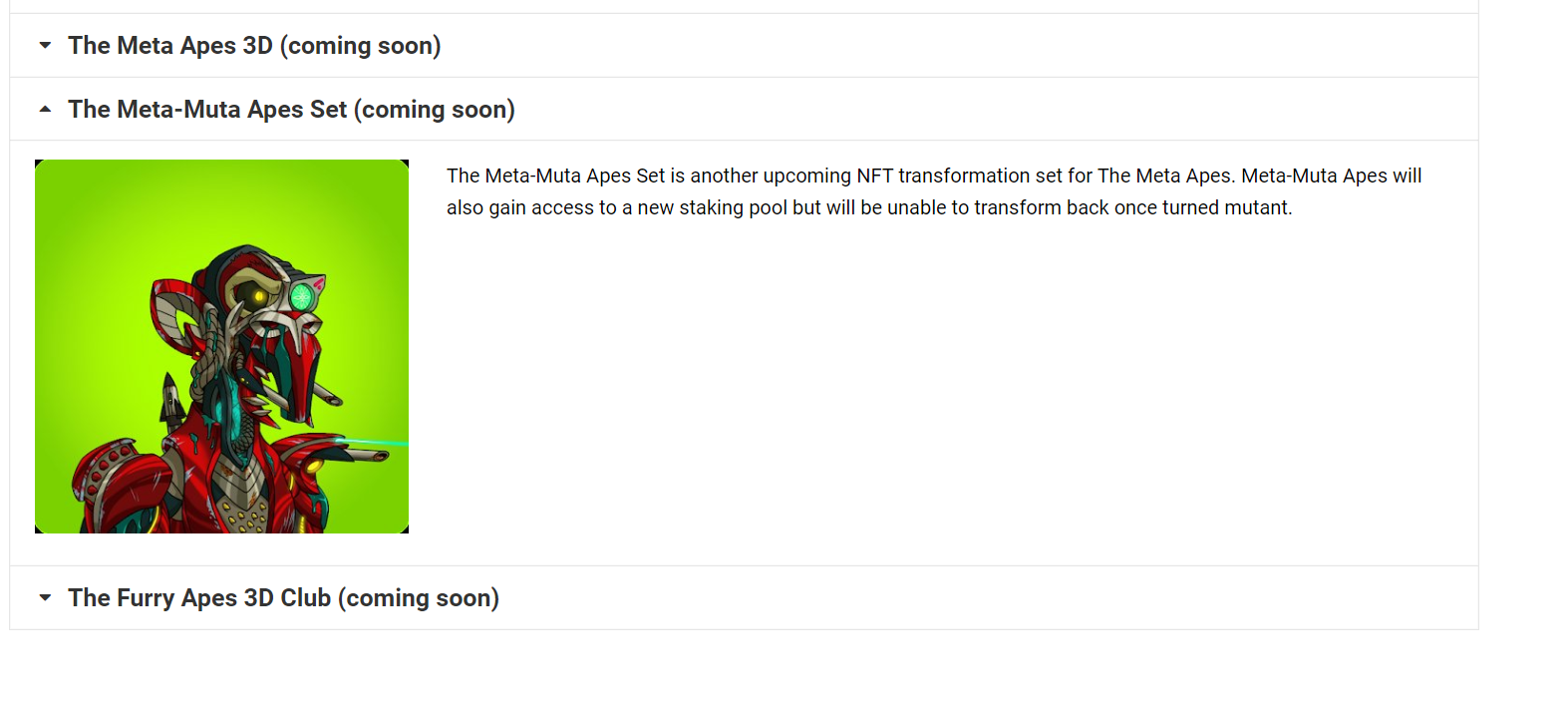 The current Meta Era is the second of a four Phase NFT development and release roadmap. The Pixel Era Being the earliest era. The Mutant Era is the next stage and involves the launch of Meta-Muta Apes Mutant NFTs that can evolve from the gamefi staking platform. The alpha of Meta Apes Trading Card NFT Game will be released with the ability to buy random card packs. Introductions to Meta Apes A.I. generated NFTs will be released.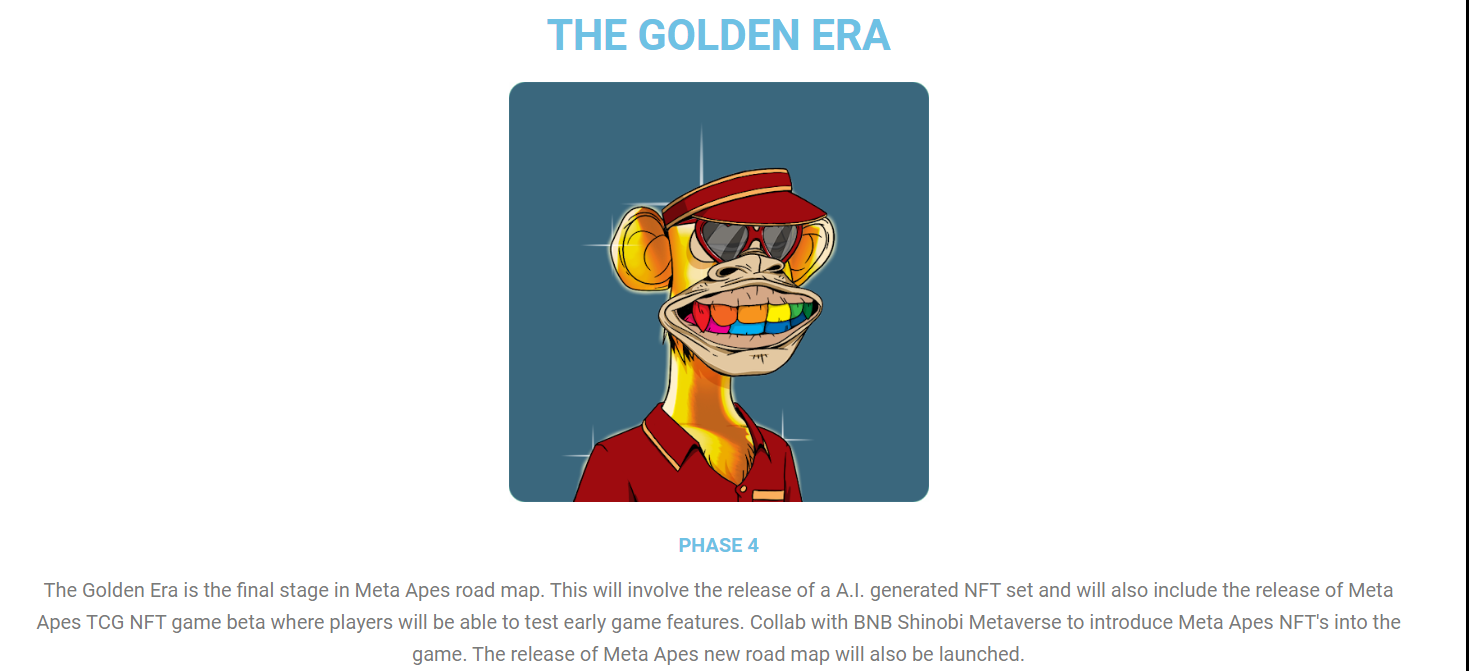 The team is also rumored to be developing a trading card game but this appears to be a part of a long term development plan as the short term road map is already a packed one.
Lot said already; to be frank, there's still a lot more left unsaid. With a solid team working around the clock to build a fundamentally strong project and an interactive community propelling an enticing project, Meta Apes is a quite promising one. Best time to invest in any project is at its cheapest prices…Meta Apes is currently trading at that exact point but this is not financial advice.
Always do your own research before investing!
---
Check out Meta Apes project
---
Have our next publication delivered to your mailbox
Cryptocurrency Scripts is transforming into a community of enthusiastic cryptocurrency and blockchain believers! Join the Adventure!
---
Would you love to read similar articles?
Have our next publication delivered to your mailbox
Follow us on Twitter
Follow us on Medium
Follow us on Publish0x
Follow us on Facebook