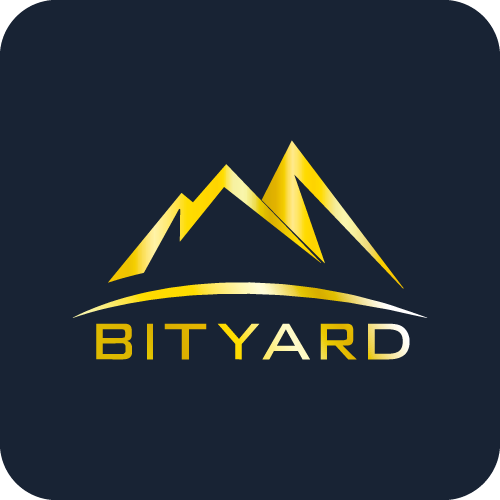 You are yet to get a Bityard account, and it's weird! Not so weird anyways, there's still enough time left. Click HERE to get a Bityard account and join the experience! . Last time on this series we took a closer look at the very basics of a user's experience on the fast rising Bityard exchange, the good-looking interface and the explicit designs. I guess you took a sip of the whole juice, lol. If you've completed a trade on the exchange, do share your experience from using the spot trading feature in the comment section.
A perfect system is hard to come by, despite the fact that Bityard has built a relatively smooth platform to simplify every user's journey through the platform, there still exists a good chance of users running into errors and issues at intervals. With this in mind, Bityard has incorporated an efficient customer assistance system to allow users share their issues with the support team with just a click of a button.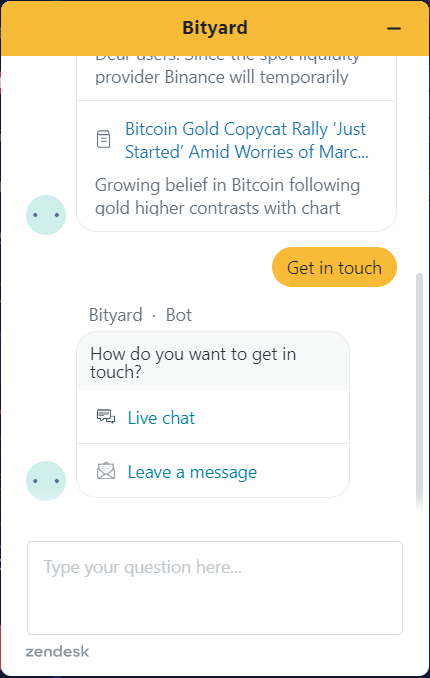 On the desktop view, the 'help' button is located at the bottom right corner. For mobile users, a headphone icon located at the top right corner connects users to the support facility, you're just one click away from assistance! The support facility allows users create a complaint ticket or chat directly with the support bot for frequently reported issue. After creating a ticket, response is prompt and effective. The support team's immediate response to issues reported by the users further improves users' experience on the platform.
Alright here's one feature I personally find very interesting and unique – the Daily mining feature! . the daily mining feature on the desktop and mobile application allows users earn cryptocurrencies on a daily basis on Bityard. Users are required to log into their account daily to claim varying amount of several cryptocurrencies. Cryptocurrencies available for claim as a part of the daily mining program includes EOS, Ripple (XRP), Bitcoin (BTC), Bitcoin cash (BCH), Tron (TRX) and Bityard dollar (BYD). To enjoy this benefit on the desktop application, simply click 'Promotion' on the navigation and select 'daily mining from the drop down. For mobile users, similar feature can be found on the mobile app. Click on the several cryptocurrencies on the mines to claim your daily rewards.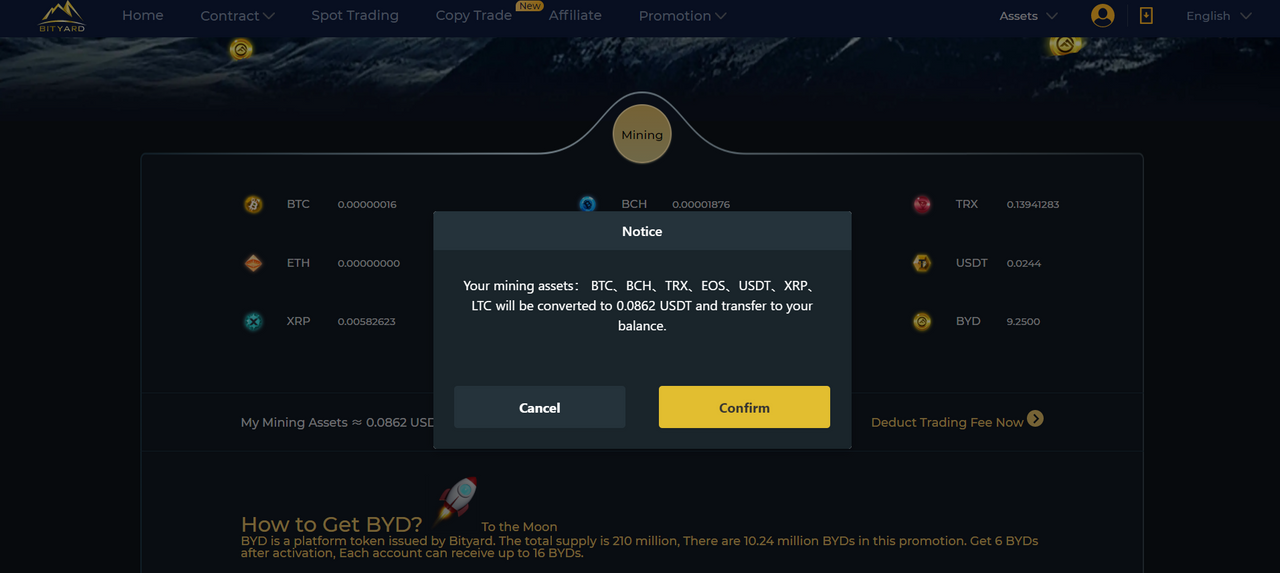 Total amount claimable daily varies. Tokens mined can be transferred to the user's account and can be utilized on the platform for various purposes. Bityard rewards its users via numerous programs, the daily mining is just one of them. To find out other bonus programs available on the platform, click the 'promotion' option that appears when the drop down 'promotion' menu is clicked. Users are able to claim up to 258USDT as a part of the user reward program. Users are also rewarded for making deposits on the platform.
Guess you got some free stuffs already! But that's just a plus. Prior to adding the spot trading feature as a part of its partnership with Binance, Bityard is well-known for its derivatives and crypto contract trading services. Experienced contract traders already have a good knowledge of how this service works, newbies would need a good amount of learning and information to get involved in the contract trading business. Whichever one you are, Bityard offers a great platform for everyone.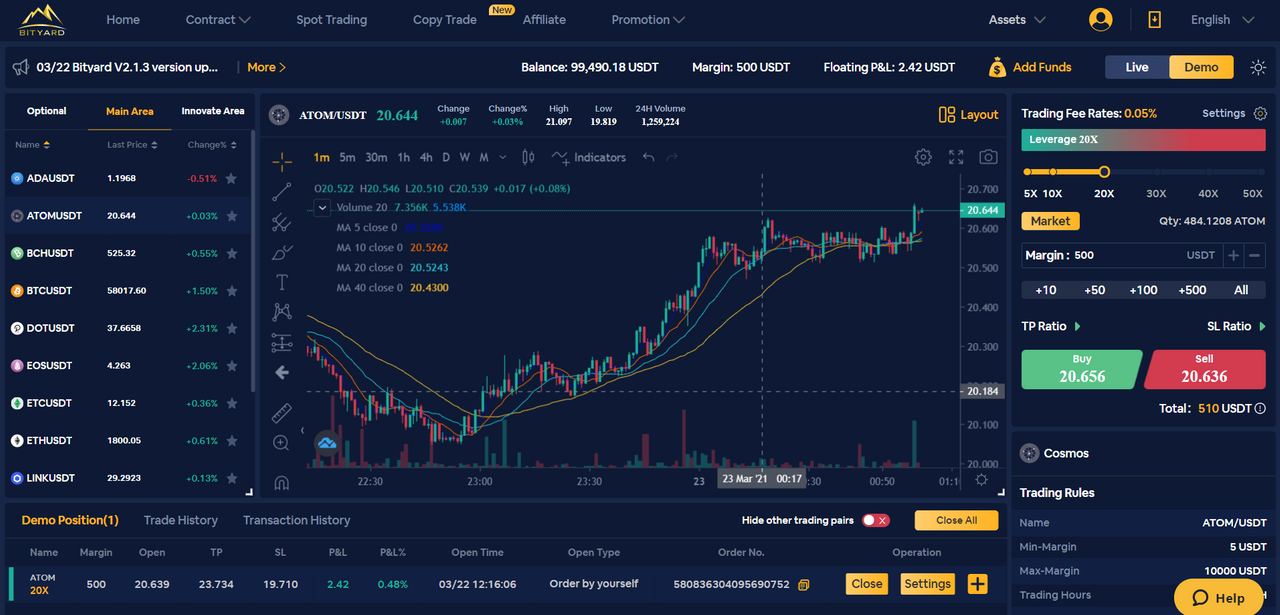 The demo trading feature allows users gain more experience and test their strategies using the trial fund. Each user receives a $100,000 trial fund, this is more than enough to allow users test out their knowledge and skill and get ready for the relatively risky derivatives trading.
To access this feature on the desktop platform, click the 'contract' menu on the navigation bar and select 'crypto'. For mobile users, click 'Trade' from the bottom navigation options. This opens up a page similar to the one described for spot trading. Toggle the button at the top right corner to switch between live and demo trading features. Both environments look exactly the same, however, funds and earnings in the demo area are only virtual and are meant to allow traders gain experience and test strategies. Simply put, funds in the demo area cannot be withdrawn.
The contract trading interface is similar to that described for spot trading. On desktop the column at the right allows traders set the leverage and their trade decisions as well. For mobile users, these features can be found at the bottom of the contract trading interface. Contract trading tutorials will properly explain how these features are used. Endeavor to apply caution during contract trading as this is a 'risky' exercise.
What are you doing on Bityard exchange today? Spot trading, crypto contract trading, daily mining or just contacting support? Lol. Whichever one, you're unarguably having a good time! Personally I'd love to do more contract trading, but I'll be sticking to spot trading for now.
In case you missed the first edition, you can read up Here
Join the official Bityard telegram channel
Would you love to read similar articles?
Follow us on Twitter
Follow us on Medium
Follow us on Publish0x