There are so many sites that are scamming for your money or other assets. There are also many legit sites out there where there is money/crypto/assets to be made. Where does Cointiply fit in to all of this?
I have only been at it for a little over a week. I have over 120,000 coins already. This translates to about $12.00 or 0.00022 BTC.
Look at the top right of my screenshot for proof:
Well, here is my opinion. In a nutshell, it is a good site. Is it worth the effort? That depends. Don't quit your day job. You might earn more mowing grass. However, you can earn a lot of crypto, depending on how you strategize. It comes with many options. You can earn tokens that can ultimately be transferred to a Bitcoin wallet (or the crypto of your choice). Here are some of the ways in which you can earn their tokens:
Hourly spin. This is random. There is a jackpot. The most I have earned is in the 300-coin range. Most spins are about 30 coins or so. This faucet is the bread and butter of Cointiply.
It rains. This is a little incentive to keep you active. If you join the chat and participate in other areas of the site you earn a portion of the rain. Most rainfalls have given me between 100-300 coins.
Watching ads. These are short ads that will give you about 10 coins each. Most ads are less than 10 seconds. They are optional. A few of them are really gimmicky, but you can ignore those.
Surveys. This is where you can really rack up points. I have earned well over 6,000 coins on multiple individual surveys in which I have participated. You have to be honest. Don't be a jerk and just fill in random stuff. Even if you don't care about being honest, they will catch you and disqualify you.
Games. You can play a bunch of different games—the kind you are familiar with on phones and other devices. You will not earn a lot of crypto here, but you will earn some. Hey, if you are playing games anyway, why not earn a few coins in the process? The only catch here is that I cannot find the option to play on mobile devices yet.
Offers. They have a lot of gaming and other offers, like Disney Plus, in which you can earn boatloads of coins. Be careful about some of the game offers. Some of them offer 6 figures worth of coins, but they are the kind of games that you will end up paying far more money in than anyone should ever spend on a game.
Gambling. You can gamble your coins away if you want, but you know the house will win if you keep at it. I stay away from this.
Referral Program: Cointiply has one of the more attractive referral programs of any faucet or similar site I have seen. Every downline referral will earn you 25% of their hourly cointiply spin for life, according to their site. They also have monthly referral contests that pay cash or coin prizes.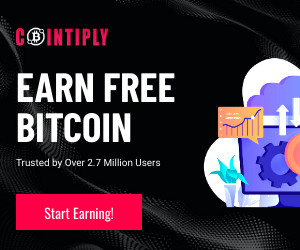 The site is legit. I can see where it could turn out to be a major time waster. But if you have some down time at the cubicle or just want to stay busy at home, it is worth a try. You can definitely rack up some crypto over time.
My advice? Do it, but don't waste valuable time on it. Make it a spare time filler, not an end in itself. Think of it as a fun way to earn a bit of extra crypto for free. If you get serious about the referral program you could probably make some serious earnings.
Here is my referral link: http://cointiply.com/r/0j2x5
Oh yea, by the way, you can earn 5% on your coin holdings once you collect over 30,000. Their coins are linked to the U.S. dollar, so your account will be stable as long as you keep your coins with Cointiply. I have earned 30,000 coins in a couple of hours doing surveys. That is also the minimum number of coins you need to be able to transfer over to a crypto wallet. There are no transfer fees for users. Cointiply takes care of that for you.
So, yes, I think it is worth the effort, if you have realistic expectations.