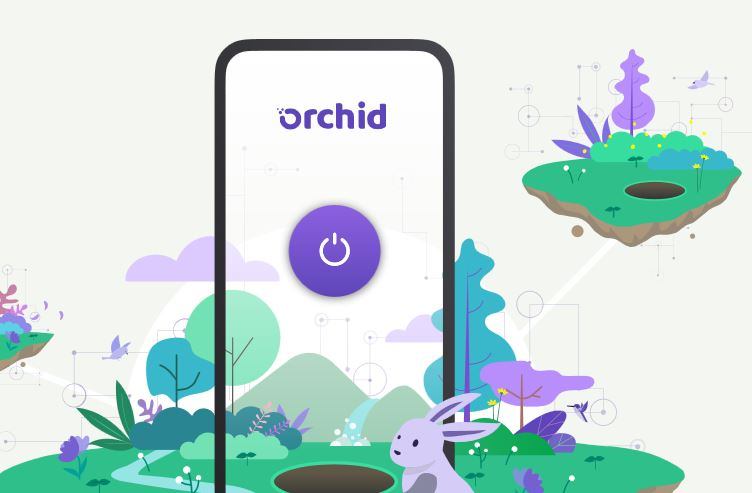 So what is Orchid and why should you be interested? Everyone is (or should be) concerned about privacy on the internet. Big brother, the government, money-hungry business wanting to snatch and sell your personal information - all a part of everyday life on the internet whether we like it or not.
Many people, including my household, use a VPN (Virtual Private Network) for at least some level of privacy. But an account has to be created with the company and a credit card used to pay for the service. All trackable when you get right down to it.
That's what makes Orchid appealing to me. It's a peer-to-peer system where your traffic is routed through multiple layers. You don't set up an account with any of your personal information and payment is only allowed through the ERC-20 token of OXT. Entirely anonymous. And since Coinbase has added OXT to their supported currencies you can store, receive, convert, sell and trade Orchid (OXT) very conveniently.
This is a quote from Orchid's whitepaper on current commercial VPN providers:
When the VPN is active, the VPN effectively becomes the user's new ISP from the perspective of many privacy and trust models. However, this implies that any attack an ISP could previously perform can now easily be performed by the VPN provider. Like other centralized systems, VPNs are only as safe and trustworthy as their controlling corporate entity. Furthermore, their existing payment systems and business models require monthly or longer service commitments with steep price premiums for short contracts, leading to user lock-in.
Orchid intends to provide the means for peer-to-peer buying and selling of bandwidth for anonymous routing of your information. There is an opportunity for you to stake OXT and get rewarded for providing some of this bandwidth. The method used by Orchid is called stake-weighting and is designed on proof-of-work medallions rather than proof-of-stake. Again, you can read more of the technical information in their white paper I linked to above.
If you are interested in getting the basics about this new VPN service and the OXT coin you can view the short videos on Coinbase's Earn and Learn program. There are three short videos that will get you around $4 of OXT for each one. And there is a referral link you can share with friends that you can earn additional OXT if used. My referral link is directly below this graphic showing that I did indeed earn the OXT as promised.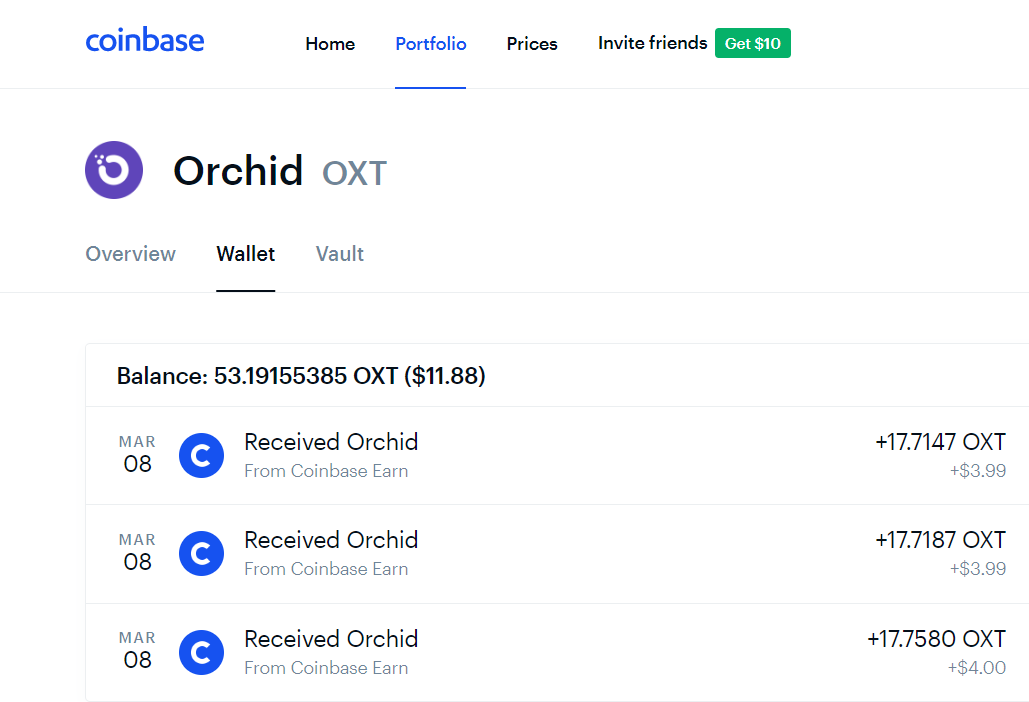 Link to Coinbase'es Earn and Learn to get up $40 in OXT free
I found this program to be very interesting and worthy of more research. I like the idea of more privacy and being able to stake the tokens and earn some income in that way as well. OXT went from virtually unheard of to being in the limelight after Coinbase's unexpected adoption of the token for its platform. Coinmarketcap shows 24-hour volume of $1.8M - not bad for a newcomer.