This week's Splinterlands Challenge of the Week asked us to showcase the Radiated Brute from the Fire Splinter. However, having lost a few battles trying I decided to use a high mana option to switch to the far superior Carnage Titan as an alternative REACH option.
I still played Dragon with Fire to honour the challenge and the battle below features this excellent Reach monster in a narrow victory!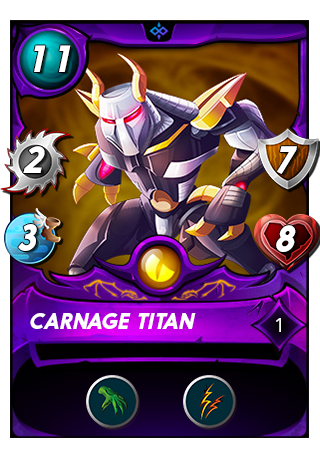 Carnage Titan is a serious option for high mana battles - reach and double strike with a total of 4 damage, and some decent shields and health and reasonable speed, awesome!
The only real weakness is the mana cost, but when yer looking at 50 plus mana that's not really an issue!
The battle below features The Titan as part of a pretty awesome line up in a victory agains the usual Earth magic line up (YAWN).
The Rule Set and Line Up
Mana cap 99
Standard Rules down in Bronze!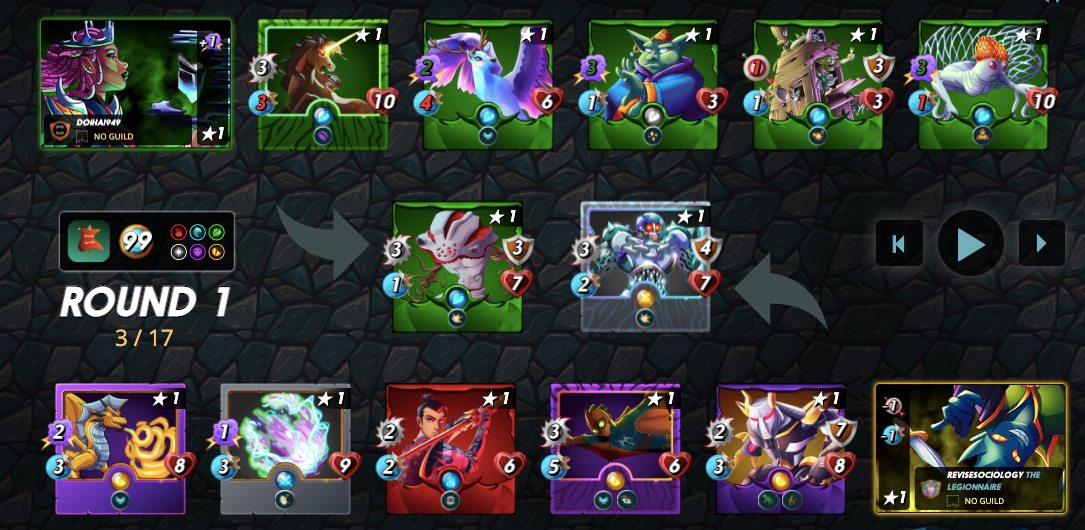 Summoner - Quix
Chain Golem - a reliable tank!
Carnage Titan - an awesome second card as explained above.
Dragon Jumper - high damage an opportunity
Tendyll Striker - a decent amount of damage for a sneak card
Prismatic Energy - Magic and some defence against snipe
Golden Dragon - I thought he had heal at L1 but anyway, more magic damage!
Did my strategy work?
Beautifully, to see it in action click here!
Round 1 - I lose my Golem which isn't a great start, but at least he did his damage first, and my opponent does at least take some heavy damage to his taunt monster.
Round 2 - I take out his Taunter strike one! Besides that no losses!
Round 3 - Carnage! The Dragon Jumper takes out the Goblin Psychic first hit of the round, then I take out his Tank, and the Carnage Titan does 2 damage to the Unicorn (now in P1) before he gets taken out at the end of the round.
Round 4 - OUCH! I pound his Unicorn but it's slow going with the magic on Void and I lose my Dragon Jumper..
Round 5 - Ouch I lose my Striker!
Round 6 - Back on track I take out the Unicorn, now things look better!
Round 7 -now I've got reasonable health and i soon take out his Regal flying thing and then with the Goblin Tower in P1 it's all over!
How important was The Carnage Titan?
Err, absolutely crucial in finishing off the shielded first tank and dealing 2 damage to the Voided second tank, also as a second tank, high health and shields meant he lasted a fair few rounds!
The Dragon Jumper also played a crucial role in taking out my opponent's Goblin Psychic.
I probably would have been better off with ranged rather than magic given my opponent's lack of shields, but it was all still OK!
Final Thoughts: Carnage Titan - worth buying?
Absolutely I think - For these high mana battles I don't think there's anything better in P2!
If you don't yet play Splinterlands, why not give it a go?
Anyone using my referral link will receive a free rare card!