This week's Splinterlands Challenge of the Week was to showcase Dragons, probably my favourite challenge as it's so open ended!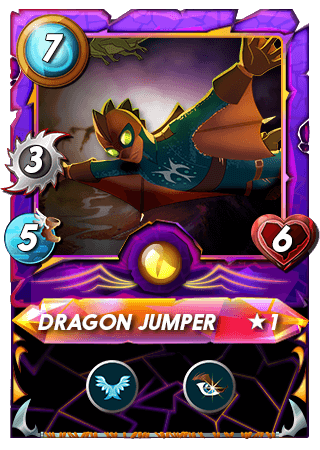 The battle below features the awesome Dragon Jumper playing a central role in a mid mana battle.
While the Dragon Jumper has a relatively high mana cost, his 3 damage and fast speed, and also relatively high health at Level 1 mean that he's a brute of a monster to have in your line up with his opportunity ability.
The Rule Set and Line Up
Mana cap 30
Standard Rules apply (Bronze League!)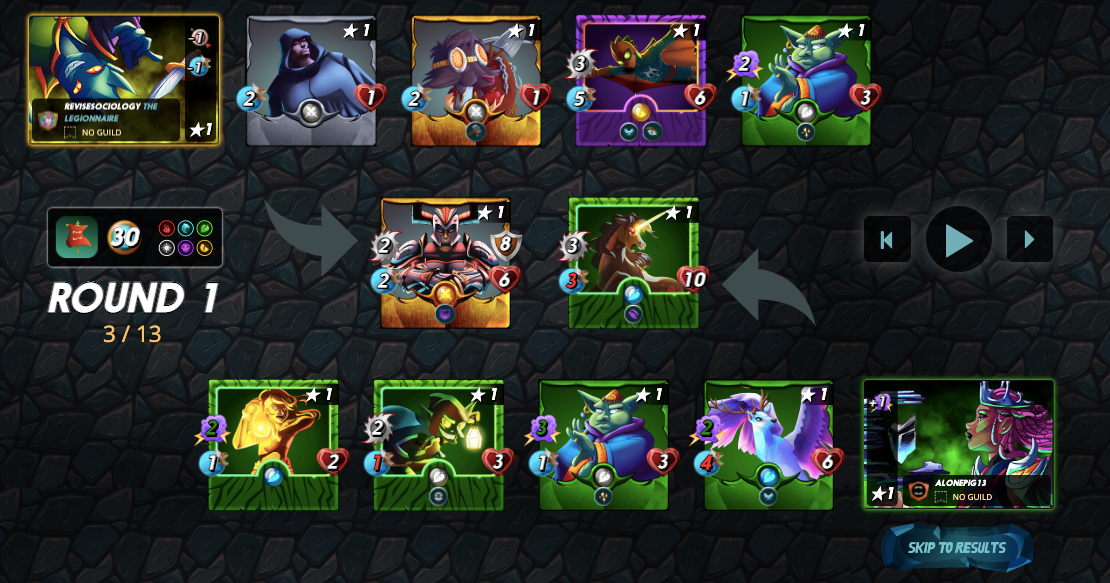 Summoner - Quix
Legionnaire Alva - void shield, expecting the standard all out magic attack from Bronzers (which I got)
Chaos Agent - opportunity/ snipe fodder
Scavo Hireling - to repair that Void armour!
Dragon Jumper - the main attack card.
Goblin Psychic - heal! (hoping not to get sneak, which I GOT!
Did my strategy work?
It was a closer call than I'd have liked, but I was victorious, to see it in action click here!
Round 1 - Boom! Straight off the bat the Dragon Jumper takes out the Khmer Princess, that's 2 damage off the cards already!
Round 2 - Boom! The Dragon Jumper takes out the Goblin Psychic - another three damage and heal down. Unfortunately I lose my Goblin, but at least he did one heal!
Round 3 - Boom! Dragon Jumper takes out my opponent's sneak attack, another 2 damage down!
Round 4 - I lose my legionnaire, but he's soaked up A LOT of damage!
Round 5 - Boom! the DJ takes out the Unicorn, after being weakened for 4 rounds by the Legionnaire. I lose my Chaos Agent.
Round 6 - I lose my Scavo (sobs)
Round 7 - it's all over.... Dragon Jumper makes it 5 for 5 and takes out my opponent's Flying thing (whatever it's called!
How important was The Dragon Jumper?
Well it's rare that I see a card taking out 5/5 monsters.... so his role was CRUCIAL.
His speed and 3 damage were essential in nullifying three powerful attacks from my opponent early on, one before it even made an attack.
However, given my opponents (incredibly boring and predictable in Bronze) all out magic attack strategy I also needed that void armour up front with repair.
I was also lucky my opponent didn't need shields, but overall I think this battle is testimony to how awesome the Dragon Jumper is - I won despite facing massive damage from my opponent and without my team being optimised - If I'd have had the plus one summoner for melee and a 0 mana card defending against sneak that would have been better!
Final Thoughts: Dragon Jumper - worth buying?
Absolutely YES - AT Level one you get 3 damage in one card, and so many L1 cards are 3 health or below.
If you're opponent plays unshielded cards Dragon Jumper can really mess him up!
If you don't yet play Splinterlands, why not give it a go?
Anyone using my referral link will receive a free rare card!