Hello!
This morning I packed all my climbing stuff and I joined some old friends on their climbing day. I knew that today was going to be an awesome day and I was absolutely right!
They are really funny and also good teachers. I use to climb indoor regularly but I still don't feel comfortable with rock climbing. It scares alot when you are 20m above the ground and your arms begin to lose their strenght.
I took a photo of them while they were playing with the ropes: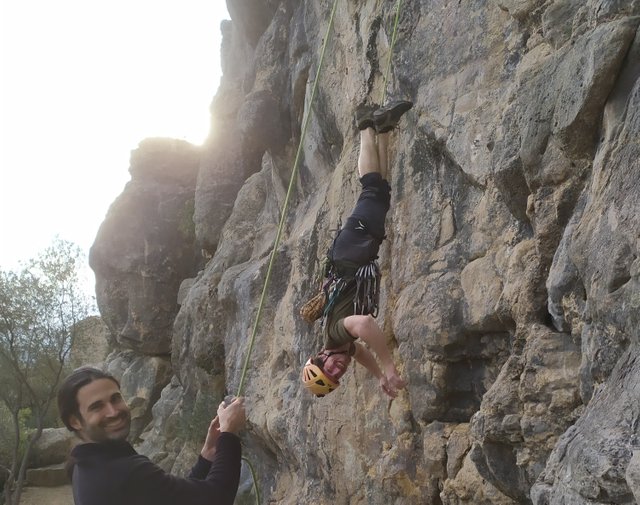 It has not been the best sunny day ever but we have been fine. Temperature wasn't perfect but it wasn't windy and it was a good day to climb. When we realized it was 17 p.m. and we didn't had lunch.
The hours have passed very fast, hey say that when you do not realize the passage of time, you are having a good time and I can assure it has been the case!
I think in the next few weeks I'll be out climbing with them again. I have felt great in the middle of nature and so I will slowly learn to lose my fear of heights.
I'll have to buy a helmet as I haven't worn one today. Sometimes a stone may fall and wearing a helmet can save your head.
Now I'm a little bit hungry and i will cook something for dinner and enjoy it while watching a movie. Have a good night!
Enjoy! 😊