Hello!
Today we saw an amazing AMA wich was full of HIVE community members, I think they were surprised by the ammount of people that showed there and for the huge ammount of questions asked.
On this post I will post what I considere the best questions and answers from Ciara Sun
@CiaraHuobi Head of Global Business and Markets, Vice President @HuobiGlobal.
It has been hard to find the answers between the huge amount of questions, so I decided to not post the @roelandp answers as most of them are already known by the Hive community.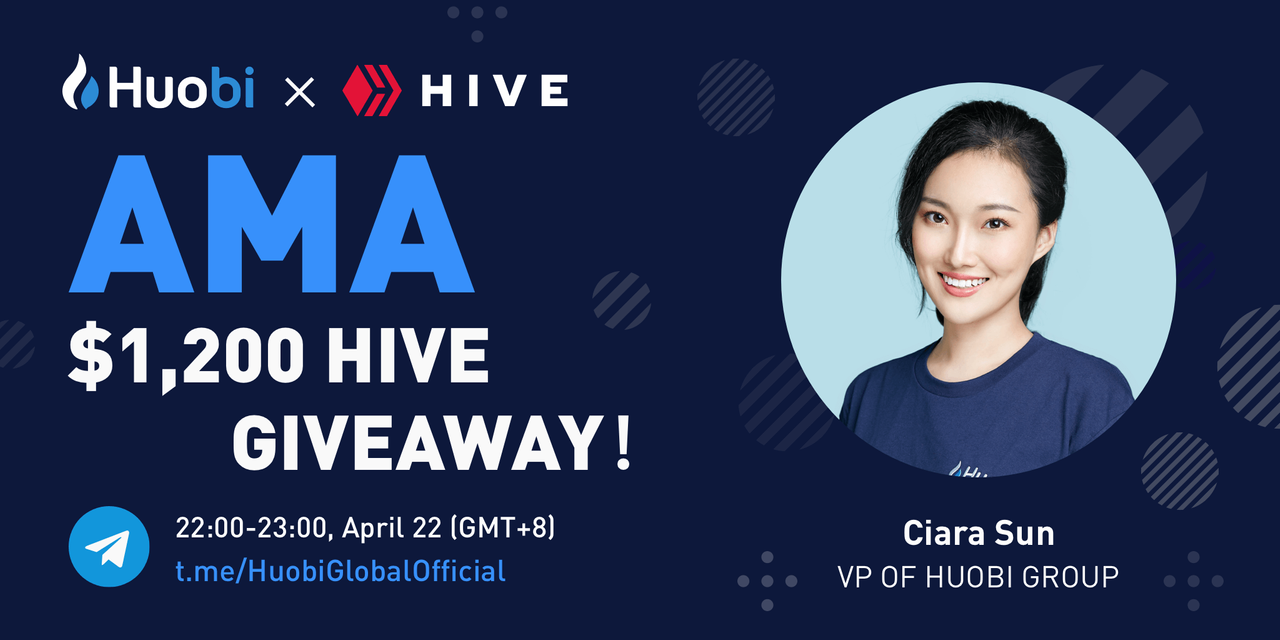 FROM TELEGRAM:
Introduction from Ciara:
Currently, I'm Vice President at Huobi Group, Head of Global Markets/Business.
I'm experienced in financial analysis, strategic consulting and corporate management working across Boston Consulting Group, Deloitte Consulting and Ernst & Young.
I advised Banking and Capital Markets groups for 15 major banks and performed investment analytics to support clients with billions of dollars of AUM, including hedge funds, private equity firms, and investment management corporations.
I co-founded and served as the former COO of US Multidimensional Network Technology Co.Ltd
And I joined Huobi September last year!
Q: Is it possible for Huobi to give the Chinese citizens the opportunity to discover the platform and grant them the chance to take the opportunity to develop their talents and monetize their activities on the platform?
A: Besides playing the role as an exchange, Huobi also aims to contribute to the blockchain ecosystem by allowing our partners to leverage our resources. We want to help projects grow and to expand, as long as the project proves its worthiness to the ecosystem.
Huobi is one of the top exchanges in Asia and having Huobi's support would already provide direct exposure to the Asian crowd. For HIVE, we appreciate the community spirit and certainly, we would offer our assistance to support HIVE in whatever way that is within our reach.
What we are doing now - AMA with HIVE community together with all Huobi's communities could be considered an effort put forth by Huobi to allow the world to learn more about HIVE.
Now I believe HIVE will have at least 10 millions more supporters...morally at least ;)
Q:How do you see Huobi benefits the Hive community as a whole?
What advantages besides an exchange does Huobi bring to Hive?
A: Huobi is rather resourceful considering it was founded in 2013 and we have more than 6 years experience in the industry now. Throughout our journey, we are trying to position ourselves as the ecosystem supporter and not just an exchange, we have also established Huobi Capital, Huobi Lab, Huobi University, Huobi Charity and other smaller efforts to support the ecosystem.
With all these efforts coming into picture, a complete circle is formed where a good project could receive relevant financial assistance, the necessary guidance and education and eventually, the right strategy to present itself to the market. HIVE community could always tap on these resources of ours and put them into strategic use.
Huobi is open to all forms of partnership proposals and we are more than happy to support efforts that are beneficial to the industry.
So please throw at us if you have any idea in the future, more than happy to explore!
Q: I would like to know which tools uses Huobi to ensure that the tokens held on Huobi are hard/impossible to hack?
A: Huobi has about 1200 employees currently and more than 60% of them are some of the most talented developers in the market. From this you could see the kind of resources that Huobi has poured in to ensure the security of the exchange and ensuring the safety of your asset.
As a track record, we have yet to experience any major security breach throughout our history so it shows that what we have been doing is working.
Other than that, we have just introduced Star Atlas recently and it is a monitoring tool to screen cryptocurrency transactions to spot fraudulent activities. It is similar to the product by Chainalysis, Elliptic and Ciphertrace.
What we are working on is a holistic approach to the industry because with Star Atlas, criminal activities could be detected and wrong-doers will be punished, this we believe could lower the crime rate.
Q: Hive is a purely community driven project. There is no CEO, no marketing manager. How do you feel about a project with no leadership and only community?
What does community mean to you?
Do you believe in the decentralized movement of Web 3?
A: I believe that our constant and sincere interaction with the HIVE community has directly communicated our appreciation towards HIVE as a community driven project. We value the voices of the community and we put utmost importance to ensure the voices are heard. HIVE is a good showcase of decentralisation and community driven projects. It could be set as an example to other projects.
To us, community is the driving force of all projects. Without community, there is no soul, no support and needless to say you will have no users.
Yes I do believe in the movement of Web 3. I believe that users will have more control over their digital identities and also data, and also voices of the masses will be heard and valued. Just like how voices of HIVE are heard and how Huobi is supporting the community.
Q: Huobi is one of the most important and reliable exchanges for users. Blockchain is an innovative technology but still has many obstacles from lobbies. How does Huobi intend to facilitate the spread of cryptocurrencies and their use in the world?
A: We are committed to leading the industrial upgrade of the blockchain, using blockchain technology to empower different sectors. Up till now, we have developed more than 100 different blockchain use cases in China for different industries and a number of them are underway to be adopted.
We have established Huobi Research, Huobi University, Huobi Labs, Huobi Talent and Huobi Bit Legal to encourage and facilitate the mass adoption of blockchain technology. With these facilities, we are able to offer a holistic approach when there is interest towards the technology and they allow Huobi to attend to requests from both governments and corporates in relation to high level blockchain adoption.
Blockchain and cryptocurrency are our business...so I suppose you could tell that we will exert all our strengths to push the adoption right?;)
Q: I am from Pakistan, and for most of the Pakistanis it is quite difficult to buy/sell cryptocurrency/ies for the local money (Pakistani Rupees), so do Huobi has any plan to support HIVE buy/sell against Pakistani Rupees or Dollar through our Pakistani Bank Accounts.
A: Huobi vows to serve the global community and we are striving to cover as many areas as possible. Maybe for now we have not yet reached Pakistan but hopefully soon, you will see us there. Pray for us...may we have a smooth journey there.
Q: What does Huobi think about decentralization and the concept of community? Will it support the principles on which Hive is based or will it counteract them?
A: Decentralization is one of the key concepts in the blockchain and cryptocurrency space, and it is one of the reasons why Huobi was formed — to give the power back to the people. We are seeing a decided global movement with Web 3.0, and the awakening of the value of people's personal data, and as part of our mission we aim to facilitate this movement. We strongly support the principles of decentralization, transparency, and trust that the technology imparts, and that means we also will support platforms like HIVE which are championing these concepts.
Q: Everything in this world is censored now. Hive is built with the idea of censorship resistance. What do you feel about sustenance of censorship resistant platform?
A: You are right, censorship is something that has evolved and grown across the globes for decades, and it is only relatively recently where we have seen people fighting back against it. Some of this fight back has been down to the power of technology, namely the internet and the web of information it provides, but now with blockchain technology and its principles we have an even bigger drive for transparency, trust, and openness. It is platforms like HIVE that are actively pushing to break down walls of censorship that should be supported.
Q: If you had infinite time and money, what would be the first thing you'd change on the Hive blockchain?
A: I don't think the question should be what I would change about HIVE, rather what I would use the money and time to add or improve upon. HIVE is an ambitious project that is looking to break down a lot of traditional walls around centralization, censorship and limitations of freedoms. This is a noble pursuit, but one that comes with added difficulties. I think I would spend the money and time on positioning HIVE as the better alternative to what is currently offered in the traditional sense.
Q: Many users in some countries got problem with barriers from their government, so it seems Fiat gateway limited. How will Huobi solve this problem for users could buy cryptocurrencies convenience
A: We pride ourselves on the hard work we have our in thus far to be recognised as one of the world's leading exchanges. With the foundation we have set over the last 6 or so years, not only as an exchange but as a global blockchain business, we feel we feel we are well set to push into the future of the space and better it. To be more specific, it is our customer focus and attention to detail, as well as heavy belief in safety and security that will not only help Huobi become more valuable in the future, but also our HT which is a vital cog in our overall growth
FROM HIVE DISCORD CHANNEL:
Q: Are you planning to invest in projects created on HIVE? (dApps and such?)
A: We are not actively investing now but for sure, if the project is proven to be beneficial to the industry and also to Huobi's ecosystem, for sure we will consider, how could we say no for good project.
Q: If the big picture is to stake and have price stability, HP should be diversified or at least try to be diversified properly. Most people on third world countries are dumpers per se due the necessity and struggles many of us are enduring. Delegations are important on this regard as to create and educate why staking is so important. If proven communities had proper delegations and educate us on why is so important to stake, we might hive a chance to be on the other side; Not being dumpers, but stakers instead. What are your plans in this regard?
A: Well we look forward to support staking of projects that we have listed. You certainly have the point and it is about how we and the project work closely to educate. So I hope when we want kick start this effort, you will be the first one jumping out to help.
Q: Is there a plan of using Hive for promotions and a newsletters?
A: We will consider ♥️
Q: Is huobi decling voting rights as an exchange on hive?
A: We understand your concern and we are currently looking into options. Have faith 👍
Why should Huobi be my favorite new exchange?
A: do I even have to answer this? comon...
Q: How is Huobi dealing with the security risks of owning crypto from its users? Are there opportunities for improving such mechanisms?
A: I understand your concern too, we are working on this 🙂
Do you have a Hive account yet @Ciara Sun
A: haha you guess?
Q: For some reason i thought Huobi wasn't available to American users maybe that was an old thing or maybe i'm just mistaken. Are there any countries not able to use huobi?
A: Its not open to US yet but soon we will be back.
And the last one:
Thank you for having me. Really.
Keep supporting us and we wont disappoint you
CONCLUSIONS:
I think that the AMA from Huobi, Ciara and Roelandp was a huge success. I know that other HIVE community members also worked to make this happen, like @justineh
So, thank you very much! I am sure that good news will follow! 😊
Enjoy!