P2P lending and crowdfunding often get lumped into the same group – after all, they both involve online platforms that connect people looking for funding with investors. So, it's not hard to see why, to the average person, they seem like the same thing.
In fact they're completely different. As different as chalk and cheese. Well, as different as Brie and Manchego, at least. But how are they different and, as an investor, which is the way to go?
Let's delve into the details and find out a little more about P2P lending and crowdfunding.
What is P2P lending?
Simply put, peer to peer lending, also known as crowdlending, connects borrowers with investors, with returns plus interest coming at a later date. When an entrepreneur or a startup wants to raise money for their business, P2P platforms connect them with investors, who can earn massive rewards from supporting small businesses with huge potential.
The concept of P2P lending came about as far back as 2005. Back then it was referred to as everything from 'social lending' to 'person to person lending.' The terms P2P lending and crowdlending have stuck around, and the idea has evolved into something that threatens to take over from legacy finance.
Since the financial crash of 2008, public distrust in traditional financial systems has grown and grown. In the recent years especially, Google Trends show a significant increase in the term ''p2p lending'' search amount, which directly represents audience's increased interest in the concept.

The rise of alternatives forms of borrowing, lending and investing is unstoppable and P2P lending is becoming the #1 option, for borrowers and investors. 
How P2P lending works
But how does P2P lending work? P2P platforms such as Raise match borrowers and investors instantly and directly. Investments can be funded using stablecoins such as USDT, USDC and DAI, all of which are pegged to FIAT currencies like the US Dollar.
The P2P lending business model works like this: when an investor sees a company with potential, they set an agreement with the borrower. The investor and the borrowers agree on an acceptable interest rate range from the outset, and the APR is set when the loan is fully funded.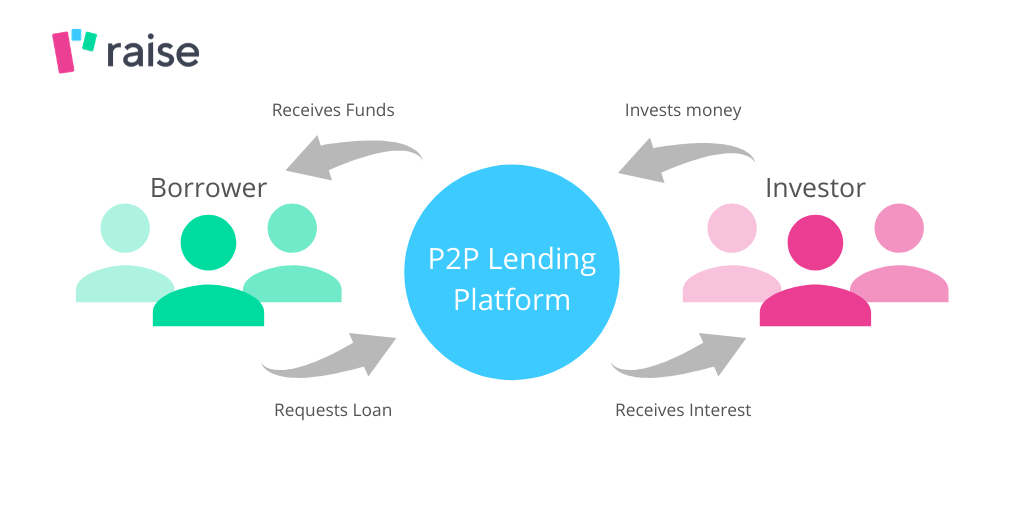 There's no commission. Just a complete ROI from the APR of the loan. So the P2P platform acts as a connector, rather than a middleman. And if there's one thing we need less of in this world, it's financial middlemen.
Instead, P2P platforms take a small percentage of the loan stake and generally charge investors to use their platform.
That's why P2P lending is becoming such a revolutionary way of borrowing and investing. Outdated bureaucracy is being replaced with a fast, streamlined system, connecting investors with high potential businesses in emerging markets, using currencies that are the cornerstone of the current financial revolution.
It's no wonder traditional finance is shaking in its tattered old boots.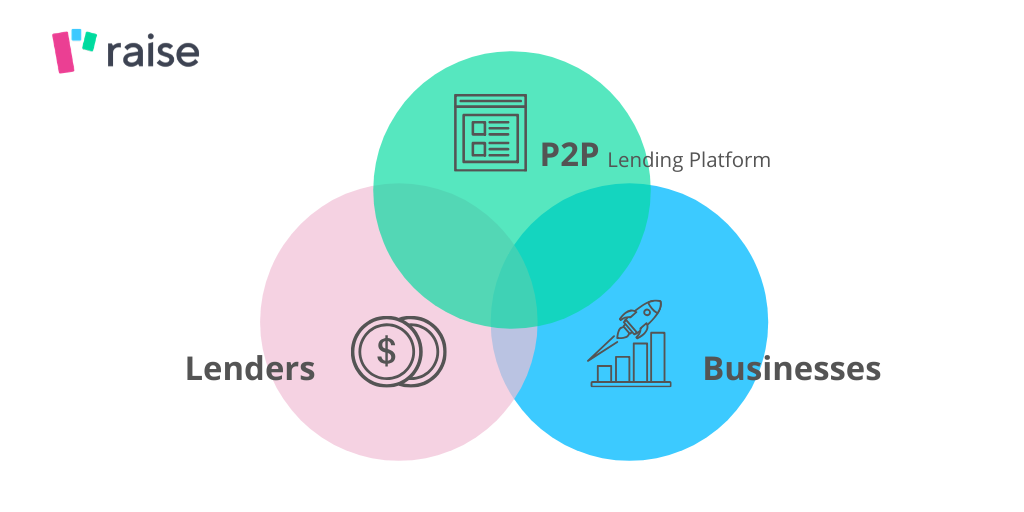 What is crowdfunding?
Crowdfunding gives people the chance to raise money by obtaining funding from lots of different sources, or 'the crowd'. It could be for a range of reasons, from charities and business ventures to art projects or medical treatments.
From a business point of view, crowdfunding gives startups the chance to launch their project by securing funding from a variety of people, in exchange for a share of the business.
The share is often called 'equity' and can give investors a say in how the company is run. They can play an active part in the strategy of the business, using their influence to secure a return of investment.
In recent years, there's been a surge in interest for crowdfunding. The startup world is booming and, for many, the chance to contribute to the formation of a potentially explosive startup, as well as the chance to reap the rewards of its success, is very appealing.
How crowdfunding works
Crowdfunding platforms help people to receive small amounts of funding from a large group of investors. The individual or business lays out the details of the project through the online platform, which connects them with people looking to invest.
Investors then transfer funds (FIAT or crypto) through the crowdfunding platform. Rewards for investors vary, and can often include a stake in the company. This is one key difference between P2P lending and crowdfunding.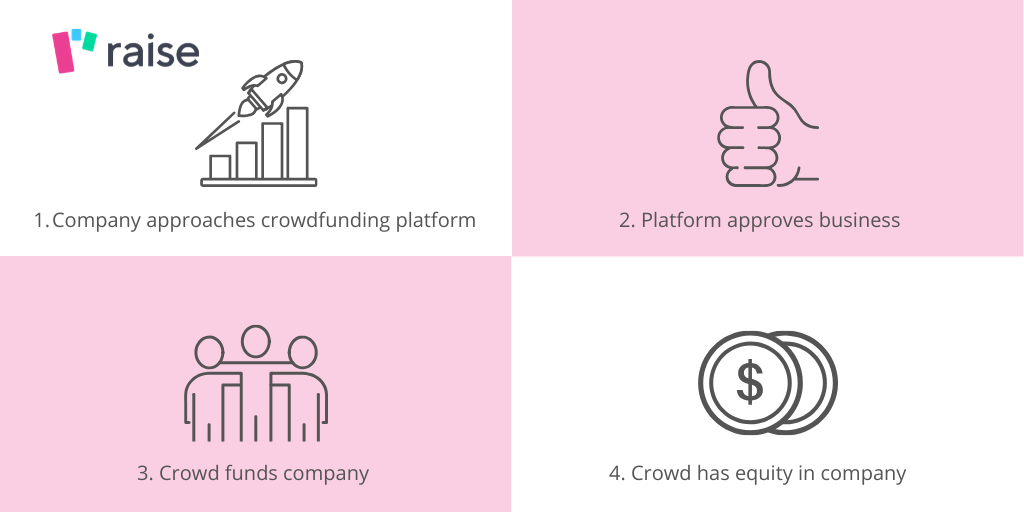 P2P lending and crowdfunding differences
So, let's break down the terms and simplify the differences between the two:
P2P lending (crowdlending) – investors provide money to a new business in return for interest payments. The new business doesn't give up a share of the company, or any control. Just an agreement to return payments with an agreed interest rate, at a later date.
Crowdfunding – investors give a cash injection to a new business in return for some form of reward. Often, this reward comes in the form of equity (a share of the business). They also have a say in how the company is run.
So, a key difference between the two is the relationship between the borrower and the investor. With both P2P lending and crowdfunding, when a connection is made, an agreement is formed. Sometimes this agreement can be straightforward. Other times, not so much...
P2P lending (crowdlending) – a detailed financial agreement is struck up, outlining how the investor will receive ROI.
Crowdfunding – the borrower and the investor collaborate on the strategy of the business. This is not always agreed upon and can be tricky ground, for both parties involved.
Which is the way to go - P2P lending vs crowdfunding?
Both are relatively new ways of investing and, although recent years have seen a surge, many investors are still reluctant to buck the trend of traditional systems.
But, as our daily lives increasingly shift towards online (think apps for everything, podcasts, social media, shopping etc.) finance follows suit. And as technology improves, so too does the security and reliability of fintech – areas where legacy finance dropped the ball a long time ago.
So, for investors looking to put their coins into something worthwhile, the question "is P2P lending a good investment, or should I opt for crowdfunding?" is a big one.
While crowdfunding can definitely be a useful platform for entrepreneurs to help get their startup off the ground, it's a big risk for investors. Equity in the company doesn't always convert to currency.
What's more, the way in which the company goes about being profitable and converting that equity into currency can often be a source of contention.
However, in terms of reducing risk and increasing the guarantee of ROI, P2P lending is clearly the way to go for investors. With the P2P lending method, investors can put their money into something they believe in, through a platform they trust, with an extremely high chance of ROI.
P2P lending - is it a good investment?
For an easily-accessible investment that provides such high returns, it doesn't get much better than P2P lending. As investors tire of the traditional investment market and fixed-rate investments that pay next to nothing, P2P is starting to stake its place as the best way to invest.
And for those looking for the best crowdlending platform, Raise is aiming to give established P2P platforms a run for their money. In terms of ROI, minimum investment, buy-back guarantee and ease of use, we're working hard to provide the best crowdlending platform out there.
In fact, we're making use of two of the key tenets of the financial revolution – P2P lending and cryptocurrency – to provide a service that we think will change the landscape for new business and investment for years to come.
Join us on our way to the financial revolution - sign up on Raise now