Markets are bleeding and 'number go up' crypto moonboys are panic selling. I can't blame them. I was the same in 2018 after the ICO bubble burst. I bought into Ethereum back then believing big companies would soon adopt this as main smart contract platform for all sorts of use cases. When none of them showed interest and those who did started research projects for IOTA and Hyperledger Fabric, I lost faith, tried to cover losses by trading small cap tokens and went further into the red.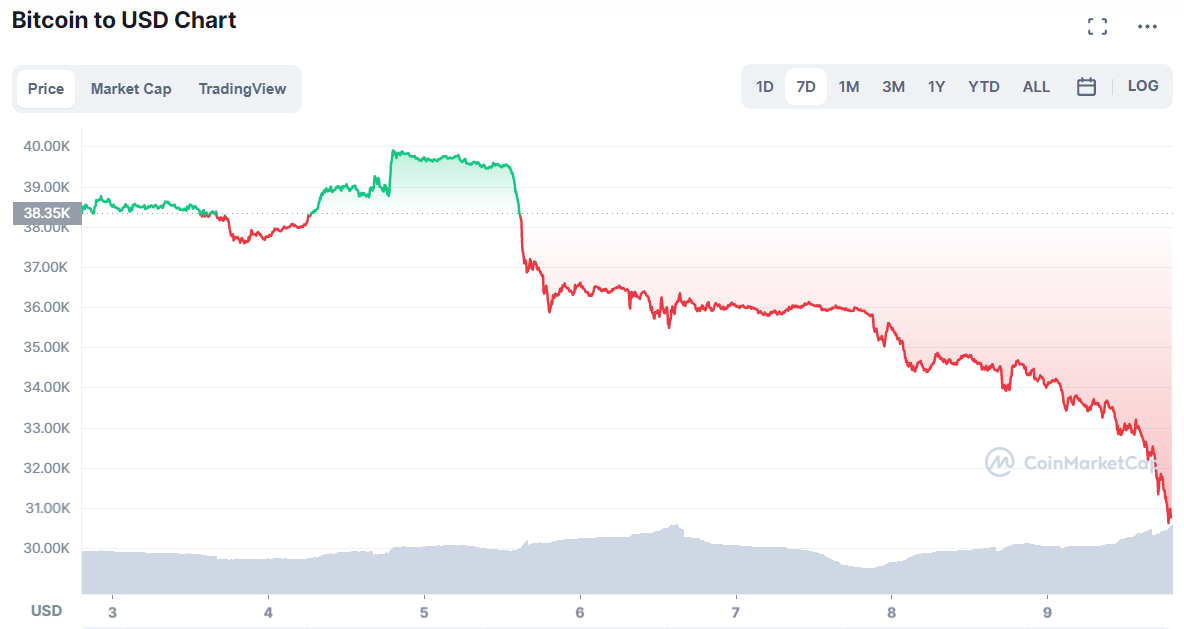 Source: Coinmarketcap
A lot has happened in crypto back then. I am no longer waiting for Big Pharma or Big Tech to adopt blockchain. Instead, I am approaching things from a different angle and invested in native Web 3.0 startups. You know, value-investing rather than trading. The thing Warren Buffet is always talking about and what made him rich - he's just not able to transfer his knowledge to new technology.
Apparently, you can't invest into everything, so you have to choose wisely. Personally, I like to invest in Play-2-Earn. I have been investing in Splinterlands long before people knew what NFTs were or before Play-2-Earn was even a word. That's just because I am a gamer and a TCG collector. I am now investing in stuff I believe in. I am now investing in stuff I want to own. I am investing in stuff I merely hope to appreciate in value. Value comes naturally when the fundamentals are there.
Can some Play-2-Earn games be rug pulls? Of course, and some are. Do you remember Tides of Magic or Piggericks? I invested a bit in the former and was considering investing in the latter. Both projects have vanished. If that happens, I still had fun playing the game. After all, I am not complaining about my Nintendo and XBox games not gaining value, either.
Therefore, as people are packing their things and making out of the industry, I am amazed by how much cool stuff is being developed and released these days by the Play-To-Earn projects I am following. This month I am aiming at purchasing three new and special assets. All of them are on the Hive blockchain. I love Hive for the feeless transactions and strong community.

1) PsyberX Founder Starter Kit
If there is one thing I have learned in this space, then it is that it's really rare to make a bad decision by buying a founder's item or land. These things tend to skyrocket after some time.
Oh, look. What a coincidence: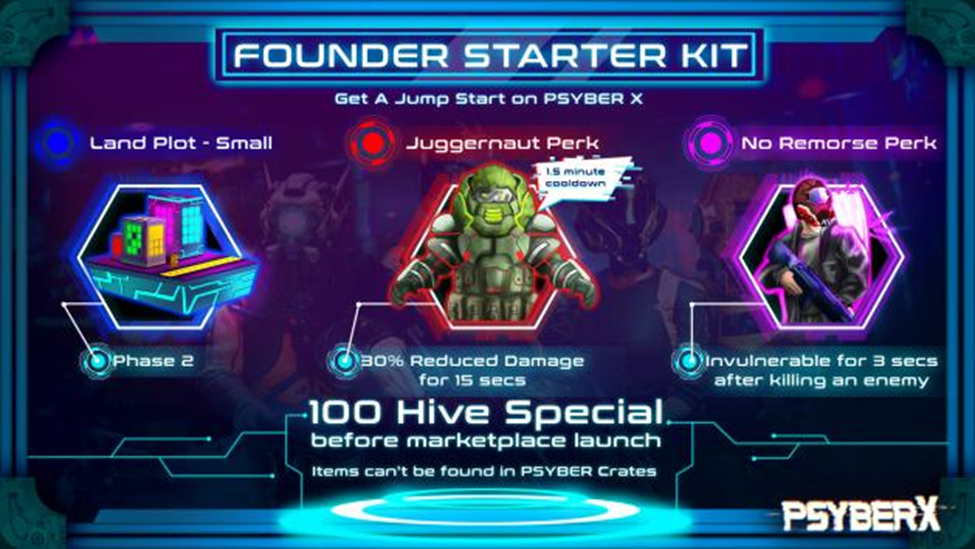 Psyber X is a soon-to-be-released first-person shooter. This will be ground breaking for Play-To-Earn games as it will be one of the first ( ++the++ first?) shooter game in this sector.
The bad news for you: Founder Starter Kits will only be available until the official marketplace launches on May 13th. So you gotta hurry.
The good news is: The kit is priced in Hive. With the markets being red as they are, this means a massive discount on the kit's price. As if this wasn't enough, the team just announced that unique accounts purchasing at least one starter kit would get an additional free bonus kit if they are among the first 1000 buyers.
I couldn't resist and just bought one: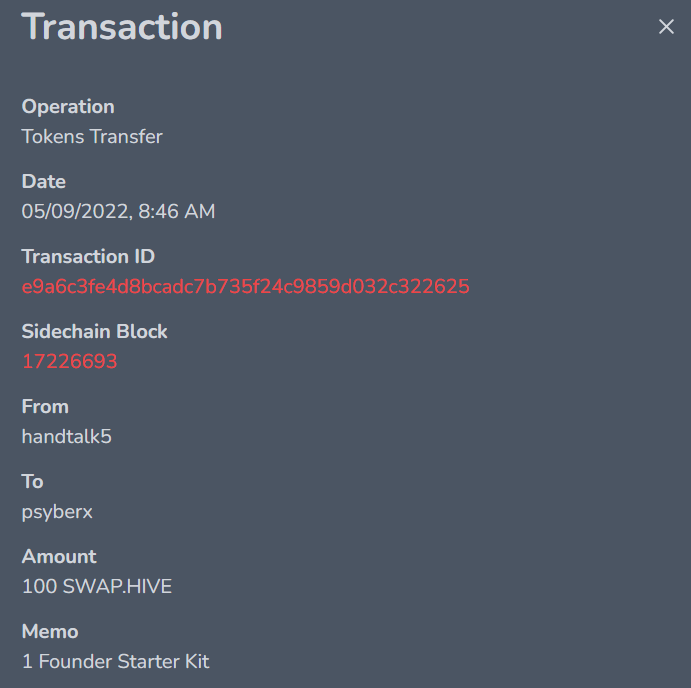 This official post includes a guide on how to buy a kit. You'll have to go through a manual process on Hive-Engine. This is not as convenient as it could be and it will hinder some people from buying in. Meaning if you do, you will be one of the few.
Nothing is released yet for Psyber X, so this has the potential risk of being a dud. But if they deliver, it's going to be huge for sure.

2) Punks On Hive X Rising Star Promotion
Punks On Hive is the Crypto Punks clone every blockchain has. I love that @themarkymark did not just make a quick buck with the punks but is continuing development around them and released two great collaborations this month.
Yes, my avatar is a Punk and when reading this post on PeakD.com, you will now see that I did not just steal the JPG but actually own it. This is thanks to the new verified NFT avatar feature that PeakD just released, with Punks being the first collection which qualified for the program.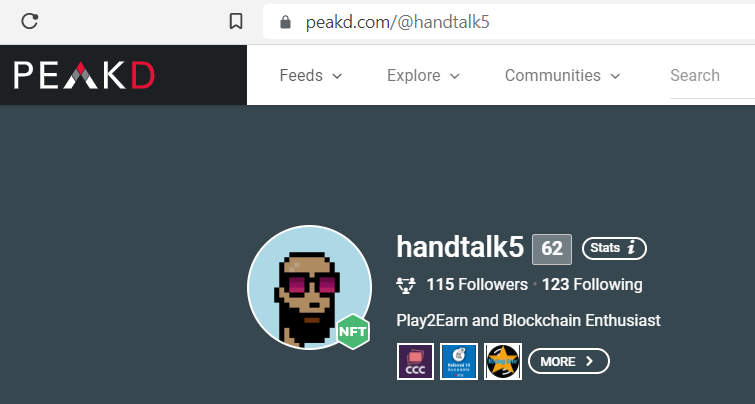 The second Punk collaboration is with the Faucet Game (oh, it feels like so much more than that!) Rising Star. I recently made it to "Starbits Millionaire" (Starbits being their game's main token) and am qualifying for the Starbits Millionaire mission now, which earns me 10k Starbits (1.93 USD) daily for just one click. Notably, I reached this point without any external investments. My account just grew organically.
What does this have to do with Punks on Hive? In Rising Star you collect trading cards that enhance your stats and earning potential. Punks just released a promo card that can be bought for just 10 Hive.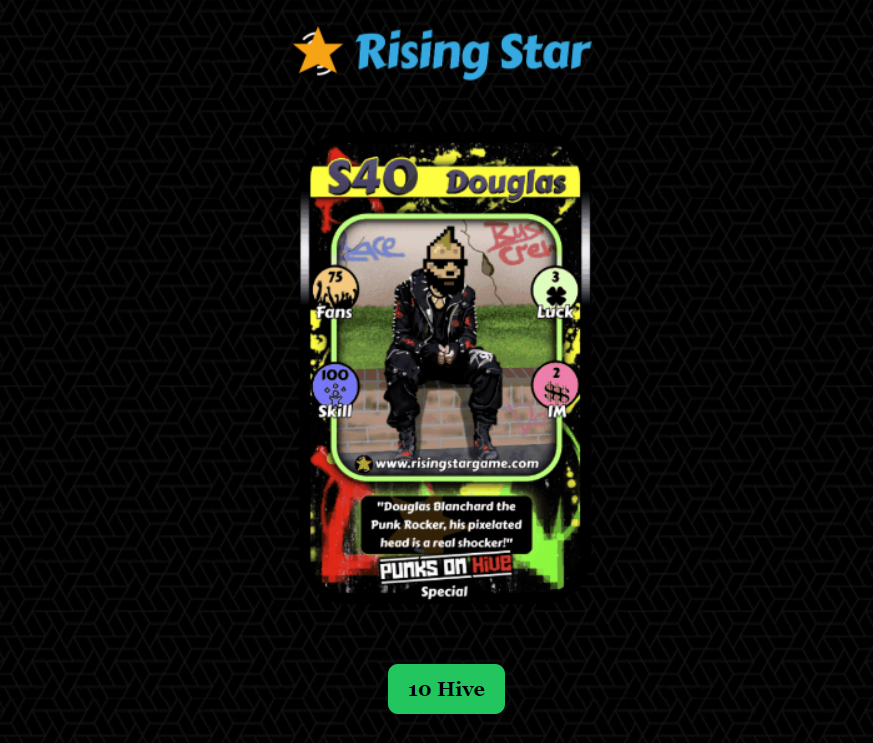 Needless to say, I just had to add this guy to my Rising Star collection, so I cashed out some Starbits and used the Hive to get a copy of Douglas. Isn't he doing a great job as new lead singer of my band?


3) Splinterlands Validator Node License
Splinterlands is aiming to follow blockchain principle by decentralizing some of their game's and especially gameplay's governance. Let the players decide and vote on what kind of game they want to play. This is what their governance token SPS is for. But a governance token does not have any function without a government in place.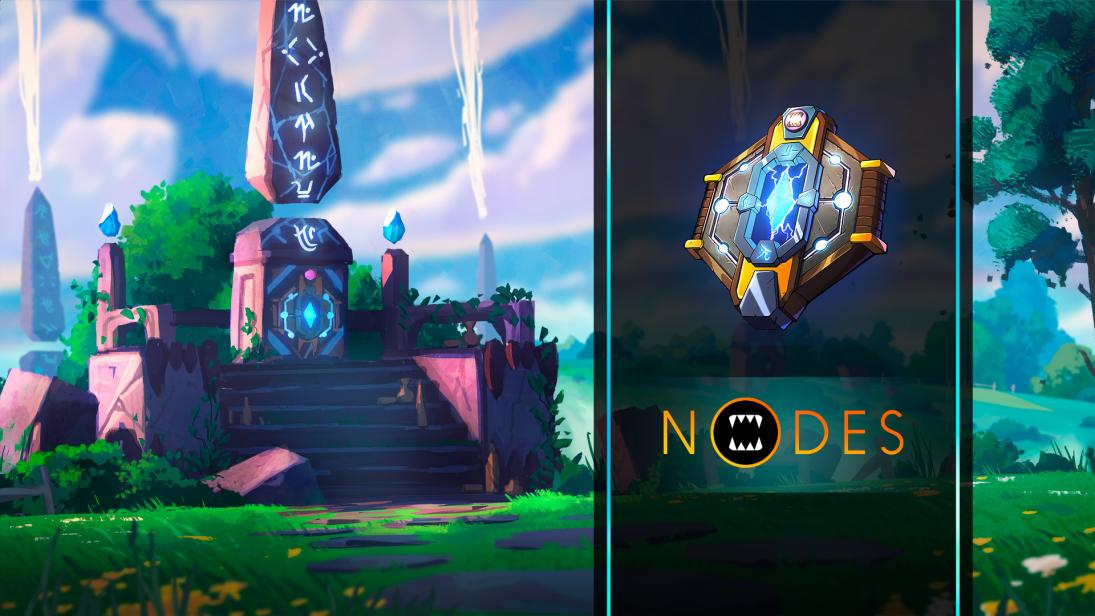 This is where Validator Nodes come in. Just as with other Proof-of-Stake (PoS) systems, the nodes will have SPS staked on them by SPS-owners votes. Depending on how much stake they have, they will have a bigger or a smaller impact on governance.
One of the weaknesses of PoS is that it's often only financially lucrative for a few top voted nodes to be run, leading to a higher degree of centralization than was intended. The Splinterlands team countered this by combining classical PoS with a license system known from Gala Games. As usual, the top voted validators will earn their share, but all other smaller validators will also be rewarded, if their node is holding a license. (Note that it does not require a license to run a node, but rewards are only distributed to top nodes and license holders)
As a strong believer in the future of Splinterlands and SPS, I am looking forward to buying a node license. Pre-Sale should start end of this month and since the official announcement (actually earlier, since the leak in the AMA) I have been staking SPS and Vouchers like crazy.
It is a bit ironic that big Splinterlands sales have a curse about them and always end in some sort of fiasco (the page crash during land pre-sale, the Waka flop due to the Wax sale...). Now the macro market crash taking down SPS along with it is a bit worrying. Don't get me wrong, I am in no way worried about SPS long term. But the node is priced in USD and paid in SPS. Meaning the SPS I staked to buy one is suddenly not enough anymore.
I hope I can get some more before the sale starts lest I will have to buy one of the more expensive tranches. However, there is a silver lining to everything. SPS spent on licenses are burnt. Therefore, if SPS drops in value this means more SPS will be burnt buying the licenses. This is a greatly bullish factor for SPS long-term and yet another reason to believe in it.

Promo offer for new Splinterlands players/investors: Use my ref link) and contact me here or on discord (handtalk5#6665). I will get a $0.50 referrer bonus if you buy the summoner's spellbook to unlock the Play2Earn features. If I can confirm you as a referral who made the purchase, I will return that to you in form of Splinterlands cards. Just message me the card(s) you want for up to $0.50 and I will get them off the market for you.
Disclaimer: No financial advice included in this article. Just sharing my personal experience and goals. Do your own research!
Some links in the article might be referral links, feel free to use other sign-up methods.
Images courtesy of Coinmarketcap or provided/taken from the projects mentioned in the article.
This is a re-published post from my account on the Hive blockchain.