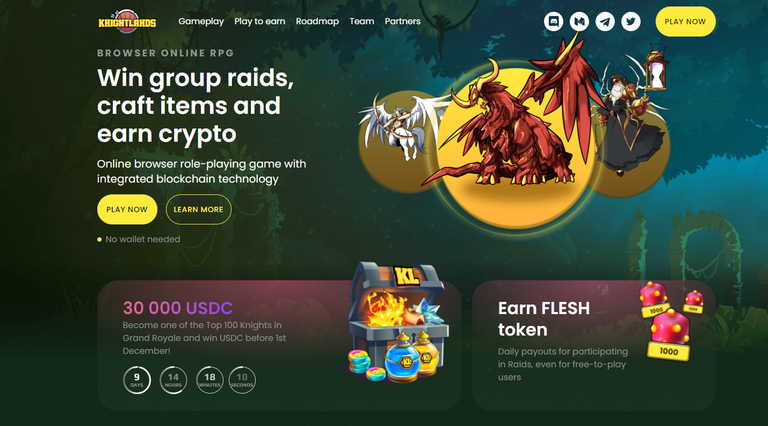 Hello everyone, today I'll walk you through the Knightlands experience and the program is as follows:
What is Knightlands?
Gameplay Mechanics
How to Earn
Tokenomics
Special Events
Why play Knightlands?
Knightlands Community and Discord
Follow them on Social
What is Knightlands?
Knightlands is RPG fantasy browser blockchain game where the main focus is to get as strong as possible. Knightlands is a Polygon based game and their tokens are the KL and FLESH token, which I'll explain a little bit later. More importantly, Knightlands is a Free-to-Play game, where you can experiment a lot, learn and test if you really enjoy the game itself before you invest anything material into it.
Knightlands is also in a very early stage, and if you start early you can build a huge advantage over players that are late to the party. Just as an example, I started playing 20~30 days ago, and I'm almost reaching the Top 100 place in the leaderboard. This is a very important detail, and you'll see that a lot of the earning mechanisms of Knightlands are based on how strong your character actually is, both individually and comparatively to others.

Gameplay Mechanics

There's a huge set of possible things to do daily in Knightlands, some of them are solo tasks and some are contests between players. You have Quests, Daily Tasks, Raids, Onyx Tower and Trials as solo tasks, while Champions Tourney, Royal Sprints and Grand Royale are contests between players. Both Champions Tourney and Royal Sprints have several different Tiers of competition in order for players to put themselves where they believe it to have a better chance of winning, and the prizes vary accordingly. As you grind and Level Up, you unlock more difficult tasks and quests, as well as better equipment. Getting items to upgrade and craft equipment is another essential part of Knightlands.
If you really love any kind of game where grinding non-stop makes the game more difficult while providing more possibilities, I think Knightlands will please you a lot.
Here's a little word from the devs about the game itself on the White Paper:
Knightlands looks like a very simple RPG, but it has deep mechanics and requires complex strategies in order to maximize the player's success. The nostalgic factors of the game and the team's willingness to listen to players' feedback have resulted in a strong growing community even while the play-to-earn opportunities have yet to be officially implemented.

----From White Paper
And just remember...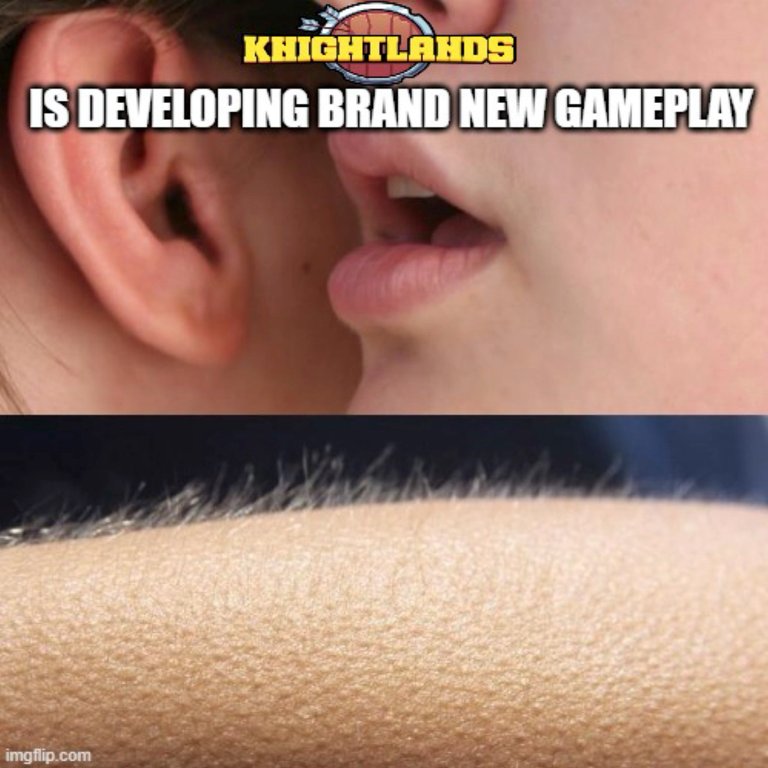 How to Earn
Right now, KL token has not yet been released, and what you can earn mainly is the FLESH token.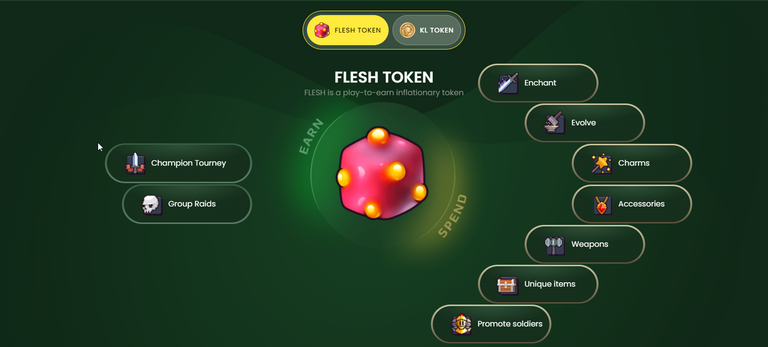 FLESH token can be earned by qualifying in the ranking of the Champion Tourney or by participating in Group Raids. Although Champion Tourney is equal to every player, Group Raids have a different pool of FLESH token available from Free account players and Normal account players.
Free accounts share a pool of 35 daily FLESH tokens, which are split based on the RP points gained in Group Raids, while Normal accounts share a pool of 1000 daily FLESH tokens split based on the same rules as Free accounts. The difference is that Normal accounts must buy the tickets to participate in Group Raids, each ticket costs an average of $0.5 and if you buy a huge amount of them you'll be given a little discount on the process.
The FLESH token earned can be spend in multiple ways inside the game, and in the future there will be a market for it. You can see in the image the use cases of FLESH, and pretty much all of them are meant to get your character stronger, either by crafting items, enchanting the items you already possessed or improving your own troops.
Tokenomics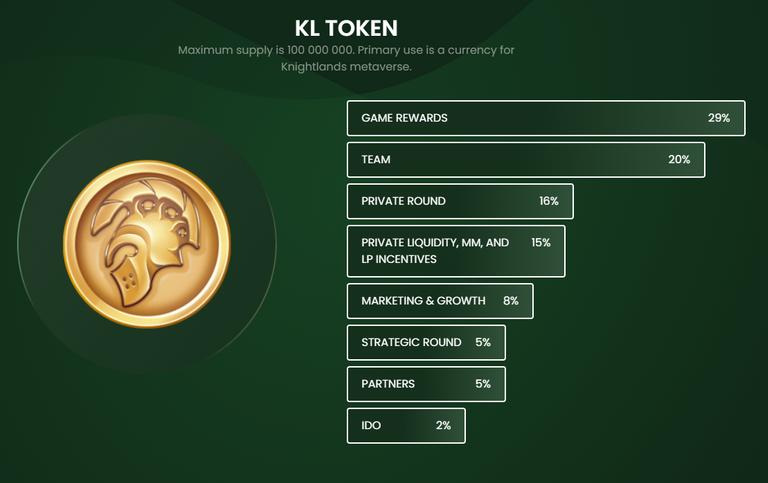 I won't spend much time on this, since I'm not a very well versed person to talk about Tokenomics, but I'll leave the White Paper here so you can read for yourself, and if you are familiar to the Splinterlands Tokenomics I believe that the relation of the KL token and FLESH token is very similar to the SPS and DEC.
FLESH does not have a limited supply, just as DEC and it is given for participating in the game.
KL will be used as a currency in-game, and eventually holders of KL will be able to vote on the general path that Knightlands will follow, almost like a governance token such as SPS.
As a very early game that Knightlands is, much of the statements in the White Paper are subject to change, and I expect that new use cases for both FLESH and KL will be implemented further in the future.
Special Events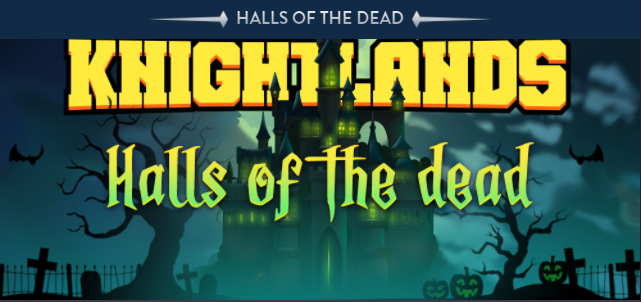 The most recent event on Knightlands was the Halls of the Dead, a Halloween event, and it was already announced on Discord that there will be a Christmas event next.
The Halloween event was pretty fun and rewarding, and could play it for Free or pay $20 to have a Full Pass. With the Full Pass, you would compete against other players for the Top 100 spots where rewards vary from as little as $25 to $1000 to the first player.
To be fair with every player in Knightlands, the Halloween event was not based on the strength of anyone's character and everybody started with the same stats and same conditions.

Why Play Knightlands?
Here's where I make my case for Knightlands, and let me start saying that it is a very fun game! It's fun and it doesn't take a lot of your time to play it. You log in two or three times a day and enjoy pretty much all the benefits in the game. More importantly, Knightlands is in its infancy, and if you start right now you'll be a very early adopter which always has its advantages.
In general what I would advice you to do is to play the game. Simple as that. It is a Free to Play game, just go there and test it, and if you enjoy it all the better.
Knightlands Community and Discord
One thing that I always love to see is founder's engagement with the general public, and there's several reasons for it. In the Knightlands discord it happens all the time, and a lot of developers are active in the general chat. From time to time, bugs will be found, and pretty much immediately they will be solved because of this direct contact that Knightlands provide between players and devs. There's more than one project that I'm a really early investor in, and all of them have this feature which I deeply appreciate.
Here's the Knightlands Discord if you feel like leaning more about it.
Follow them on Social
For updates and similar announcements they will use the discord and their Medium platform.
You can follow them on Twitter as well, if you don't wanna miss anything.