What is ProximaX?
ProximaX was launched as a NEM blockchain based next-generation Integrated and Distributed Ledger Technology (IaDLT) infrastructure platform. The project was cofounded by Mr. Lon Wong, the first president of NEM foundation & Mr. Alvin Reyes, a serial entrepreneur and software developer. Their vision was to make blockchain technology relevant by integration of distributed technologies and file management systems. ProximaX was created as a platform solution that included a blockchain component as a subset in the platform, so ProximaX was made to be a holistic solution platform. It had different types of testnets running for different type of nodes earlier and mainnet was launched in Sept, 2019.
ProximaX mainnet explained
ProximaX Sirius Architecture
Integrating blockchain protocol with of-chain service layers is difficult. ProximaX Sirius platform is the core platform solution in the ProximaX ecosystem and it aims to integrate blockchain protocol with off-chain, peer-to-peer storage, streaming, and database service layers that are often found in traditional software-as-a-service (SaaS) centralized architectures. It provides merits of a blockchain network and conventional centralized database solutions both.
Large data can be stored in the distributed service layers whereas transactions are conducted with high speed on the blockchain to ensure security, transparency, immutability, irreversibility and traceability. ProximaX Sirius provides a dynamic and expanding capability beyond the scope of traditional blockchain projects. It is extremely useful for enterprises.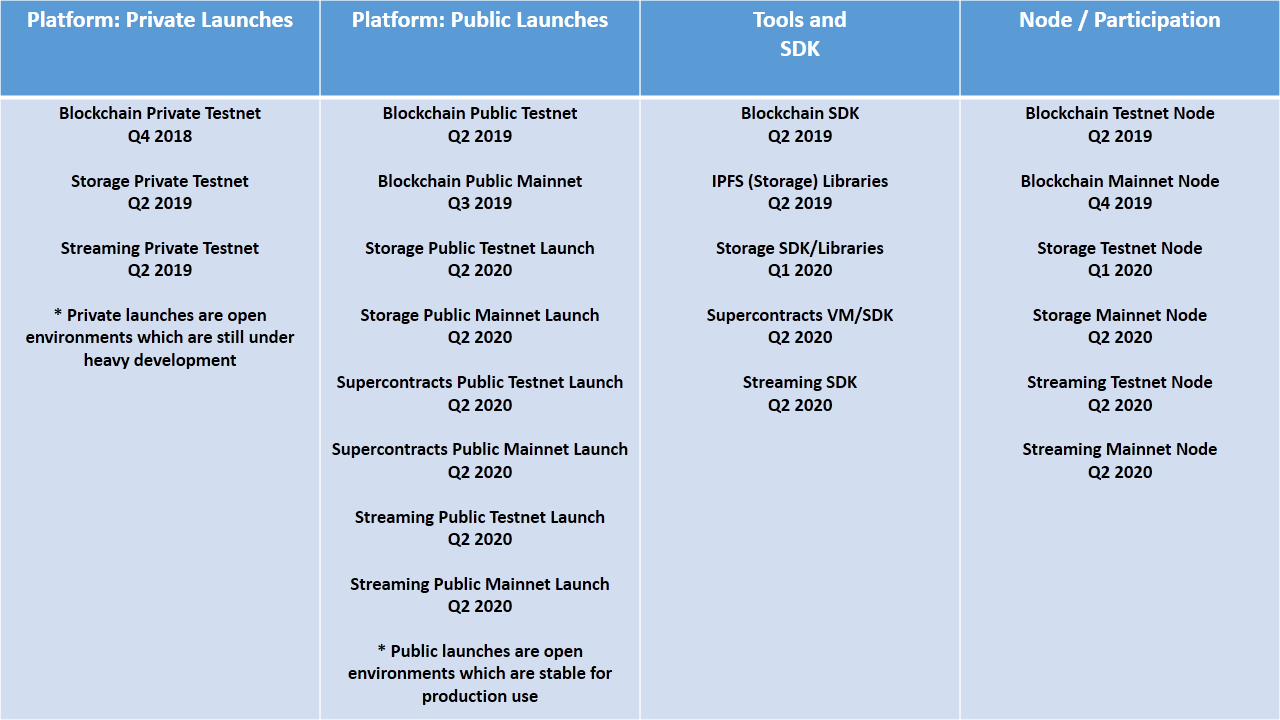 Image Source - ProximaX Roadmap (captured by the author in above format)
The Native Coin XPX & the eco-system
ProximaX native coin is XPX. XPX is a utility token whose value is derived from demand and supply. XPX is used to subscribe to various services of the eco-system. ProximaX wants to develop a configurable economic model based on periodic subscription. Total XPX token supply is 9 billion. There is another stable coin also in the eco-system. Both of which can be used to avail services.
Advantage of ProximaX
Low cost: Developers can create DAaps easily without great technical know-how in the platform due to its powerful blockchain with off-chain distributed technologies. It saves great time and reduces the total cost of ownership. The platform has a PoG (Proof of Greed) system to ensure proper distribution of power among the nodes which ensures that exorbitant prices are not charged for validating a block. Transaction cost remains very low amidst high traffic also.
Scalability: The users can store and stream heavy data in the distributed layers while transactions take place with high speed on the blockchain with security, transparency, immutability, irreversibility and traceability. The system can adapt to any kind of traffic and bottlenecks do not arise. This is a much needed factor for any kind of enterprise application.
Configurability: It has a feature of deploying both private and public blockchain. The permission less offering is the public blockchain solution while there is a private blockchain to serve the need of the enterprises. The platform can be configured according to the need.
Security: True decentralization ensures that the hackers can't attack the system. If all the nodes are not compromised, no data leak is possible. It is virtually impossible in contrast to the centralized architectures.
Transparency: Data in storage and transmission is fully encrypted and time-stamped by default. It ensures complete audit trails and high level of security. All transactions are visible in the blockchain for extreme transparency.
100% Availability: The Integrated and Distributed Ledger Technology (IaDLT) ensures that the system is accessible all the time without any down time. 
Speed: High data transaction with minuscule time is possible due to the distributed environment.
User friendly: The ProximaX Sirius has several APIs and SDKs available in different programming languages so that it can be integrated with different type of applications.
Flexibility: Cross-chain transaction feature is there to interact and transact outside the ProximaX Sirius platform. A transaction with bitcoin network is possible.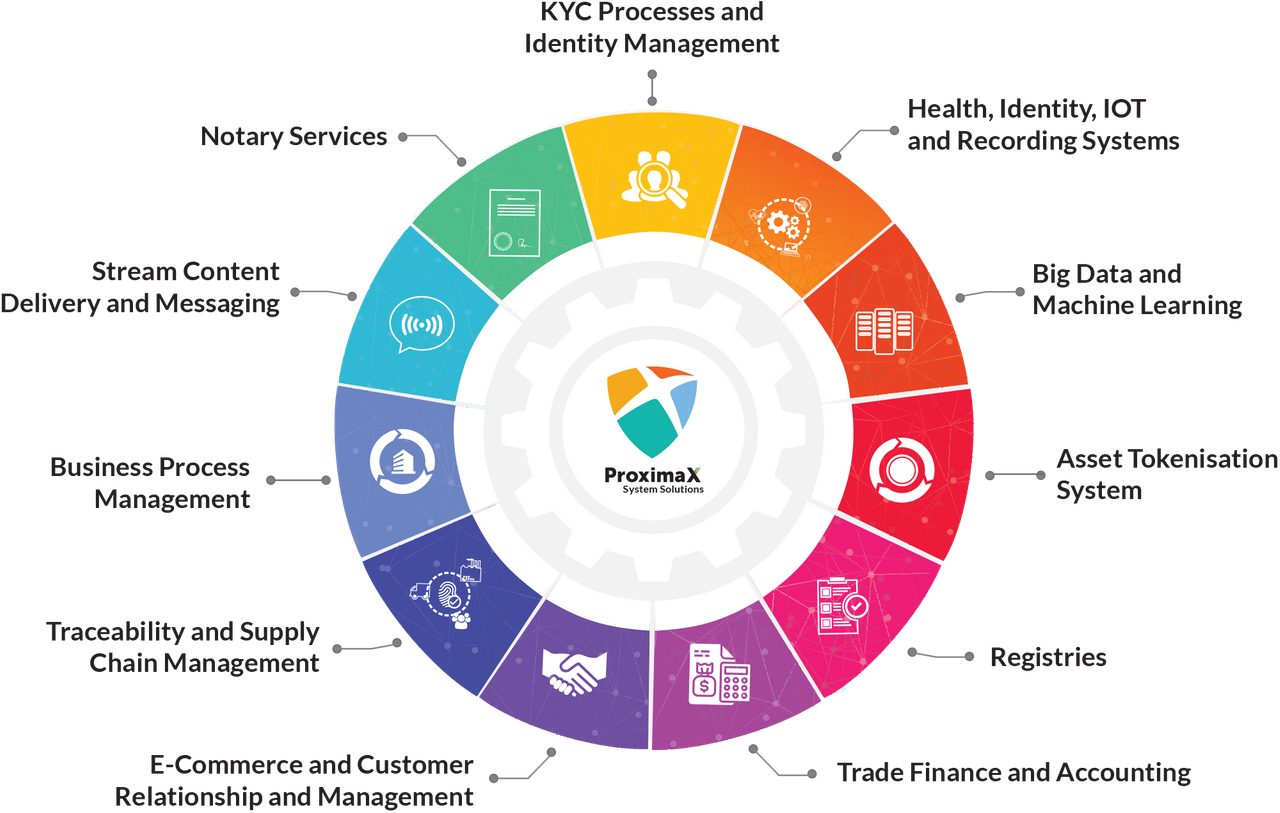 Image Source - ProximaX applications
ProximaX Use Cases:
ProximaX already has various blockchain powered apps like ProximaX KYC, ProximaX File It, ProximaX Suite, ProximaX Notes. These apps can be used to manage sensitive KYC data, storing & sharing files, word processing and spreadsheets, note taking etc.
ProximaX can be used to build any kind of social media, e commerce site, streaming services, business software. ProximaX can really be used to build anything under the sun! A robust supply chain management system can be built using ProximaX. ProximaX will utilize smart contracts to overcome the limitations of existing supply chain management systems. The existing system lacks transparency among participants, but ProximaX will connect each and every participant through a blockchain so that every data is recorded in real time and remains auditable. It will build consumer trust regarding the supply chain process and will help the business house to manage the supply chain efficiently. Suppose there is a report of health hazard in food products such as the toxic insecticides found in rice grains. With the help of ProximaX's technology, both the supplier and consumer may detect the exact location of the agricultural firm where it happened. This will be extremely radical in terms of food safety! Through ProximaX, consumers can choose products passing through certain reliable standards. What else do we want? Its public and private blockchain feature will provide needed layers for suiting any kind of business as often there will be need to protect some classified data from public view. ProximaX will reduce the cost drastically as requirement for IT infrastructure will be less. Small & Medium Enterprises will be benefited tremendously.
Video steaming app, messaging app, decentralized exchange or a legal service software can be potential use cases with ease. Just imagine doing instant video call over secured blockchain technology where none can peep into your conversation as it can't be hacked.
ProximaX can operate as a public blockchain and enable everyone to take part in the network. DApp developers will be able to design their own DApps and unique monetization model. True decentralization will keep things transparent.
Good to invest?
ProximaX has maintained its journey as per roadmap since its inception in 2018 and launched mainnet successfully. The main trading volume comes from Bilaxi, Probit, MXC. The project hasn't been listed in any top cryptocurrency exchange. But the project has decent back up from the investors and NEM Foundation. The NEM blockchain technology is already in use in several industries and as decentralized computing is gaining popularity, developer friendly and enterprise ready ProximaX may find many future applications. Price is cheap now and it is hovering around 10-12 sat. The price has dropped in last 2 years like many other projects. You can definitely keep a watch over ProximaX for having your own judgment.
Important Links
Note: The images (if not cited) are created by the author using free vectors. You can follow the author on twitter.