Newdex is my favourite EOS DEX. It was the first decentralized exchange dedicated entirely to the EOS ecosystem and it was born on 8th August, 2018. Newdex created its own niche in the EOS ecosystem as a preferred place to trade EOS tokens. Later on, it shifted from single-chain to multi-chain and established itself as a trusted and high traffic exchange. I generally use desktop Scatter to log into Newdex. Scatter is excellent but it is not a light application and often it is a bit slow. I was looking for a lighter option with a faster throughput. I came to know about LeafWallet. Recently Newdex has completed a strategic investment in it. LeafWallet has a Chrome extension.
LeafWallet doesn't store any data at their end. Everything is stored on your device. It also gives you alert in case of any malicious attack. LeafWallet has single sign-on (SSO) with asymmetric encryption and you can perform wallet operations with secured password. The browser plugin allows easy access through the browser and you can enter into the crypto world easily. I thought about trying it.
Download and install
I went to LeafWallet website. The chrome extension was downloaded and installed by 30 seconds. A green beautiful leaf symbol appears in my chrome browser bar. Are you a Brave user? Don't worry. Brave supports almost all chrome store extensions. Here is the manual to use any chrome extension with Brave browser.


Setting password
I needed to set up a password. It took 30 seconds again.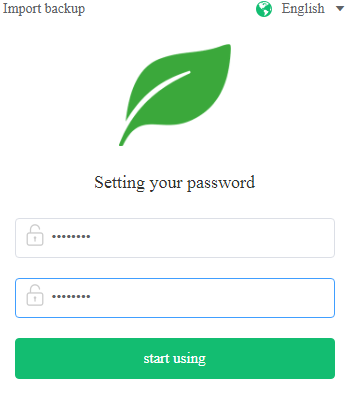 Importing account
I'm inside the app. Now I need to import my account. It supports BOS & EOS now. I imported my EOS account by providing my private key. Okay! It is done.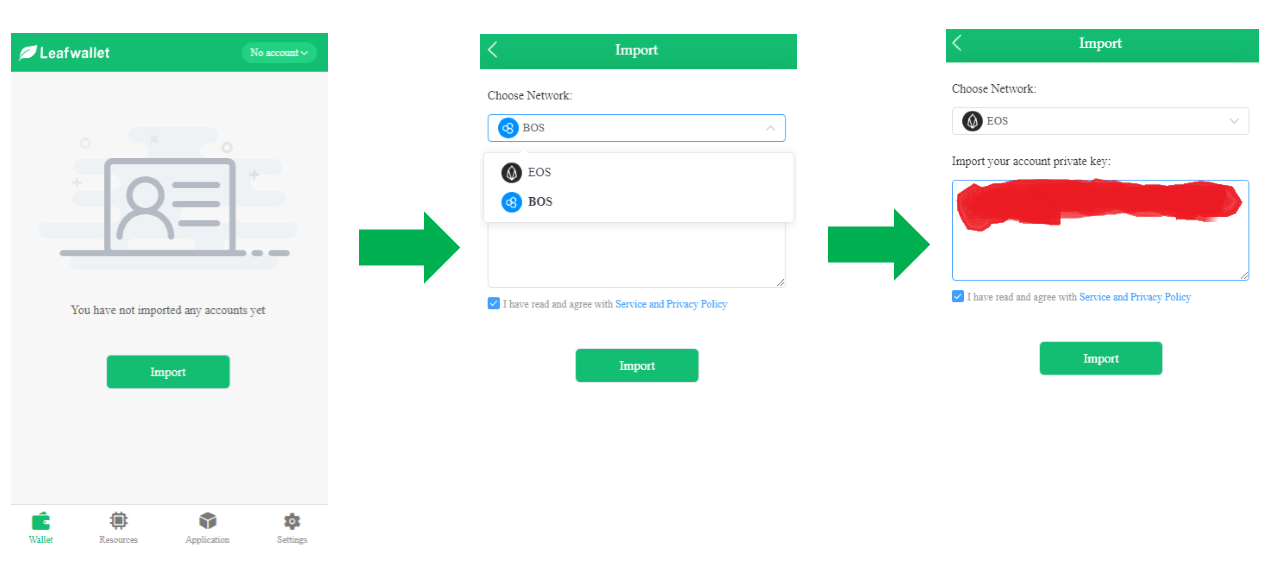 Wallet View
Wallet Screen: The first screen is the wallet screen. It shows my EOS and EOS token balance. It is conventional in design.


Resources: The second screen shows the resources. You can track your CPU, NET and RAM here. You can easily get to know how much resource is left for usage.

Application: The third screen shows the DAPPs. You can access all popular DAPPs and exchanges from this place. This place is designed very well. If you want to play games, you can access the 'Games' tab.

Settings: The fourth screen is the 'Settings' screen. You can change your nodes here if you want, although that is not necessary. You can change your language to English or Chinese from the 'Language' setting. The 'Manage Wallet' setting helps you to manage permissions of the wallet, backup wallet, change password or even destroy wallet. The 'Manage Network" setting helps you to add an existing network or any custom network. You can also lock your wallet from the 'Lock Wallet' setting. If you are not a pro, work with default settings with no hiccups.

Accessing Newdex from the wallet
I wanted to access Newdex from the wallet. It is listed in the 'Application' section of the second screen. With a click, I reach to Newdex website.


Now I choose EOS blockchain there and opt for desktop sign in. As LeafWallet is already installed, it takes me to LeafWallet authorization by default. With a click, I log into Newdex.


Now I'm inside Newdex DEX. I click on the 'Exchange' tab and I can see 'Trading', 'Markets' and 'Accounts'. It takes time to explore all the sections but I've used Newdex earlier many times.


I go to the 'Markets'. Here you can see all trading pairs.


I selected IQ/EOS market. IQ, an EOS token, has been listed in Binance very recently.

I land on the IQ/EOS market. The screen is similar to any traditional exchange. I decided to place a buy order. EOS needs CPU to place a buy order and at present CPU issue is terrible. Okay! Newdex is covering the CPU cost for you. It offers you 20 CPU free orders per day. Good enough. I place the buy order. It can be executed later on.

My experience was awesome with LeafWallet. The wallet is extremely light and loading is lightning fast. The user interface is very simple. If you have used any EOS wallet earlier, you should find it very user friendly. The design of the wallet is eye-catching and soothing. LeafWallet is going to rock! Presently it supports only EOS, BOS and tokens of the EOS, BOS chain. If it supports more chains, it will be really wonderful. Also a mobile wallet version of LeafWallet will be very useful. We need such user-friendly and cool applications for mass adoption of crypto. You can give it a try!
Note: The images (if not cited) are generated from screenshots or free vectors. You can follow the author on twitter.