For those who are unaware; 
Banano is a completely feeless and near instantaneous cryptocurrency that has a thriving community, backed by a ton of memes, events and a NFT ecosystem on WAX. Despite being a meme coin, it's a coin with solid fundamentals and potentially a ton of upside considering the recent success of other meme coins during this cycle.
At the time of writing, banano is ranked #810 by market cap - which equates to around $30 million dollars. As mentioned, if banano gets more popular the ROI if invested now could be incredible. For example, if banano had HOGE's market cap of $64 million dollars, 1 banano would be worth nearly 5c. If it reached Raven Coin's market cap of $900 million - banano would be worth 0.69c. If banano went parabolic and ever reached Shib or Doge's market cap, you'd be looking at banano being worth $16 dollars each - though, that is very far away. Banano is forked from Nano, and would reach a price of 0.49c if it reached it's market cap and flipped Nano. 
Banano is currently listed on CoinEx - which is the only big CEX it's on currently. CoinEx is actually running a banano trading competition at the moment, with prizes of $15,000. If you want to participate, sign up to CoinEx the below link to get trading fees discount;
https://www.coinex.com/register?refer_code=bhrxm 
You can also wrap your banano into wBan - which is then compatible to use on BSC and the Polygon network. You can use this to provide liquidity in Liquidity Pools and earn more banano. You can also trade wBan on a DEX like 1inch or sushi swap. 
Kucoin Listing?
Kucoin Italia hosted an AMA on the banano Telegram today, stoking rumors of an incoming listing. If this happened, you'd have to imagine that the price of banano would pump majorly. It allow users who haven't been able to trade banano access to it and would be a step into the crypto mainstream. Awareness of the coin could explode and greater adoption could be achieved.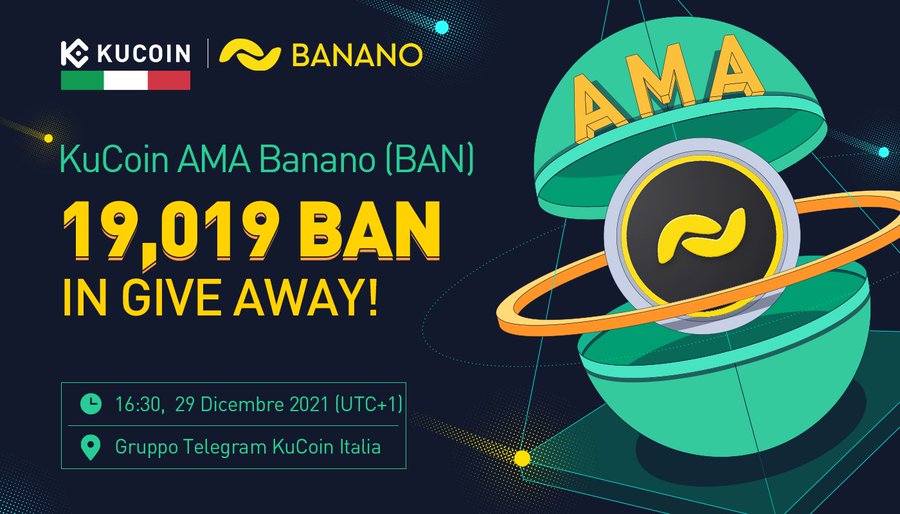 It can be common for an alternate Kucoin account to announce an ama before the main account holds one. So, while this ama was only with the Italian Kucoin team - it could mean that the main account will mention something soon. 
Regardless, it means that Kucoin is paying attention to banano and is at least building relations with the team. If you don't have a Kucoin account, feel free to join at;
https://www.kucoin.com/ucenter/signup?rcode=rJUBNZ7 
Or, if you believe that Kucoin will list banano - grab a small bag over at CoinEx before they do.
Banano has a bright future, it has a hard working and dedicated team that is constantly pushing the project forward in addition to the thousands of holders it currently has. If meme coins continue to push on in 2022, banano could be a big play and could race up the market cap rankings.