I have used various types of note-taking apps and seen different features in them. I have also blogged about my favorite ones. If you've been following my blog posts for the past 2-3 months, you must have noticed how often I talk about note taking apps, and their project updates. I have published nearly 7 introductory posts and several project updates. Also, I would like to use this opportunity to congratulate you if you've chosen your favorite note-taking apps from my reviews. However, I am back with an introductory post for another nothing taking app. This very one has few similarities with Markor, and Carnet.
Today's article is all about Scarlet-Notes; Yet another powerful note-taking app for Android users. Scarlet-Notes was initiated and it's being maintained by BijoySingh. The very first version of the project was released on Nov 25, 2017, with the version code 2.11.0. Subsequent versions were released after then causing the project's repository to have received 18 different releases, with v6.9.5 as its latest. If you need to check how this app looks like, then you have to search for ScarletNote on PlayStore. You can also use this link to download it. Also, BijoySingh made it available on F-Droid since it's an open source project.
Personal Experience & Thought
The first few minutes I spent with ScarletNote was different from how I usually feel when I use a project for the first time. After I have successfully launched it, the interface (Home screen, when it's empty) looked unique. But, when I tried creating a note, I found familiar interfaces and options. Its text editor looked so much like that of Markor's. As if that wasn't enough, after when I created a note, it then appeared on the home screen. But, guess what? The home screen looked so much like that of Carnet's. I was shocked noticing all this. Although, using ScarletNote was so easy for me, as it has the same features or options with two of the projects I had reviewed.
The paragraph above explained the similarities between ScarletNote and two other projects. Let us see the pictorial examples of their similarities.
A. Text Editor
The two screenshots below are the editors for Makor and ScarletNote. And, I believe you won't doubt my points after seeing the two editors.
Markor
ScarletNote
Firstly, while trying to type on any of these editors, the text styling options appeared at the bottom, but above my virtual keyboards. In fact, the styling options are the same. Only that, they are placed in different positions, with different icons. Some of the similar options are;
Adding a quoted text,

Ability to turn plaintext into a code line style

New Heading

To do list
Ability to upload pictures from gallery or from other sources, and many more.
Regarding the similarities between these editors, I think the options are the basic features that every text editing app out there needs to have. Nevertheless, both editors still have their unique features. For example, typing on Markor seems to be more fun, and easy, because of its Live view feature. This feature seamlessly lets its user preview the live presentation of the note while it's being created.
Unique Features In ScarletNote's Editor.
A. Ability To Split A Note File Into Blocks.
This is actually the first time I would be seeing this type of feature. It's a feature to splits note contents into several parts with the help of the tool that has "T" as its icon. By doing so, sharing each block content is automatically enabled.
Meanwhile, it's a different case with Markor editor. There isn't an option to split the note contents into different blocks. Because of this, I wasn't able to share, copy, or delete a particular part of my note with a different style. I had to delete, share, or copy the whole contents the normal way.
Since it's my first time to use this feature, I must say that it's of high value to me. On other apps, Sharing section from a note can be automatically done only if the app has a share button. Copying a section from a note, while it's being created, is only done when that particular section is highlighted and can be deleted. But, with splitting feature in ScarletNote, all of those actions are done within 2 clicks.
B. Ability To Change The Note Color Right From The Editor
ScarletNote users are allowed to change the color of their note(s) right from when the note is being created. This process can be archived when the editing options above the keyboard are swiped from right to left until the option from the screenshot below is reached. Clicking on the red spot will automatically pop-up different colors to select from.


This feature isn't available on Markor. The only closely related feature it has is the ability to change text color, which is different from changing note color.
B. Home screen
It's surprising to see how ScarletNote has its editing screen, and home screen with Markor, and Carnet. Apart from the white background from the screenshots below, you'd notice the similarities between their options on the screen. For example, after I created a note file with ScarletNote editor, going back to the apps home screen displayed the note the same way Carnet would do.
Carnet
ScarletNote
You'd also notice the placement of the options to create new notes at the bottom of both apps. There is a navigation button at the bottom of ScarletNote's home screen but at the top of Carnet's. I am also sure you noticed how the two notes looked. I intentionally gave the notes on both screens almost the colors to give specific similarities between them.
You might be wondering... Why didn't I use the same colors for the notes? Well, I tried, but I didn't see the same set of red colors on both apps. This simply means both apps are using different color picker but are aiming in the same direction. Also, at the top of the screen, there are options to search for notes. Cool! I know it's a basic future but still a similar one among the apps.
Despite their similarities, ScarletNote has different types of tools embedded when the note or the navigation button is clicked. Its interface is more beautiful and neat if it's compared with the rest of the note taking apps that I have used or reviewed.
The below screenshots shows what happens when the note is pressed held on ScarletNote's, and the note option is clicked on Carnet. You'd see that the options on ScarletNote are more and unique. I will only talk on the uncommon features from the screenshot below.
I was shocked to notice that Carnet users can't even share notes. Apart from that, ScarletNote users are allowed to change the color of their notes, despite the option is also available at the editor's interface. All these options are not available in Carnet. I have come to conclude that, ScarletNote isn't just a note-taking app, but also a book reading app. As a user, you can create a Notebook for your notes.
Just imagine that you bought a book about a boy. The book would definitely contain the details of the boy in chapters.
This is the same way you'd be able to create your notebooks with different notes. When the Notebook option is clicked, the option to add a Notebook title, pick a color, and to save it would display. The screenshot below shows that I have created two notes with different colors to easily identify them. Clicking on each of the Notebooks would display an option to edit its details.
Securing Your Notes
If you are the type of user who writes a note for personal use, or you would love to prevent other users from viewing it, then, the options to lock a note would be one of your favorite features. This options automatically hides the contents of the note from the users on the home screen. It can only be viewed if anyone has the password to the note.

Extraordinary Features
There are four other features I personally categorized as the extraordinary features of ScarletNotes. The reason being that these features are the main purpose or features of other apps. Before I go further explaining why I love them, I'd love to list them below.
Ability to set note as a reminder
Ability to perform different actions while selecting two or more notes
Ability to pin Note to notification
Ability to float Notes.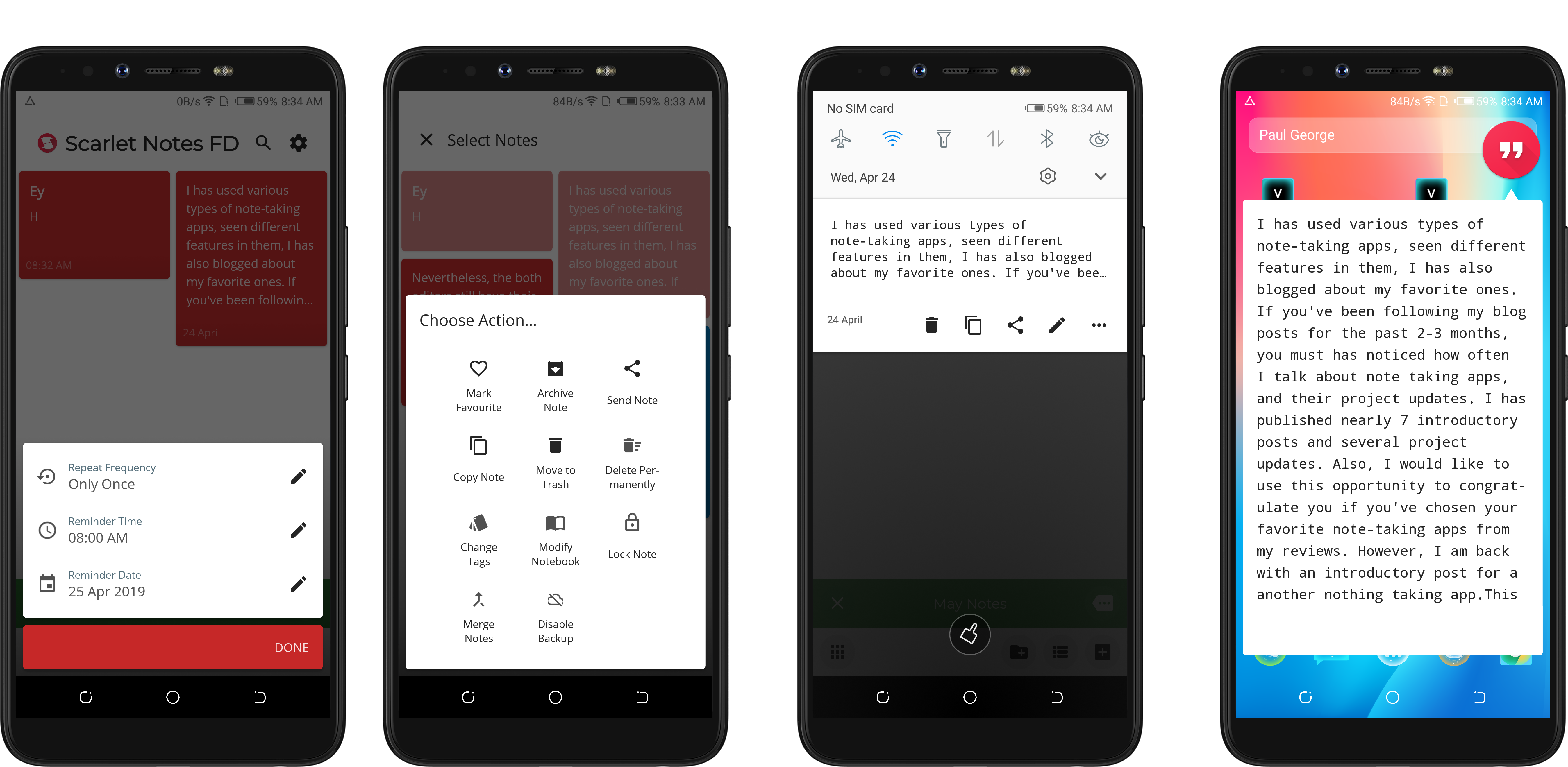 Ability to set note as a reminder (1st Picture Above)
A reminder is on PlayStore, or the default option on Android devices that triggers an alarm, or note when the time defined time is true. I was so amazed to see this option in ScarletNotes. With this option, you won't have to miss any of your daily activities.
Ability to perform different options while selecting two or more notes (2nd Picture Above)
There so many apps that claim to help user merge two or more text files. Most of them come with a name like TextMerger. I am happy to advise my blog readers not to go for those apps, as ScarletNotes has the option already.
Ability to pin Note to notification(3rd Picture Above)
Exactly 15days ago as of when I am writing this article, I reviewed a project that lets its users pin notes to the notification. In that article, I stated that the project is so unique. Yes, that was right. The project was the first I have ever used that allowed me to pin notes to my Android device notification. But, the good news today, is that the feature is also available on ScarletNotes.
Ability to float Notes (4th Picture Above)
I don't think I have ever seen any text editing apps that lets its user enable text to float on their home screen. But, it's all possible with ScarletNotes. With this feature, multitasking would more comfortable. It's one of the features I favorite the most among all other ones.
Pro Version
Despite the awesome features enjoyed as a free user, you are even expected to get more when you become a pro use.
Web App
This also the very first time I would be using a text editing app that also has its web version. From its web version, users can seamlessly create outstanding notes, Its free to use for anyone. It requires only the user to sign in. I believe it requires a login to save the notes created.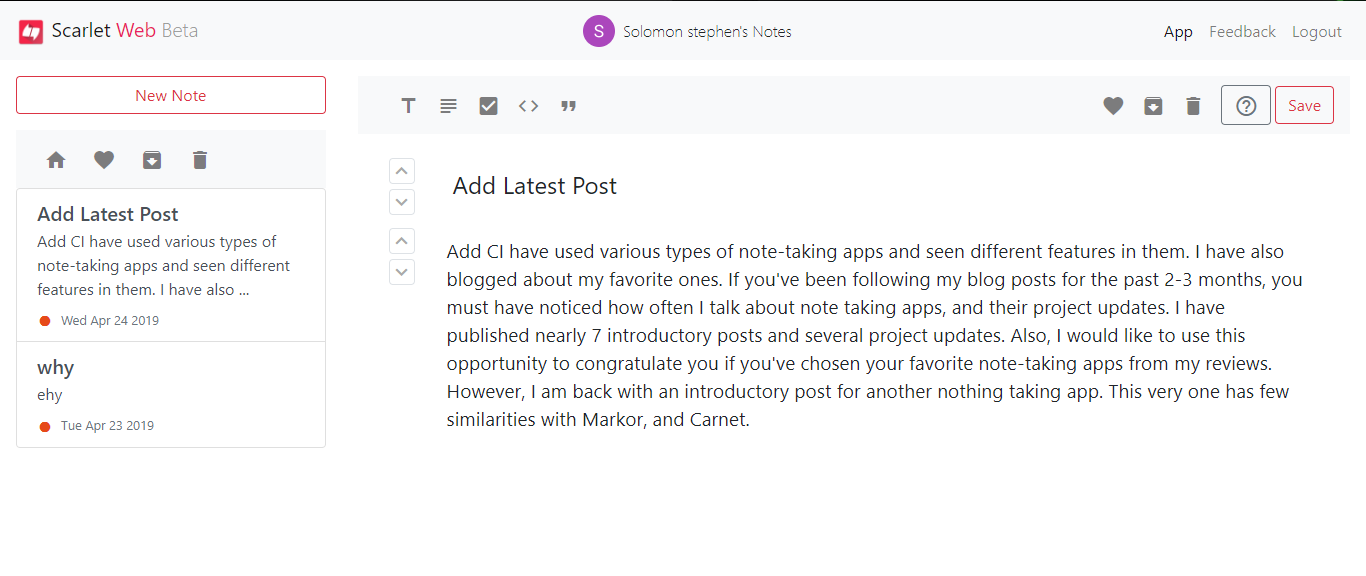 Upcoming And Past Features
The last release includes changes where Alphabetical sort bug was fixed. The app also got a new UI.
There are lots of upcoming features that are yet to be completed. I saw from the project's repository that the last commit was about 12hours ago as of when I was completing this post. Below are the upcoming changes.
Translation corrections
For example, The word Remarks in this line of code <string name="folder_card_title_single_note">1注意</string> is 注意 instead of 备注.
He is also adding a test FAQ page to the app. I believe that this option would definitely increase the experience gotten by the app users. To see the rest of the upcoming features, kindly click here.
Conclusion
This project happens to be the best so far among all the text editing apps on my device. It's recommended for anyone to use. It's suitable for every age. Also, thank you for stopping by to read my blog. Bye.
REF: Via my steemit blog