While I was still little, I seem not to understand that everyone is creative in one way or the other. We are only inspired by the things we see or the tools we use. There are various things that can inspire oneself to be creative. As a designer, Imagine seeing different variations of colors when you about to make a design, you'll definitely create something spectacular after working with those colors. Most cases, the lack of tools are the real problem of poor artworks. If you're a designer of any sort, then you should agree with me that the absence of design packs, like the icons, and brushes will definitely kill your vibe.
I was once into cartoon designing and I can still recall how often I search the web for icons, brushes, and the rest of the important design packs. I wish I had known the project I am about to introduce you to back then. 😒 Well, I'm not into designing anymore but I'm writing this blog post to help any UI designer out there with a list of tools to work with. You are advised to keep reading till the end for the full list. You shouldn't stop reading this post because you are not into UI designing. You should keep reading to refer a friend to this page. They'll surely find it useful.
In today's blog post, I will be introducing to you Awesome-Design-Tools; A website that houses all the best design tools for various type of designers. It is a webpage that introduces both free, and paid tools to redefine your UI design for good.


This project is owned and maintained by LisaDziuba. You can always contact her on Twitter. Awesome-Design-Tools is a web-based tool. I see it as a store, or library where different tools are listed. It's very easy to use. The tools are already listed on the website. All you have to do is to go through the Table of Contents and choose the tool you'd like to use.
Responsiveness
Unlike other websites that lack the ability to load as expected on mobile, and on desktop, Awesome-Design-Tools loads fine on all both Windows and Android OS. Below are the screenshots showing the Landing page.
Android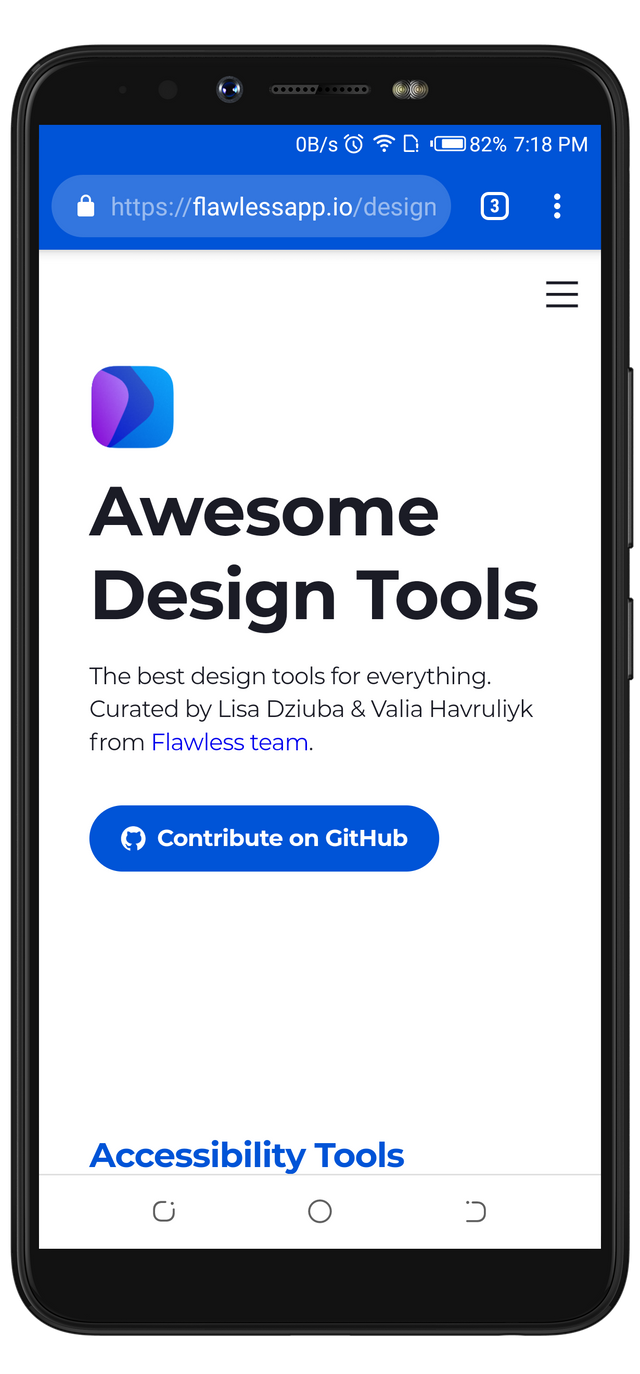 Windows 10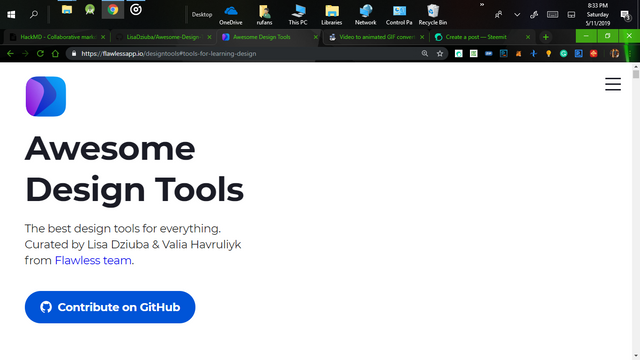 The home screen only has the site's title boldly displayed, a short description, its GitHub link and the list of tools. The list is so long that I can't even take a screenshot of them all. This is similar to when you are looking for a tool on the website. It's so much that you can't even read, or use all. This is why the developer Implemented a table of contents to be used. It's easier to scroll through the table of contents. As I have already stated, it's responsive on both operating systems I accessed the site on.
Android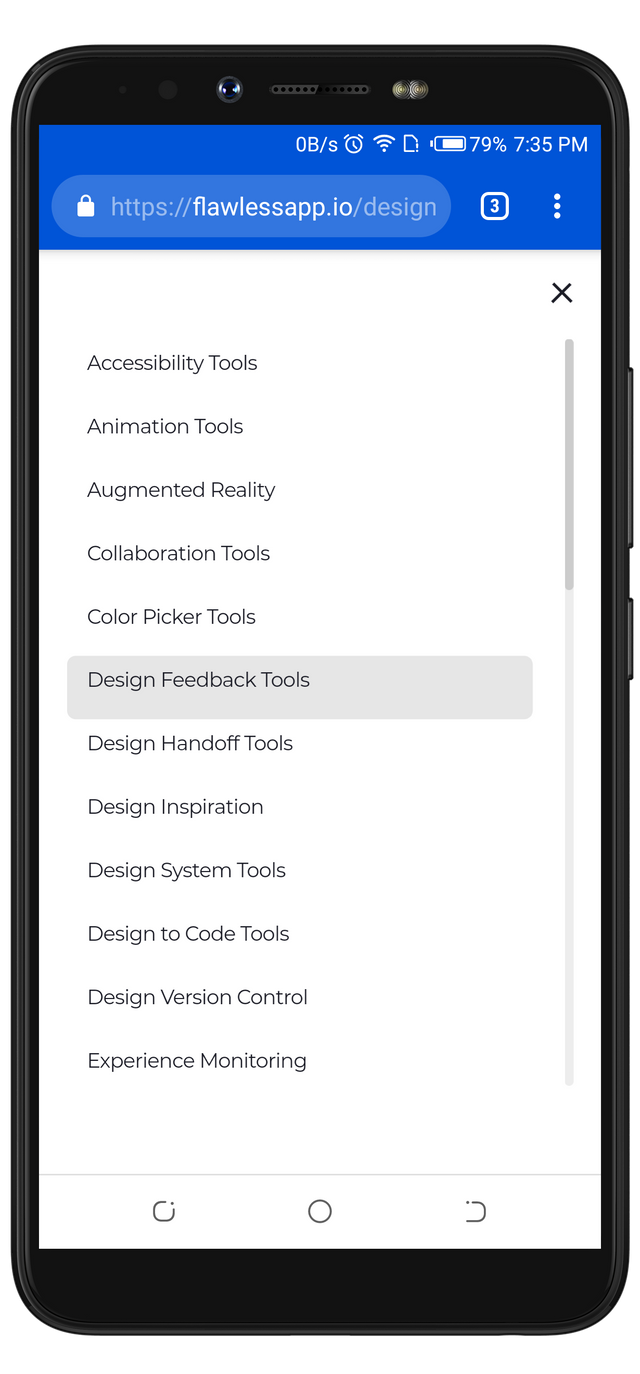 Windows 10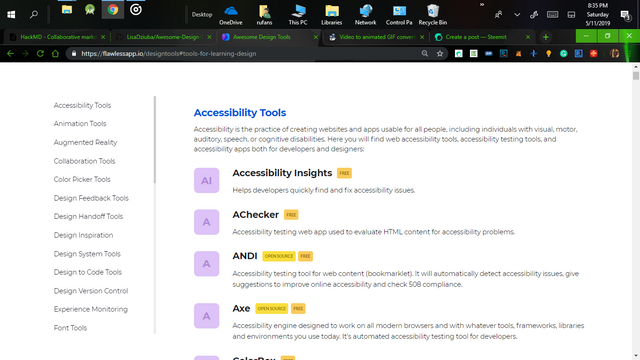 The developer didn't just list the tools and then drop a link to access them. She included a brief description of each of them and gave them tags. The tags or labels are used to differentiate between free tools and paid ones. Also, some labels are used to tell what Os a tool can run on. I appreciate the project owner for the time taken to sort different tool to their appropriate category.
The lists you see by the side of the page are not the tools, but the tools category. The main tools are listed when each of the categories is clicked. Below is a gif showing how I was browsing through the list of categories.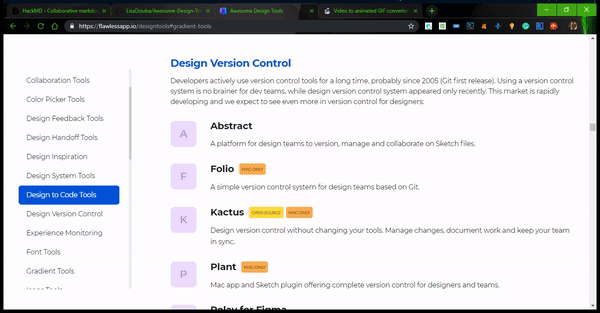 Easy To Use
Awesome-Design-Tools is not a website that lists tools for UI designers. But, a website that houses various type of other tools that you can think of. Although, 80-90% of the tools there are for UI designers.
Ads Free
After the time and the great tools embedded in this page, I was expecting to see an ad or notice an affiliate link when it redirects me to the tools. But, No, none of that happened.
Testing The Tools
My eye has been on the Animation category, let's see what's in there... Below is the description the PO gave to the Animation category
Animations guide people through the product friendly and smoothly. Live interactive UI makes users feel delighted with instant feedback and emotional touch. These free and paid tools are designed to make animation creation easier. If you plan to make animated transitions, micro-interactions or scroll-based animations, go through these tools:
After the description, she listed the different types of tools that fit the Animation category. When I clicked on one of the tools, it redirects me to the main page of the tool. Below is a gif showing what I saw when I clicked on one of the tools under the Animation category.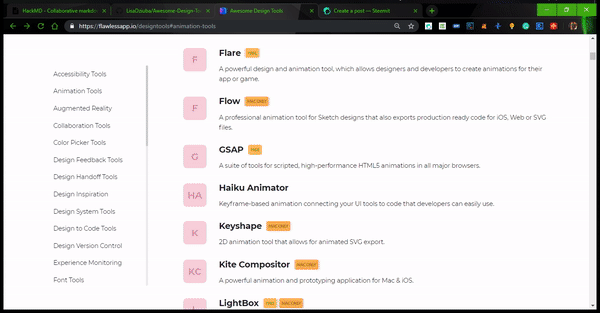 I didn't stop at that. I needed to check out more awesome tools. The next one I hunted was a color picker. This will be very helpful to anyone working with color but isn't sure of a particular type of color.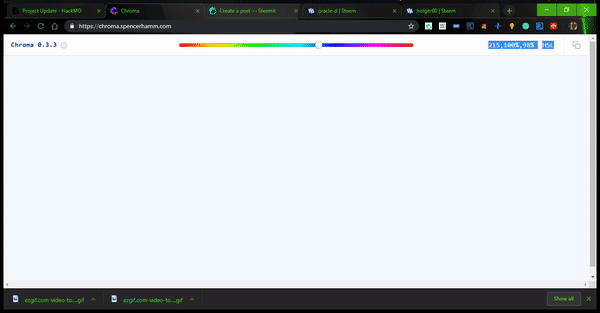 Awesome Design Tools Vs Others
https://digitaldesign.tools/ is a similar website to Awesome-Design-Toolsbut, with fewer tools when they are both compared. Awesome-Design-Tools has severally tools listed within their categories. https://digitaldesign.tools/ only have 30 tools listed. Awesome-Design-Tools should be more preferred.
Project Update
The project owner is always updating one or two things on the website. With the last 10days, the repository had already received more than twenty different updates.
Conclusion
Visiting Awesome Design Tools can be an inspiration to any designer. The tools are properly arranged easy to use. That's it for today. Thank you for stopping by.
This post was previously published elsewhere.