Another week has come and gone. Biden gave some awful speeches. People think Trump has had a mini-stroke. Par for the course these days.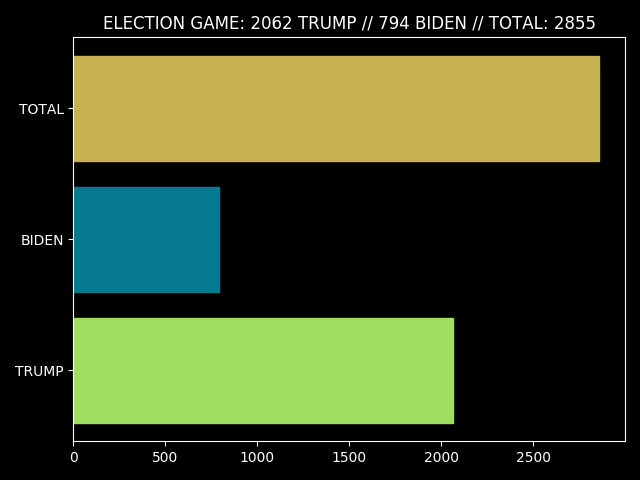 Election Game Totals
Hodlers
TUMPWINS Richlist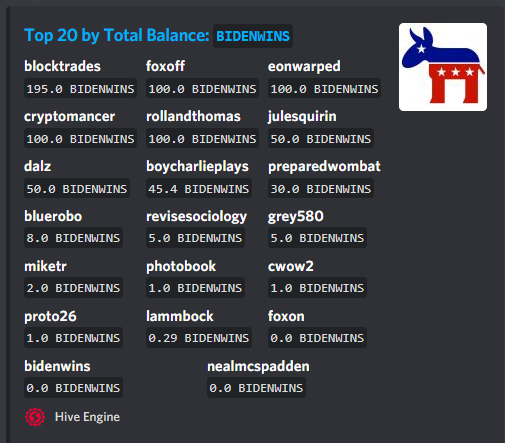 BIDENWINS Richlist
Current Odds
Current odds are 2.6:1 for TRUMPWINS.
Said another way, if Trump wins, each TRUMPWINS token will receive 1.385 SWAP.HIVE. If Biden wins, each BIDENWINS token will receive 3.597 SWAP.HIVE.
For our leaderboard, @hiveqa would get 692 SWAP.HIVE in a Trump win and @blocktrades would get 701 SWAP.HIVE in a Biden win.
Game Entry
To get in on the game through TRUMPWINS, go to https://hive-engine.com/?p=market&t=TRUMPWINS
To get in on the game through BIDENWINS, go to https://hive-engine.com/?p=market&t=BIDENWINS
The Meta Story
We've seen a bit more SWAP.HIVE come into the game, which is always good to see. The odds have shifted enough that our potential leaderboard winnings have flipped. Blocktrades would now get more for a Biden win than HiveQA would for a Trump win. Hivians still seem convinced that Trump is going to take it.
In reference to a potential contested election, one player said, "How can you deny a landslide?"
Time will tell.