Recently The Duckdao has announced the hosting of Dora Factory IDO in Duckdao's IDO Platform, DuckSTARTER. DuckDAO is a community-backed digital asset incubator that provides promising early-stage crypto startups with the expertise, financial resources, and marketing power needed to fast track their progress on the path to success
This came as no surprise as DuckDAO was one of the strategic investors in its second round of Private Sale.
Dora Factory has two rounds of successful private sales. Led by HashKey, Dora Factory's first round of private sale was joined by NGC Ventures, DFG, SNZ Holdings, AU21 Capital, Axia8 Ventures, Digital Renaissance Foundation, Candaq Fintech Group, Dealean Capital, Cabin VC, LD Capital and DoraHacks Ventures. 8 out of 10 Huobi Polkadot Sponsors are now investors in Dora Factory.
The second round of private sale was joined by Fundamental Labs, Signum Capital, CMS Holdings, Hypersphere Ventures, Block Dream Fund, ID Theory, LongHash Ventures, PAKA, NEO EcoFund, Incuba Alpha, Zonff Partners, SevenX Ventures, Lancer Capital, Privcode Capital, Gate.io, Horizon Capital, Spark Digital Capital, Kernel Ventures, JRR, Infinity Labs, Lotus Capital, BlockRock Capital, BlockArk, Clover Ventures, The LAO and DuckDAO.
Remarking about the Private Sales, Mr Eric Zhang, the architect of Dora Factory commented 
"We're honoured and excited to have more backers joining us upon the journey of building the next level infrastructure of DAOs." 
What is Dora Factory?
Dora Factory describes itself as an "open-source, community-driven venture builder" which gives users the power to create and manage powerful decentralized venture organizations.
Through Dora Factory, open-source projects can easily become a venture DAO, allowing its community of users and developers to create and manage the organization and funding of the project — including managing grants, governance, bounties, and more.
By providing a powerful toolkit, curators can easily create and launch their own DAOs to better engage with developers and drive the development of open-source projects. Dora Factory will provide an array of highly-configurable pallets that can be used for managing their venture DAO, which can be added ad-hoc based on the needs of each community.
Dora Factory's DAO-as-a-service solution is designed to run as a layer-2 protocol on top of Polkadot and Ethereum, providing a solution to projects on both platforms, while allowing developers to easily create and add their own pallets.
Dora Factory's first batch of key pallets has been developed by HackerLink, DoraHacks' blockchain developer platform, offering blockchain-based tools, such as quadratic funding, bounty, BUIDL and online hackathons to foster blockchain open-source innovation.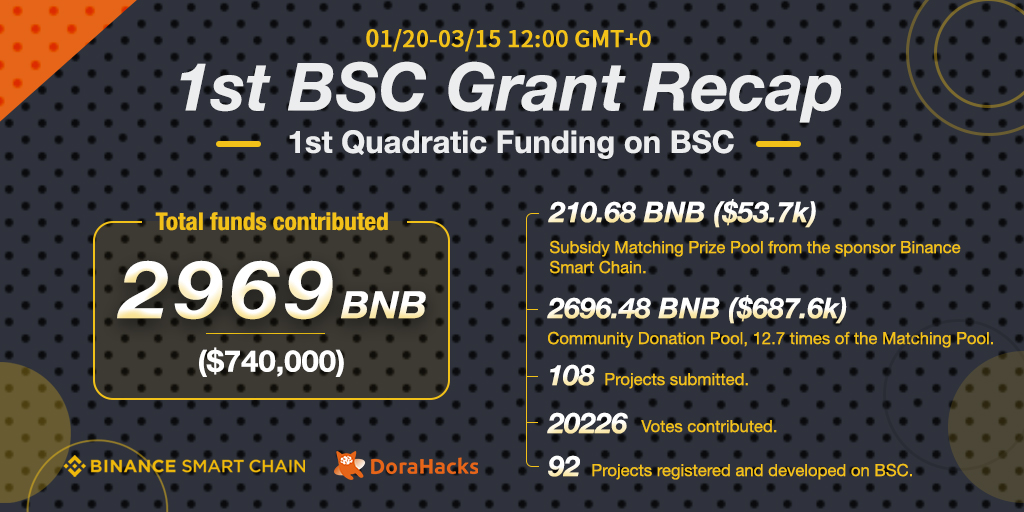 Recently, HackerLink was in news for hosting Binance Smart Chain with a total fund contribution exceeding 2969 BNB ( $740,000). More than 108 new projects have already submitted applications for the program and its growing day by day. 
To keep in touch with the latest updates on Dora Factory, Follow