Welcome to update 15, it has been 7 days since my last update. It has been a bit of a nightmare today as my profile picture keeps disappearing no matter how many times I update it. Anyhow, I like to check my goals progress usually weekly and have decided to post as part of the Saturday Savers Club. This works as a great motivation for me and I get to track my progress. I have made 206 (+16) posts in total and usually post twice a day in different communities.
It's actually week 19 of the Saturday savers club and it's a good time to check how I am doing against my yearly goals. Dreams without goals are just dreams. The big news for me this week is that I have reached Dolphin status. I'm really happy to have reached this milestone and will now start to chase the Orca status.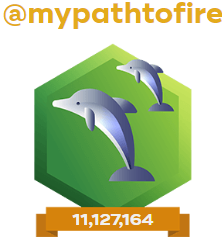 This week has been pretty eventful with a nice jump in my Hive Power due to powering up on PUD. The price of crypto went down, so it was great timing. I also reached a milestone mid-week of 100 HBD, the next target will be 200 HBD.

Talking about my Hivebuzz ranking, it jumped from 15920 to 15108 this week. It will get harder and harder to climb the ranking from here I think. There are usually around 10,000 active accounts each day, so getting into this ranking is the first goal.
This week I continued to add to my layer 2 tokens on Hive Engine. I added a few CTPSB, LEO, MeowLEO, BRO, DHEDGE and target to add some SPI and EDS.
I have also adjusted my delegated HP more for leo.voter so that I can earn more LEO. I also delegated some of my LEO to meowcurator.
My stack of ListNerds tokens continues to rise and I will add them to the table for next week and consider what would be a good goal to go for.
I also managed to claim my Ragnarok tokens from the airdrop. I'm not sure how many I have got, but my plan is to hodl them as Ragnorak could be a popular game and maybe the tokens will go up in value.
Here is the growth in the last 7 days from hivestats.io: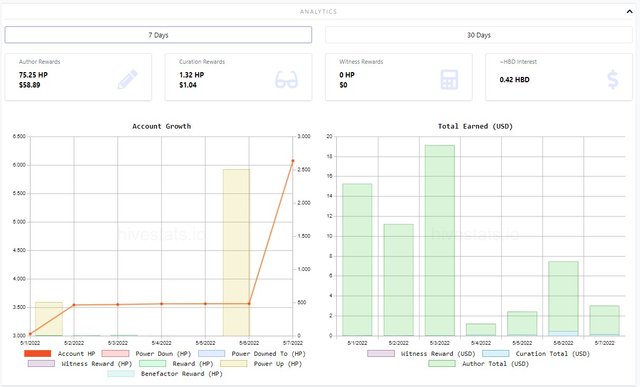 Here we can see my author rewards were 75.25 HP (+19,2) and 1.32 HP (+1,04) for curation. That's a nice increase over the previous week.
That's it for this week, thanks for reading.