It is week 11 already and 7 days have passed since the last update. I have made 122 posts so far. I have been posting under the LeoFinance and WeAreAlive tribes as they are the areas that interest me the most.
I have decided to try and simplify my goals for this week. I think I was a little too detailed previously and now it should be more clearer and interesting to follow.
I had a 25,57% increase in Hive Power this week which brings me closer to my goal of reaching 40 HP for March. I have purchased some BitcoinLite with which to power up further, but with the surging Hive price, the exchange rate became unfavourable. Therefore I am waiting until it goes back down a bit.
My effective Hive Power dropped overall this week due to me losing 8 delegated Hive Power. Now I just have 2 HP delegated to me.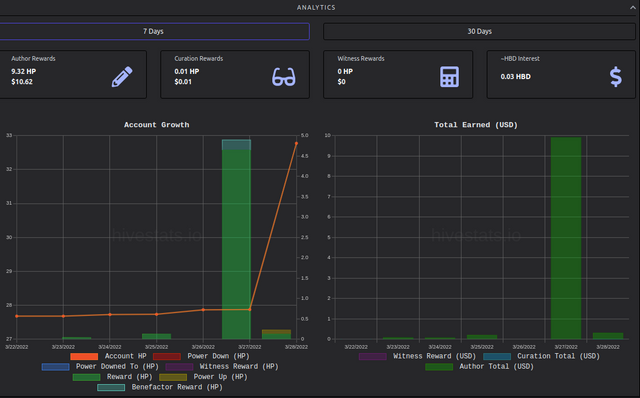 I managed to smash past my Leo Power goal of 50. This was helped by buying some extra Leo to help me power up faster. I will now adjust the goal to 150 Leo Power for March.
I have been posting in the Alive tribe and it has been fun to do some new types of posts and different interactions within Hive. There are some great people there sharing some cool information. I've bookmarked quite a few links to read when I get the time.
I set myself a goal to reach 1000 Alive tokens after I won an Alive Power Up day because I powered up the highest %. This is of course easier when you are starting from a lower value. A big thanks to the Alive tribe for the welcome and great daily events that they organise. To reach my goal I plan to buy at least 100 Alive tokens to speed up the trip to 1000 Alive.
I am also collecting BEE tokens which seem to work in the background and grow well.
My HiveBuzz ranking jumped around 3000 places this week from 39093 to 36147 based on reputation. My first goal would be to try and get into the top 10000.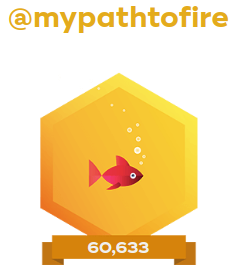 My followers also increased this week from 15 to 21. So this is a nice increase.
Once March is finished, I will re-assess compared to my yearly goals and try and gain some clarity as to what I would like to achieve for the year.
Thanks for reading.